Everything You Need to Know When Hiring a Virtual Assistant

Virtual assistance has been around for quite some time. In 1997, even before the rise of the internet, the first virtual assistant organization has already been established. From simply being a secretarial service, it expanded into a diverse and thriving industry. Virtual assistance branched out into different services to match the needs of companies and individuals throughout the world.
Why utilize virtual assistants?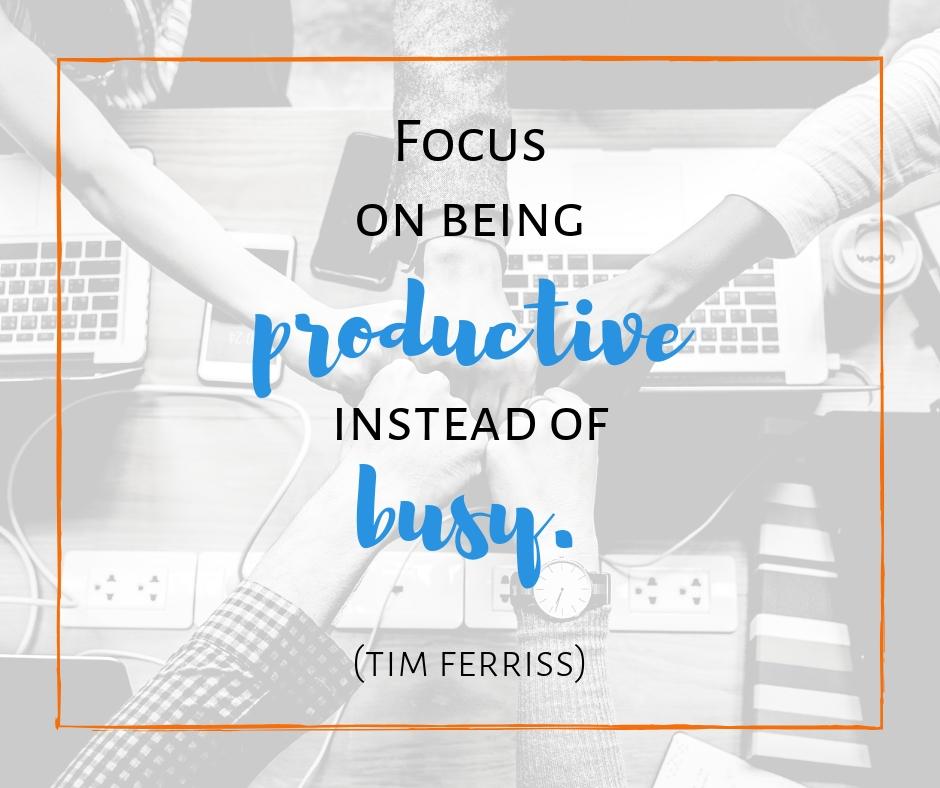 You want to be the best in your line of work, and you know a lot of ways to reach that goal. You think about expanding into new cities and industries, landing new clients, escalating the number of your inbound and outbound phone calls everyday, and monitoring more activities than you can handle. You find yourself trying to do so many tasks all at once. You pull one all-nighter after another and skip a meal or two. Whether you like what you are doing or not, you feel exhausted, stressed, overwhelmed and burdened.
You are in the office 24/7 and your time for leisure is close to nil. You feel sick often, take a few days off of work, and spend money towards becoming healthy again. Not only is it doing harm to your body, it's also hampering your productivity. You know you cannot live this way every day of your life, but just like any successful entrepreneur, you cannot give up now.
It's normal for every entrepreneur to get overwhelmed to the point of being unable to fit everything into their schedule. Through delegation or outsourcing, you may eliminate a few tasks and free up your schedule for more important things. These tasks are usually repetitive, come in great quantities, easy to understand, or a combination of all three.
There are very capable virtual assistants willing to work part time, full time, or only for a specific project. You can even negotiate to have them work on out-of-the-regular hours and days. Apart from that, you won't need to spend on office space and equipment for these reinforcements.  
What can a virtual assistant do for you?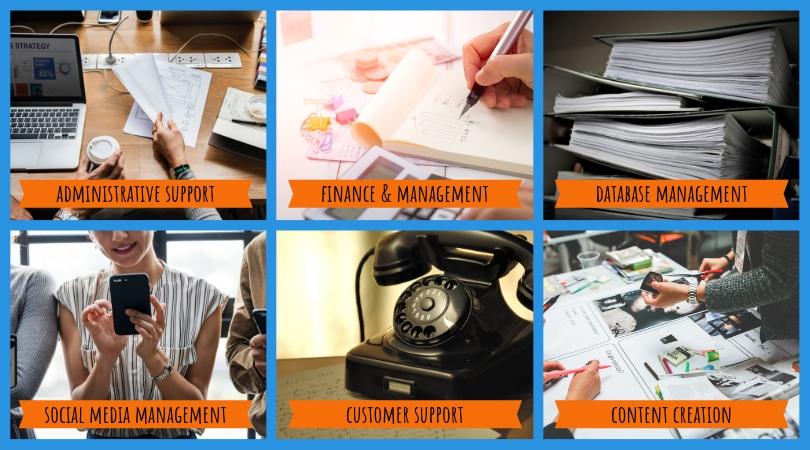 1. Administrative Support
A virtual assistant, just like admin assistants based in the office, can organize your calendar, book appointments, file reports, monitor timesheets of other employees, respond to phone calls and emails, conduct research on how you can grow your business and more. With time and continuous training, there will not be much difference between what a virtual assistant and an actual office assistant can do for you.
2. Finance and Management
An experienced finance virtual assistant can be assigned to tasks such as bookkeeping, bank reconciliation, invoice and payroll preparation, financial analysis, financial management, and financial reports preparation. Of course, what you can hand off to a virtual assistant will be subject to your personal preferences and practices.
3. Database Management
For companies who have hundreds or even thousands of clients and are continuously looking for more, it is very important to keep a database full of leads that are just waiting to hear all about what you do and potentially want to do business with you. A virtual assistant can generate leads as well as identify when to tap the right leads according to certain needs.
4. Social Media Management
You can hire a virtual assistant to help market what you do. Social media is the easiest way to get your name out there. As your social media manager, a virtual assistant can create and publish quality content, filter your list of connections, respond to online queries on your pages, and engage with online experts and influencers. Especially for business owners who would rather not deal with the online traffic and do core business functions instead, the perfect virtual social media manager is waiting for you.
5. Customer Support
Your cannot spend all your time answering phone calls from existing and potential clients. A virtual assistant can handle complaints, provide technical assistance and answer customer queries. With a virtual customer service agent, you can make sure that your clients are happy and satisfied with your products and services. Remember, being in the good graces of your customers mean better retention and more chances of referrals.
6. Content Creation
Virtual assistants can create blog posts, advertisements, graphic designs, email newsletters, product descriptions and more. Assign a topic, set keywords, provide a theme, and a virtual assistant can turn your thoughts into readable, understandable content. By hiring a virtual assistant, you can boost your marketing efforts by posting quality content on a more regular basis.
What qualities should you look for in a virtual assistant?
Reliability
Since all work and communication between the assistant and the client are done online or over the phone, your virtual assistant must be reliable. Working at home can be very distracting, and so is being in front the computer all shift long. See to it that your virtual assistant respects your deadlines, updates you on their progress, and responds quickly to your follow-ups. You should be able to focus on your own tasks as the business owner and not waste time worrying about your VA's productivity.
Discretion
If you are going to trust your virtual assistant with confidential information like email, social media and software logins, it is absolutely important that they act with caution. Any leaked private data concerning you and your clients can put your security in jeopardy. Have them sign a non-disclosure agreement, if necessary.
Accuracy and Knowledgeability
Great virtual employees must be able to do their job correctly most, if not all, of the time. Do not expect them to be perfect, but they must be able to understand instructions quickly, ask the right questions, and do the job well without disrupting your work. A virtual assistant is supposed to save you time and make your work easier. Hire the right people by looking at their past job experiences, previous job standing and educational attainment you deem fit for the position you are looking to fill.
Good Communication Skills
You and your virtual assistant must be able to communicate clearly, whether you're just talking casually or discussing business matters. For starters, you have to make sure that you both can speak and understand the same language. You can evaluate this early on in the screening process. Misunderstandings are detrimental to any kind of relationship. In a business setting, this can lead to monetary losses as well. Build rapport with your virtual assistant in order to establish understanding.
Efficiency
As a business owner, you want to get the best value for your money in whatever you choose to spend it on. This will include your employees' salaries and benefits. Your assistant must be willing to use time tracking tools that can monitor when they come and leave work, provide screenshots of what they are working on, count the number of clicks and keyboard activity, and many other features you can customize yourself. Similar to an office set-up, your virtual assistant should also be allowed breaks to make them more productive. However, when it is time for work, they should be working to avoid delays and have the job done when you need it.
Resourcefulness
Information can be obtained in various ways — through searching the web, going over available company documents, tracing back email and chat exchanges and looking at past transactions and experiences. You need a virtual assistant who knows how to make the most of the resources that are already available, especially when you are bombarded with your own tasks and could not respond to messages immediately. Note, however, that it is inevitable for a virtual assistant to ask questions particularly when decisions have to be made.
Motivated
A virtual assistant could sometimes use your help to keep being motivated. Give compliments to them if they are consistently working to help them boost their self esteem. Give credit to whom it is due and your virtual assistant will be even more committed to your business.Motivate them regularly, even when they don't need it.
Eagerness
You deserve a virtual assistant who understands how your business means to you. That's why you need an assistant with an infectious positive attitude throughout. A sign that your assistant values success as much as you do is when he celebrates little or big victories with you such as making a sale or landing a client, and improves himself on the more sloppy business days. This will also be manifested in how he interacts and collaborates with other team members.
What is the hiring process?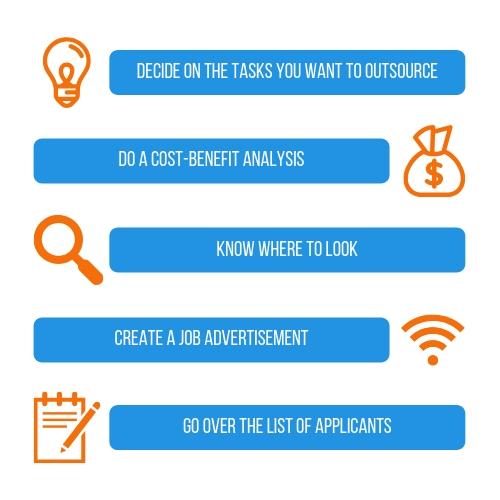 Step 1: Decide on the tasks you want to outsource.
Have a clear outline of the tasks you want to delegate. Carefully document them along with the experiences and educational attainment required of your potential virtual assistant.
Step 2: Do a cost-benefit analysis.
The salary of a virtual assistant should be equal to their functions and responsibilities. Look into the typical salary expectations for the online job positions you need and do a financial analysis. Naturally, the benefits must exceed the costs.
Step 3: Know where to look.
You'll be surprised at the number of jobseekers actually searching for online work. To hire the best virtual assistant, applicants must undergo a thorough screening process that will test their technical skills and attitude towards work, among others. 20Four7VA  is an international virtual assistant company that can help you with your online staffing needs.
Step 4: Create a job advertisement.
The recruitment process begins here. In a post intended to be seen by aspiring virtual assistants, briefly discuss what your company does, the tasks you want to get done, the duration of the job — whether full-time, part-time or project-based — and the qualities you are looking for in your future employee. If available, include links of your official website and social media pages.
Step 5: Go over the list of applicants.
Filter the most qualified ones and arrange to interview them. Be sure to clearly discuss your expectations and ask questions that will test their critical thinking.
Start the training process
After a thorough screening and hiring process, you have finally chosen your virtual assistant. But it does not stop there. Learning is continuous. Give your virtual assistant at least a week to familiarize their tasks and your usual business practices. With proper training and motivation, they will become as skilled and as hardworking as you.
Schedule a free consultation with 20Four7VA who are willing and ready to match you with the virtual assistant you need.