Top Tips: How to Find the Best Appointment Scheduling Software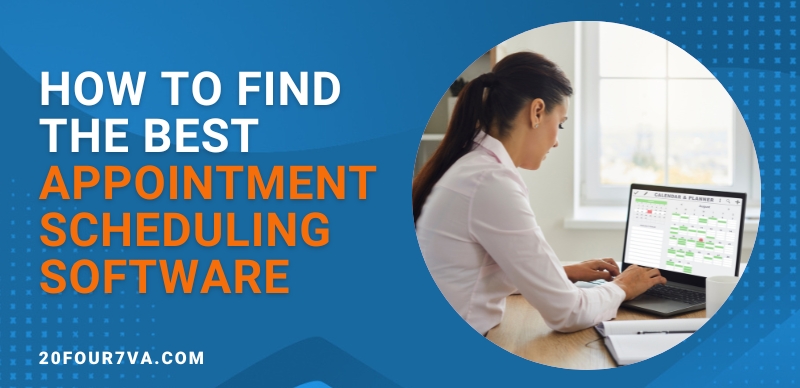 Ironically enough, managing appointments and calendars can be a time-consuming task. This is why a lot of businesses are turning to appointment scheduling tools and software to help make managing time less overwhelming. If you're wondering, "What is the best appointment tool for business owners?" the answer is not straightforward. Sure, some software and tools have excellent general features, but ultimately, the "best tool" for you will depend on your business needs and budget.
What is an Appointment Scheduling Tool?
An appointment scheduling tool's main function is quite straightforward. It's a helpful tool allowing businesses and organizations to book appointments with current or prospective clients. Other than scheduling appointments, some appointment scheduling tools also have different features, including:
Sending automated reminders
Accepting payments
Reports and analytics
And more
Having a hard time managing your calendar? Book a no-strings-attached Discovery Call with our Growth Experts to see how a virtual assistant can provide the business support you need.
Benefits of Using an Appointment Scheduling Tool
Going digital with your appointment scheduling needs can positively impact your business in many ways. You can save time and money when moving to online scheduling. Plus, you can enjoy the added benefit of insights to help you plan your promotions and operational improvements.
Automated Notifications
Customers who often cancel or rebook at the last minute are always a problem for any business. But you can avoid or minimize such instances by using a scheduling software or tool. Many appointment tools allow you to send reminders through SMS or email. These reminders can help reduce no-shows and allow you to plan your staff's schedule accordingly.
Improved Efficiency
Customers can easily rebook or cancel their appointments on online scheduling tools. This can free up your staff's time. Instead of using their time to do admin work and manually rescheduling clients, they can work on other value-adding tasks, including customer retention activities and email marketing.
A virtual appointment setter can help you keep your appointment scheduling systems in check. They can handle the whole appointment booking process, from database building to handling inquiries.
Avoid Complex Paper Trails
Going digital can help you save on office supplies and waste management. Plus, you can say goodbye to manual, paper-based scheduling systems. The paper trail involved with scheduling manually can be complex and is prone to error. A misplaced sheet of paper or an accidental coffee spill can easily mess up your manual schedule.
Enhanced Customer Experience
Going digital can also improve customer experience. Your customers can have more channels to visit to schedule appointments. Whether they visit your social media page or website, they can easily book an appointment that fits their schedule. They won't need to call or visit your business in person just to book their sessions.
Better Insights
Most tools also help you get data about your customers' preferences and demographics. The information you get can be analyzed and turned into actionable insights to improve your business. For example, if you find that you have lean periods during the middle of the week, you can adjust your staffing schedule accordingly. Alternatively, you can also craft promos to help increase appointments during your lean times, like a discount or special bundle for those who avail of your products or services on a particular day or time.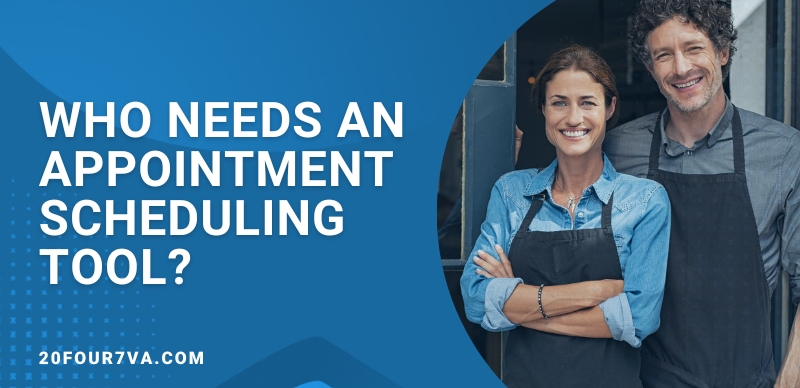 Who Needs an Appointment Scheduling Tool?
Any business that needs to manage its calendars will benefit from using an appointment scheduling software or tool. Here are some examples of such businesses:
Medical and Healthcare
To manage patient consultations and minimize wait times, medical or healthcare facilities can use online appointment scheduling software. Hospitals, clinics, dental offices, and private practices can use their software to schedule both in-person consultations and teleconsultations.
Personal Care
A lot of salon and spa customers book their appointments to relax or unwind. With an online appointment tool, businesses in the personal care services center can provide a more smooth and convenient customer experience to their clients.
Real Estate
Real estate businesses must manage plenty of appointments, from virtual consultations with prospective buyers or sellers to property viewing sessions. To help them keep track and serve more clients, they can use online appointment tools.
Hire a real estate virtual assistant (VA) to help your real estate business reach greater heights. Find out how hiring a VA can help you manage your workload and improve business efficiency without overshooting your labor costs.
Veterinary Medicine
An effective appointment tool can prevent long waiting times or crowding up an animal. These tools can help animal care professionals manage pet appointments and focus on giving animals the necessary care.
Government Services
Using simple appointment tools allows government workers to manage the traffic in their offices. This gives way to a better customer experience, faster transactions, and shorter waiting times.
Education and Coaching
Educators and coaches can focus on doing what they do best with the help of good appointment-scheduling software. They can easily maximize their time for activities like scheduling meetings with parents, tutoring, career advising, and other educational or coaching services.
Automobiles
A scheduling tool can benefit both automobile repair center staff and clients. The management team can open slots depending on what their current headcount can handle. At the same time, clients can find the most suitable schedules and avoid waiting long for a slot to open.
Professional Services
Professional services include legal assistance, accounting, consulting, home repairs, and more. Service providers can manage their time better when they use an appointment-setting tool for client meetings and consultations.
And more
B2B or B2C businesses that have consultations, service appointments, aftersales schedules, and other scheduled services can benefit from switching to a digital appointment scheduling software or tool.
How to Find the Best Tool for Appointment Scheduling
As more and more businesses look to establish their online presence, the demand for online tools increases. This is good news for businesses that want to examine options before committing to a program or software. And the same goes for businesses looking for appointment scheduling tools. It's important to consider different factors before signing up or making a purchase.
Top Features to Look For
You must look at the different features when searching for an appointment scheduling tool for your business. You want your tool to work with your current systems and not the other way around. It's best to list down the features you are looking for and categorize them into "non-negotiables" or "must-haves."
Here are some key features you may want to consider adding to your list:
Integration with existing software
Can accept payments via multiple payment channels (e.g., PayPal, Stripe, etc.)
Cloud-based platform for remote access
Web and mobile-friendly
Automated appointment reminders
Cost
There are scheduling tool providers that offer flexible pricing. What's great is that there are also providers who offer free trials for first-time customers. This way, you can test out the interface, features, and overall user experience before committing. You can also look for providers that let you scale up or down on the features or benefits depending on what your business needs.
Ease of Use
Another important factor to consider is the ease of use. When considering this, it's important to put yourself in the shoes of both your staff and your customers. If operating the software will result in your employees spending more time and energy handling appointments, then that software may not be the best option for you. You should also ask providers if they offer tutorials and support to their clients to ensure you're making the most of the software you choose.
Additionally, you want your interface to be user-friendly. Your scheduling tool should make transactions quicker and more simple. If your clients have a difficult time navigating your calendar tool, then they might lose interest and find other businesses to transact with.
Your Business Needs
The above are some general criteria you need to consider when looking for an appointment scheduling software, tool, or app. But in the end, it's essential to consider your business needs. For example, if your business does not require payments to schedule appointments, shelling out extra money for software offering payment collection may not be the best choice.
And if you're planning to make some operational or other business improvements in the future, you need to factor that in. This can affect whether you will subscribe to a tool on a shorter or longer contract period. Or, you need to consider whether or not your selected appointment scheduling tool can keep up with the changes you're planning to implement.
No matter what scheduling tool you choose, you can hire a VA to help manage your time and workload that much easier. Contact us to learn more about how a VA can help improve business productivity without overshooting your overhead costs.
What is the Best Appointment Scheduling Tool for Business Owners?
There are over a hundred appointment scheduling software and apps you can review to find the best one for you. But if you're short on time, here's a shortlist of five top-rated appointment scheduling tools to consider:
Acuity Scheduling
Acuity Scheduling was acquired by Squarespace in 2019. They market themselves as an all-in-one appointment management software. This software equips businesses with a scheduling platform that can accept payments and send reminders. Plus, it also allows businesses to meet clients both offline (in-person appointments) and online (video conferencing).
The biggest possible downside that most business owners will note is that Acuity Scheduling does not have a free version. This means you need to pay to enjoy any of their features. For reference, their lowest plan starts at $16/month. But if you want, you can still sign up for a free 7-day trial to see if this software is for you.
Can accept payments (via Stripe, Square, or PayPal)
Simple, easy-to-use
Can manage multiple locations (for higher plans)
HIPAA-compliant (for businesses in the Healthcare sector)
Can send email and text reminders
No free version (only free trials)
Calendly
Calendly is one of the most popular appointment-scheduling tools. Businesses looking to upgrade their manual scheduling process without bloating their costs can use Calendly's free basic plan. With the basic plan, you can connect the appointments to your Google, Office 365, Outlook, and iCloud calendar, add Calendly to your website, and customize your booking link. But if you want to collect payments through the app or track analytics, you will need to upgrade to their Professional plan, which will cost you around $12 per seat per month.
Free to sign-up
Good for those who want a very simple booking software
With a free version but limited features
Easy-to-use
Good option for online appointments
Can integrate with other third-party apps
Setmore
Setmore offers three types of plans: Free, Pro, and Team. They also offer custom plans for larger organizations, but you'll need to book an appointment to get started. But if you're a small business and start-up owner, the free plan can be a good starting point. You can accept payments and send email notifications for free!
Feature-rich free plan
Can accept payments starting with the free plan
Has apps for iOS and Android
Can send email reminders and customized notifications
Can customize booking page
Square Appointments
Square Appointments are suitable for businesses that offer both online and offline appointments, like salons and clinics. It has three plans: Free, Plus, and Premium. But if you're looking to save, then the free version is already a good option. Aside from setting up unlimited calendars, you can also send automated reminders with the free plan.
Can integrate with the Square ecosystem
Accepts online payments even with the free version
Automated reminders via SMS and email
Mobile app for both iOS and Android
Unlimited calendars, even with the free version
Clean layout
Free version for one location only
SimplyBook.me
SimplyBook.me is one of Trust Radius' top-rated appointment scheduling tools of 2023. It also has the most plan options. You can choose from their five offerings ranging from Free to Premium plus. With the free option, you can expect to schedule up to 50 bookings per month. So if you're targeting to book more than 50 monthly appointments, then you may want to consider upgrading to the paid plans.
Sends SMS reminders
Can choose from templates
Google Calendar integration
iOS and Android admin apps
Sends email notifications (confirmation, reminder, and cancellation)
Interface is not that easy to navigate for newbies
Take back control of your time by hiring a virtual assistant. Schedule a free consultation call with our Growth Experts to learn more about how remote staffing solutions can help you and your business.
Manage Your Appointments with a Virtual Appointment Setter
If you want to make your business' appointment setting process even better, consider hiring a virtual appointment setter or appointment setting VA. Managing appointments and setting up your appointment scheduling software can take up plenty of your time and energy. But hiring an appointment setting VA can help you check those tasks off your list so that you can focus on your executive responsibilities.
Hiring a VA can help you get more done without bloating your labor costs. A virtual appointment setter can support your business remotely, so you don't have to worry about budgeting your resources for expenses like transportation allowances or additional office supplies.
In summary
Just like with every business decision, it's important to assess your business goals and consider different options when selecting an appointment scheduling software. Additionally, you can research user reviews and customer testimonials to gain further insight into the performance of each tool. This way, you can make a more informed decision and set your business up for further success.
If you want to manage your time better, reduce no-shows, and improve customer experience, hiring a virtual appointment setter is the way to go. Book your free consultation with our Growth Experts today to get started!