How to Create a Killer Social Media Marketing Strategy

These days, more and more businesses are choosing to focus on digital marketing instead of blowing their marketing and advertising budgets on traditional offline methods like events, and TV, radio, or print ads. One of the most popular aspects of digital marketing is social media marketing.
With 42% of the world's total population using some form of social media, it's not surprising to see so many business owners turning to Facebook, Instagram, Twitter, Snapchat, and many other social platforms to increase their reach and improve sales opportunities.
To understand just how big social media marketing has become, take a look at the current status of social media in 2019. 
Social Media Marketing Today
Here are some important statistics about marketing on social media from Social Media Today: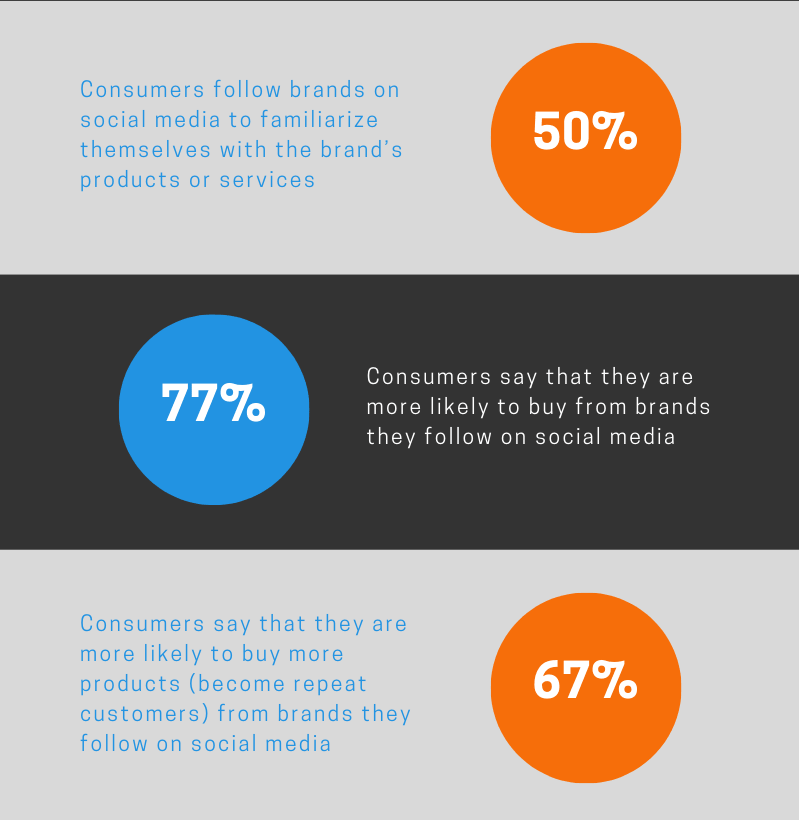 50% of consumers follow brands on social media to familiarize themselves with the brands' products or services.
77% of consumers say that they are more likely to buy from brands they follow on social media.
67% of consumers say that they are more likely to buy more products (become repeat customers) from brands they follow on social media.
The impact of simply being followed by a potential customer on social media is already remarkable. How much more can you influence them by engaging with them and getting them interested in your posts? Once you capture the interest of someone on social media, the possibilities are practically endless.
One thing to note is that coming up with an effective social media marketing strategy in 2019 is markedly different from how social marketing strategy planning was done before. As more businesses come up with their own unique ways to gain more followers and increase their reach and engagement, the platform becomes increasingly saturated with annoying tactics and cutthroat marketers.
Not only do poor social media strategies yield terrible results, brands who use them also alienate their potential customers and do more harm than good to their reputation. To avoid this, business owners need to know how to create a killer social media marketing strategy.
Steps for Social Media Marketing Success
Here are some social media marketing steps that you can follow to ensure that you stay ahead of the competition.
Audit your current social media status or presence. Before you start on anything else, take a look at your current social media presence. What accounts have you created? How many followers does each account have? Do you have a recognizable, standard name or handle for each account? Do you have more than one account on each platform?

Doing a social media audit is important because you will need to consolidate your accounts, make sure that everything is on-brand, and keep track of everything that's going on in those accounts.
Identify your target audience through audience personas. It's not enough to know that your target market is "women aged 25 to 40" — this kind of vague targeting is a thing of the past. You have to flesh out your audience persona to ensure that all your strategies and content are designed to appeal to them.
Here are some details that can help you create your audience persona:
· Gender
· Age
· Location
· Job Title or Occupation
· Browsing Habits (what websites do they often visit?)
· Buying Habits (what products or services do they usually buy?)
· Pain Points (what are their common problems that your product/service can solve?)
· Technology Use (iPhone or Android? mobile or desktop?)
· Preferred Social Network

You don't have to assume this information or conduct extensive research in person. There are several social analytics tools that can easily provide this information for you.
Set SMART goals. The SMART criteria for setting goals or objectives have been around since George T. Doran first used the acronym in the November 1981 issue of Management Review, but it remains relevant to this day. Many people use the SMART criteria for project management or for setting employee goals, but it's also applicable to creating a social media marketing strategy. If you're not yet familiar with the SMART criteria, here's what the acronym stands for:
Specific
Measurable
Achievable (or Attainable)
Relevant
Time-bound

Using the SMART criteria when creating your social media marketing strategy will help you track your progress more easily. It's also easier to identify whether you're achieving your objectives or not if they follow the SMART criteria.
Watch what your competitors are doing. Competitor research is another key step in creating an effective social media strategy. Although you do not want to simply copy what the competition is doing, you have to be aware of their tactics to ensure that your own strategy is proactive and not reactive. Watching your competitors on social media will also help you avoid any mistakes that they make. This can be anything from targeting the wrong keywords on their ads or posting something that's tone-deaf or offensive to their audience.
Finalize your list of social networks to focus on. Unless you're a major corporation with a team of hundreds of social media experts, you can't have a solid presence on all social media platforms. In fact, even the wealthiest companies know to focus only on the social media networks that will give them the best ROI. Before fleshing out your social media marketing strategy, you have to determine which social networks are worth your time and resources. The audience persona you created will be a huge help with this. Of course, you also want to target the top networks that your audience use.
Set up or optimize your accounts based on your market and competitor research. Once you've finalized your list of social networks, it's time to set up or optimize your accounts. You want to make sure that your @handle or @username for all of your accounts are the same or as close to each other as possible. You also need to create on-brand graphics to decorate your pages with. This includes banners, profile photos, and other graphical elements to enhance your page and make sure that your audience immediately associates your brand with your social media profile. If you're not design-savvy, you can always hire a graphic design VA to help you out.
Create a social media calendar. Regular posting is crucial when it comes to building a following, increasing engagement, and retaining audience interest. That's why creating posts in advance and scheduling them is necessary in a social media marketing strategy. Creating a social media content calendar allows you to create themed posts, avoid duplication, take advantage of trending topics, and prepare for major events. It will also help you ensure that there's always new content being posted even if it gets super busy for your business.
Implement concise and consistent tracking and conduct a regular assessment and enhancement of your strategy. As with all types of strategy, monitoring and tracking performance is vital. After all, you will need those statistics in order to measure the effectiveness of your strategy. Major social media channels like Facebook and Instagram already have their own analytics tools, so it's easy for you or your staff to gather important reach and engagement data. For other social networks, you can always use tools that are specially designed to analyze social media information. Check out the bonus tip below for more information on using tools for social media.
Assemble a team of professionals who will implement your social media marketing strategy. Learning the basics of social media marketing for startups or brands is important for a business owner, but you don't have to be involved in the nitty-gritty of planning, implementing, and monitoring your social media marketing efforts. So what should you do? The most efficient and cost-effective solution to a business' social media marketing woes is to outsource this work to a social media virtual assistant. A social media VA can help you create and schedule your posts, monitor and respond to comments, and track the performance of your posts and ads.
Bonus Tip:
To create a killer social media marketing strategy, you don't just need to do your research and build your social media marketing team, you also have to find the best tools that will make the creation, implementation, and monitoring of your strategy a lot more efficient. Check out this article on 12 social media tools for small businesses to get started.
To sum up
There's no single approach towards social media marketing success. You can go and look for the best social media marketing strategies online and implement them all right now, but there's no knowing whether these strategies will remain effective two or three years from now.
Some good general advice to follow is to know your audience and create a strategy that is highly targeted for them. From there, you will need to conduct plenty of research and brainstorm with your team as to what type of content will appeal to your target audience, when and how often to post, and other specifics involved in creating a social media marketing strategy.
Recommended reading: 10 Social Media Tips for Small Businesses