5 Tips for Local SEO Success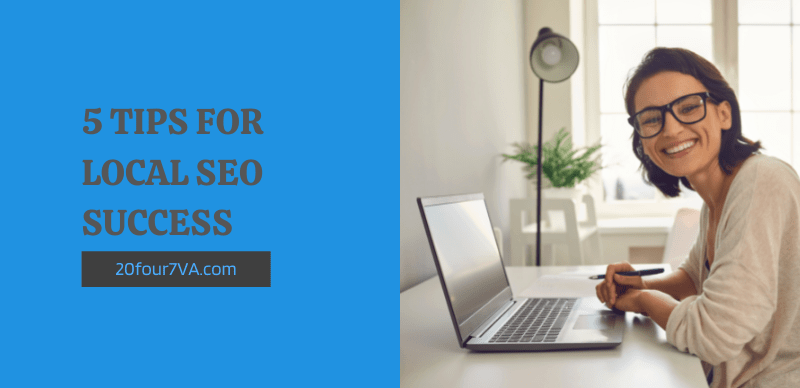 The first thing that pops out in local searches when you look for hip new restaurants or cafes are the nearby establishments in the area. The local search engine optimization (SEO) algorithm at play is crucial for businesses and it's something that old and new business owners should be aware of. Let us paint a clearer picture.
Imagine visiting a new place and wanting to go to a nice café. You take out your phone, type in 'cafés near me,' and check out the first few results that come up. Or think about what you usually do when you need something done at home. You do a quick search on your phone for the nearest highly recommended service provider.
Nowadays, people instinctively search online when they need to find local establishments or service providers, and 90% of them only scan the first search results page. What does this mean? It means that implementing the best ways to improve SEO (search engine optimization) is an essential part of business, particularly local SEO.
What is Local SEO?
Local SEO is a practical process of optimizing a website's search engine visibility for its local area. Local businesses, particularly those with physical storefronts, will greatly benefit from optimizing for local SEO because it increases visibility and the more users click on unpaid local search results, it becomes more organic and increases the trust rank algorithm.
For example, you need to build trust with Google, the biggest search engine on the internet. That is why they came up with their very own TrustRank to generally explain how the algorithms work and other key factors behind the ranking of pages. It is important that webmasters and local SEO services providers should be familiar with these rules especially when guidelines change every so often.
Why You Should Take Local SEO More Seriously
If you are already doing online business marketing campaigns, you are probably already working on your SEO. At the very least, you have probably already searched for something like "seo tips 2021" or "seo tricks 2021" in order to gain more knowledge about the subject.
However, the general off-page and on-page SEO tips that you might find are not enough for local SEO. What makes local SEO so important? Take a look at these facts regarding its influence on small businesses:

Sources:
https://blucactus.blue/seo-stats/
https://www.bluecorona.com/blog/32-seo-stats-know-2021/
https://www.brightlocal.com/research/local-consumer-review-survey/
Google and social platforms have greatly changed the way people do business. These channels have given small establishments a fair chance to compete with bigger companies. Now, you can keep your day job and start a local business at the same time. There are plenty of marketing strategies for small businesses that can get you virtual traffic which you can use to convert to customers.
To do that, your local SEO game must be strong.
The good thing is that you do not need to overhaul your current SEO practices to rank higher on local organic search results. You only need to learn the best ways to improve SEO locally so that your campaigns are focused on more targeted searches.
Best Tips for Local Search
Ultimately, the goal of local SEO is to put your brand on the map. This is what Google literally does so that people have a quick, dependable way of finding service providers. The idea sounds simple, but it's easy to get buried by other websites than being found by potential buyers.
To help your target customers find your company virtually and geographically, practice these local SEO strategy tips:
1. Finetune your site for local search.
How Google brings up search results has changed over the years. Before, marketers tricked search engine bots by stuffing their content with keywords rather than focusing on quality. Nowadays, this practice is a sure way to drop your site ranking and turn readers away. As people relied more on the internet to find out where they can buy stuff or get services, Google started to prioritize websites that deliver relevant and updated content.
General SEO would have you regularly posting articles that talk about how your products work. To make your content rank higher in local search, make sure to do the following as well:
Help people find you. How can people find you if they do not know their way around? If people have never heard of your business, how can they learn about it when they research online?
To help people find you, link your address to your exact location on Google Maps and create and verify a Google My Business page. You can also use nearby landmarks as targeted keywords or mention how far you are in distance or travel time to other areas of interest like airports, shopping malls, or bus stations.
When Google verifies your business, it could have a sidebar space where users can easily find it. With a Google My Business page, you can easily display customer reviews as well.
Do not forget about title tags and meta descriptions. Title tags and meta descriptions give people a gist of what they can find when they click on your page. In the few seconds that people scan SERPs (search engine results pages), it is the title tags and meta descriptions that grab their attention.
Keep the information updated. More and more people now rely on information they find on their internet. When they find your business contact information and find out that they cannot get in touch with you, they will go to the competitor. Keep information current all the time especially phone numbers, emails, and business hours.
Keep titles and meta descriptions short, informative, and compelling. Keyword research is also important when creating content for title tags and meta descriptions.
Publish posts with more specific subjects or themes. There is nothing wrong with writing a wide variety of posts to attract more readers. However, this will not help you establish your credibility in any field.
To become an industry expert, write posts that speak to a specific group. Have a clear picture of your target customer in mind. What age or gender are they? What are their likes and dislikes? Knowing the answers to these questions will help you improve your messaging.
TIP: It is challenging to write data-laden content without sounding robotic. It can also be challenging to write about your brand without sounding salesy. If you cannot create the perfect content yourself, consider hiring a content writer VA (virtual assistant). VAs who are experts in branding and content marketing know-how to optimize your blog posts for better ranking and reduced bounce rate.
2. Leverage local reviews to win customers.
Flashy marketing banners might grab attention, but reviews from real customers seal the deal. Don't stop with simply listing or claiming your company in Google My Business. You also need to make the most out of it, especially by optimizing customer reviews.
Google Customer Reviews is a tool that helps entrepreneurs get legitimate reviews from real buyers. People can easily review your brand or products directly on Google. To encourage more people to leave comments or feedback, you can add a custom review link to your website. Even better, you can use the review link from Google My Business and use a widget for your website. Other popular customer review sites include:
Amazon Customer Reviews
Trustpilot
Consumer Reports
Consumer Affairs
Yelp
TripAdvisor
Yahoo! Local Listings
Glassdoor
Better Business Bureau
Influenster
Angie's List
Choice
Apart from creating feedback funnels, these practices will also boost your reviews:
Ask customers directly and promptly. An email, pop-up message, or a simple note at the end of your invoice will go a long way. It is also important to ask for reviews shortly after customers receive your product or service. When the experience is still fresh in their minds, customers are more likely to leave detailed reviews.
Engage with the people who leave feedback. Thank people for sharing their positive experience with your brand. Recognize those who leave less than stellar comments as well. Acknowledging negative feedback can diffuse tricky situations and help foster trust in your brand
Here are other ways to optimize Google reviews and eventually boost your sales.
3. Invest in a mobile-friendly site.
Many entrepreneurs still have separate business sites for desktop and mobile. Many also consider the desktop version as their main business site. If you think along these lines, you need to rethink your strategy. If studies are any indication, your mobile website is the primary site of your business as far as consumers are concerned.
In fact, even Google admits to preferring businesses that are more responsive to mobile search.
Here are a few tips to improve user experience on your mobile site:
Only use responsive themes. WordPress, Simbla, and Colorlib have a wide array of responsive themes to accommodate mobile search. You can also use Gator Website Builder for ready-to-use templates and an intuitive website builder.
Make button sizes convenient for small screens. Poorly sized buttons can be infuriating for your website visitors. Do yourself and your customers a favor by testing your on-site buttons on several mobile devices.
Display important information prominently. People often just scan a site in search of important information such as operating hours, reviews, address, and list of services. Make it easy for potential customers to find these things when they visit your page on their phones. Having easy access to your FAQs would also help them do a quick research about your brand.
Make it easy to switch to desktop view. Some visitors prefer to view the desktop version of a website. This is especially true if there are text in your content that they want translated or if you have a mobile version of your site instead of a responsive one.
4. Consider optimizing for voice search.
Voice search has been a thing for years and many people are using it to speak to their devices as opposed to literally just typing out their searches. Many users take advantage of the useful features of smart devices, and they do come in handy especially when they need to find something and they are doing something else, like driving or doing chores. The good news about optimizing for voice search is that you do not need to change your content a lot; you only need it to be more conversational or easy to read and understand.
Here are some things that you should consider doing:
Use natural language. The way humans talk and speak differ. Results vary when you type searches versus when you ask a digital assistant a question. People who use voice search often speak conversationally. For example, "What's the weather today?" is a query that most people would use and that is why you need to focus on these kinds of phrases and longtail keywords.
Create a FAQ page with specific questions using longtail keywords. With the point illustrated above, optimizing for local search means anticipating specific questions that customers would ask about your business. While voice search makes use of longer sentences, it is more specific, and therefore will need an accurate as possible answer.
Business owners should carefully research the questions their businesses get with the audience in mind. Curating the specific questions will help in creating authority content or quality blog posts.
Make your website ready for both local SEO and voice search. As people become used to the convenience of instantaneous digital information at their fingertips, business owners should be ready for this trend to increase in the future as this keeps you ahead of the competition. To be prepared, you need to get into the mindset of anticipating what information customers need when they are at the crucial decision stage. You can provide them with relevant information that is quick-to-load, user-friendly, and most importantly, the right responses to a voice search query.
5. Hire local SEO services from an expert.
Major search engines including Google are really cracking down on what information they allow on the results. These strict rules and regulations have resulted in more complex algorithms and websites getting low traffic. For example, Google has enacted the local SEO 3-pack where it only displays the top 3 search results. For example, a user from Berlin, Maryland is searching for a nearby pet store. The search results page [SERP] from this query will only display local pet stores with the best SEO.
This is a problem because local business owners would compete to get in the top 3 and those who do not have the knowledge to optimize for local SEO will definitely not make it. This is where local SEO experts can help. Here are the top business benefits of hiring a local SEO expert or agency:
They create custom local SEO solutions to help boost your website. Let's face it, SEO is far too complex for beginners. Even if someone in-house follows all the guidelines and rules, a seasoned local SEO expert can get it done in a short amount of time and accomplish better results. The faster you optimize your website, the faster the results you will get.
They can help overhaul your local SEO strategy. Clicks are important and the best way to have more is to increase your website reach online. Local SEO experts can help with that by overhauling your entire strategy or suggest areas for improvement.
They can help you monitor progress and understand analytics. Analytics is one of the most important factors when making business decisions, so it is crucial to learn how to read and understand them. Interpreting it wrongly can be disastrous because you are using incorrect information, and this can potentially harm the business. You can get all the help that you need when working for a local SEO agency.
They know the competition. There is a lot of studying and research involved with SEO and that includes competing businesses in your area. A local SEO expert may already have their insights not only on the competition, but on partners, and your potential audience as well. Because SEO is such a dynamic field, they need to be up to date with everything and that is why they are reliable in the sense that they are the first to know about changes and that will also apply to how they will strategize their SEO solutions for your business.
You can delegate this task to them. As a business owner, you have a hundred and one things to do. Local SEO optimization is best left to experts, and you can happily delegate this task to the more capable hands. This frees you to do what you need to do and focus on the most important and time-sensitive things.
Applying local SEO tips and tricks quickly boosts your website ranking in Google and introduces your brand to more people. Use these tips for local SEO success. Also check out: SEO Best Practices cheat sheet for first-time bloggers or this guide on SEO Hacks to improve your Google Ranking
Ready to hire an SEO specialist virtual assistant for your business? Give us a call at our toll-free number 1 (443) 856-4882 today! You can also use this consultation form to submit your virtual staffing requirements. Our helpful staff will be in contact as soon as possible.