Hire an Amazon Virtual Assistant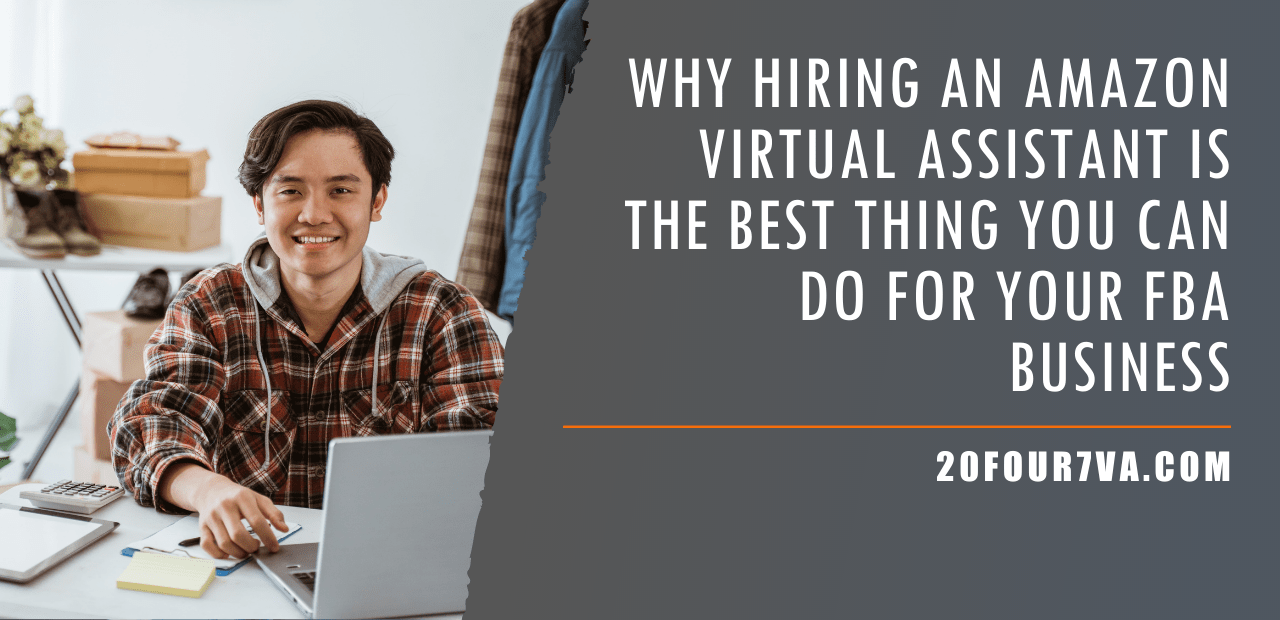 Amazon is one of the most successful eCommerce companies in the world, with an estimated $321 billion in total assets in 2020. An Amazon seller makes a minimum of $1,000 a month but can earn a six-digit figure if everything falls into place. The chances of that happening will increase if the seller hires an Amazon virtual assistant to help with various tasks at a cost lower than you'd typically pay a full-time employee. By delegating tasks to a virtual assistant, the Amazon seller can focus more on growing their Fulfillment by Amazon (FBA) business.
What is an Amazon virtual assistant?
To know what an Amazon virtual assistant is and does, you must first understand what a virtual assistant or VA is. A virtual assistant is a remote worker hired to perform various tasks that can be accomplished online. An Amazon virtual assistant, therefore, is a professional working remotely to help your Amazon business succeed.


What can an Amazon virtual assistant do?
An Amazon virtual assistant can be considered a jack of all trades. They possess a wide range of skills and experience that can be utilized accordingly.
One thing an Amazon VA can do is deal with people. Your virtual assistant will help establish a good relationship with the suppliers to ensure everything will go smoothly. It's vital to your business' success that products are always ready for delivery. You need your suppliers to be prepared whenever an order comes up. The VA will be in contact with the suppliers to make sure they always have ample stock of the products you are selling.
The virtual assistant is also adept at dealing with customers. They will maintain your good standing with satisfied customers. The VA also has what it takes to deal with unhappy customers. Aside from listening to their complaints and trying to resolve the issue, the virtual assistant should also be able to fix the relationship so you won't lose your customers.
A virtual assistant also has a good grasp of social media since most of their work revolves around or utilizes such platforms. Your chosen VA will manage your website and accounts and help you attain a good social media presence.
Customer service tasks
One of the keys to a successful Amazon business is customer service. You need to prioritize your customers, but you also have to focus on other aspects of your FBA business. The Amazon virtual assistant will entertain all your customers and helps ensure that their queries are addressed.
Handling customer queries


The virtual assistant for Amazon will be responsible for establishing customer relations through timely responses to queries. The VA will reply to questions, provide solutions to issues, and up-sell products. The Amazon virtual assistant will interact with customers through phone calls, emails, chat, text messages, or social media platforms.
Making message templates


Message or SMS templates are necessary to make your business more efficient. You or your virtual assistant can't spend precious time composing and sending messages one by one, especially if the bulk of the concerns are the same.

The Amazon virtual assistant will create message templates for answering frequently asked questions (FAQs). The Amazon VA can utilize SMS customer service platforms to generate personalized messages, add photos, attach links, and even include custom fields.
Interacting with commenters


Your FBA business will receive comments from both happy and not-so-happy customers. The virtual assistant for Amazon will respond immediately to positive comments by thanking them and asking if they need further assistance.

As for the negative comments, don't be discouraged by them. It is an excellent opportunity to win over new fans. Your virtual assistant should be adept at handling such situations. You need them to keep their composure and come up with a sincere yet professional response.
Feedback management


Like the above Amazon virtual assistant services, your VA has to respond to positive and negative feedback. The virtual assistant will display positive feedbacks on the product listing and respond to the customer.

On the other hand, the VA needs to remove the negative feedback immediately to prevent further damage. This one needs to be taken care of instantly, so the VA has to check the feedbacks regularly. As you can imagine, this task is time-consuming, so it's best to leave it to your VA.
Management and operational tasks

Managing the Amazon store


The Amazon virtual assistant will keep you up-to-date on daily operations, sales and inventory figures, and other essential information. The VA should also notify you of things that need your immediate attention.
Handling Amazon product listings


You need to create a product listing before you can sell on Amazon. Once you have established your business, you will need a virtual assistant to assist you with this task.

The Amazon virtual assistant will regularly check the product page and help provide or update details such as the titles, product descriptions, images, and prices.
Product sourcing and inventory


You need products to sell. You need a virtual assistant to look for possible product sources, particularly wholesale ones, continuously. The VA will also keep track of the inventory so they can process orders when necessary.
Marketing tasks

Market research


Another factor behind the success of an Amazon FBA business is market research. Before establishing your business, you should do the necessary research on the products you wish to sell. Two things you need to look into are your target audience and the competition.

When you decide to hire an Amazon virtual assistant, the candidate should have good research skills. The virtual assistant will be tasked with determining trends in the market. They will also look into what products are being sold by your fellow Amazon sellers. By learning the product trends and the top-selling products from your competitors, you get a better grasp of what consumers prefer.
Data analysis


Doing research is not enough. The Amazon virtual assistant should be able to analyze the results of their research and figure out how it can help the FBA business. The virtual assistant will also help in running campaigns, after which Amazon will provide data. It's also the VA's job to analyze the data from the campaigns.
Branding and promotion


Research and data analysis is instrumental in building your brand. Your brand is vital since it will help your business be noticed more by buyers. The Amazon virtual assistant task will help you find your niche and create a personality that appeals more to your target audience. If you don't have a business name, logo, or slogan yet, your VA may also lend a hand.
Website and social media management


The Amazon virtual assistant may also handle the website and social media accounts of the FBA business. Aside from what is on your Amazon account, you can also promote your brand and products on social media.
Product and store promotion


It only takes a few minutes and some clicks to set up an Amazon account before you can start selling and earning. Afterward, you can proceed with your product listing and wait for your first sale. You need more than these steps to become a successful Amazon seller. You need to market your page. The virtual assistant will help you promote your FBA business and bring in buyers.
Review generation


If you've bought something on Amazon or similar online retail stores before, you probably read the reviews first. Most people make their decision to purchase an item depending on the reviews. Around 79% of consumers believe in online reviews. If your products consistently receive 5-star reviews, more people trust your business.

To encourage customers to leave positive reviews, you need to give them a pleasant consumer experience. Start by being honest about your products so buyers will not feel misled or lied to if they do not meet their expectations.

The VA shall also follow up on consumers by sending emails asking for feedback on their purchase. You can also send out newsletters and message them on social media to ask for their honest and hopefully positive reviews.

Benefits of having an Amazon VA
More time for yourself


Hiring an Amazon virtual assistant allows you to delegate some of the tasks and responsibilities of running a business. This opens up more time for you to do other stuff, whether related to your business or for your pleasure.

With an Amazon FBA virtual assistant, you are not bogged down by mundane tasks such as responding to emails and calls. You can make better use of your time by taking care of other, more critical business needs. You can also focus more on thinking of ways to expand your business or venture on a different one. A VA will also open up some time for yourself so that you can enjoy the fruits of your labor with people close to you.
Flexible work hours


Typically, full-time employees are only available during work hours. If you need them to go beyond office hours, you will have to provide overtime pay. Hiring Amazon virtual assistant services means you don't have to worry about your employee's availability. A virtual assistant will create a schedule that coincides with yours. VAs from different time zones can adjust their work schedule in your favor.
Fewer overhead expenses


As an Amazon seller, you can conduct your business from home. You don't need to rent an office or workspace, provide equipment, and purchase furniture. Overhead expenses such as office space rent, electricity bills, and utility bills are also reduced. Since virtual assistants are remote workers, you don't need an office.
Reduced labor costs


In a traditional work setup, the employer is expected to pay a fixed salary, shoulder some of their full-time employee's payroll taxes, and provide benefits like insurance and miscellaneous medical expenses. Since virtual assistants are independent contractors, they are not considered regular employees. In effect, VAs are not entitled to additional compensation other than what has been agreed upon before the start of employment. In other words, you only pay for the actual work they do for you.


What skills should an Amazon virtual assistant have?
Communication skills


Communication is an essential aspect of any business, especially in the retail industry. You need to communicate well with your suppliers and customers to make sure you seal the deal. Simple misunderstanding may cost you a lot so make sure your VA has the proper communication skills.
Computer skills


Virtual assistants do the entirety of their work online, which means they are well-versed in basic computer programs and can quickly learn how to navigate unfamiliar software. Still, it's good practice to ensure that the VA you're hiring knows her way around the software you and your team use daily.
Research and analytical skills


As mentioned, your Amazon VA will need to do thorough research on your target audience, competitors, product trends, and potential suppliers. The VA should also know what to do with the data collected from the research. They will then interpret the results and look at the different ways they can help your business.
SEO and copywriting skills


Virtual assistants with SEO experience can create product titles and descriptions that will rank high in searches. Done correctly, this will translate to more sales. The right Amazon virtual assistant can also craft blog posts and other content to attract prospective customers.
Photo editing skills


Aside from writing product descriptions, the virtual assistant will also be tasked with posting photos or images related to the product. Photo editing skills will be a huge plus.

What are the challenges of hiring and managing an Amazon virtual assistant?
As in any business, running an Amazon online store has its challenges. That includes hiring and managing a virtual assistant. If you're not familiar with VAs, you may have difficulty grasping the concept at first. However, once you overcome your initial doubts, you should be able to see how much hiring an Amazon virtual assistant has helped grow your FBA business.
Here are some common challenges of working with an Amazon VA:
Workplace distractions


Virtual assistants don't work in an office. They either work from home or find a suitable place elsewhere. At home, the VA can easily be distracted by pets and needy children. They also have to deal with chores and errands, among other things.

Those who prefer other places will spend some time looking for a place that's conducive to working. That is in itself a potential issue as the VA may waste valuable time looking for the right environment.

To prevent this potential problem, hire someone from some of the best Amazon virtual assistant providers. These reputable companies have experienced VAs in their stable who have already established the right working environment.
Time mismanagement


Another possible challenge is time management. There's a likelihood that your virtual assistant hails from a different time zone. One advantage of this situation is that someone will still be working while you're asleep. The potential problem is you may not be able to reach each other when something comes up, and the other is already resting.

This can be resolved by making sure all issues are tackled while both parties are working. You can also keep your lines open up until it's time for you to hit the sack.
Communication issues


While everything is practically connected nowadays, there may still be problems with communication between you and your Amazon virtual assistant. Some possible issues that may lead to a breakdown in communication include poor internet connection and problems with their device.

An experienced virtual assistant knows how vital a stable internet connection is and will ensure they have contingencies in place. One possible solution is to have a backup internet source. The same goes for devices. The VA should have a backup device so they can continue working. Work files should also be saved in a shared cloud storage so they can access them anytime.
Familiarity with holidays and customs


Virtual assistants from different countries have their own holidays, customs, and traditions. Make sure you know about these upon hiring your Amazon VA to avoid future problems. Virtual assistants from predominantly Christian countries may have holidays that are not celebrated in your country. Knowing this can save you from the surprise of your VA asking for a day off work.

In some Asian countries like India and the Philippines, workers expect a 13th-month pay at the end of the year. Employees in Greece and Spain, meanwhile, are given a 14th-month bonus.
Final thoughts
After the pandemic lockdowns of the previous year, many business owners have realized the importance of contactless hiring and remote work. But as a business owner, you may still prefer face-to-face interactions with your customers, as this makes it easier to build and maintain relationships with your clientele.
Fortunately, you can still interact with customers and run a small retail business from the safety of your own home. For your Amazon business to become a success and rake in dollars, you will need help. Hire the right person from the best Amazon virtual assistant provider and make your life easier.