Top Virtual Assistant Tools 101: Part 6 – Payment Portals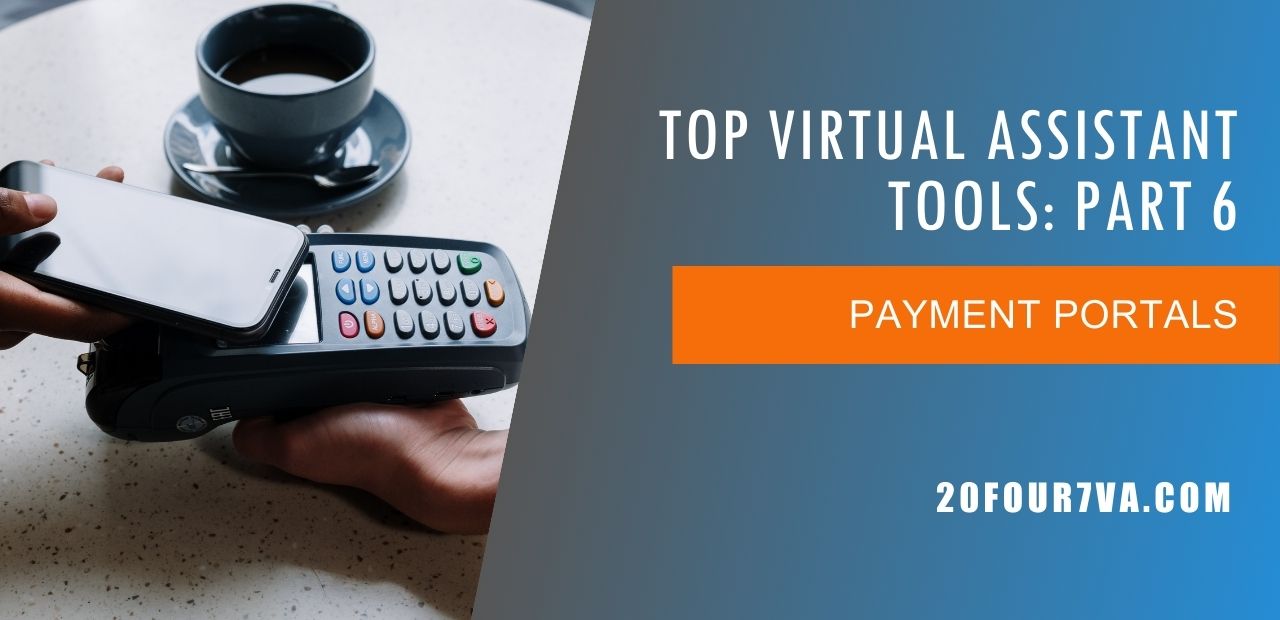 Payment portals offer convenience to freelancers and virtual assistants who work online. As the gig economy soared in recent years, online freelancing has become a stable source of income for many. In addition, many are drawn to the perks of working flexible hours, higher than average pay packages, and the fact that freelancers no longer need to travel or commute to a physical office because they can work from home or anywhere they want.
With this type of work setup where there are multiple clients locally or foreign, setting up a regular payment system can be challenging. Luckily, the existence of payment portals has rendered those concerns obsolete.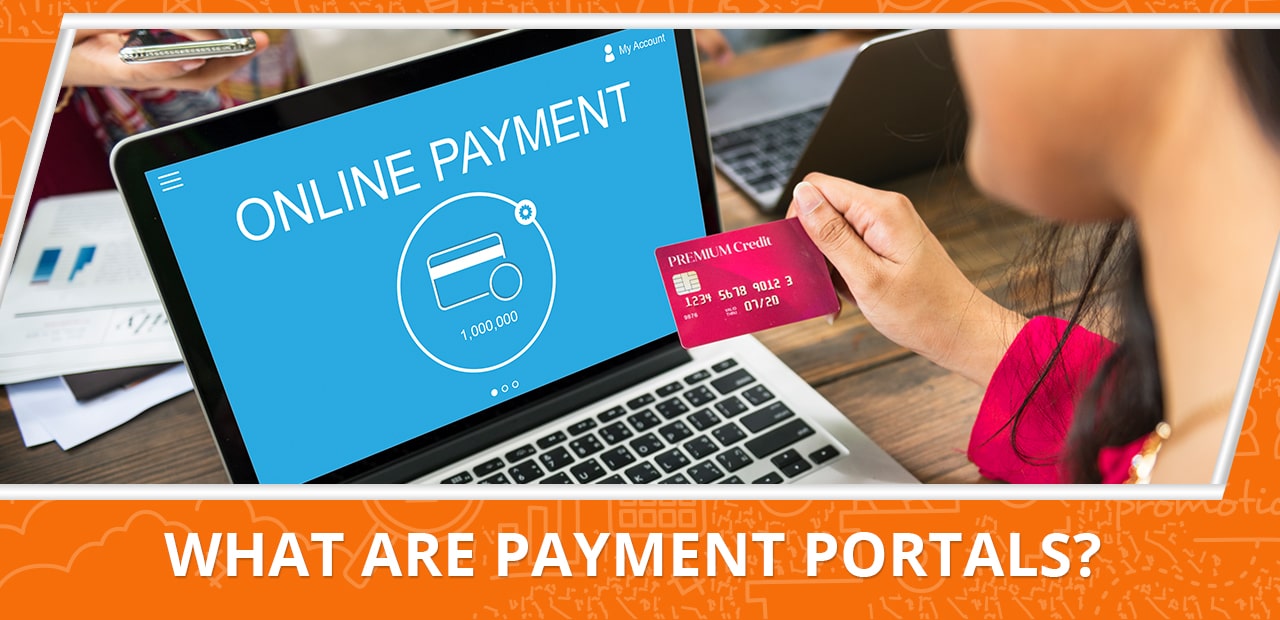 What are Payment Portals?
A payment portal, also known as a payment gateway, is a secure and convenient way to transfer client payments to the merchant. Electronic transactions are popular nowadays thanks to the booming eCommerce industry, including online shopping and the labor outsourcing industry. Payment portals accept debit and credit cards and funds from online wallets.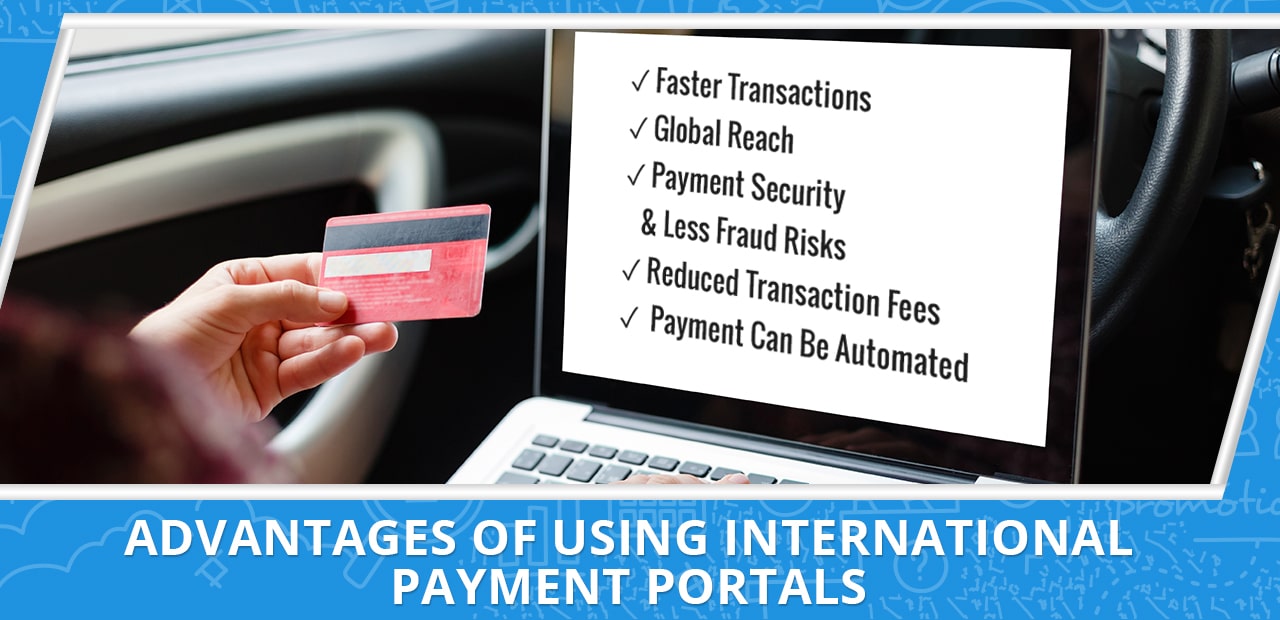 Advantages of Using International Payment Portals
Paying in cold hard cash is quickly becoming a thing of the past as online banking, and digital wallets continue to become popular. Additionally, it is inconvenient to carry cash around for multiple transactions. Therefore, payment gateways are favored because of their many benefits, including:
1. Faster Transactions
Manual payment in cash or checks can take a while to process and can be a bit of a hassle for both the employer and freelancing virtual assistant. Payment portals are proven to be faster and save time and effort in making trips to the bank every payday. Additionally, there is no need to keep books or ledgers for keeping track of payments as digital records are automatically created for every transaction.
2. Global Reach
Clients often find it challenging to pay remote overseas workers, but with international payment portals, cashless payments can go through without worries. Freelancers are paid on time, and their wages neatly sent to their banks or online wallets with no hassles.
3. Payment Security & Fewer Fraud Risks
Doing online transactions using credible and established payment portals for both the sending and receiving ends is secure and credible. Standardized industry encryption regulations protect employees' sensitive financial data and limit potential fraud risks. Online payment portals offer security and peace of mind for all their customers.
4. Reduced Transaction Fees
Most payment portals have lower transaction fees than other forms of payment arrangement. Some portals also have better currency conversion than others, which will benefit remote workers because it means higher pay on their end.
5. Payment Can Be Automated
Ultimately, one of the most significant advantages of using an online payment portal is that it can be automated to release wages on schedule. Most portals can be integrated with an automated payroll system that could keep track and verify invoices, the number of hours worked, and many more. Additionally, doing paychecks this way saves time and minimizes errors because calculations and deductions are done for you and with minimum effort on the employer's part.

What to Consider When Choosing the Best Payment Portal for You
Uninterrupted and seamless payment modes that can connect to all online wallets and banks that you have almost seem like a pipe dream but with how technology is constantly evolving, it may be possible in the future. However, until that happens, there are factors to consider when choosing the right payment gateway for you, especially when you need to use it to pay overseas contractors, virtual assistants, and other types of transactions.
1. Integration Process
There is nothing more annoying than trying to set up your information so that you can finally make cashless payments only to find out that the process is tedious and confusing. An ideal payment portal should have a simple and easy integration process to sign up and use it right away with no incidences. It should be able to accept various payment modes as well.
2. Speed of Money Transfer
Ideally, transfers should be instantaneous, but unfortunately, some factors get in the way of that. Delay in transfers may be caused by large money transfers and specific protocols that cause banks to hold the said transfer, to name a few. It is important to pay your remote workers correctly and timely as it is their due, and they may need to use the money right away. Furthermore, no one will want to patronize a payment portal that takes ages to process payments, especially if you need to make a lot.
3. Multi-Currency Management and Transactions
Since most popular payment portals are meant for local and international use, they should be able to accept, handle, and manage multiple currencies. There is also the issue of currency exchange and fluctuations. The right payment portal should be transparent with rates, fluctuations, and related fees regarding using different currencies for transactions. Another issue would be connecting various bank accounts from other countries, so payment portals should be able to accurately support these types of transactions.
4. Quality Customer Support
Things can go awry, and when this happens, it must be resolved right away since it involves money and wages. The ideal payment portal should have quality customer support that can assist round the clock as errors or other types of mishaps may happen at any time. Although email or chat support is considered the standard for contacting customer service, it is better to have a direct phone line or a live person that can be reached online to fix critical issues right away.
5. Data and Security Breach Protocols
Data leaks are among the gravest threats that anyone can face online. For payment portals that deal with money, customers, and information, they should have data and security breach protocols in place. They should be transparent and upfront should such occasions happen and find a way to take the situation under control as soon as possible while minimizing repercussions.

Top Payment Portals for Remote Workers
Employers or business owners understand that when online shopping and transactions are the norm, payment portals are important to have. Those looking to integrate payment gateways to their websites or add more payment modes for their business should check out the list below.
Perhaps the most well-known global payment portal online, PayPal is a platform that is popularly used in eCommerce platforms and by freelancers. It is a gateway that allows users to both securely send and receive money anywhere in the world. It can also be used to transfer money and pay bills using the money from a payment account, including debit and credit cards.
Anyone can use PayPal. You can register for one of three account types: Personal, Small-to-Medium Business, and Enterprise. Each type allows the usual online money transactions, but business account holders can streamline their payments infrastructure for efficiency and convenience.
Wise, formerly known as TransferWise, is a money exchange platform that is one of the cheapest ways to send money to anyone worldwide. It currently has the lowest fees in currency exchange and is considered one of the best alternatives to PayPal. Wise is transparent about charges and bases the transfer fees on how much money is to be sent abroad.
Wise can be used by individuals and businesses with a multi-currency account option that can manage and send money in 50+ currencies. All it needs are bank details and identity verification to be able to do transactions. It also has global support in multiple languages.
Stripe makes online payment processing more accessible and more convenient through its cloud platform. It has plenty of valuable features for smooth online transactions. Stripe accepts plenty of payment options, including bank transfers, all major credit and debit cards, redirects, cash-based vouchers, and even support "buy now, pay later" arrangements and subsidiary support.
This comprehensive payment portal can set up different types of online and omnichannel payments. Stripe can also be relied on for recurring payments and even platform and marketplace payments.
Payoneer is a global payments platform that allows you to pay several freelancers and use it to transact business locally and globally. It is currently used in over 200 countries and can support 150 currencies. Payoneer is frequently used in popular freelancing websites and can integrate with some project management systems to help streamline invoicing and billing as it helps track time and keeps records.
Like any other payment gateway, employers can send payments via transfers, online wallets, credit cards, and even international checks. However, while others may take a few hours to several days for transfers, Payoneer funds can be sent and are accessible as quickly as two hours. It also keeps detailed records, including payment histories and even freelancer information.
Square is another PayPal alternative and is popularly favored to use by small businesses. It is easy to set up, use, and navigate, making payment processing instantaneous and convenient. In addition, it takes different types of payments, including wallets, contactless cards, and in-app payments.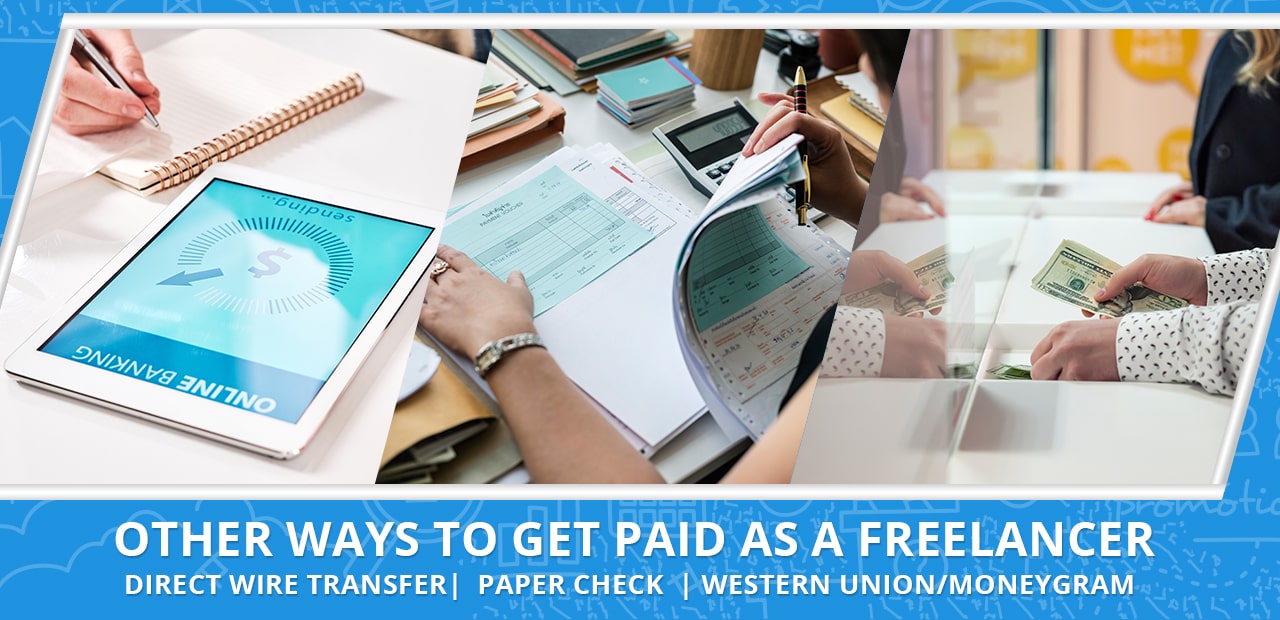 Other Ways to Get Paid as a Freelancer
1. Direct Wire Transfer
Direct transfers are generally safe, but it takes a lot more time for banks to process them. It may take about two to five business days before the money is available. Therefore, while it is advantageous to have money directly deposited into the bank account, wire transfers are known to be more expensive.
The more money you send, the higher the fees as well. The fees may include handling charges, flat fees, and other types of fees for processing the transfer. It is best to let the freelancer know that this type of payment may shave off more of their earnings than when using an online payment portal. Sometimes, some banks also charge another fee for receiving the money.
2. Paper Check
Sending a check is an offline payment alternative and one of its most significant advantages is that it is free. However, cashing it in may be a bit of a process and may take time as the banks go through verification to ensure that the money goes where it is intended. This is not a suitable option for freelancers that need to use the money right away as they may need to spend time inside the bank during business hours.
Additionally, while checks can be mailed, it will take quite a bit of time before it arrives. And while sending paper checks is generally safe, it is best to use this payment option for trusted remote workers only.
3. Western Union/MoneyGram
For freelancers with no bank accounts or eWallets, sending their salaries through Western Union or MoneyGram is a safe alternative. There are hundreds of thousands of Western Union branches or MoneyGram in the world, so they will likely be able to receive their pay through those outlets.
For fees, it is directly proportional to the amount of money sent. While this is a reliable and secure option, the total amount of cash. Individuals and businesses can use Wise converted to the freelancer's local currency will depend on Western Union's or MoneyGram's exchange rates.
Have you used any of these payment portals? Which ones would you recommend?
If you want to learn about achieving business security compliance when working with remote workers, stay tuned for our next topic about Data and Business Security Systems next month.