Virtual HR
Hire Virtual HR specialists to make your company's remote work environment thrive.
Hire a Virtual HR Assistant
Human resources (HR) is one of the core divisions that every growing business should have. Regardless of the size of your business, it would help if you had the essential human resources functions for better operations and happy, productive employees. These functions include:
Screening and Hiring

Onboarding

Training and Development

Performance Management

Implementation of HR and Labor Policies

Payroll Management or Compensation and Benefits
If you're a business owner, you know how vital these HR tasks are, but you don't have the time or energy to do them yourself. Cue: your virtual HR assistant.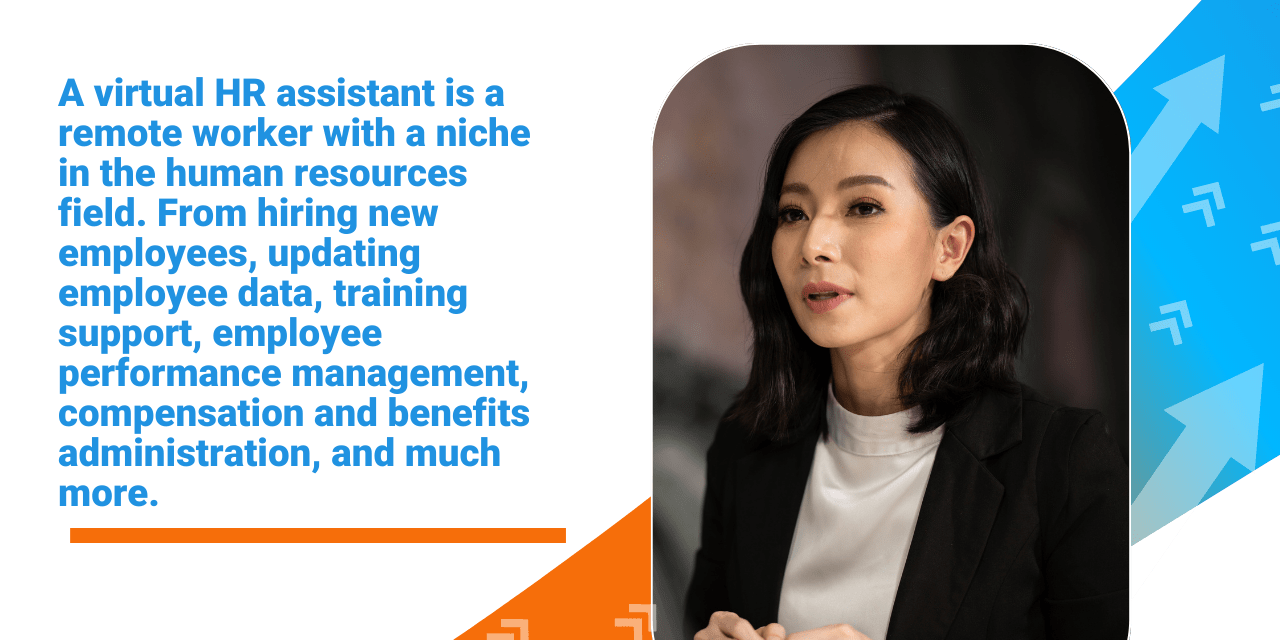 WHAT IS A VIRTUAL HR ASSISTANT?
A virtual HR assistant is a remote worker with a niche in the human resources field. Depending on the type of HR support you need, you can work with virtual assistants who can help you with a wide range of HR responsibilities, including hiring new employees, updating employee data, training support, employee performance management, compensation and benefits administration, and more.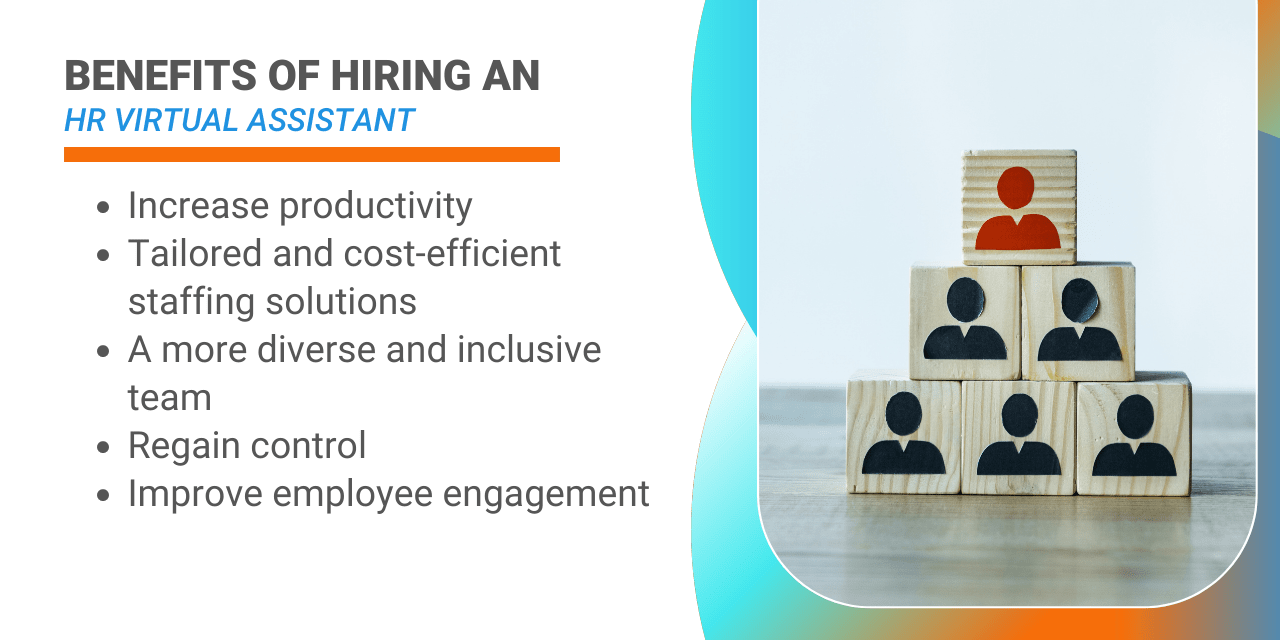 WHAT ARE THE BENEFITS OF GETTING VIRTUAL HR SERVICES?
INCREASE PRODUCTIVITY
Let's face it, screening through resumes to find the right employee for the job can take up much of your work hours. And that's only the tip of the HR iceberg! A virtual assistant can help you make your HR task list more manageable by taking on some time-consuming tasks that don't require your full attention. Delegating routine and tedious tasks to a virtual HR assistant allows you to manage your time better and focus on more value-adding issues, like managing underperforming employees or improving business operations.
TAILORED AND COST-EFFICIENT STAFFING SOLUTIONS
Not all businesses have an extensive HR department to handle all the essential human resources tasks. Some might not even need a full-time team of HR practitioners to get the job done. A virtual HR assistant can complement the HR staff you already have, or you can hire a team of HR VAs to make up a fully remote human resources team. You can consult with remote staffing providers or virtual hr companies to find the best virtual HR solutions you need.
A MORE DIVERSE AND INCLUSIVE TEAM
Opening your company to remote staffing support also helps you have a more diverse and inclusive organization. Embracing remote workers with diverse experiences can help improve your HR department and your company. You can learn valuable information or insights that could only be borne out of collaborative and welcoming exchange of ideas. You will also gain access to new perspectives and solutions to issues when you work with a virtual HR assistant with considerable human resources experience.
REGAIN CONTROL
You only have so many hours in your work week, so you must learn to manage your time better to lead your business and employees toward a brighter future. By getting support from the right virtual HR assistant, you'll be able to take back the time you usually spend poring over tedious HR-related tasks such as screening numerous applications, updating employee information in your HR data software, resolving labor issues, and much more.
IMPROVE EMPLOYEE ENGAGEMENT
Employee engagement is crucial in keeping employee turnover low. Workers who feel valued and well-compensated will want to continue working for that employer. Hiring a virtual hr assistant lets you let go of low-value and tedious tasks. Doing so can help you clear your task list and mind to improve your employee engagement strategy and strengthen the company culture.
WHAT TASKS CAN VIRTUAL HR ASSISTANTS DO?
From recruitment to performance management to compliance safety, you can find the right hr virtual assistant (VA) to provide the HR services you need.
Reviewing applications

Email management

File management

Initial phone interviews

Background checks via phone or email

Calling or contacting shortlisted applicants

Hiring and

onboarding

of new employees

Updating of HR data management software

Updating of workforce information or database

Administering performance reviews

Payroll computation

Incentive processing

Coordination with insurance companies

Ensuring compliance with labor regulations

Crafting or updating the employee handbook

And many more!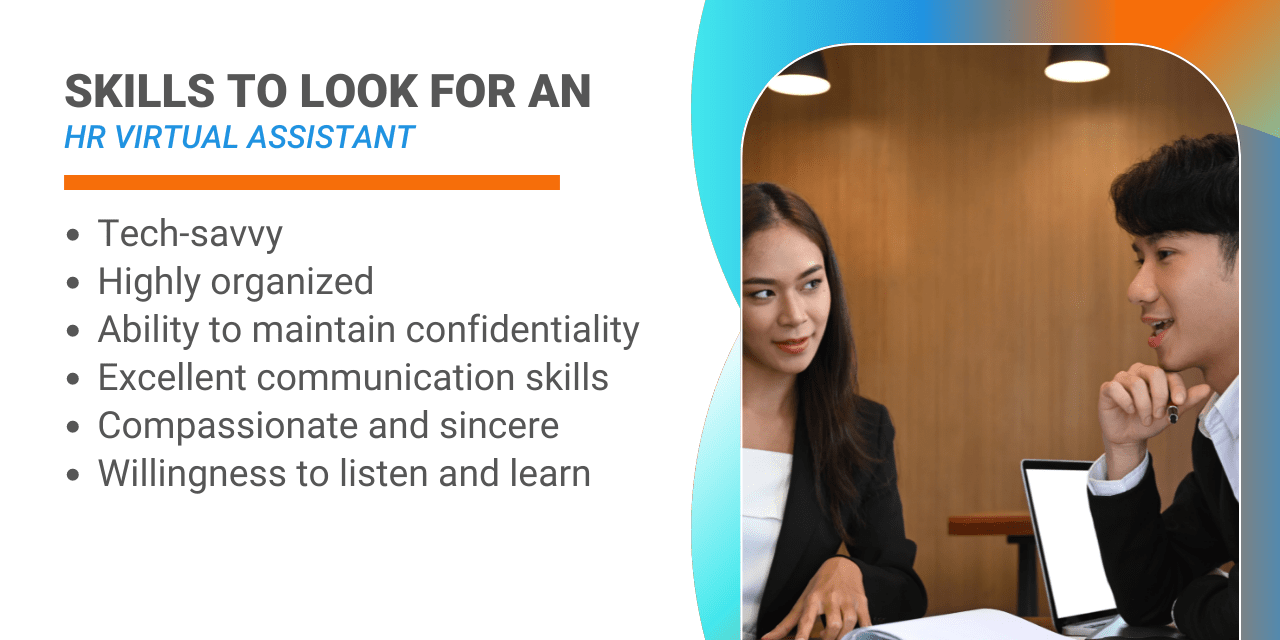 ESSENTIAL SKILLS AND QUALITIES TO LOOK FOR IN A VIRTUAL HR CONSULTANT OR ASSISTANT
TECH-SAVVY
Every remote worker must be comfortable with using computers and technology. Without this quality, a remote worker will find it difficult to manage their tasks list and effectively fulfill their job. Virtual assistants don't have easy access to IT professionals, so they should know how to conduct "self-service" IT troubleshooting.
HIGHLY ORGANIZED
HR tasks, including screening applications and managing onboarding requirements, require a VA with excellent organizational skills. They must be able to maximize the availability of HR tools and software to help them properly manage files.
ABILITY TO MAINTAIN CONFIDENTIALITY
An HR practitioner will be exposed to confidential data, including the company's labor budget and the applicants' personal information while on the job. They must be able to safeguard confidential information and know how to use cyber security tools. Any breach in confidentiality can reflect badly not just on the HR specialist themselves but also on the employer.
EXCELLENT COMMUNICATION SKILLS
HR practitioners have to coordinate with various personalities as part of their job. They need to report to management, coordinate with external partners, collaborate with current employees, and interface with prospective employees or applicants. These tasks require excellent communication skills especially since they're acting as a representative of your company. You must look for an HR VA that can communicate clearly and professionally.
COMPASSIONATE AND SINCERE
It may be difficult to verify these qualities via resumes and cover letters. Candidate interviews are a great platform for future employers to gauge whether applicants have the right mindset and attitude for the role they're applying for. When interviewing HR applicants, make sure to ask questions that can help you check if they possess these two important qualities.
WILLINGNESS TO LISTEN AND LEARN
Training may be one of the main functions of an HR professional, but HR practitioners must be willing to improve, too. Learning can come from practical experience on the job, online resources, or formal training for HR specialists. Virtual HR assistants must also welcome learning opportunities from their clients and co-workers.
Additionally, HR software and programs are continuously being updated and improved upon. Virtual HR assistants must be open to learning new technology and maximize the tools and data available to them to ensure they provide the best services to their clients—the company and its employees.
HOW TO HIRE THE RIGHT VIRTUAL HR ASSISTANT FOR YOUR BUSINESS
Getting the right virtual human resources services for your business can help you maintain a productive, efficient, and compliant workforce. But finding the right talent can take up your valuable time and energy, so why not partner with a reputable Inc. 5000 company like 20four7VA?
20four7VA has a decade of experience matching clients with the right virtual assistant for the job. We're the partner of choice of clients across six continents. We provide end-to-end services, which include:
VA Recruitment and Screening

HR Support: Payroll Processing, In-house Training, etc.

Dedicated Customer Support and VA Management Assistance

Access to the 20four7VA IT Help Desk

And much more
Find the right virtual assistant HR services for your business today! Schedule a free consultation with our Growth Experts.
Ready to find a Virtual HR?