How to Become an eCommerce Virtual Assistant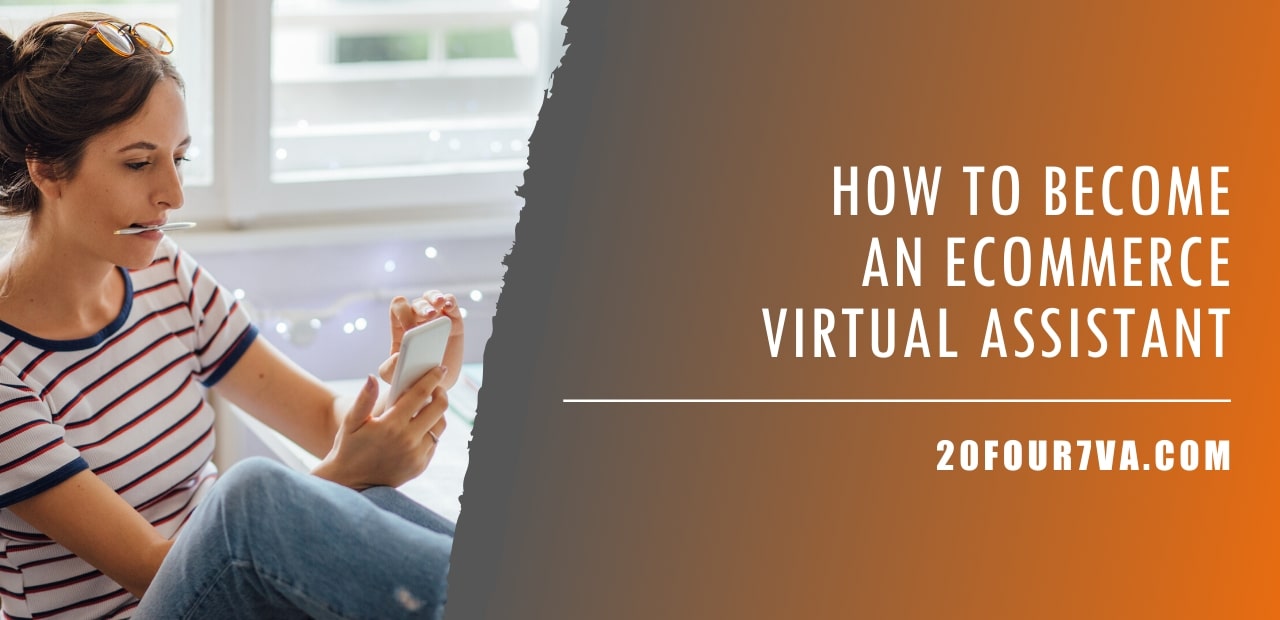 Are you a general administrative virtual assistant who's looking to broaden their skills and service offerings? Are you an office worker who's trying to break into the virtual assistant world and you're now starting to look for a niche? Whatever your reason is for considering a career as an eCommerce virtual assistant, it's always important to do a comprehensive analysis and look at the whole picture first before finalizing your decision.
This article is going to discuss some of the primary information you need to know about becoming an eCommerce virtual assistant, or eCommerce VA. Here are some of the most important questions about how to become an eCommerce virtual assistant that this article is going to tackle:
Now, let's start with the most basic question: why would you want to be an eCommerce virtual assistant in the first place?
Why Become an eCommerce VA?
The steady growth of global eCommerce has definitely prompted a rise in demand for help when it comes to maintaining and growing an eCommerce business. Just take a look at this compilation of recent eCommerce statistics from BigCommerce.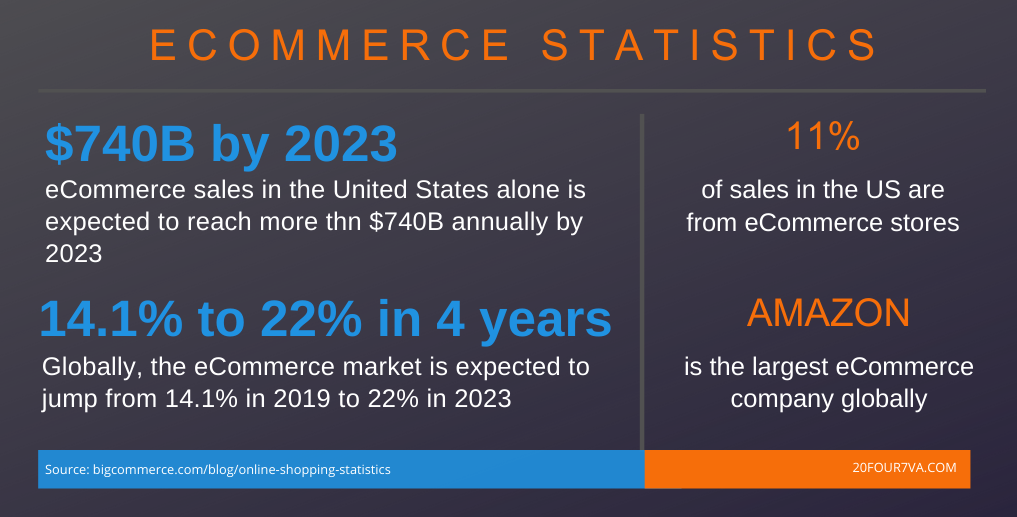 This clearly shows that more and more people all over the world are shopping online, which means more eCommerce businesses and online stores are cropping up. This also means that an increasing number of eCommerce business owners are looking for help when it comes to running their online store, but rife competition in the eCommerce industry also means that they can't afford to spend too much of their budget on labor.
Since eCommerce entrepreneurs are looking to manage their business more efficiently as well as scale successfully, many of them are looking into more cost-effective alternatives for their most common business costs. This led, and continues to lead, an increasing number of online retail entrepreneurs to outsourcing eCommerce work to virtual assistants or VAs. Many of them even prefer to hire VAs from overseas because it allows them to save on labor while still getting the same skills they need for the job.
When you become an eCommerce VA, you can take advantage of the continuously growing demand for workers in the eCommerce industry. Many projections show that the future of retail is online, so a career as a virtual assistant in eCommerce can definitely work for you long-term.
What Skills Does an eCommerce VA Need?
Convinced that becoming an eCommerce VA is the right track? Great! But first, you need to know if you have the right skills for the job first.
Becoming an eCommerce VA isn't just about learning the basics of popular online marketplaces like Amazon, eBay, Jet, or Etsy. It's also not just about taking courses on Shopify or other online store builders. Aside from these hard skills, there are certain soft skills or character traits that you need to have, or at least be willing to improve on, if you want to become a truly successful eCommerce VA. Check them out:

Hard Skills
Spreadsheet management proficiency – you will be handling a lot of listings, prices, and other important information, so you need to know your way around working with spreadsheets and managing big data.
Good writing and communication skills – many eCommerce VAs provide customer service, respond to emails, write or update product descriptions, and do several other tasks which require good writing and communication skills.
Product listing management knowledge – you need to know how to make product listings as attractive to customers and search engines as possible, so knowledge on optimizing and enhancing product listings is a must.
ERP software proficiency – you will likely work with some sort of ERP software for handling orders and inventory, so make sure you acquire and hone your knowledge about using different types of ERP software.
Inventory management knowledge – knowing the basics of inventory management, logistics, product procurement, and order fulfillment is a must.
Basic SEO understanding – product listings and other online store content need to be optimized for search engines in order to boost brand visibility and acquire more leads. SEO knowledge, at least the basics such as keyword research, is needed for this.
Soft Skills
Attention to detail – working with prices, inventory, and orders will require you to be patient and attentive. A small mistake can cost your client's company hundreds or even thousands of dollars.
Adaptability in various technologies, software, apps, and tools – working online means that you have to be able to quickly learn any new tool, app, or software that you client requires you to use.
Ability to work seamlessly with remote teams – you need to be able to communicate clearly and in a timely manner using only your computer, phone, or mobile apps. You also need to be visible and easily accessible to your client and other colleagues at all times.
Time and focus management – you need to be able to manage your time wisely and motivate yourself enough to get the job done. You also need to be strong enough to resist distractions at home.
Genuine interest in eCommerce – a genuine interest in the eCommerce industry will give you an edge because you will likely find yourself researching for ways to improve your skills and your craft. This will make you a better employee and a more valuable VA to your current and potential clients.
What Tasks Do eCommerce VAs Do?
Now that you know what skills are needed to become a successful eCommerce VA, the next step is to prepare for the tasks that potential clients will probably assign to you.
Here are some of the most common duties of eCommerce virtual assistants:

Making sure that their account on marketplaces like Amazon and eBay is a primary focus for many eCommerce businesses. But since doing this requires a LOT of time and effort, many entrepreneurs usually just assign these tasks to their VAs.
Account management usually involves feedback management, product review monitoring, customer service, and email autoresponder setup and management. It can also include tracking conversions and performance metrics and generating reports about the account.
Ensuring that your client's online store has just the right amount of inventory and that all orders are fulfilled correctly and in a timely manner is also something that you should expect to do.
When it comes to managing inventory and orders, you will probably have to liaise with warehouses and coordinate with suppliers for product procurement and storage matters. You also might be asked to do logistics coordination and FBA/FBM management if your client is in the Amazon marketplace specifically. Other tasks involving inventory and orders include order fulfillment, order and shipment refund tracking, and management of shipping labels.
Probably one of the most important things that eCommerce VAs do, particularly when it comes to improving sales and conversions, is listing management. Having high-quality listings on their online store is incredibly important because this is the main thing that pushes potential buyers toward a purchase decision.
If your client hires you to do listing management, you will likely be asked to monitor product listings and prices, do keyword research to enhance product titles and descriptions for better search engine rankings, do product image editing, and just generally enhance and optimize listings to make them more attractive to both customers and search engines.
Constant improvement is key to business success, but in order to improve, businesses need to gather as much data as they can first. That's where you come in. Many eCommerce business owners also turn to eCommerce VAs to help them perform some much needed research.
As an eCommerce VA, you will likely be tasked with product, supplier, discount, and competitor research. Other VAs are also asked to do product and wholesale sourcing, online arbitrage, dropshipping research and setup, and promotions research and management.
How to Find Good eCommerce Clients
One of the most important parts of becoming an eCommerce VA is finding the right clients. As mentioned earlier in this article, the demand for eCommerce VAs is growing at a steady pace, but that doesn't mean that finding the right client is so easy.
When you're trying to look for jobs in unchecked jobs marketplaces, forums, and social media groups, you will likely encounter many clients who will try to take advantage of virtual assistants whether this comes in the form of offering a too-low hourly rate, assigning work that is beyond the scope of the agreed-upon job description, or not paying accurately or on time. To avoid all these, it's highly advisable to work with a reputable virtual staffing company to help you find work.
Virtual staffing companies usually have a pool of clients on hand, so you can express your intention to apply to more than one client at a time. This helps you choose a client who's looking for someone that matches your exact skills and qualifications. Usually, the company plays a big part in ensuring a perfect client-VA match, so you'll save a lot of time on screening job listings.
A good virtual staffing company also takes care of the payroll for both clients and VAs, which means that as a VA, you're sure to receive your salary on a regular basis. Access to a human resources and support department also helps you make sure that your client is not giving you way too many tasks.
---
Ready to work for a virtual assistant company that offers competitive hourly rates and plenty of eCommerce job opportunities? Send in your application to 20four7VA now by clicking this link.