4 Basics of an Awesome Blog Post
As a content writer virtual assistant, you probably know how challenging it is to consistently write top-notch blog posts. From writer's block to being overwhelmed with tons of topics to write, working as a virtual office assistant who specializes in online writing means constantly facing challenges like these.
Yes, it is impossible to write amazing blog articles 100% of the time, but it is possible to increase your odds of producing great content if you know what constitutes them.
Here are the 4 basics of an awesome blog post.
An awesome blog post is about an interesting subject.
While it is true that an excellent writer could possibly make a boring topic seem compelling, having an interesting topic to begin with makes it easier for you to write an awesome blog post. If you don't have a topic in mind, consider scouring news websites or social media channels to see which topics generate the most buzz. Find some way to relate these topics to your client's brand and you have the beginnings of a good article.
An awesome blog post is well researched and structured.
Once you have your topic worked out, it's time to work on the research. An excellent blog post is not just well-written grammatically, it's also supposed to be highly informative. Find out as much as you can about your topic and organize your research to see what would be relevant to the article you are writing.
Take note though that not all information should be included in your article. A good article typically follows an introduction-body-conclusion structure, and it should be cohesive. If you try to cram everything you have learned from your research into it, you'll give your readers a headache and they will be unlikely to finish reading your post.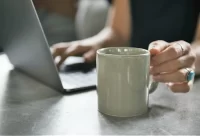 An awesome blog post is written with SEO in mind.
One of the main goals of creating content for online business marketing is to be discovered. This means ranking high in search engine results. As such, it's important to write articles that are not only informative and entertaining, they have to be optimized for search engines as well. This means including inbound and outbound links, targeting relevant keywords, and including keyword-enriched metadata (e.g. headlines, meta descriptions, etc).
An awesome blog post is aesthetically pleasing.
While the text portion of your blog article is the most important part, it shouldn't be the only part of your post. An article's accompanying images, graphics, videos, and other media are also major contributing factors to its success.
Images and videos draw in more readers, and they help make your article more shareable. Search engines also prioritize web pages that have relevant media embedded in them. This means that spending time to add graphical elements to your post doesn't just make it more aesthetically pleasing to your readers, it contributes to your search engine optimization tactics as well.
Do you have any more ideas on how to make an awesome blog post? Share your tips and tricks below!
*** Want your business to grow? Download our free startup tools and resources to help jumpstart your business today.
From marketing tips to business guides and actionable checklists, these resources can help provide you with quick, cost-effective ways to grow your small business and give it an edge among the rest. All for free!