These Are The 9 Best Virtual Assistant Companies in 2023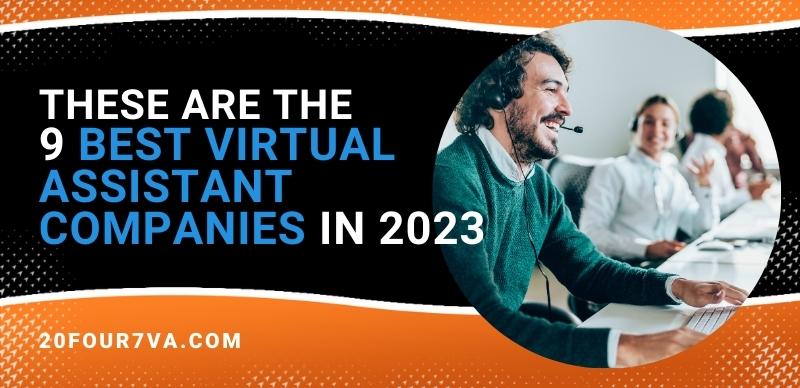 There are many ways for remote workers to acquire fully online or virtual assistant (VA) roles. One of them is by working with virtual assistant companies that facilitate the client-VA matching process. If you plan on becoming a virtual assistant, working with a VA company or agency is the easiest way to get a foot in the door. Read on for our list of the best virtual assistant services companies to work for in 2023 plus some tips on kickstarting your dream VA career.
Types of Virtual Assistants
If you're exploring the possibility of becoming a virtual assistant, the first thing you need to do is find your niche. Contrary to what many assume, VAs don't just do admin or clerical work. The term "virtual assistant" can be any professional who provides outsourced contract work while working remotely. While many VAs function as executive assistants or personal assistants, there are also marketing VAs, web developer VAs, business development VAs, and telehealth VAs, to name just a few specialized roles.
Examples of Virtual Assistant Specializations
With the whole world as their global pool, companies can find virtual assistants for just about any task. There are simply too many virtual assistant specializations to mention, but here are some examples:
Admin or Virtual Personal Assistant Services
Administrative Tasks
Calendar Management
Data Entry
Call Handling
Appointment Scheduling
Booking Accommodations
Transcription
Other Admin Tasks
Marketing & Creatives
Digital Marketing
Social Media Marketing
Content Marketing
Content Writing
Search Engine Optimization
Ads Management
Graphic Design
Other Creative and Marketing Support Tasks
Business Support
Lead Generation
Online Research
Report Generation
Database Management
Bookkeeping
Managing Projects and Business Proposals
Other Business Support Services
Telehealth
Medical Scribe
Insurance Verification
Patient Data Entry and Updating
Client Invoicing
Other Telehealth Virtual Assistance Tasks
IT Services
Web Design
IT Helpdesk
Software Development
App Development
App Integration
Other IT Support Team Tasks
Do your skills and professional background fit any of the above specializations? Are you curious about other VA career options out there? Learn more about the different VA types and get our best  VA Tips and Best Practices.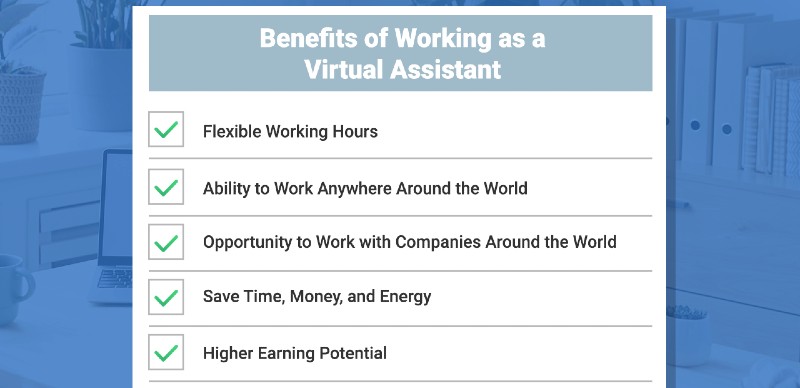 Benefits of Working as a Virtual Assistant
Today's professional landscape is rapidly evolving. Many professionals, especially those in the knowledge sector, have bid farewell to the traditional 9-to-5 corporate job. These workers are empowered to go after location-independent roles because of the swift pace of modern technology and the growing access to alternative, fully-remote career paths. Thanks to the internet and digital tools, remote workers across the globe can pursue a meaningful career in the comfort of their own homes (or wherever their office space for the day is). If you're looking for work opportunities with the following benefits, you should strongly consider becoming a virtual assistant.
Flexible Working Hours
A virtual assistant career can offer flexibility that the traditional 9-to-5 office job cannot. You can opt to work as a dedicated VA part-time or full-time. And because the opportunities can come from around the world, you can apply for positions that are aligned with your preferred work hours.
Freedom to Work Anywhere
Becoming a virtual assistant is an excellent choice if you're the type who doesn't like being cooped up in an office. Of course, you'll need to equip yourself with the proper remote office setup, including backups to your computer and internet connection.
Opportunity to Work with Companies Around the World
A company that wants to hire a virtual assistant knows they can save time and money with this alternative staffing option. They can assign tasks that can be done remotely, including routine but time-consuming administrative tasks like data entry and transcription. They can also look for VAs with more specialized skills to accomplish tasks not part of the company's core functions. These include business tasks like content writing, managing social media accounts, website development, and so on. Specialized functions like these can take time if companies opt to train their current in-house staff. Additionally, it can cost them more to build and hire an in-office team than to avail of virtual assistant services.
The benefits of virtual assistance are attractive to companies aiming to grow without overshooting their costs or stretching their team too thin. This is a great opportunity for remote talent across the world. They have opportunities to work with a wide range of companies, from solopreneurs to small-to-medium enterprises to more established companies.
Save Your Resources
Becoming a virtual assistant can be a viable career option for professionals looking to save time, money, and energy. You're saving time and money by eliminating the need for a daily commute. Say goodbye to the morning and afternoon rush hours that take up hours of your day and drain your energy! You also have the potential to save more money by eliminating daily transportation costs and the temptation of eating out.
You can regain control of your finances by removing these expenses from your monthly budget. Plus, by eliminating the hours spent on the office commute, you'll also have more hours to spend on yourself or with your loved ones—something that's hard to put a price tag on.
Higher Earning Potential
Virtual assistance helps make rewarding opportunities more accessible to talented professionals worldwide. These professionals may have the right skills and experience but are unfortunately unable to find better pay in their country of residence.
By becoming VAs, professionals can find gainful employment with various businesses. Top-notch talents with skills can significantly help companies in diverse industries and countries. Such skills include social media management, IT services, content writing, and eCommerce support.
Interested in becoming a VA? Like and follow the 20four7VA Career Center on Facebook and LinkedIn for more information!
How To Become A Virtual Assistant
There are many ways to find work as a virtual assistant. Here are some examples:
Referrals from your personal or LinkedIn network
Online freelance work platforms
Working at a virtual assistant services company
These three are the top ways to find virtual assistant job opportunities. They have their own pros and cons, but working with a virtual assistant company provides benefits that the other two options cannot.
Why Work with a Virtual Assistant Services Company?
When working as a freelance virtual assistant, you have to act like your own back-end support provider. You need to work on the following:
Marketing yourself as a dedicated assistant
Scouring the internet for opportunities
Finding and researching legitimate clients to avoid scams or ghost employers
Invoicing your client/s
Following up on payments
And other tasks
By working with a VA company, VAs can focus on doing their core function, whether providing virtual personal assistant services or handling specialized tasks like social media management or bookkeeping. Virtual assistant companies, especially the ones included in this list, can make working as a VA that much easier and hassle-free. They have a support system to find legit clients, invoicing, payroll processing, and even training.
As mentioned, the best virtual assistant companies provide the proper support to help you with back-end tasks, including invoicing and following up on payments. They also have systems to ensure that the payment will be credited to you at the agreed-upon date, whether weekly, bi-monthly, or monthly. You don't have to worry about not getting paid on time and focus on being the best dedicated virtual assistant you can be.
Virtual assistant companies can allow virtual assistants to level up their skills and become better at what they do. Through training, VAs can learn new techniques and strategies that will help them provide more efficient services to clients. Training opportunities also allow VAs to stay ahead of the competition by keeping up with the latest trends in the industry. With these training opportunities, VAs are given an edge over other freelancers who may not have access to such support from a VA company.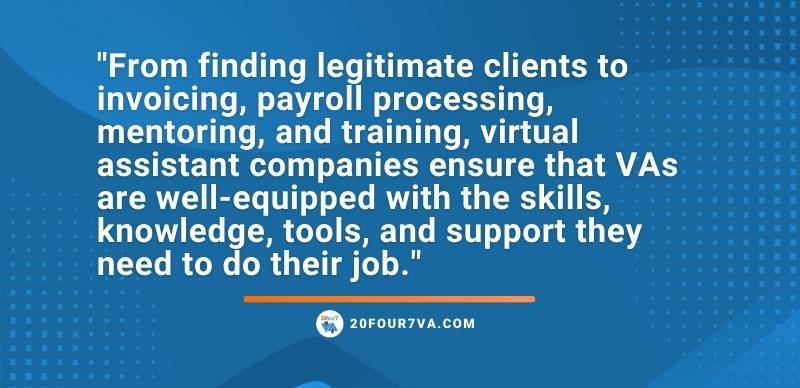 Remote Work Support System
A virtual assistant company can provide a support system that allows virtual assistants to work efficiently and effectively. From finding legitimate clients to invoicing, payroll processing, and even training, virtual assistant companies offer the necessary tools and resources that help ensure that VAs are well-equipped with the skills they need to do their job. This support system can also help troubleshoot technical issues and address VA-related concerns. Aside from the technical and back-end support, it also helps to know that there is a support system or community with which you can exchange ideas, passions, and best practices. All these can help make working remotely less isolating and more inclusive.
Want to know if becoming a VA will suit you? Check out our People of 20four7VA and VA Spotlight profiles for real-life VA experiences and testimonials.
The best virtual assistant services companies make the virtual assistant world more secure. These companies have the expertise and best practices to help all players of the VA world avoid wasting time and money on scams. They find legitimate work opportunities for virtual assistants. At the same time, they help businesses find dedicated virtual assistants who will provide top-notch services instead of potential ghost employees.
9 Best Virtual Assistant Companies to Work For
If you want to become a virtual assistant, finding the right company to work for can be overwhelming. While there are plenty of legitimate VA companies out there, we think the ones in this list are some of the best to work for. The distinction of "best virtual assistant company to work for" depends on numerous factors, including work-life balance, compensation, industry recognition, and company culture.
It's important to note that the companies on this list are not ranked and that what may work for one VA may not work for another. Keep in mind that the "best" company to work for ultimately depends on your personal preferences and requirements.
1. REVA Global
REVA Global is a remote staffing company with a pool of VAs in the Philippines. They specialize in providing real estate virtual assistants (REVA) to real estate professionals, but their current listings also show opportunities in the medical and business support industries. Aside from keeping their real estate clients happy with the level of virtual assistance they provide, they are also committed to helping Filipino VAs find stable work-from-home careers.
Notable strengths: Certified Great Place to Work (November 2022-November 2023), highly rated in Glassdoor (4.8/5 overall rating)
2. TranscribeMe
TranscribeMe provides audio and video transcription services to companies in the legal, medical, education, and market research fields. Here are the minimum requirements to work as a freelancer with TranscribeMe:
Your own computer or laptop with a stable internet connection
A valid PayPal account
Pass the Transcribe Me entrance exam
Be at least 18 years old
Notable strengths: Highly rated for work-life balance in Indeed (4/5 stars)
3. Magic Virtual Assistant
Magic, Inc. is an outsourcing company with a diverse service portfolio for growing businesses. They specialize in data entry, expert research, transcription, and recruiting sourcing. The Magic recruitment process varies depending on the role, but here are the six main parts you should expect to go through:
Pre-qualifying
Initial interview
2nd interview
Final interview
Job offer
Onboarding
Notable strengths: Highly rated in Glassdoor (4.0/5 overall rating)
4. Upwork
While it has a different structure from the other companies in this list, Upwork (formerly Elance-oDesk) is a good choice for VAs looking for freelancing opportunities. If you're unfamiliar with it, Upwork is a freelancer marketplace where talent like you can find and apply for projects. You can find many types of clients on this platform, from solopreneurs to more established companies looking for skilled remote talent. To get started, you just need to sign up and build a solid profile to attract clients.
Notable strengths: Low barrier to entry, high flexibility
5. Support Shepherd
Support Shepherd is an outsourcing agency that matches VAs from the Philippines and Latin America region with companies looking for top remote talent. As of this writing, their openings include roles in customer service, creatives, marketing, finance, and more.
Notable strengths: 3.5/5 overall rating in Glassdoor, 10+ years of hiring experience
6. Time etc
Time etc is an award-winning remote staffing company. They offer affordable and flexible solutions to businesses, so owners and managers can focus on high-impact tasks. It's important to note, though, that Time etc is best for experienced professionals residing in the United States or the United Kingdom. If you want to become a Time etc VA, then you need to have at least five years of work experience.
Notable strengths: Selected Best Overall Best Virtual Assistant Services by Investopedia, highly rated in Glassdoor (4.7/5 overall rating)
7. 20four7VA
20four7VA is a remote staffing company with VAs from across the world, including the Philippines, India, Pakistan, Argentina, and more. Their client base is just as diverse, with companies from six continents. They hire VAs with a wide range of specializations, from eCommerce and real estate to creative support and telehealth. Each client also gets a dedicated account manager and access to the 20four7VA team for an end-to-end experience. Their services include not just VA placement but also management, payroll processing, training, and more.
Notable strengths: Inc. 5000 company (5000 Fastest-Growing Private Companies in America), Certified Women's Business Enterprise by the Women's Business Enterprise National Council (WBENC), Highly rated in Glassdoor (4.9/5 Overall Rating) and Trustpilot (4.7/5 Overall Rating), free training from the in-house training team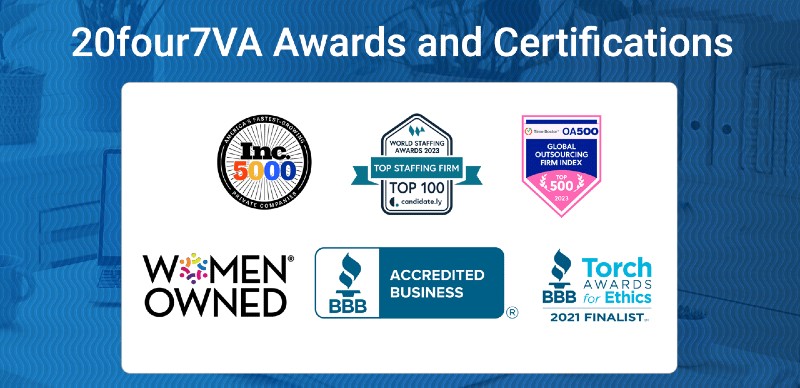 8. VA Staffer
VA Staffer matches businesses with trained VAs. Aside from admin VAs, they also staff clients with virtual assistants skilled in search engine optimization, web design, lead management, and social media marketing.
Notable strengths: Highly rated by virtualassistantassistant.com (4.5/5 overall rating)
9. Prialto
Prialto helps businesses find the right support through pre-vetted virtual assistants from all around the world, including the Philippines and Latin America. They provide continuous learning support and high-performance growth paths to their team.
Notable strengths: Highly rated in Glassdoor (4/5 Overall Rating), Winner – Top Workplaces award by The Oregonian
Making the move from a traditional office job to a fully remote work role can be challenging. But hopefully, these virtual staffing companies can provide the support and training you need to make the transition. You can open yourself up to more global opportunities and help companies reach their business goals.
Ready to kick off your VA career? Explore our open jobs and follow the 20four7VA Career Center for the latest updates.