VA Spotlight: Vanessa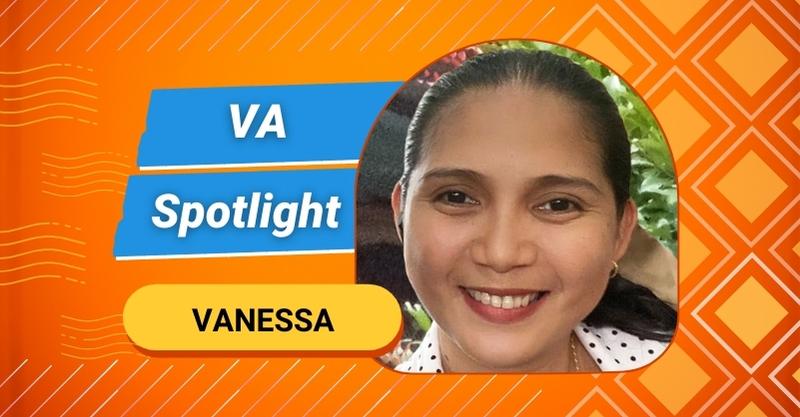 Since joining 20four7VA in 2021, Vanessa has worked with clients in the eCommerce and construction industries. Currently, her primary responsibilities as an eCommerce virtual assistant (VA) involve market and lead research, but she also supervises the development of her client's app and handles NetSuite-related tasks.
Vanessa received the Top Referrer award in 2022, proving just how enthusiastic she is about 20four7VA! In her spare time, she loves watching K-drama and cuddling with her mini dachshund and cat.
Learn more about Vanessa and her experiences as a 20four7VA virtual assistant below!
What made you decide to work as a virtual assistant?
I used to work in a call center, so I already had a lot of experience with outsourced business processes. Later on, I transitioned to online tutoring. After I had a baby, though, I could no longer take on jobs that required my real-time video presence. I also started taking college courses again, so I needed work that could offer some flexibility. A virtual assistant role was the perfect solution!
What difficulties did you experience in your work life before you joined 20four7VA?
Most of the time, I had to manage everything on my own, including sending invoices to clients I worked with. Sometimes, the waiting period to get my pay was much longer than expected.
In the past, I had built a team to take on larger projects. Whenever the pay from the client was delayed, I had no choice but to shoulder the cost so that my team members would get paid on time.
Apart from the delayed compensation, I also found it difficult to look for the right clients and market myself as a virtual assistant on various job platforms.
Why did you choose 20four7VA over other agencies/online job marketplaces?
I received a message on Linkedin about 20four7VA. I had never worked with agencies in the past but I decided to push through with the application to see what benefits the company could offer. Luckily, I found that the application process at 20four7VA was much easier and more streamlined compared with the other agencies that reached out to me.
What are the top 3 benefits of working with 20four7VA?
On-time weekly payments
Great admin staff!
Bonuses, leaves, and performance-based rate increases
How has 20four7VA helped you grow as a remote professional?
20four7VA provides free training that you can finish at your own pace, which is great! Aside from this, the team members are very responsive to inquiries, especially when you need assistance. They're not too strict, either!
This company also gave me the opportunity to interact with other VAs through virtual events. Regular interactions with other members of the team made me realize that working with a support system (which includes human resource, IT, training, and payroll services) is better than working alone.
What advice would you give someone who wants to work with 20four7VA?
Be patient, and upskill. Competition in the virtual assistant market is tougher than ever due to the increasing number of people looking for remote jobs. Being able to patiently wait for the right client is very important.
Also, you need to upskill and take every opportunity to learn, especially when free training is provided! The more skilled you are, the better your chances of getting hired quickly.
What are your top 3 remote work tips?
Be proactive and be a problem-solver. Always look for opportunities to offer assistance or insights to your client. Don't just wait for your client to tell you what they need. Clients will hire you not only because of the expertise you provide or because they need help with tedious tasks; they're also expecting to work with someone who can help move their business or organization forward.
Be resourceful. Make it a habit to look for online resources that can be beneficial to you and your client.
Put yourself in your client's shoes. Not all clients are successful at what they do. Some need a lot of help to keep their business growing. Their success is your success, so take care of your clients just as you'd take care of yourself. Acknowledge their efforts to assist you. Keep an eye on the status of the business, and make sure your client knows that you're ready to help out and that you're there to support them through both the highs and lows. By being a reliable VA, you can contribute to their growth and ultimately, your own success.
What are your long-term goals, and how do you see your current role contributing to those goals?
My long-term goal is stability. Apart from increasing my income, my goal is to work with a long-term client. Increased pay is temporary, but maintaining a long-term client relationship and being a part of their business is truly rewarding. When you've worked with a client long enough that you've built a strong relationship, the work becomes easier, too.
What do you do to unwind after work?
As a mother of three, I rarely get free time. After work, I'll sometimes watch an episode of my favorite K-drama or reward myself by indulging in my comfort foods.
Thanks for taking the time to speak with us, Vanessa! 😊
---
Ready to start your VA career? Become a 20four7VA virtual assistant and enjoy the freedom of working in your own space at your own pace. Find your dream job here!
Want to be featured in your very own VA Spotlight post? I want to be featured!