People of 20four7VA: Maricel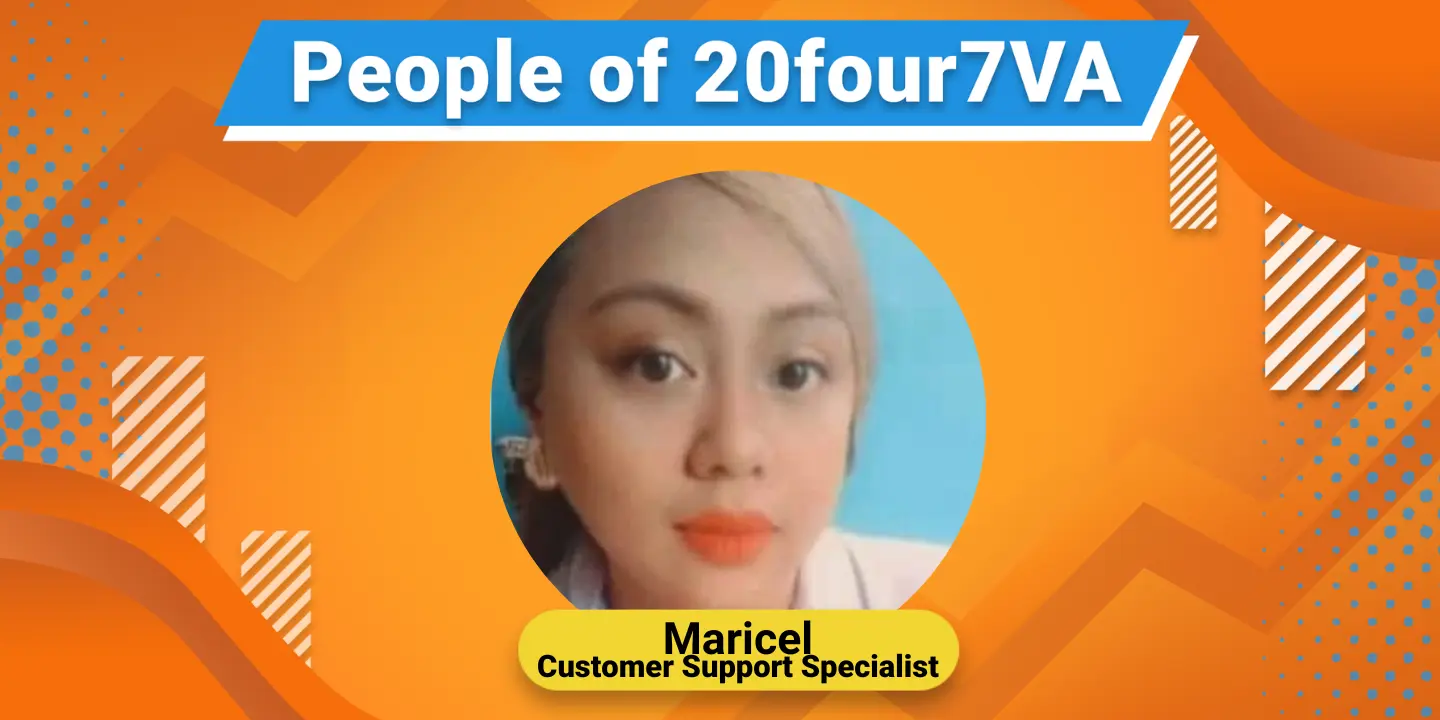 Welcome to the People of 20four7VA series! Every month, we chat with a member of the team and find out what they do at 20four7VA, what keeps them here, and how they make remote work work.
This month, we're delighted to introduce Maricel, one of our enthusiastic specialists in the Customer Support Operations team. She is responsible for attending to clients and ensuring that our VAs are motivated and supported all the way.
According to her, 20four7VA is a dream come true and a life-changing experience.
Tell us more about customer operations
We are the bridge between our VA and clients. We are committed to making sure that our relationship with our VAs and clients is smooth. Our team ensures that both parties nurture a long-term relationship.
What are your clients' industries?
Most of my clients are in finance and accounting, real estate, telehealth, and eCommerce.
What was life like before 20four7VA?
My life before I started at 20four7VA was great, but a little chaotic.
Going to work with the kind of public transportation we have is like going to war. For many, the daily commute can be very stressful compared to working from home.
What made you decide to become a VA?
I was looking for a permanent work-from-home setup.
During the pandemic, we were given a chance to work from home. But later that year, we were asked to report on-site. This is why I resigned from my previous company.
How has 20four7VA helped you grow?
20four7VA has helped me grow as a person and improve my people skills. I gained new knowledge on various VA skills and understood different client industries.
I am very grateful that I have colleagues who I consider as my mentors.
What are the top 3 benefits of working with 20four7VA?
Secure weekly payments

Permanent work-from-home setup

Free training and upskilling
What are your top 3 remote work tips?
Open communication with clients

Be reliable.

Have integrity since we are all working from home
What advice would you give someone who's thinking about applying at 20four7VA?
Lack of experience is not a weakness as long as you work hard, are determined, and are willing to learn.
What is your main advice for keeping a successful relationship with clients?
Your hard work and work ethic are the keys to having a successful relationship with your clients.
What are your future goals and what are you doing to reach those goals?
My future goal is to become more successful and have satisfied long-term clients.
I'm also reaching out to VAs and client, attending to their needs, and resolving them as best as I can.
Thanks for chatting with us, Maricel! 😊
Are you looking to jumpstart your VA career? Explore our open jobs or ask us about becoming a VA! We're always on the lookout for skilled remote workers like you!