Executive Virtual Assistant
Hire an Executive Virtual Assistant and see your business grow!
Hire an Executive Virtual Assistant
Business owners and executives always have work calendars brimming with calls, meetings, and various projects. Sometimes, just managing their work calendars and personal life can take their focus away from more high-value and revenue-generating tasks. If this situation seems all too familiar, then hiring an executive virtual assistant is necessary. They can provide the support you need, so you can focus on managing and growing your business.
WHAT IS AN EXECUTIVE VIRTUAL ASSISTANT OR EXECUTIVE VA?
An executive virtual assistant is an offshore contract professional that remotely supports business executives (for example, an entrepreneur or CEO). They have the skills to take on various administrative and back-office tasks, so their clients can perform their executive duties and grow their organization. Simply put, an executive virtual assistant can do all the traditional in-office, full-time executive assistants can do but from anywhere in the world.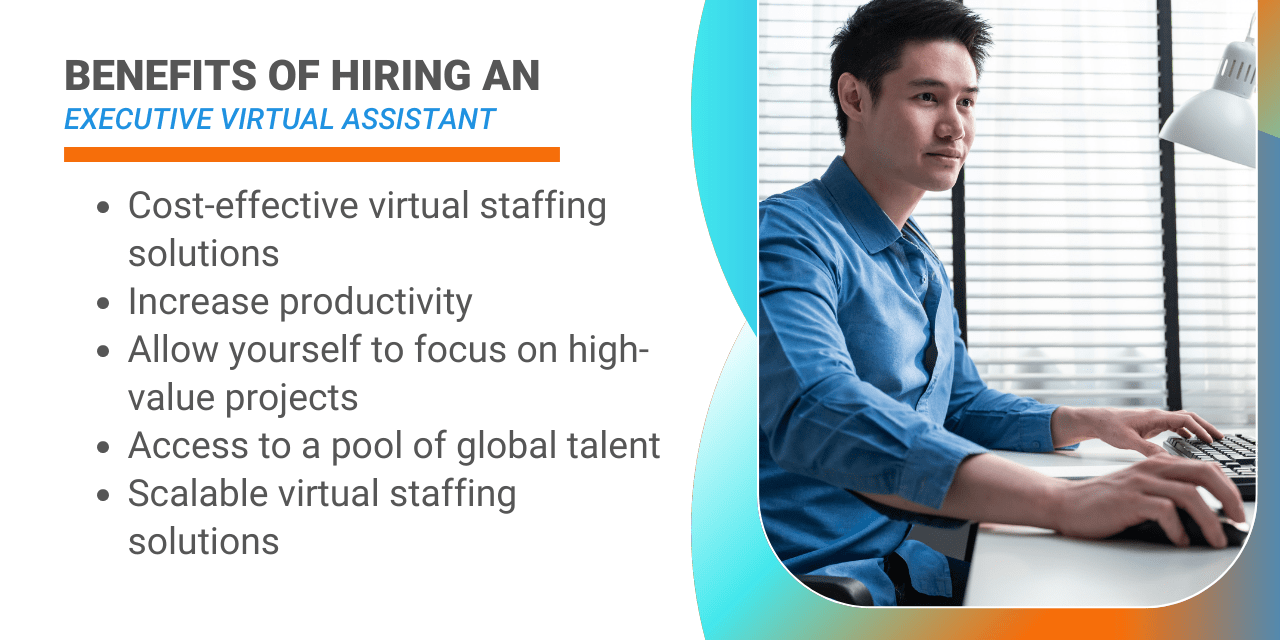 BENEFITS OF WORKING WITH A VIRTUAL EXECUTIVE ASSISTANT
When considering hiring an executive assistant virtual staffing solutions are your best option. Here are some of the benefits of opting for virtual executive assistants:
VIRTUAL STAFFING SOLUTIONS ARE COST-EFFECTIVE
Companies are always finding ways to maximize their resources without sacrificing the quality of work. Hiring a virtual executive assistant is an excellent way of achieving both. Executives or business owners will appreciate the cost-saving benefits of virtual executive assistant services. Hiring virtual talent means business executives won't have to allocate additional resources to cover the usual expenses of hiring in-office employees. Examples of such costs include buying new office tools and local government-mandated benefits.
HIRING A VIRTUAL EXECUTIVE ASSISTANT CAN INCREASE PRODUCTIVITY
If you aim to increase your productivity as a business owner or entrepreneur, then hiring a virtual executive assistant is the way to go. You can delegate important but time-consuming administrative and back-office tasks. Such tasks include scheduling meetings, calendar management, fielding calls, etc. You can increase your productivity as an executive or leader by allowing yourself to let go of these tasks.
ALLOW YOURSELF TO FOCUS ON HIGH-VALUE PROJECTS
You only have so many business hours in a day, so it's best to use them where they count. A virtual executive assistant can help organize your calendar and let you take control of your time. This way, you can focus on high-value tasks such as project management, client management meetings, drawing up strategies for company growth, and so much more.
YOU HAVE ACCESS TO A GLOBAL TALENT POOL
Working with virtual assistants gives you access to a global talent pool. If your goal is to get the best talent for your organization, this is a great way to do it. Your business can benefit from the competencies of global talents and tap into their various skill sets.
VIRTUAL STAFFING SOLUTIONS ARE HIGHLY SCALABLE
Getting virtual assistant services for your business provides you the flexibility that traditional staffing options do not. For example, you may not need a full-time executive assistant at the moment, so hiring a full-time employee is not a practical choice. You can hire a virtual executive assistant on a per-project or hourly basis. And as your company grows, you can increase the number of hours your current virtual executive assistant works per week or expand your VA team.
The above are just some reasons why virtual staffing is the best option if you need an executive assistant on your team. To learn more about virtual staffing solutions, visit the 20four7VA website.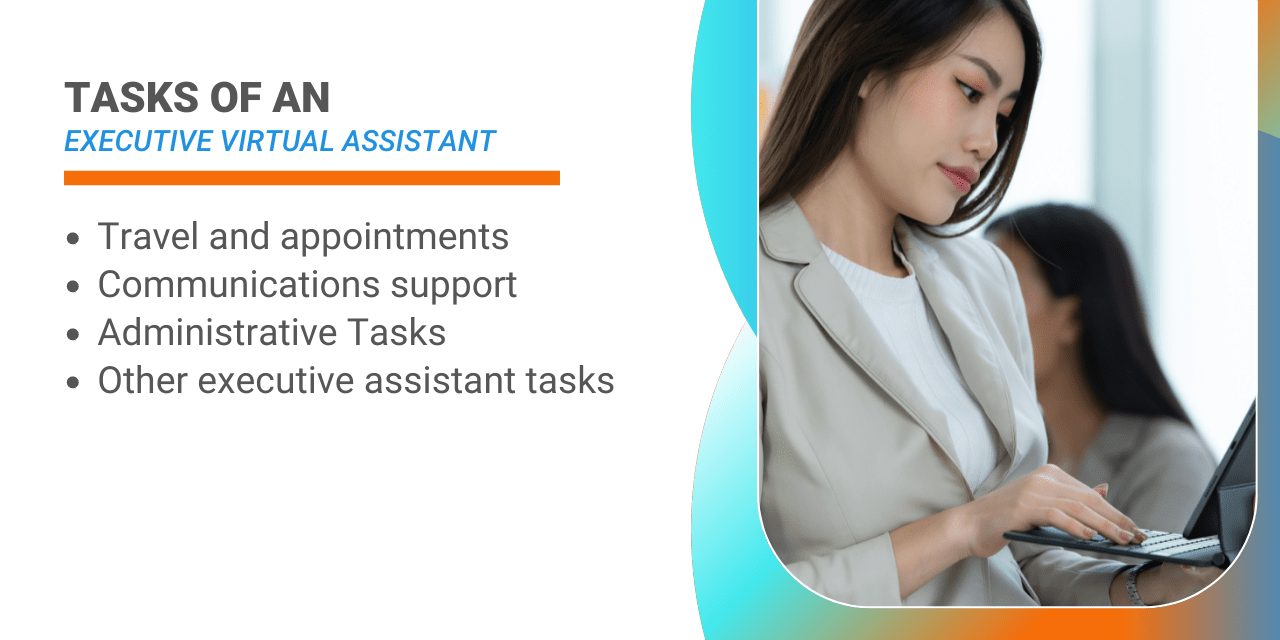 WHAT DOES A VIRTUAL EXECUTIVE ASSISTANT DO?
Company owners and executives can count on virtual executive assistants to perform various tasks. They can support back-end tasks, from calendar management to communication with internal and external partners. Here are some examples of the key responsibilities virtual executive assistants can work on:
TRAVEL AND APPOINTMENTS
COMMUNICATIONS SUPPORT
Communication with clients and direct reports

Calls management 

Email and inbox management
ADMINISTRATIVE TASKS
Internet research

File and reports organization
OTHER EXECUTIVE ASSISTANT TASKS
General office management

Management of resources and office inventory 

And much more!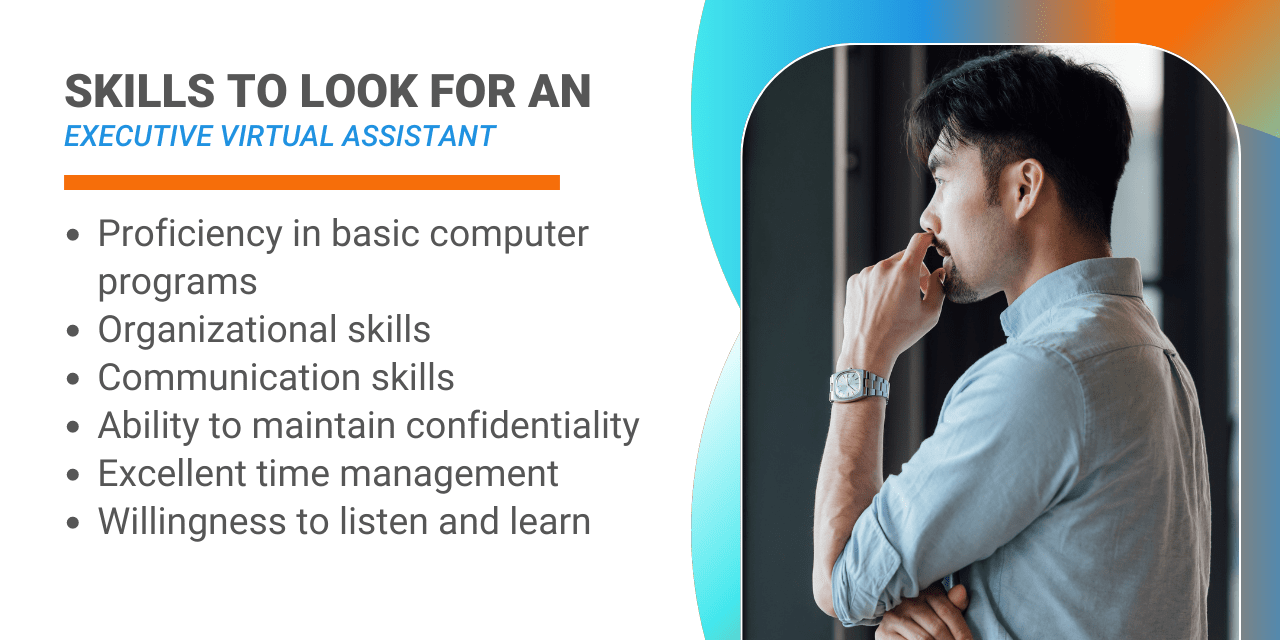 TOP SKILLS AND QUALITIES TO LOOK FOR IN EXECUTIVE VIRTUAL ASSISTANTS
PROFICIENCY IN BASIC COMPUTER PROGRAMS
Every remote professional, including virtual executive assistants, must have basic to above-average computer skills. As remote workers, they should know how to navigate and troubleshoot their main tools: their laptop and internet connection.
ORGANIZATIONAL SKILLS
If you're planning to hire a virtual executive assistant, you should look for remote talent with excellent organizational skills. A highly organized person can help create order within your professional calendar and personal life. This way, you can focus on high-level tasks without worrying about multiple desk work and administrative tasks.
COMMUNICATION SKILLS
Executive virtual assistants will most likely coordinate with executives, employees, or even other executive assistants of other companies on behalf of their clients. They will typically use various forms of communication to correspond with you and other partners. It would be best if you looked for someone who can communicate clearly and professionally through different platforms.
ABILITY TO MAINTAIN CONFIDENTIALITY
If you want to keep your trade secrets and data private, then everyone in your organization must be able to maintain confidentiality and protect company data. This includes your virtual assistants. A virtual executive assistant typically handles remote tasks that involve confidential reports and documents. You will need a remote talent that does not only know how to do the job but can do so without compromising your data.
EXCELLENT TIME MANAGEMENT
There are many reasons why you should work with a virtual executive assistant. One of these reasons is that you can get the support you need to manage your personal time and busy work schedule. Working with a virtual executive assistant with time management skills is essential. Someone with the knowledge and capability to balance their personal and professional schedule will surely know how to support you as you manage yours.
SELF-STARTER
A remote or virtual executive assistant should be able to act like their own manager. They'll be doing their job with minimal supervision, so being a self-starter is vital. It would be best if you looked for a VA that does not only possess the technical skills to help you manage your schedule. It's also best to find a candidate with a go-getter or goal-driven attitude.
WILLINGNESS TO LISTEN AND LEARN
The digital landscape is constantly evolving, so virtual assistants must always be ready to learn and adapt to new developments. Aside from new technologies, virtual assistants must also be open to listening to their clients' input to better play their role in the team. This openness can create opportunities for better working relationships and professional development.
GETTING THE BEST VIRTUAL EXECUTIVE ASSISTANT SERVICES
Finding the right person for the job requires a lot of time and energy for recruitment executives or entrepreneurs. Finding the time to screen and hire the right virtual assistant can be challenging if you're already busy with your business processes and various projects. The key is to work with a dedicated and experienced virtual staffing agency to help make finding and managing a virtual executive assistant faster and more convenient.
20four7VA has a decade of experience providing cost-effective and highly scalable virtual staffing solutions to clients worldwide. We can help your business move forward and upward by providing end-to-end virtual staffing services, which include:
Thorough Vetting and Screening Process

Free VA-Client Matching Service

Onboarding and Training of Virtual Assistants

HR Processes: Performance Management, Payroll Processing, Timekeeping, etc.

Virtual Assistant Management

Dedicated Account Manager

IT Helpdesk

And more!
You can save hours from your busy schedule with 20four7VA's dedicated service. We can find, onboard, and manage the right virtual executive assistant for you.
Find the virtual executive assistant to help you focus and become the best business leader you can be. Book your free, no-strings-attached consultation to learn more!
Ready to find an Executive Virtual Assistant?