Running Remote Online (June 2020)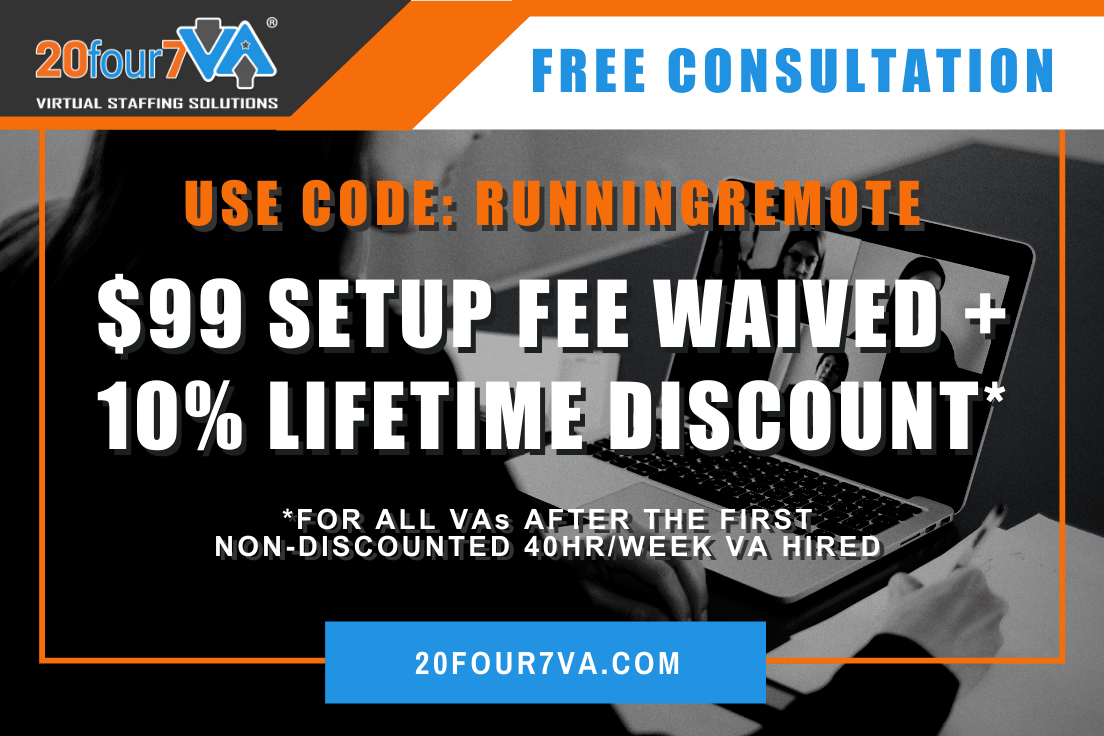 20four7VA will be an exhibitor at this month's Running Remote, the premier online conference for remote-first founders.
Running Remote Online is an off-shoot of the popular live conference Running Remote, which has quickly become the go-to networking event for those in the remote work community. Running Remote Online will feature live presentations, speaker Q&A sessions, 1:1 networking events, hands-on workshops, and product demos. Over 2,000 attendees are expected to participate in the 2-day conference.
The list of renowned speakers for this month's Running Remote online event includes Andreas Klinger of RemoteFirstCapital, Steli Efti of Close, Aaron Ross of PredictableRevenue, and Noah Kagan of AppSumo.
As an exhibitor, 20four7VA will have a virtual booth and will be available for meetings and networking sessions. An exclusive offer of waived setup fee ($99 value) + 10% lifetime discount* is being offered to all Running Remote attendees.
*The 10% lifetime discount applies to all additional VAs after the first 40 hour/week VA (paid at the non-discounted rate).
Who Attends the Running Remote:
Anyone interested in learning more about remote work
Anyone looking for remote work opportunities
Remote work experts (like us!)
Event Details:
When: June 17-18, 2020 | 7:00 AM to 4:00 PM PDT
Where: Online at https://runningremote.com/
View Our Virtual Booth:
Check out our amazing virtual booth here! (PS: The link only works if you're registered for the conference). If you're attending the conference too, we'd love to chat with you! You can read more about us, avail our special Running Remote offer, and schedule a meeting with someone from our team on our virtual booth.