LeadsCon 2020 – Virtual Conference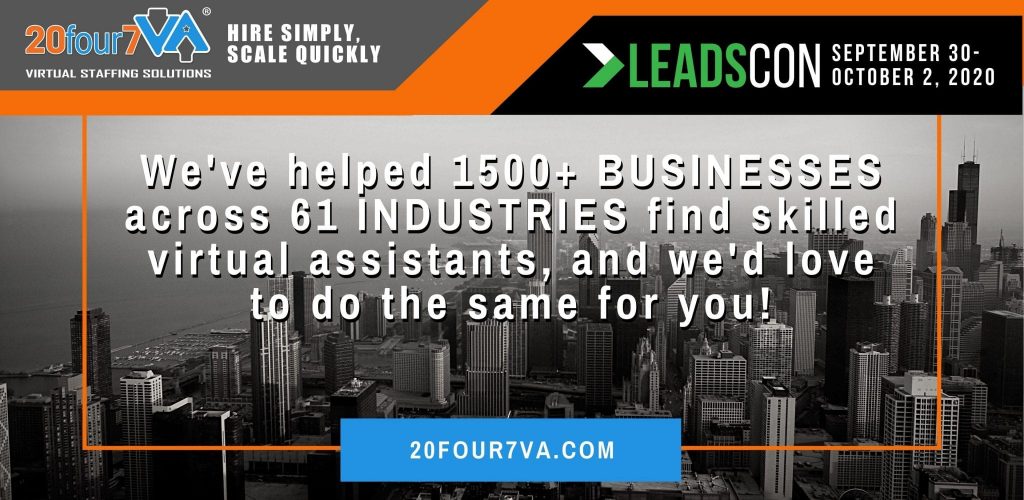 UPDATE: Due to COVID-19, LeadsCon 2020 will now be a virtual event. Please read on for more details.
---
We are so excited to join LeadsCon 2020, "the undeniable, must-attend lead generation event," as one of their exhibitors. LeadsCon has been one of the top lead generation conferences in the past few years, and we are eager to share our virtual staffing services to all the lead generation and performance marketing professionals who will attend the conference this year.
Hiring a virtual assistant has always been an excellent way for lead generation experts to expand their reach and better implement their strategies. 20four7VA seeks to bring the value of virtual assistance to the attention of more lead generation and performance marketing pros, and LeadsCon 2020 is the best place to start.
What is LeadsCon?
LeadsCon is a three-day conference and exposition for lead generation and performance marketing professionals. The event is attended by top industry professionals who are keen to share their insights about new lead gen strategies and trends that will help attendees gather, nurture, and convert more leads.
Who Attends LeadsCon:
Over 2,700 lead gen and performance marketing professionals
Exhibitors (like us) who can provide useful services and information for lead gen professionals
All 15 top industry verticals
Anyone interested in generating more leads for their business and improving their existing lead gen strategies
Event Details:
When: September 30 – October 2, 2020
Where: Virtual/Online
Register for LeadsCon 2020:
Get your lead generation strategy to a whole new level! Join us at LeadsCon 2020 and use code 'NEW2020' to save $250 off your ticket. Register for LeadsCon 2020 here.
Got your passes? Don't forget to visit our virtual booth!