Credit Repair Virtual Assistant
Hire a Credit Repair Virtual Assistant and see your business grow!
Hire a Credit Repair Virtual Assistant
Good credit can set companies up for success, which is why many people turn to credit repair companies for expert help in improving their credit reports. However, credit repair companies need support on various tasks to stay operational. These tasks range from social media marketing to customer support to administrative duties. Hiring a credit repair virtual assistant (VA) can help a credit repair business improve its operations.
WHAT ARE CREDIT REPAIR SERVICES?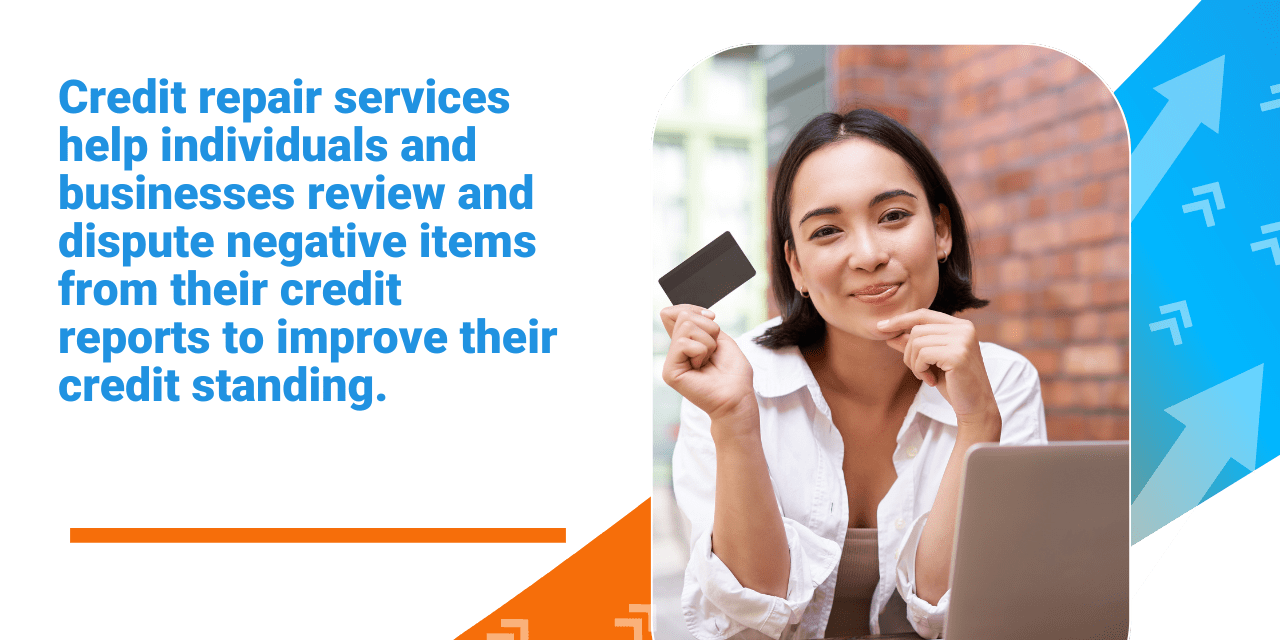 Credit repair is the process of improving or restoring an individual or organization's creditworthiness. Credit repair services help individuals and businesses review and dispute negative items from their credit reports to improve their credit standing. These items may include anything from your credit report, personal details, and credit theft cases to incorrect late payments.
WHY DOES ONE NEED GOOD CREDIT?
Why do individuals reach out to credit repair companies to correct or improve their credit standing? It's simple; having good credit can affect various parts of one's daily life. It's also one of the measures that establishments use to check an individual's or business' financial capability. Credit standing can affect an individual or a business through the following:
Eligibility for a loan (e.g., real estate, automobile, business, etc.)
Interest rates on loans
Insurance premiums
Eligibility for home ownership or rental
Eligibility for jobs
The above items may not be on everyone's immediate priority list. However, it still helps ease one's mind knowing that their credit report is accurate.
WHAT IS A VIRTUAL ASSISTANT?
"Virtual assistant" is an umbrella term for a professional that can support a business remotely. A company can find a remote assistant with the right skills to help meet its business goals. There are VAs for every function and industry, including real estate, administrative support, social media marketing, bookkeeping, graphic design, and, yes, even credit repair services.
BENEFITS OF HIRING A CREDIT REPAIR VIRTUAL ASSISTANT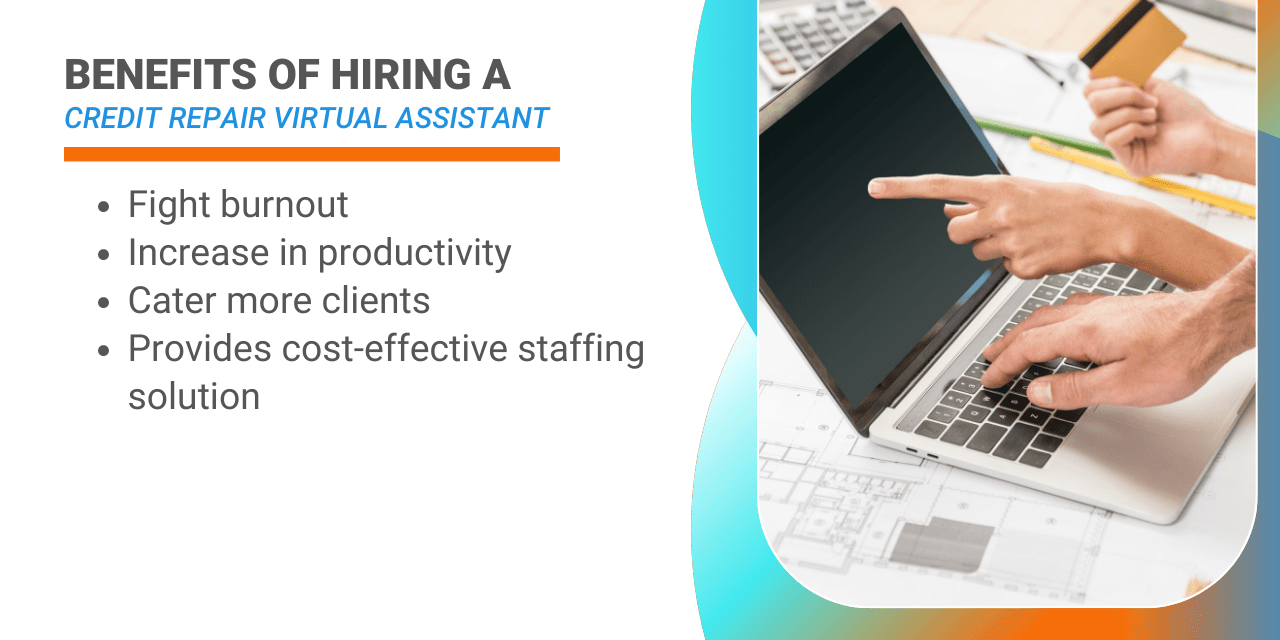 Credit repair virtual assistants can help a business improve its operations by:
FIGHTING BURNOUT
Credit repair company employees and owners may already have too much on their plate. Overworking and working too many hours can lead to burnout. A credit repair virtual assistant can help lighten the load by handling a wide variety of time-consuming but essential tasks, including taking client phone calls, data entry, calendar management, and more. With a part-time or full-time credit repair VA, your in-house employees can manage their work hours better and focus on the core parts of their jobs.
INCREASING PRODUCTIVITY
When you hire the right credit repair virtual assistant, you can gain more time for other value or revenue-generating tasks. Your work hours won't be populated by functions that don't require your time and energy. You can also use your freed-up time to focus on project management, marketing, and professional or personal development (e.g., seminars, short courses on relevant topics, etc.).
CATERING TO MORE CLIENTS
You're not just helping your credit repair outsourcing company when you hire a virtual assistant. You're also better equipped to assist individuals and companies that require your service. A credit repair VA can work on various jobs, from administrative support to marketing to credit analysis. Having another person on your team allows you to manage your team's workload so they can cater to more clients.
PROVIDING A COST-EFFECTIVE STAFFING SOLUTION
Hiring a full-time, in-office credit repair specialist can be costly for your business. You'll need to worry about overhead costs, various full-time employee benefits, and more. On the other hand, working with a virtual assistant means you only need to consider paying for their logged hours. A virtual assistant can do what organic employees can but at a fraction of the cost.
Additionally, you can quickly scale your virtual staffing solutions depending on your business needs. You may start with a part-time credit repair virtual assistant to work on a project. And as demand for your service grows, you can increase your VA's hours and have them work full time. You may even consider building your own credit repair virtual assistant team to help you manage your growing business.
Learn more about the benefits of virtual staffing solutions by reviewing testimonials from 20four7VA clients.
WHAT TASKS CAN A VIRTUAL CREDIT REPAIR ASSISTANT DO?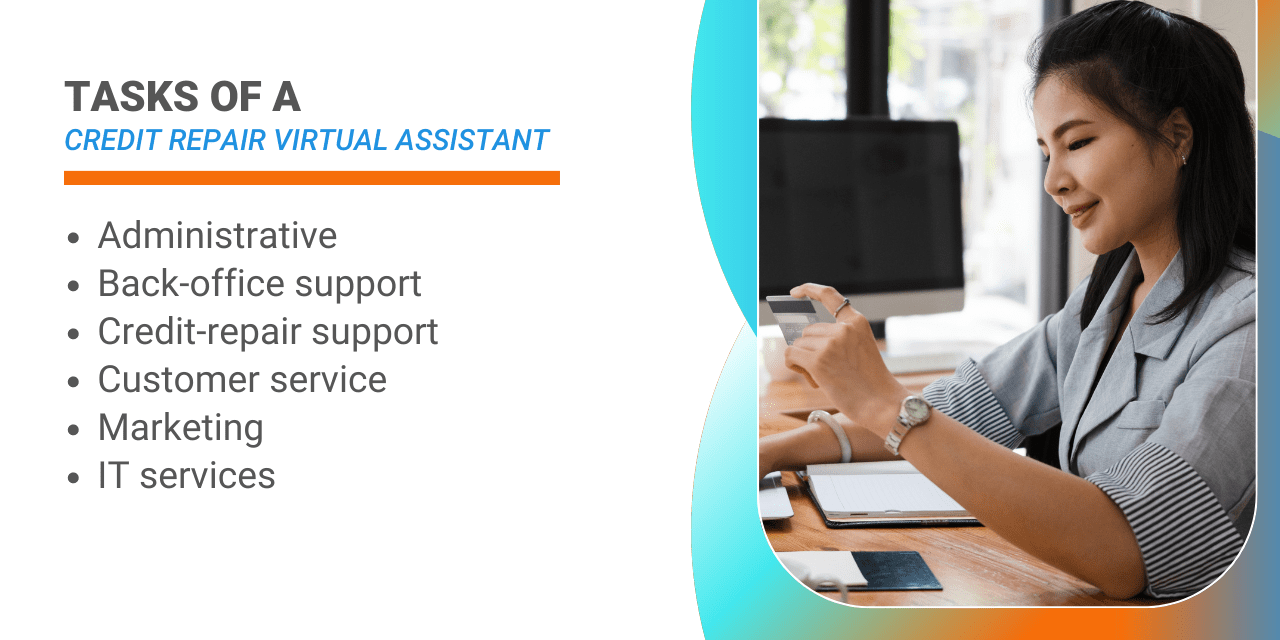 Whether you need customer service support or help navigating credit repair cloud systems, you can find a suitable VA.
ADMINISTRATIVE
Data Entry

Calendar Management

Travel Management

Scheduling Appointments with Clients

File Management
BACK-OFFICE SUPPORT
Bookkeeping

Invoicing

General Office Management

Online Research of Laws and Market Updates
CREDIT REPAIR SUPPORT
Organization of Credit Reports and Client Data

Review of Credit Reports

Coordination with Financial Institutions

Assistance with Disputes

Credit Repair Cloud Updates
CUSTOMER SERVICE
Handling Inbound Phone Calls and Inquiries

Monitoring Customer Concerns via Social Media

Email Management

Providing Progress Updates to Clients
MARKETING
Email Marketing

Social Media Management

Content Writing

Digital Marketing

Graphic Design
IT SERVICES
Data Security

Troubleshooting of Systems and Online Tools

Web Development

Website Maintenance

Credit Repair Cloud Setup

And more!
TOP SKILLS AND QUALITIES TO LOOK FOR IN A VIRTUAL CREDIT REPAIR EXPERT
You must thoroughly screen candidates to hire and manage the right VA for your credit repair service company. You need to list your must-haves regarding work experience, skills, and attitude. Below are the top skills and qualities you should look for in a credit repair virtual assistant.
COMPUTER PROFICIENCY
A virtual assistant must have basic computer skills. Their main tools are their computer or laptop and an internet connection. They should know how to troubleshoot minor issues. If they are working with new systems or software, they should be able to navigate such systems after proper training.
TIME MANAGEMENT SKILLS
You should find a virtual assistant who can manage their time well. They should be able to plan their daily tasks and work within the timeline. They are hired to help improve your operations, so they must be able to do their job promptly to avoid delays.
CUSTOMER SERVICE SKILLS
Being a credit repair specialist with a customer-first mindset is a must for a credit repair VA. They should be knowledgeable and experienced in handling customer service issues via phone, email, and chat support. Credit repair clients may already have a lot on their minds and can be sensitive. You'll need someone who can be considerate and professional when communicating with your customers.
ORGANIZATIONAL SKILLS
A virtual assistant must have strong organizational skills to provide accurate information to their immediate manager or teammates. To avoid costly mix-ups, you need a VA to organize client files and your company's data efficiently.
DETAIL-ORIENTED
Your service deals with many numbers and pages of reports, so you need a detail-oriented virtual assistant. They must be meticulous when working on every task. A misplaced comma or 0 on reports can require rework, costing you money and energy.
ABILITY TO MAINTAIN CONFIDENTIALITY
You must have a robust data security system to protect your company's reputation and clients' trust. You will also need everyone in the organization, including VAs, to treat every correspondence and document as confidential.
HIRING THE RIGHT CREDIT REPAIR VIRTUAL ASSISTANT
As a credit repair services company manager or owner, you may not have the time or energy to spend on VA screening. Your calendar may already be packed with conference calls, report reviews, and other high-level tasks. But that doesn't mean you should not be thorough in your search for a virtual assistant. If you want to hire a suitable VA without giving up your valuable time, you should work with an experienced virtual staffing agency like 20four7VA.
FIND THE BEST CREDIT REPAIR VIRTUAL ASSISTANTS WITH 20FOUR7VA
20four7VA is the partner of choice for business owners looking for cost-effective remote staffing solutions. We provide end-to-end services to help make remote work work for you. We offer:
Access to a global talent pool of remote professionals

Virtual Assistant recruitment and screening

Free client-VA matching services

Quick turnaround time (as fast as 72 business hours)

In-house training for upskilling and one-on-one assessments

Dedicated account manager for client support and VA management

Access to our time tracking and screen monitoring software

IT Helpdesk

HR support services

And much more.
Aid more customers with their credit concerns with a credit repair virtual assistant. Book a free consultation with our Growth Experts to learn more!
Ready to find a Credit Repair Virtual Assistant?