Top Site Upgrade Tips: Where to Buy Premium WordPress Themes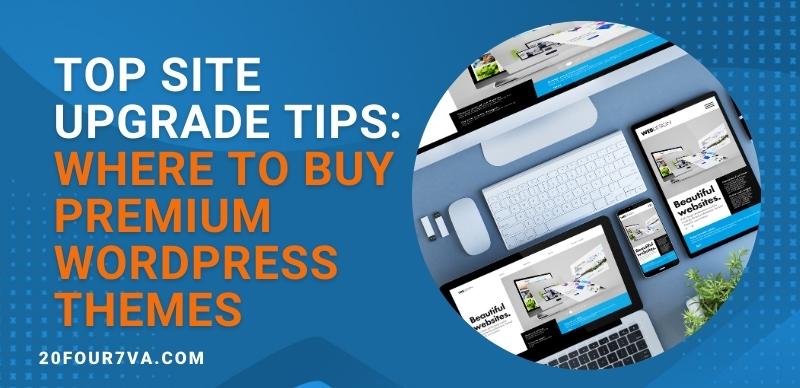 Most consumers will first interact with your brand through your website. A high-quality website can help create a great first impression, encourage return visits, and eventually convert your target audience. Purchasing premium WordPress themes is an easy way to create a high-quality website. When considering where to buy premium WordPress themes, you must keep a few things in mind, such as your budget, target audience, and business goals. These can help you narrow down the best premium WordPress theme to purchase for your website.
What are Premium WordPress Themes?
A WordPress theme determines users see and interact with the website content hosted by WordPress. These changes affect the display or front end, including layouts, font style, and colors. A premium WordPress theme is any theme that is not free, i.e., you have to pay to apply it to your website.
Want more IT and business tips? Check out our 20four7VA Client Tips or schedule a free consultation with 20four7VA IT experts today.
Is it Worth Paying for a Premium WordPress Theme?
If you're choosing between premium and free themes, you should consider your business goals and target audience. When partnered with a solid digital marketing strategy, paying for a premium WordPress theme can help you achieve your goals. It can improve user experience and, in turn, boost your website's performance across the board. These results can make paying for a premium WordPress theme worth the investment.
Benefits of Using Premium WordPress Themes
The best premium WordPress themes may cost more but are created by experienced web designers with functionality and responsiveness in mind. As a result, you can expect fewer issues and better performance from premium themes compared to free ones.
Better Website Display
If you want your website to create a great first impression and be aligned with your brand guidelines, then using a flexible premium WordPress theme is your best bet. Premium themes are designed by WordPress and website development experts, meaning they are well-crafted and provide a higher level of customization than free WordPress themes.
High-quality WordPress themes ensure that the design of the website is tailored to your business needs and brand's personality. Doing so can also help improve brand recall, as customers who see your website associate the colors, font styles, and other brand elements with your business.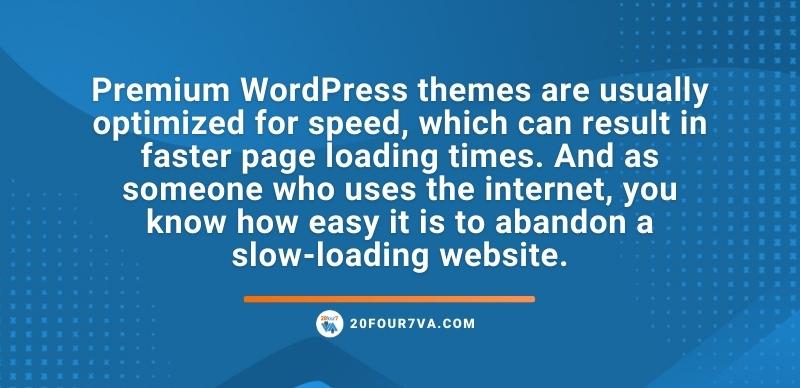 Responsive & Optimized Design
A high-quality WordPress theme should look good and operate seamlessly on any device. It can make your website easy to access on different types of screens, from laptops to mobile phones. Additionally, premium WordPress themes are usually optimized for speed, which can result in faster page loading times. And as someone who uses the internet, you know how easy it is to abandon a
Improved User Experience
By creating a good-looking website that is responsive, organized, and easy to navigate, you can improve user experience. Your website visitors will be able to find the information they need with the least amount of effort. At the same time, premium WordPress themes can make convincing visitors to complete the desired action easier.
All these factors are essential in ensuring that customers have a great experience browsing your website. An excellent customer experience means they're more likely to revisit your website and engage with your business again.
Customer Support
Premium WordPress themes often come with premium support from the theme designers or the marketplace where you purchased them. They can help you troubleshoot any issues that arise when using your premium theme. That means you don't have to figure out how to fix a bug on your own or search for solutions online. Instead, you can simply reach out to customer support, and they will be more than happy to help.
Many marketplaces also have premium support forums where you can look for answers or tips from fellow customers. This can prove to be helpful when looking for the perfect theme. You can consider inputs from site responsiveness to bugs from those who've tried the WordPress themes before choosing and buying your WordPress theme.
Where to Buy Premium WordPress Themes: 9 WordPress Theme Stores and Marketplaces
Here are fifteen online stores and marketplaces where you can purchase the best premium WordPress themes:
ThemeForest is part of Envato Market, where you can purchase HTML templates and the best WordPress themes for top CMS products, including WordPress. It has over 11,000 themes for various industries and projects. You can find an eCommerce theme for your online store or creative themes for your portfolio. The price varies per WordPress theme, but you can easily find WordPress themes that fit your budget by indicating the minimum and maximum prices in the easy-to-use filter and sorting section at the sidebar.
Main strengths:
wide variety of Themeforest themes
competitive pricing
All the themes sold in StudioPress are Genesis child themes. It makes sense since StudioPress is from the creators of the Genesis framework, one of the most well-known WordPress theme frameworks. If you're looking for simple layouts and reliable WordPress themes, StudioPress is a great marketplace to visit.
Main strengths:
simple and easy-to-install themes
customers can choose between a single theme purchase or a membership plan
Established in 2012, CSS Igniter is a WordPress theme provider that has curated more than 60 WordPress themes. They have great industry-specific themes (hotels, magazines, eCommerce, etc.) to help businesses get their websites up and running in no time. This marketplace also offers 24/7 support for all customers. And if you want more tips and tricks, you can head over to Facebook to join their community.
Main strengths:
straightforward pricing options
best industry-specific premium themes
offers integration to WordPress plugins
Elegant Themes Divi is of the most popular WordPress themes in the world. It also has a superior WordPress page builder that allows you to easily customize the design, offers drag-and-drop building, and a host of other design options. Elegant Themes Divi also boasts of a perfect five-star review on TrustPilot, a sign that you'll be in good hands when you purchase a premium theme from the site.
Main strengths:
Offers a free 30-day trial
Great visual editing tool for improved site customization
Can be used by both web design professionals and newcomers
Themify is a premium WordPress theme provider established in 2010. Their more than a decade-long existence has helped over 110,000 customers make beautiful and responsive websites with their WordPress plugins and premium themes. An $89 Master Club membership provides customers with access to Themify's 42 WordPress themes, 11 WordPress plugins, 30 builder & PTB add-ons, and counting.
Main strengths:
Access to WordPress plugins, Photoshop files, and more for Master Club members
Support for customers
30-day money-back guarantee
ThemIsle is another well-known marketplace where you can find the best premium WordPress Themes. Its lightest and fastest premium WordPress theme, Neve, is easy-to-use. To add, it has mobile-ready and AMP-compatible features, making it a truly responsive theme for laptop and mobile phone users alike. For instant access to all the themes and plugins, you can subscribe to one of their three bundles (ranging from $49 to $199).
Main strengths:
helpful blogs and tutorials for WordPress newbies
customers can test the free version before purchasing
sleek, easy-to-use premium themes
You can get both free and premium themes from MyThemeShop. Aside from WordPress themes, this top marketplace also offers fourteen types of plug-ins. The most popular plug-in from MyThemeShop is Rank Math, a helpful tool that supports your SEO strategy.
Main strengths:
dedicated customer support and forum
fast-loading WordPress themes
Creative Market is a one-stop online shop where you can get almost everything you need for your website, social media posts, and other marketing collateral. You can purchase premium fonts, graphics, and, of course, premium WordPress themes. Whether you're a life coach or an eCommerce business owner, you're sure to find the right WordPress theme from their wide variety of options (3,800+ WordPress themes).
Main strengths:
One-stop shop for marketing needs
Multiple WordPress theme options
Various price points
ThemesKingdom offers code-free website creation, meaning you can create a great website even without professional coding experience. You can find a wide variety of professional themes that you can easily customize to fit your brand's personality and style. Plus, when you avail of any of their four plans, you can access ThemesKingdom's top-notch customer service as long as your plan is active.
Main strengths:
14-day money-back guarantee
Excellent customer service and help center
Easy to rebrand and customize WordPress themes
Need help choosing the best WordPress themes for your website? Get in touch with our IT Services team today!
How to Choose the Right Premium Themes for You
Now that you know where to find high-quality premium themes, all that's left to do is choose the one that works best for your business and website goals. Keep in mind, though, that not all premium WordPress themes are created equal. Some cost more than others but offer more functions, like flexibility and advanced features. And what may be the right WordPress theme for one brand may not be the best for another.
You need to be able to choose the right premium theme for your business and its needs rather than simply buying the most popular WordPress theme or searching for "best-selling themes" on your favorite search engine. Here are some of the things you should consider doing before making your purchase:
Any business move should have the end-user or customer in mind. The same approach should be applied when choosing your website's premium WordPress theme. Knowing your target audience can help you narrow down the choices and build your list of must-have features.
For example, if your website or service caters primarily to older users who are not tech-savvy, you need to go with a premium theme with a prominent menu and clear navigation. Avoid having too many options in the menu bar to help users find the information they need as quickly as possible. Additionally, you'd want to choose a theme that offers large, readable fonts and allows users to easily zoom in and out on their laptop screens or smartphone.
Prepare a Checklist of the Features You Need
A checklist can be helpful when buying a premium theme. A great way to start your checklist is to identify the goals you want your website to achieve. Then, list down who your target audience is and their preferences. Once you've reviewed your business goals and what you know about your target audience, you should be able to map out your customer journey. This customer journey will let you enumerate the essential features your WordPress premium theme should have.
An example of such features is WordPress plugin support. Depending on your business needs, you may also want to get a WordPress theme with support for WordPress plugins and add-ons. This type of premium theme supports popular WordPress plugins like WooCommerce, Gravity Forms, Jetpack, etc. Using premium themes with plug-in and add-on support means you have more options when customizing the functionality of your site according to specific needs without having to invest extra time coding.
Now that you have your checklist of features and the goals you want to achieve, it's time to set your budget. When setting your budget for premium themes, always remember to factor in additional costs such as maintenance fees and hosting services. This way, you will have an accurate figure that reflects the total cost of acquiring and owning your website's chosen premium WordPress theme.
Having your goals and list of WordPress theme features can help you be more realistic with your budget. It can also help you rationalize paying for a premium WordPress theme instead of using free WordPress themes.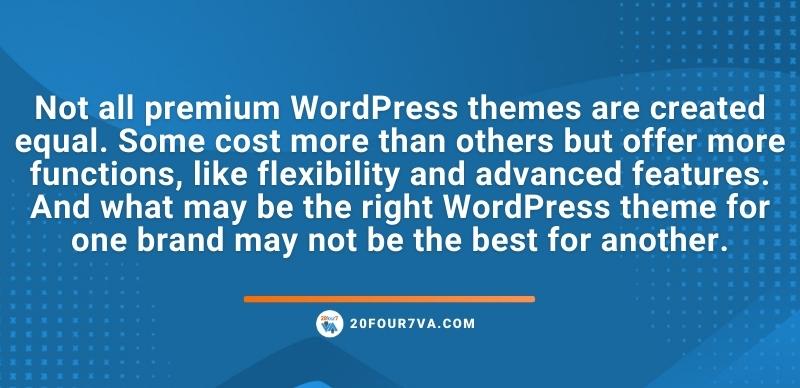 Choose a Responsive Theme
No matter which marketplace you choose to purchase your premium themes from, make sure to get ones that allow your website to be accessible using various devices. It must be easy to view and navigate whether a visitor uses a laptop or mobile phone. A premium theme may look good and be aesthetically pleasing. But it might not be worth your investment if it loads slowly or doesn't work for smaller screens.
Most marketplaces have sections where buyers can leave reviews or testimonials. You can refer to these inputs from real-life users to see how premium themes fare when used for existing websites.
Choose a Theme that Reflects Your Brand
Another thing you need to look for in a premium theme is how it is aligned with your brand's personality. Your website serves as your online home, so make sure it reflects your business well.
You can also opt to buy customizable WordPress themes where you can choose colors, fonts, and other elements. Doing so will help ensure your website follows brand guidelines.
Purchasing premium themes is one thing, but installing a WordPress theme, customizing each page, and managing your website will take more time and effort. If you don't have the necessary skills or time to do this on your own, you can seek professional help. IT services providers can assist in making sure your website is up and running as soon as possible with the right look and feel. Aside from building your website, they can also manage it, giving you more time and energy to focus on your core functions.
Upgrade Your Website with 20four7VA IT Services
While buying premium WordPress themes can improve your website's performance, it's not the only deciding factor. Knowing how to maximize the premium theme you purchase by customizing it to your site's content also helps. This should allow you to turn your mapped customer journey into reality.
A well-made, responsive website can take your business to greater heights. And with the right premium WordPress theme and a reliable IT services provider, you can boost your online presence even more. So make sure to choose wisely and get ready for success!