8 Reasons Expert SEO Copywriting Services Are Crucial to Your Marketing Plan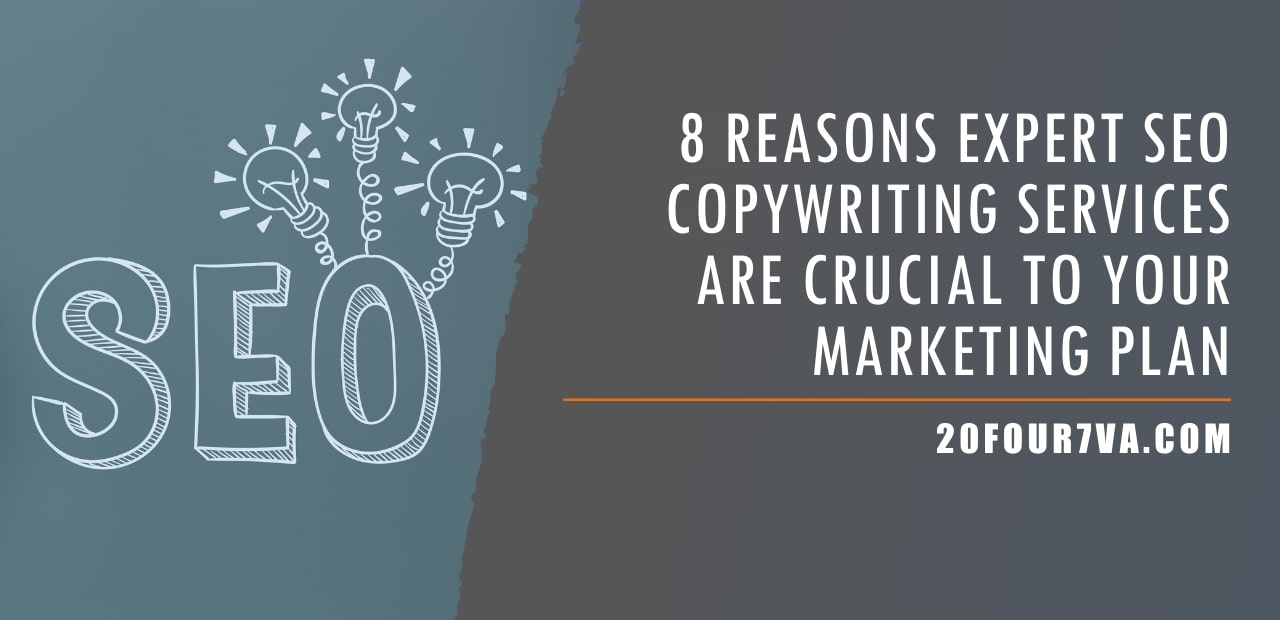 Search Engine Optimization (SEO) and copywriting are just two cogs in the marketing machine. But together, these two can turn any small business into a lucrative enterprise. Applying SEO tactics to fine-tune one's marketing copy can convert online visitors into actual foot traffic to your physical store. It can blur the borders so that you can reach out and engage with audiences from all over the world. But while these are possible outcomes of SEO and copywriting, you must first have the right vehicle to get you there. Hiring professional SEO copywriting services is the key to turning your brand potential into a reality.

What is SEO Copywriting?
Although Google does not divulge its formula in ranking websites for search results pages, it's well known that website traffic and time spent on a web page are huge deciding factors. The more people like what they see or read on your website, the longer they stay and the more pages they will explore. In the same vein, the higher you rank in Google's search results pages, the better chance you have of increasing your website traffic.
SEO Copywriting is the art of writing content that scores well with both search engines and real readers. Years before, marketers would stuff a website with keywords without putting much thought into the overall readability and value of the content. As people become more cautious and knowledgeable about website content, SEO morphed into something more than just a list of keywords strung together. It has evolved to include engaging content that delivers factual and useful data.
In the same way, copywriting is more than just promoting one's products and services online. It has become a craft that combines text, visuals, and technology to engage an otherwise impatient audience and convert passive readers into active brand supporters.

Why You Need to Work With an SEO Copywriting Expert
The mutually beneficial workings of SEO and copywriting have turned two marketing components into an industry. Yet not all business owners feel the need to get professional SEO copywriting services. For one thing, budget constraints can prevent businesses from affording the service of an expert SEO copywriter. For another, wearing many hats in their company is almost a default trait among entrepreneurs.
If you're on the fence about paying for professional SEO writing services, these facts and figures are bound to make up your mind:
Whether you take SEO copywriting seriously or not, it influences your business everyday. People spend time researching about a product or learning about a brand before making a purchase decision.
When you hire experts, you make an investment to ensure your target audience finds you and collects the right information about your brand.

8 Reasons Why You Need Expert SEO Copywriting Services In Your Marketing Plan
So, what exactly do professional SEO copywriters bring to the table? Here are 8 reasons why you need an expert to take over SEO copywriting:
They understand user intent.


There's a reason for every Google search. User intent can be transactional, commercial, informational, or navigational. Search engines are now wired to predict user intent before a person can even finish typing their query. Professional SEO copywriters understand how this works. In turn, they can prepare a copy that would deliver answers to your target customer's search intent.

They know how to find and use the right keywords.


Keywords are the currency that will rank your website in search results pages. An SEO copywriter expert knows the current trends and practices for leveraging keywords. As someone who has knowledge in SEO, for instance, they would know that a lot of Google searches have for or more keywords. As a writer, they would be skilled in weaving these words into a copy so it doesn't sound forced. Having an SEO copywriter expert is an asset especially as your team expands. They can train other team members or share the best practices or tools to use such as the best free keyword research tools for SEO.

They craft powerful titles and eye-catching meta descriptions.


Landing the first page on Google's search results is still not a guarantee that someone would click and open your link. People would browse through the search results and only read titles and those short, compressed sentences below them. Proper SEO copywriters understand that titles and meta descriptions are determining factors on getting a click-through or website traffic. They are skilled and trained to use these to your advantage.

They can affect the most compelling Call to Action (CTA).


You've collected the most relevant keywords. You have the most eye-catching titles and meta descriptions. After readers click on your page and read through your content, you would want to spur them into action. Do you want them to sign up to your newsletter, take advantage of a sale, invite others to your event, or share your post? Whatever your intent for an article is, how you phrase your CTA will determine the results. SEO copywriters know how to start, build up, and end content so that the reader will be roused to take part and happily take action.

They write content that engages readers.


According to Tech Jury, more than 4.4 million blog posts were published everyday in the first quarter of 2019. The same article also claimed that the average reading time is only 37 seconds. With millions of articles out there and less than a minute of reader attention, you have to offer exemplary content to stand out and hold the interest of readers. With odds such as these, you're better off outsourcing copywriting to experts.

They have content format down to pat.


Do you need to educate your customers on how to properly use your products? Perhaps you have an upcoming promotion that requires mechanics and special instructions. Writing educational materials can be tricky. You can end up writing a long article that wouldn't hold people's interest or focus. SEO copywriters know how to format content in a way that captures and holds a reader's interest. They can incorporate visuals or breakdown an otherwise complex piece of information so that people will remember it. In addition, they also know just the right number of words to make an article rank high in search engines while keeping readers' attention.

They establish authority in your line of business.


As people get savvier with technology, they are becoming more aware and cautious of baseless content and downright fake news. If you want to be a credible brand, you must establish authority in your line of business. SEO copywriters thoroughly conduct research and fact-check posts before publishing them. They can deliver content with credible resources that allows people to verify the information and even expand their reading. Linking to credible external sources also shows how much time and effort was invested in creating a post. Linking to other pages in your own website signifies how much you know in your niche. SEO copywriters know how to use and capitalize on external and internal links to establish brand authority.

They provide strategic input.


SEO copywriters do more than just creating articles that rank high in search engines. They can research content from your top competitors and inspect their weak spots and strong points. They can utilize the best tools that analyze website visitor behaviour to see what content performed well or needs improvement. Then, they can organize this data into a report that will be shared to your team for discussion and planning. A high-impact article can be maximized by reworking it into a blog series or social media posts. Comments and inquiries from readers can be pooled together to use as content ideas.
How to Get Professional SEO Copywriting Services
The good news is, you don't have to stretch your wallet to get the best SEO copywriting services. You can afford to hire an SEO copywriter — and even expand your team in the long run — by hiring virtually.
Hiring virtual SEO copywriters have been a popular choice of businesses for years. Most SEO copywriter virtual assistants (VAs) are adept in their niche and well-versed in the proper tools for research, writing, editing, publishing posts on schedule, and collaborating with others remotely.
By hiring from a full-service agency like 20four7VA, you also harness other perks of remote staffing. This includes having the staffing agency to take care of pre-screening VAs, recruitment, VA management, and payroll.
This leaves you with more freedom and time to work with your SEO copywriter to brainstorm ideas, strategize, and grow your brand with top-notch content.