Top Real Estate Virtual Assistant Companies and Platforms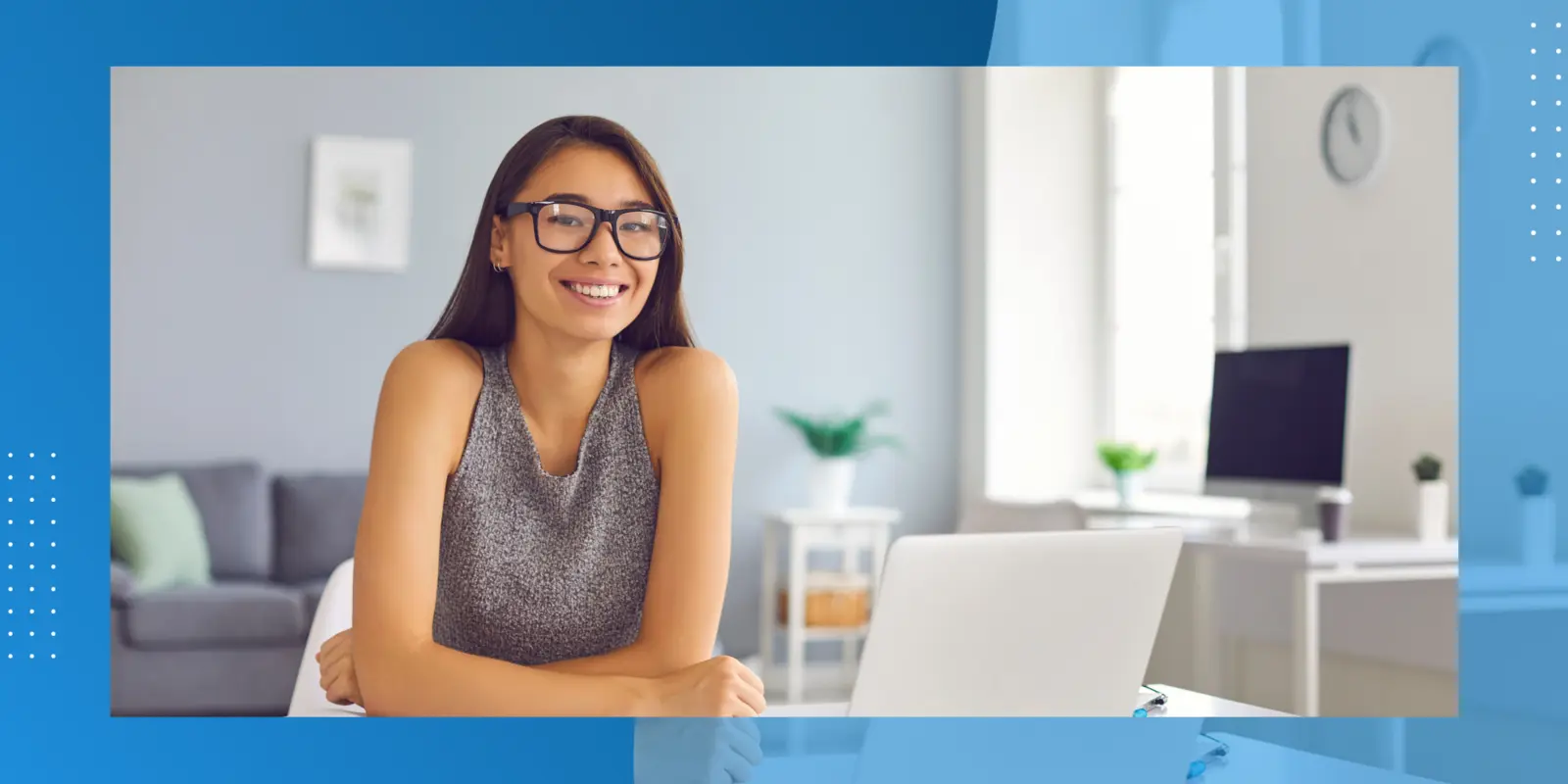 The modern workplace has evolved, and more and more companies are adopting the remote work setup. Others have taken it further by hiring remote talent—and for good reason. From keeping costs low and productivity high, businesses from all over can benefit from getting a virtual assistant or VA.
If you're a real estate professional who needs help to grow your business, then hiring a VA is an excellent move. But, of course, not all real estate VAs are created equal. Let's learn more about the benefits of getting a VA and the top real estate virtual assistant companies that can help you get the best VA for your business needs.
What is a real estate virtual assistant?
Real estate virtual assistants are also called real estate remote assistants and REVAs. These remote professionals support real estate agents and companies by taking over important but time-consuming tasks. While the actual scope of work may vary per client, a REVA can work on a wide range of duties, from general administrative work to more industry-specific tasks like loan processing coordination and real estate lead generation.
Curious about what else real estate VAs can do for you? Schedule a free consultation call to learn more about how a VA can support your real estate business.
Top three benefits of getting real estate virtual assistant services
In the U.S. alone, there are almost 1.2 million registered real estate sales and brokerage businesses. This number just shows the amount of competition real estate professionals face daily. And real estate business owners must do whatever it takes to stand out.
One of the ways real estate business owners can do that is by hiring virtual assistants. VAs can help improve productivity and fill sales pipelines, all while keeping costs low.
Get more done
If you're a real estate professional, you know how many back-office tasks it takes to keep your business running smoothly. When you hire a VA, you can delegate such tasks, allowing you to check more things off your to-do list.
Focus on the big picture
"If most of your day is spent trying to keep the admin work from piling up, it's high time to hire a VA," advises 20four7VA President and CEO Catherine vanVonno. A VA can take some of the things off your plate, so you can have more time and energy to focus on the big picture. You can finally have space for more executive-level responsibilities like drafting your growth strategy or meeting with clients.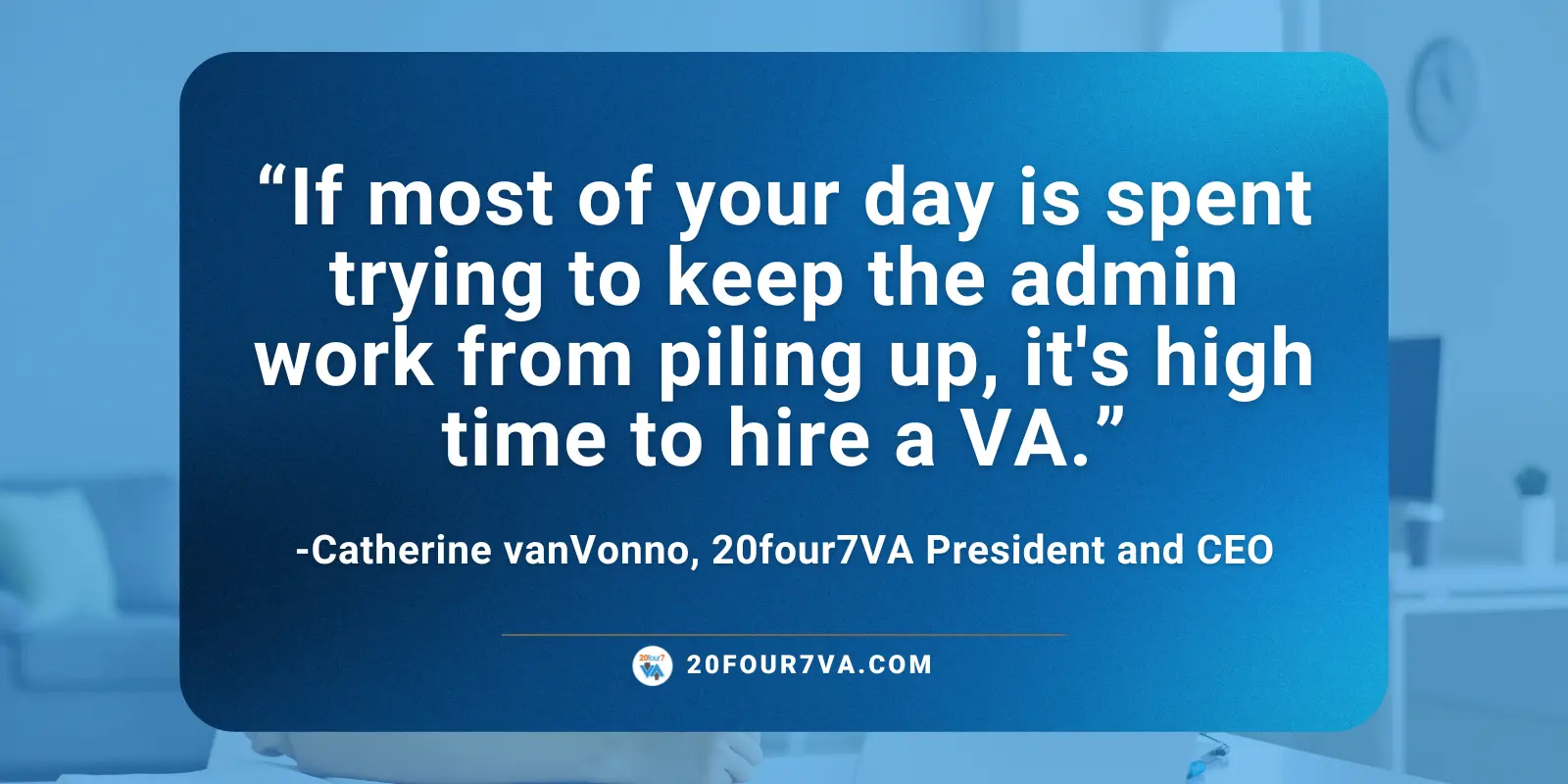 Save on costs
A VA can help you get more done so you can channel your energy into doing high-level tasks, all while helping you keep costs low. When executed well, virtual staffing can save you up to 80% in labor costs. Plus, you won't have to worry about expenses like additional office equipment, transportation allowances, or other costs related to hiring full-time, in-office staff.
Recommended reading: What tasks can a real estate virtual assistant take off your plate?
How to find a real estate virtual assistant
These are some of the most common ways you can try to find a real estate VA:
Freelancing platforms
You can reach out to freelancers through various online platforms. To start, you need to create your employer profile and craft a detailed job ad. You'll also need to handle the entire screening and recruitment process to find your VA via this platform.
It's important to tread with caution when searching for VAs via freelancing platforms. Yes, more professionals try freelancing platforms because of the low barrier of entry and ease of use. But there are also people who flock to these websites to take advantage of both freelancers and clients looking for remote talents. Be sure to watch out for red flags to stay safe from scammers and cybersecurity issues.
Referrals
Another way you can hire a VA is through referrals. You can reach out to your professional and personal circles and ask if they know anyone suitable for the VA position. Once you get enough candidates, you can screen them and choose the most suitable one for the position.
While getting referrals from people you trust seems like a good idea, it can be limiting. You'll have a smaller talent pool you can tap. Plus, it's possible that the referred candidates may not have the skills you're looking for.
Virtual assistant companies
"Have the patience to find the best-fit remote talent for your business," says 2ofour7VA HR Manager Cath Castro. It's true: finding a VA can take up much of your time and energy, especially if remote talent recruitment is not your expertise. If you want to make the process of hiring and managing a real estate VA much more convenient, it's best to work with virtual assistant companies.
Experienced VA companies offer their expertise in remote staffing. Depending on who you partner with, you can also get assistance with more than just finding a VA. Top-notch remote staffing agencies such as 20four7VA will also help you with everything from payroll processing to VA training. Working with a VA staffing company can mean you get to work with the most suitable VA but with less hassle.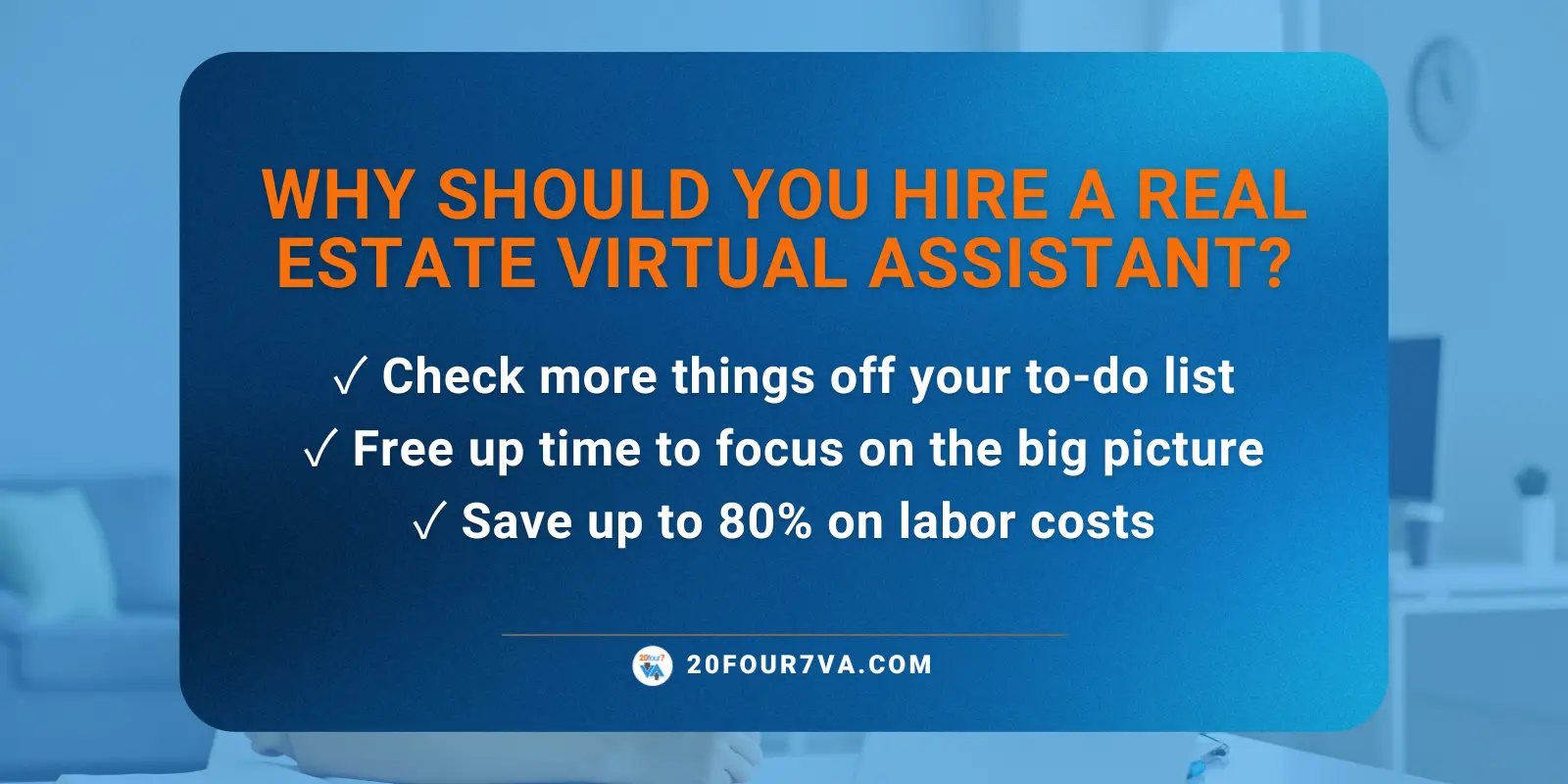 Where to find a real estate VA: your top options
To ensure you get the best VA staffing services, you must work with reputable VA companies and freelance marketplaces. Below are five VA agencies that can help you find the right real estate virtual assistant for your business:
Freelancer.com
Just as the website and company name suggest, Freelancer.com is a platform that connects real estate companies to freelancers. This Australian freelance marketplace allows clients to post job ads where freelancers can bid. Freelancer.com is an excellent option for real estate agents looking for help with short-term requirements or one-off projects. For added flexibility, clients can choose between fixed price or hourly payment structure when creating their job postings.
Notable strengths include:
Pricing flexibility
Access to freelancers around the world
Fiverr
Fiverr is a popular online marketplace that connects businesses with freelancers, offering a wide range of services, including real estate. Although not specifically focused on real estate administrative assistants, Fiverr can be a valuable resource for finding virtual assistants, especially for tasks that don't require industry-specific skills like database management and appointment setting. To find your REVA on Fiverr, you can browse through different freelancer profiles to compare reviews and rates.
Notable strengths include:
Diverse freelancer pool
Good platform to find talents for beginner-level tasks
20four7VA
20four7VA is a top-tier virtual assistant company established in 2013. The company's mission is to help companies grow with its highly scalable remote staffing solutions. Over the years, 20four7VA has matched more than 2,900 clients with skilled VAs. This remote staffing company does more than just pair you with a real estate virtual assistant. 20four7VA provides a concierge-level, end-to-end service that takes the hassle out of the entire outsourcing process. From helping you craft a job description to sourcing VAs, vetting to onboarding, and performance management to payroll processing, 20four7VA does it all for you!
Notable strengths include:
Award-winning remote staffing company (Inc. 5000, OA500, World Staffing Summit Top 100 Staffing Companies to Work for in 2023, etc.)
Competitive VA packages
In-house training and upskilling for VAs
Dedicated customer support and IT helpdesk
HR Support (VA Management, Timetracking, Payroll Processing, etc.)
Virtudesk
Virtudesk was founded in 2016 by Pavel Stepanov, an outsourcing and remote work management expert. All Virtudesk VAs are based in the Philippines and have passed an English proficiency exam before being added to their talent pool. In addition to matching real estate clients with a VA, Virtudesk also helps manage VAs with Timedly, their propriety VA management software. It allows the company to track virtual assistants' logged hours as well as take screenshots of their work screens.
Based on their website, their VA rates start at $9.55 per hour. The rates may vary depending on the skill level and tasks the client requires.
Notable strengths include:
Re/max approved supplier
3.9/5 rating on Glassdoor
Provides VA management software
Atlas Assistants
Atlas Assistants reminds business owners they don't have to keep stacking up on their workload. Instead, they should hire a VA to help save more time. Aside from matching real estate clients with their REVAs, Atlas Assistants also provides post-onboarding support to help both VA and client. This includes ongoing training, which equips the VA with the knowledge they need to continue giving top-notch service.
Notable strengths include:
24-48-hour lead time for VA-client matching
No additional cost for VA replacement
Multi-step hiring process
No hidden startup or onboarding fees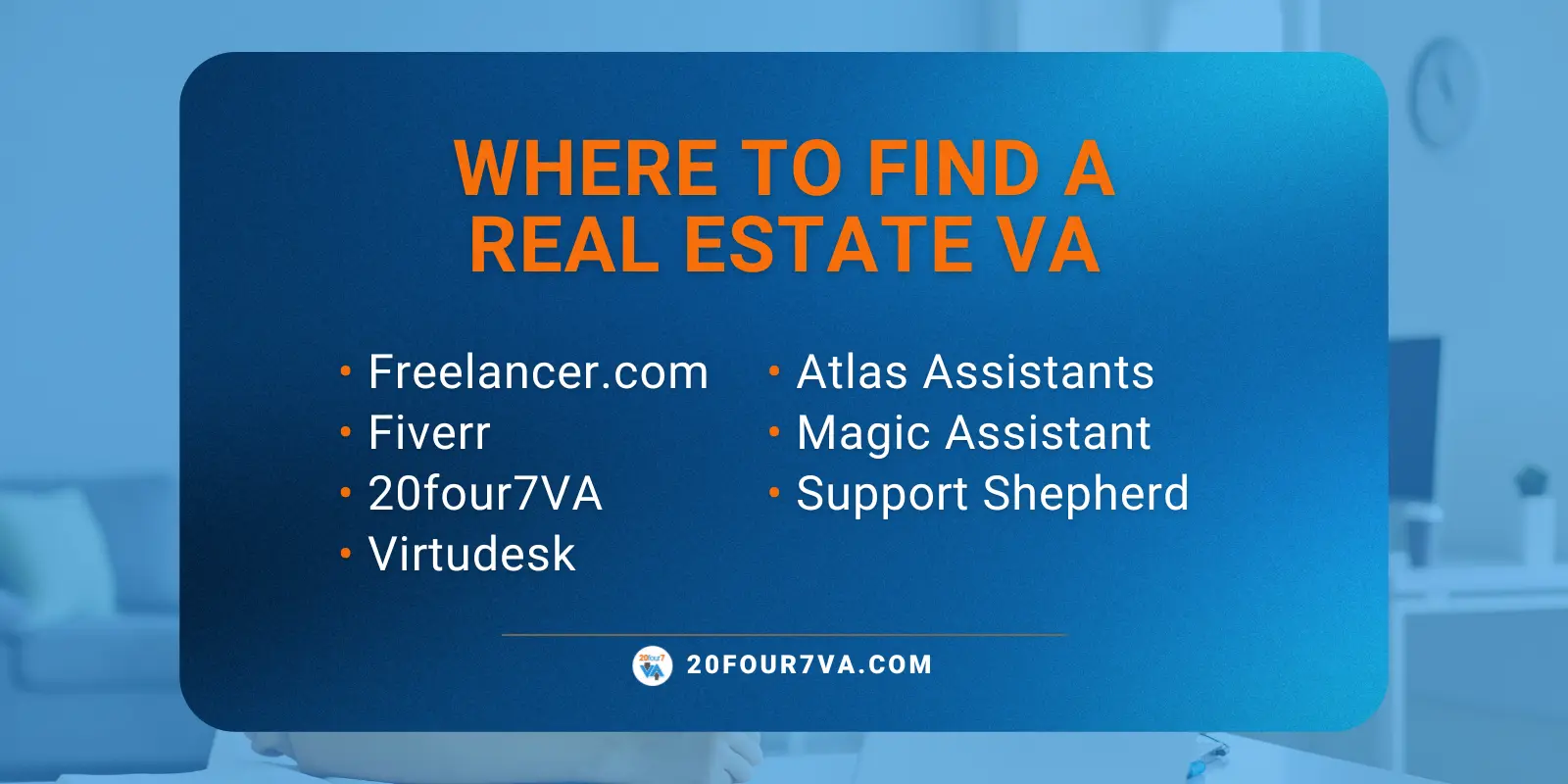 Magic Assistant
Magic assistants help clients save more than 10 hours of work per week. And it's not through magic but through virtual staffing. All their VAs should complete the company's extensive assistant skills training before being matched with a client.
Magic Assistant offers three VA packages: Magic Basic, Magic Professional, and Magic for teams. They also have competitive rates with plans that start from $10/hr. Of course, this rate will change depending on the type of VA or package you choose.
Notable strengths include:
3-day lead time for VA-client matching
72-hour VA replacement if needed
Weekly billing, cancel anytime
Support Shepherd
Support Shepherd is a VA company that started in 2009. They have a pool of vetted remote assistants that can cater to a wide variety of industries, including real estate. Most of their VAs are based in the Philippines and the Latin American region.
If you're planning to find a Philippine-based REVA with Support Shepherd, expect the VA's salary range to be about $1,200/month. Once they've matched you with a VA, you'll also pay a one-time fee, which is 35% of the VA's annual salary.
Notable strengths include:
4.8/5 rating on Glassdoor
More than a decade of remote staffing experience
Up to 80% in labor cost savings
So, should you hire a real estate virtual assistant?
A real estate virtual assistant can provide valuable support to real estate professionals, from helping them boost productivity to providing excellent customer service. By delegating tasks to a REVA, real estate experts like you can confidently focus on your core functions without worrying about whether a routine task has been completed.
You can look for your VA via well-known freelancing marketplaces or partner with top real estate VA companies. Freelancing websites allow flexibility and access to freelancers that can handle more short-term projects but may require more time and energy investments from your end. On the other hand, experienced VA companies will offer a full suite of VA hiring and management services, allowing you to reap the many benefits of virtual staffing without the extra load on your shoulders.
Ready to find your own real estate VA? Claim your free consultation with our Business Growth Specialists today!