How to Manage Your Business Finances: Solutions for Struggling Entrepreneurs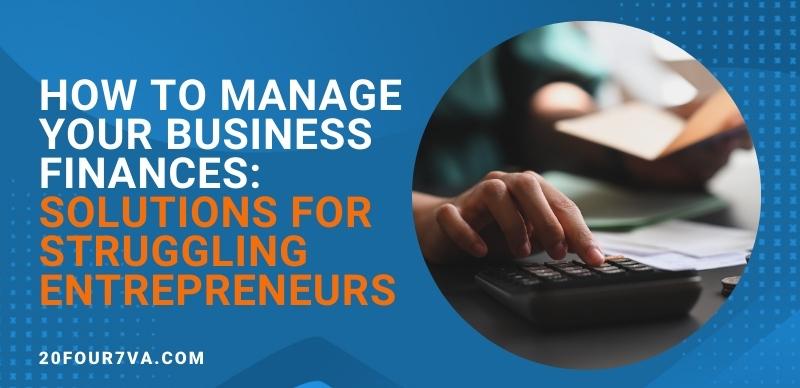 Running a business can be a daunting task, especially when it comes to money management. Many entrepreneurs struggle with finances and cash flow, but the good news is that there are several strategies you can use to help improve your financial situation. Read on for helpful tips on how entrepreneurs who struggle with business finances can implement better money management.
Sharing Documents with Your Team
One of the most important aspects of money management is making sure everyone on your team has access to the same information. PDFs are secure, compatible with all devices, and easily updateable to keep up with changes. Looking for an online PDF editor to streamline document collections can help ensure your team has complete, accurate information and stay up-to-date throughout the process.
Forming an LLC
If you're running a business, one of the best ways to protect yourself and your assets is by forming an LLC (limited liability company). An LLC provides protection from personal liability in case something goes wrong with your business. It also offers tax benefits such as pass-through taxation, which allows you to avoid double taxation on profits and losses.
Using Software for Project Management
Project management software is an essential tool for any business. It can help keep track of deadlines, budgeting, employee tasks, and more, thus ensuring that projects are completed on time and within budget. Investing in project management software will not only boost productivity but also improve the company's overall financial health in the long run.
Implementing an Efficient Payment Processing System
Having an efficient payment processing system is key when it comes to managing finances. Invest in convenient systems that allow for quick and secure payments online or via credit card, helping to avoid lengthy delays associated with check or bank transfer payments. This will ensure payments arrive on time and accurately each month, reducing stress and providing peace of mind.
Collaborating with a CPA
Working with an accountant can make a huge difference when it comes to managing finances effectively, especially if you're new at this. Accountants have expertise in areas such as taxes, bookkeeping, budgeting, etc., so they can provide valuable advice that can help improve your financial situation over time. Additionally, they can help identify areas where costs may be reduced or eliminated altogether, saving you money down the line.
Using Effective Accounting Software
Accounting software is an essential tool for tracking expenses and income each month. It's important to invest in quality accounting software to ensure more accurate data entry and reporting, enabling you to make informed decisions about resource management. Having up-to-date financial information on hand allows better decision-making when it comes to allocating resources properly.
Avoiding Credit Card Chargebacks
Using credit cards as payment methods can result in unexpected losses due to chargebacks or other related fees. These costs can add up quickly if not monitored carefully, so it's important to understand all associated costs before accepting credit cards as a payment option. Taking the time to research and plan can save you from unpleasant surprises in the future.
Managing money effectively is essential for any entrepreneur looking to succeed in business. Forming an LLC, investing in project management software, sharing documents with your team via PDFs, and other strategies are key to improving financial situations over time. Entrepreneurs can find more peace of mind knowing their businesses are financially stable moving forward when they implement these strategies.
For more tips on managing your business, check out the rest of our Client Tips. Want to take your business to the next level? Book your FREE, no-obligation consultation with 20four7VA today!
---
About the author:
This guest post was written by Katie Conroy, creator of Advice Mine.