10 Tasks to Outsource to a YouTube Editor for Hire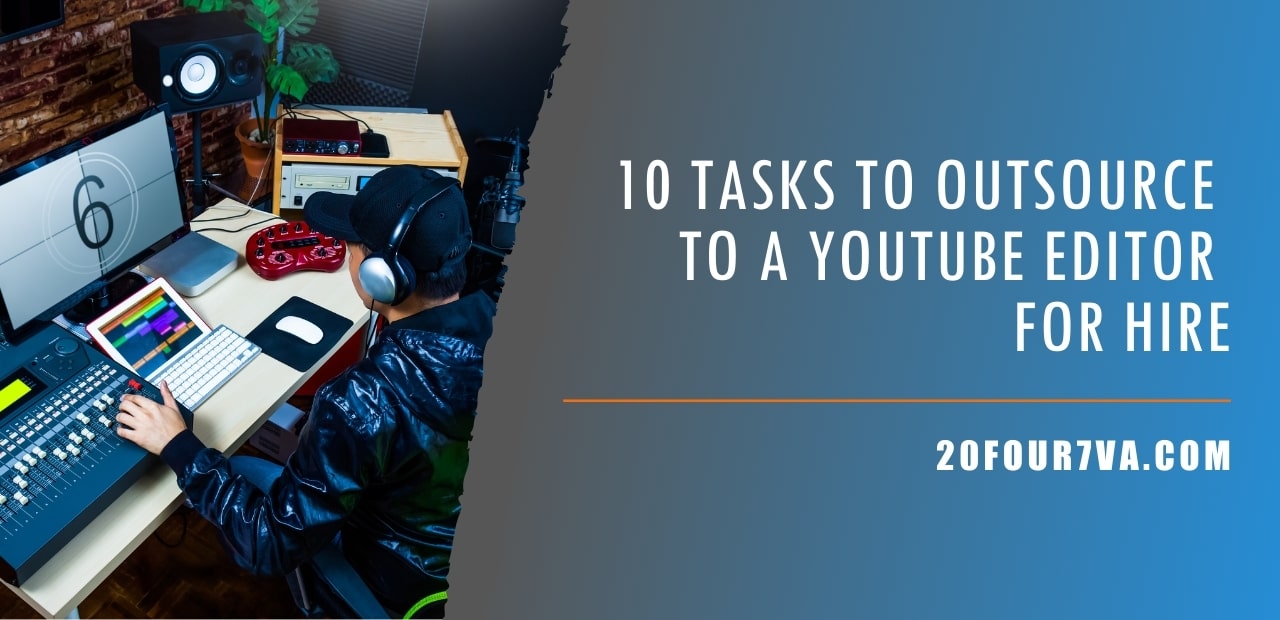 Not everyone has the time and patience to sit down and read a long blog post no matter how well-written it is. A well-made YouTube video shared on any platform, however, can stop anyone in their tracks or more appropriately, in their scrolling. The question is, how do you make such a video? Combining footages, sounds, and text seems like a cool idea. Without creativity, technical know-how, and YouTube editing skills, however, it can be a daunting task. You are better off finding a professional YouTube editor for hire instead.

Why You Should Hire A Video Editor Specialist
Videos have a massive influence on one's business, as these following figures* show:
More than 2 billion people use YouTube, which accounts for 1/3 of the internet.

86% of viewers admit to using YouTube for learning something new.

65% of people turn to YouTube videos to help them solve a problem.

Video content can generate 300% more traffic.

85% of marketers use YouTube as a video platform.

97% of marketers claim video content has helped consumers gain better product understanding.
With such impressive numbers, there's no doubt that YouTube has direct and indirect ways of boosting a brand. It's only fitting to entrust this side of the business to someone who can leverage and use it to your marketing advantage. There are many user-friendly video editing tools out there, so it can be tempting to dabble in creating and fine-tuning your videos yourself. While this is possible, it may not be the smartest decision.
But what exactly can a YouTube video editor for hire bring to your table?
10 Tasks to Outsource to a YouTube Editor for Hire:


Edit raw footage.

Publishing raw video footage isn't a bad idea. However, you should consider that:
a. Video streaming platforms have specific content prerequisites; and
b. Consumers expect quality promotional content from brands
Your videos do not have to look professionally put together by an ad agency. Still, must take into account the color, sound, and composition that must go together to form a cohesive video content that resonates with your brand identity. Your YouTube video editor can edit your videos to make the picture crisp, the sound coherent, and the footage segments understandable.

Embed music and narration.

Videos are a great way to tell a story and engage your target viewers. If you want to teach customers how to use or make the most of your products, tutorial videos are the best way to do it. Whether you are entertaining or educating viewers, narration helps people follow along and music rouses a better impact. A YouTube editor can work in different video elements to complete your content. They would have the ingenuity and timing skills to know when and how to properly execute these elements to enhance your video.

Film videos for brand content.

Your video editor does not have to be confined to post-production work. You can also entrust them to set up and record materials for video content. Chances are, they would already have the tools and gadgets to film footage to be used for promotional and website content.



Add subtitles.

Take your content to another level by inserting video subtitles. Your editor can transcribe the dialogue, edit, and rewatch the whole video to ensure the text matches the content. Subtitles are a great way to ensure your viewers understand the subject matter better. In addition, subtitles are key for reaching wider audiences. People who aren't native speakers of the language you use will still be able to enjoy and relate to your videos through subtitles.

Enhance or incorporate sound effects.

YouTube is now home to thousands of ASMR (Autonomous Sensory Meridian Response) videos, many of which just show mundane activities such as cooking with enhanced sounds. This is indicative of the power of sound in eliciting an emotional response from the audience. Your YouTube editor can help enrich or add sounds so your videos are more palatable to the viewers.

Add introductions and endings.

Introductions and endings add a semblance of professionalism and sequence to a video. It would help the viewers appreciate your message more if there is a logical order to it. A YouTube editor knows how to trim footage sequences and incorporate introductions and endings to form one solid production. This will make your video storytelling more powerful.

Collaborate with the content team.

Your YouTube video editor can be a valuable asset of your content or digital marketing team. They can help brainstorm ideas, enhance the storyboard, and move your content marketing forward. As video specialists, they can share input on the current trends in video streaming platforms, what works best for your target viewers, and how to use such data in the overall branding efforts of your team. Your YouTube editor should also consult with you throughout the production and post-production process.

Organize video clips.

Before shooting videos, you must already have a script or storyboard organized. However, the process of shooting videos may not always follow the sequence of your script. For instance, you have elements to consider like weather and lighting. Thankfully, you can still keep the cameras rolling and not have to worry about following scripts to the letter. Your YouTube video editor can always trim and arrange video clips so they appear in one logical order. In addition, they can add the necessary overlays or transitions to make the entire video appear solid.

Publish videos on YouTube.

Have your YouTube editor organize your uploads into playlists, optimize thumbnails, and add proper titles, keywords, and descriptions to make them more appealing and easy to find. Like other digital platforms, YouTube also has its own set of usage terms and algorithms that may change from time to time. It's the job of your video editor to publish videos that follow such terms and optimize such algorithms. Your editor must ensure that your videos are published on schedule. They also ensure that videos can be streamed smoothly regardless of the device used.

Grow your YouTube channel.

YouTube accounts for 25% of mobile traffic, surpassing Facebook that managed 17% only. Every day, viewers watch a total of 1 billion hours of YouTube content. Just imagine how much this expansive and engaging user base can boost your brand. To leverage YouTube's massive audience, however, you must have the right strategy in place. As a specialist of the platform, YouTube editors should know the workings of YouTube: the trends that grow in the channel, the behavior and preferences of viewers, and even the sponsorship guidelines that the platform impose. Your editor will use this data to skillfully and creatively grow your viewers and subscribers.
5 Tips Before You Hire a Video Editor for YouTube
Work with a staffing agency.

Although you can find a freelance video editor for hire on your own, it pays to work with a full-service virtual staffing agency instead. For instance, 20four7VA can connect you with a YouTube specialist VA (virtual assistant) who has already been pre-screened and trained. The agency also takes care of VA monitoring, payroll, and management. This leaves you with more time, freedom, and resources to focus on content creation and strategy with your YouTube editor.

Layout your requirements.

What competencies and experience do you want your YouTube editor to have? Here are a few things to look for:
Degree in cinematography, film studies, or related fields
Experience as a YouTube content creator or editor
Knowledge about YouTube algorithm
Experience and knowledge in digital marketing and editing software including but not limited to Lightworks, Premier, Avid Media Composer, and Final Cut
Knowledge of 3D and compositing and special effects
Digital advertising skills, training, and experience
Intermediate troubleshooting skills
Digital storytelling skills and creativity

Organize a clear and specific job description.

What are your expectations from your YouTube editor? What specific responsibilities will you delegate? Knowing the answers to these questions should help you put together a clear and targeted job description. Make sure to specify non-negotiable qualities and preferred skills.

Check their portfolio.

Do not write off people based on their listed experience and background. People with minimum experience may have the skills, creativity, and timing to produce the most impactful and brand-appropriate videos for you. In the same way, applicants that tick off every requirement you enlist will not necessarily be able to produce the content you have in mind. Be sure to ask for sample videos or links to the previous works of the VA.

Start with a test project.

Before you settle with a video editor for hire, have them work on a test project first. You can have them work on small assignments to gauge their skills and give them time to get to know your branding style. You can also assign them to post social media Stories which are only up for 12 to 24 hours. That way, you can ease them into bigger responsibilities while assessing the reaction or engagement that their content has produced.
Conclusion
YouTube has turned many video creators into entrepreneurs and several businesses into industry influencers. Tap into the massive influence of the top video streaming platform by finding the right YouTube editor for hire.
*Sources:
https://www.thinkwithgoogle.com/intl/en-ca/marketing-strategies/video/self-directed-learning-youtube/
https://www.marketingsherpa.com/article/how-to/videos-attract-300-more-traffic
https://blog.hubspot.com/marketing/state-of-video-marketing-new-data