Best Virtual Assistant Websites: Where to Find Your Next VA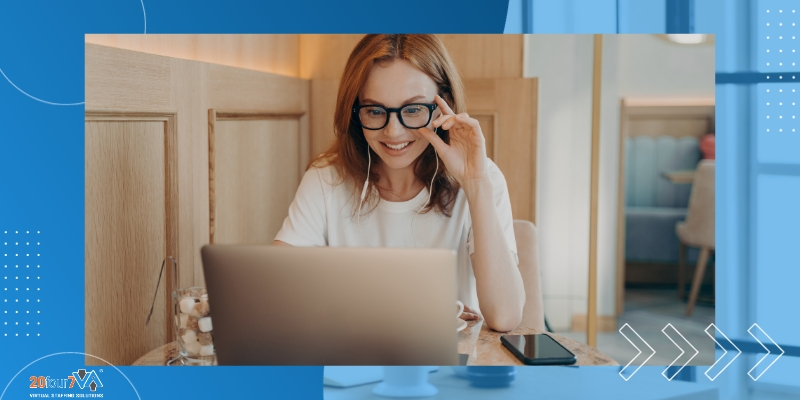 "There are plenty of benefits to hiring a virtual assistant (VA)," says 20four7VA President and CEO Catherine vanVonno. "But to enjoy these benefits, you must find the right person for the role."
Easier said than done, right? Not all VAs are the same—that's a given. You need to know what kind of remote talent you're looking for, and, just as importantly, you need to know where to look for that person. This requires knowing the best virtual assistant websites and investing time in the search for the right VA for you.
Importance of finding the right virtual assistant
Finding the right VA can make the time and effort you invested worth it. These are the top five reasons why:
You can avoid redoing the recruitment process.
It allows you to focus on your work.
They can help with business continuity.
A skilled VA provides high-quality work.
Poor job fit leads to unsatisfactory VA performance, which can affect other team members' work.
Hiring the right VA doesn't just mean finding someone with the right work experience and qualifications. While technical skills and previous experience help, you still need to consider other factors to find the "right" one. These factors include soft skills, attitude, values, culture fit, and availability.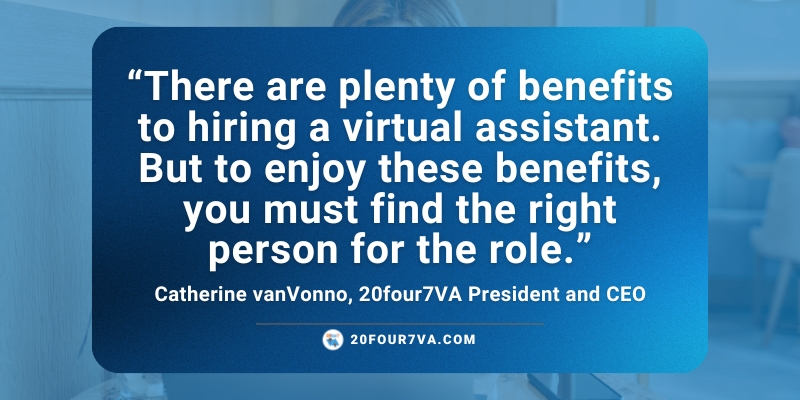 The website categories
Now that you know why hiring the right VA for the role is important, it's time to look for your own VA. We've consolidated the top virtual assistant websites out there based on these four categories:
Not every business has the deep pockets that big corporations and household brand names do. And even when you do have the financial resources, you still have to do your due diligence and look for a cost-effective option.
Remote staffing is already an economical workforce solution. But we still have a "budget-friendly" VA website option for businesses that want to save even more.
It seems like everybody is on social media right now. And people aren't just going to their favorite apps to post their latest #OOTD or flatlays. Social media has also become a way for remote workers to find jobs that fit their lifestyle.
Because social media is so prevalent, it makes sense to add a social media option for the virtual assistant search. This is for business leaders who don't want to set up another profile on a new website just to find a VA. They can use the apps they already have on their phones to reach out to candidates for their open VA roles.
While the beauty of virtual staffing means you can hire a VA from almost anywhere in the world, some businesses prefer hiring a U.S.-based VA. This can be due to a variety of reasons, from company policies to legal concerns. Either way, we've included a top US-based VA website for US-based clients who prefer someone living within their state or country.
End-to-end VA staffing solutions
Working with end-to-end virtual assistant companies can lift the heavy load of recruiting and screening applicants. Trusted VA staffing companies have years of remote staffing recruitment experience under their belt. Plus, they have a global talent pool of already vetted and screened VAs ready to be matched with the right client or business.
End-to-end remote staffing services provide support throughout your whole journey with a VA. These support services typically include sourcing, vetting, VA training, onboarding, performance management, payroll processing, and offboarding.
20four7VA offers award-winning end-to-end remote staffing solutions. Get in touch with our Business Growth Specialists to learn more.
Where to find your VA: Our top picks for the best virtual assistant websites
Our top picks are based on various criteria: number of years in service, client and VA feedback, and variety of services or VA types offered.
Best budget option: Upwork
For more than a decade, Upwork (previously named Elance-oDesk) has been a go-to online marketplace for freelancers. As of March 2020, Upwork had more than 800,000 users on its platform. This number includes freelancing virtual assistants, making it one of the biggest pools for clients looking for remote talent.
If you're okay with sifting through a large pool of potential VAs, then you'll have no problem navigating Upwork. So why is Upwork our chosen "budget option?" Easy. Because you can set your own rates. Here are your two options:
Option one: Create and post your job ad with the declared rates and scope of work. After posting, simply wait for freelancers who are amenable to your rates to submit their proposals or bids.
Option two: Just key in your search term (e.g., "administrative virtual assistant") to browse for remote talents on the website. From there, you can choose those with the rates and skills that match your needs.
Yes, there are many professionals looking for VA roles on this platform. But be warned; there are also scammers waiting for their opportunity to trick both remote workers and clients. Be mindful of any red flags and keep discussions on the platform secure.
Where are the VAs based? From around the world
Best social media option: LinkedIn
If you prefer to look for your VA through apps you already have on your phone, LinkedIn could be your best bet. LinkedIn is more professional than its other social media peers. You can access a wide network of remote talents from different parts of the world. The website also has advanced filter features you can use to sort their 700+ million users.
Alternatively, as a company or employer, you can also post your own job ad in the app. VAs who see it can easily apply on the website, making it an easy affair for both you and the candidate. Of course, you must also consider the time and energy you'll need to screen applications, interview applicants, and assess skills.
Where are the VAs based? From around the world.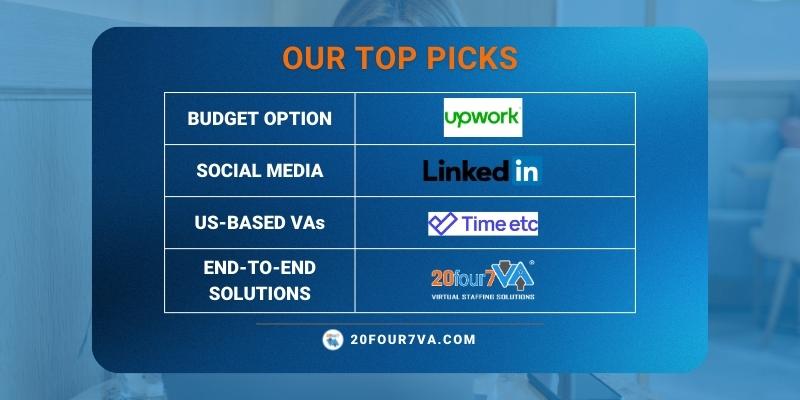 Best for US-based VAs: Time etc
Time etc was founded in 2007. Since then, they've matched over 22,000 entrepreneurs with US-based VAs. They've also won multiple awards, including the OA500 list.
At $360/month or $36/hr, Time etc is the most expensive VA website on this list. But they promise to make it worth your while by linking you to VAs that help you hit your goals and have more time for more executive work. To give you an idea of whether or not this is the right option for you, here are the types of tasks you can delegate to a Time etc VA:
General administrative duties
Social media marketing
Sales administration
Marketing administration
Research

Where are the VAs based? USA
Best end-to-end VA solutions: 20four7VA
20four7VA is a virtual assistant company with more than a decade of experience matching clients with top-tier VAs from around the globe. We provide end-to-end remote staffing services, from free client-VA pairing to in-house training and payroll processing, making VA staffing even more convenient.
20four7VA recently made it into the OA500 list of top outsourcing companies. It has been on the Inc. 5000 list for two consecutive years and the World Staffing Summit's Top 100 Companies to Work For list for three consecutive years. It recently won the Better Business Bureau's Torch Award for Ethics and was recognized as one of the top 70 small businesses in the U.S. by the U.S. Chamber of Commerce.
20four7VA's virtual assistants are vetted through a meticulous screening process. At the same time, the company offers in-house training to all VAs to help them update their skills and stay competitive.
Where are the VAs based? Most VAs come from the Philippines, which has one of the highest English proficiency rankings in the world. There are also VAs from other parts of Asia, as well as Africa and Latin America.
There are plenty of options for clients who want to hire a VA. But if you want to save time, you must be more intentional with your choices. We recommend reviewing the above list and checking which VA website option best fits your needs and budget.
Curious about alternative staffing options? Book your FREE consultation with our Business Growth Specialists to find out how hiring virtual assistants can help you save up to 80% off your overhead expenses.