Where To Hire a Virtual Assistant (and More VA Hiring Tips)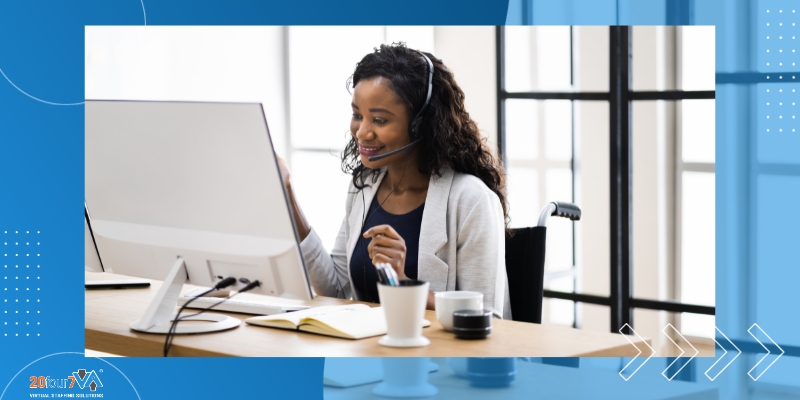 Knowing where to hire a virtual assistant (VA) is an important part of the VA hiring process. To reap the many benefits of VA staffing, you need to hire from the right channel for your business.
What is a virtual assistant?
A virtual assistant or VA is a remote worker who offers support in various facets of a business, from administrative duties to technical support. They eliminate the need for a business to spend extra resources on transportation allowances, office equipment, and other costs related to in-office staff.
The impact of a VA goes beyond your expense report. A VA can keep you from "sweating the small stuff." They can take over low-level tasks, making room for more strategic and high-level responsibilities. Hiring skilled VAs also gives you the expert support to handle non-core tasks, from bookkeeping to graphic design. A VA with the right skills can make processes quicker and boost productivity levels.
Have questions about hiring virtual assistants? Claim your free, no-strings-attached consultation call with us today!
Where to hire a virtual assistant for your business
Before you benefit from the many advantages of virtual staffing, you must find and hire a virtual assistant. Below are the top options for entrepreneurs and business leaders looking for remote talents to improve productivity and grow their businesses.
Do you have a relatively vast professional network? Then, you can reach out to individuals in your network for referrals that fit your requirements. You can contact your referrals through email or phone calls. Either way, you need to be as detailed as possible or prepare a digital file with all the relevant information about the role, including required skills, scope of work, etc.
A benefit of this route is that you have candidates vetted by people you trust. It can also lessen the time needed for screening, as instead of having hundreds of applications from a job portal, you have a shorter list of candidates. However, if you have a limited network or prefer to seek remote talent in a wider, more global talent pool, this option may not be the best for you.
In 2022, there were over 4.59 billion social media users. And according to Statista, "[This number] is projected to increase to almost six billion in 2027." This makes social media a great platform for both reaching out to customers and potential VAs.
You can harness the vastness of social media by posting job ads on your personal and company LinkedIn pages. Another option is to join Facebook communities for remote talents and clients looking for VAs. Joining such communities is an excellent way to get in touch with multiple candidates in one place while learning about best practices in the virtual workplace.
If you plan on using social media as your main platform for finding remote talents, you must be patient. This option has one of the least structure, so you'll need to set up a process. You need to be clear in your job ad and inform interested candidates about the next steps, especially with how they can contact you to submit their application or clarify the opening.
For example, if you prefer candidates to contact you via email instead of comments on your Facebook post or direct messages, highlight that in your original post. Otherwise, you'll lose time between answering queries to your original post and managing your inbox.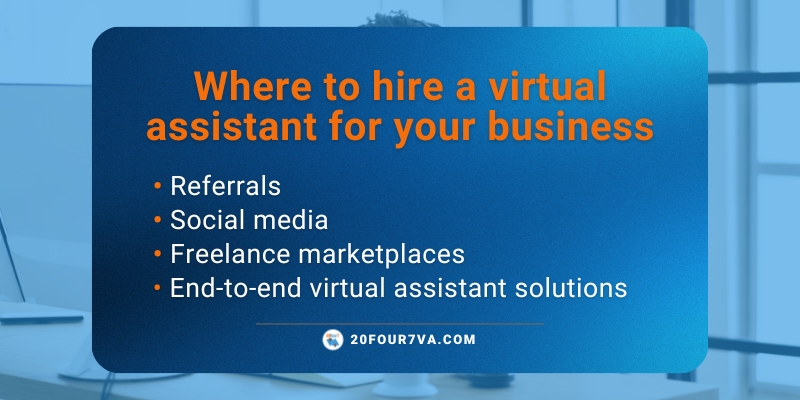 The number of freelancers has grown and will continue to grow. In the US alone, the number is expected to reach 90.1 million by 2028—a big jump from 59 million (2020). These freelancers typically frequent popular freelance marketplaces like Upwork or Fiverr to find clients or projects. Imagine having such diverse talent on one website.
However, the strength of using freelance marketplaces—the vast pool of talent—can also be a downside. You'll have to be very meticulous with your search to ensure that you find someone who meets your standards. At the same time, thoroughness is also required to avoid potential scams and security issues, which are common problems in such platforms.
End-to-end virtual assistant solutions
Of course, finding your VA is just the starting point. You need to onboard and train your VA to ensure they can perform well in their role. You'll also need to handle related tasks such as performance management, time-tracking, and payroll processes. If these tasks are not your forte or you simply want to manage your time better, you can have a remote staffing company handle these for you instead.
"A VA company like 20four7VA provides the expertise and talent pool to ensure you get the VA you need to reach your business goals," states 20four7VA Business Development Manager Joan Banez. At the same time, we also go beyond client-VA matching. You and your VA can focus on your core responsibilities while we handle everything VA staffing-related from in-house training to payroll processing.
However, working with a VA company may not be the most suitable option if you only need a VA for a one-off task. The smallest plan that most VA companies offer is 10 hours a week. It's true that our plans can be canceled at any time. But, you may not be able to enjoy the full benefits of end-to-end solutions when you end your subscription before completing the 10 hours.
Consider your business needs to help you decide which option is the most apt for you. Decide on the type of work you'll delegate as well as your resources, including budget and time.
Want to know more about hiring a VA through a remote staffing company? Book your free call with our Business Growth Specialists and find out if hiring a virtual assistant is the right move for you.
Virtual assistant hiring tips
Here are some more tips to help you have a positive virtual staffing experience:
Identify the tasks you want to delegate to a VA
This was mentioned several times throughout the article, but it requires repetition. To set yourself and your future VA up for success, you must clearly identify the tasks you want to delegate to your VA.
This is an important step in the hiring process. It will affect other elements, including scope of work, required skills and experience, corresponding VA rates, and more. By being clear about what you want from the get-go, you can smoothly move on to the next steps of the process.
Recommended reading: What tasks can you delegate to a virtual assistant?
Set a budget to avoid overspending
Another important thing to identify before advertising your opening is the budget. Yes, hiring is cost-effective, but setting a cap can keep you on track. To give you an idea of the range of rates, below is a comparison of the hourly assistant rates across different options. These options include in-office assistants, freelancing VAs, US-based VAs, and VAs outside the US (e.g., Philippines, India, etc.).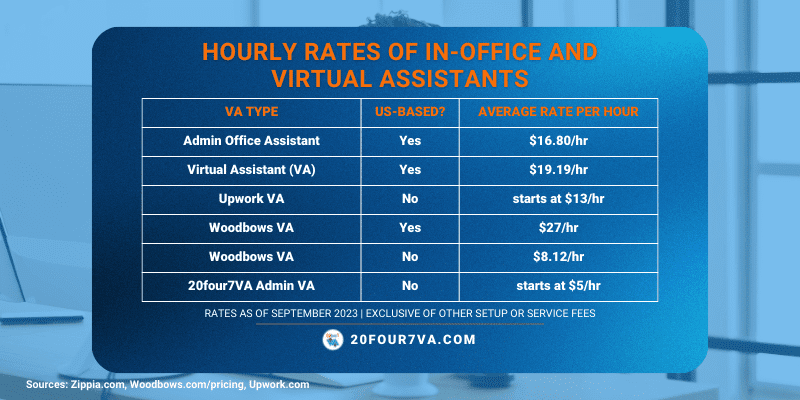 Evaluate skills and qualifications
To get a quality VA, you need to evaluate skills and qualifications. Sure, reviewing resume applications can already be quite tedious, and you may want to skip the next steps to save some time. But taking that extra time to further evaluate candidates can increase your chances of landing someone more suitable person for the job and not just someone who looks good on paper.
You need to go beyond the usual interview questions and ask ones that can uncover whether or not they have the right qualities for the role. When necessary, you can ask candidates to undergo skills that can measure the capabilities declared in their applications.
Align on expectations and KPIs
Open and honest communication about these goals will help ensure that both parties are on the same page and working towards a common goal. Make sure you align expectations and KPIs with your VA early on. You need to lay down what you need from your VA, including day-to-day goals and other policies they must adhere to. Additionally, it's essential to establish performance metrics or key performance indicators (KPIs) to evaluate and measure their performance.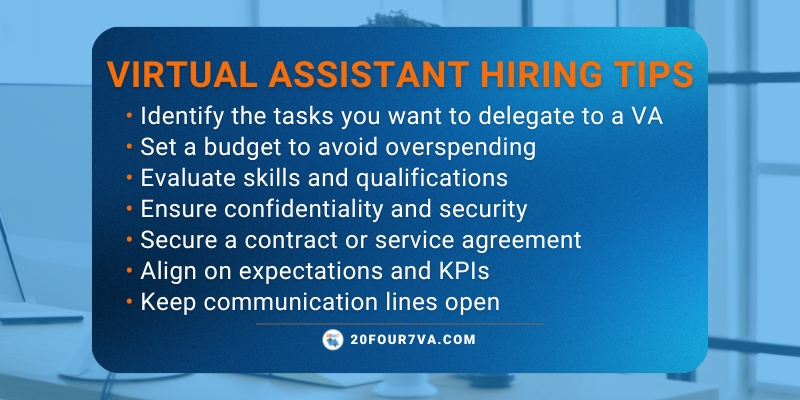 Should you hire a VA?
The virtual assistant hiring process can be challenging, especially when you're handling the process end-to-end. But the benefits of remote staffing will be worth the time and money you invest in it. And aside from choosing the right VA source, you should also apply VA hiring and management best practices. Doing so will ensure you and your VA have a productive and positive working relationship.
There's never been a better time to benefit from the work of virtual assistants. Schedule a free consultation with us to find out how you can leverage the power of VA staffing today!