How to Use AI for Marketing: Top Tools and Prompts
There's no denying it: The marketing landscape is evolving. Consumers are becoming more discerning and technology more advanced.
To meet their goals and stay ahead of the competition, marketers must equip themselves with the right tools, including AI for marketing. When used effectively, AI (artificial intelligence) tools offer a faster, more effective way of planning, executing, and measuring campaigns.
Benefits of using AI for marketing
AI is still relatively new to the marketing world compared to traditional marketing tools. But even when AI adoption is still in the early stages, AI tools for marketing can already prove to be advantageous for businesses. Here are some of the ways AI can help marketers with their campaigns:
A more personalized marketing approach
If you're still employing a one-size-fits-all marketing approach, it's high time for a change. You're competing with many other businesses for your target customer's attention, so you need to find a way to be as relevant and engaging as possible. This is where AI can help.
AI algorithms can be used to better analyze customer data. This is extremely helpful in the market segmentation process. Businesses have access to more reliable and accurate data that allows them to segment customers based on select behaviors and characteristics.
For example, an online grocer can segment customers based on basket size and shopping frequency. They can then develop more suitable and relevant marketing efforts per cluster with that data. For instance, a loyalty program can entice low-frequency shoppers to buy from the online store more often to win rewards points or discounts for every purchase.
Aside from market segmentation, AI can be beneficial in predictive analytics. With pattern recognition and predictive modeling, you can more or less know a customer's next step. We can even go so far as to say that predictive analytics can tell what a customer will do before they even make a decision.
But why is predictive analytics important? It can help marketers design more intentional campaigns for specific customers. For example, this feature can help predict when customers will likely churn or disengage with your brand. It provides particular signs or triggers that will tell you to start activating your retention campaign before it's too late.
Hiring a marketing virtual assistant can help you make the most out of AI for digital marketing. Schedule a free consultation with our Growth Experts to learn more.
Data-driven decisions
Another big plus of this highly digital world is access to data. However, manually extracting, cleaning, processing, and storing a large amount of data can be quite tedious. AI provides a better data management system to support data-driven decision-making.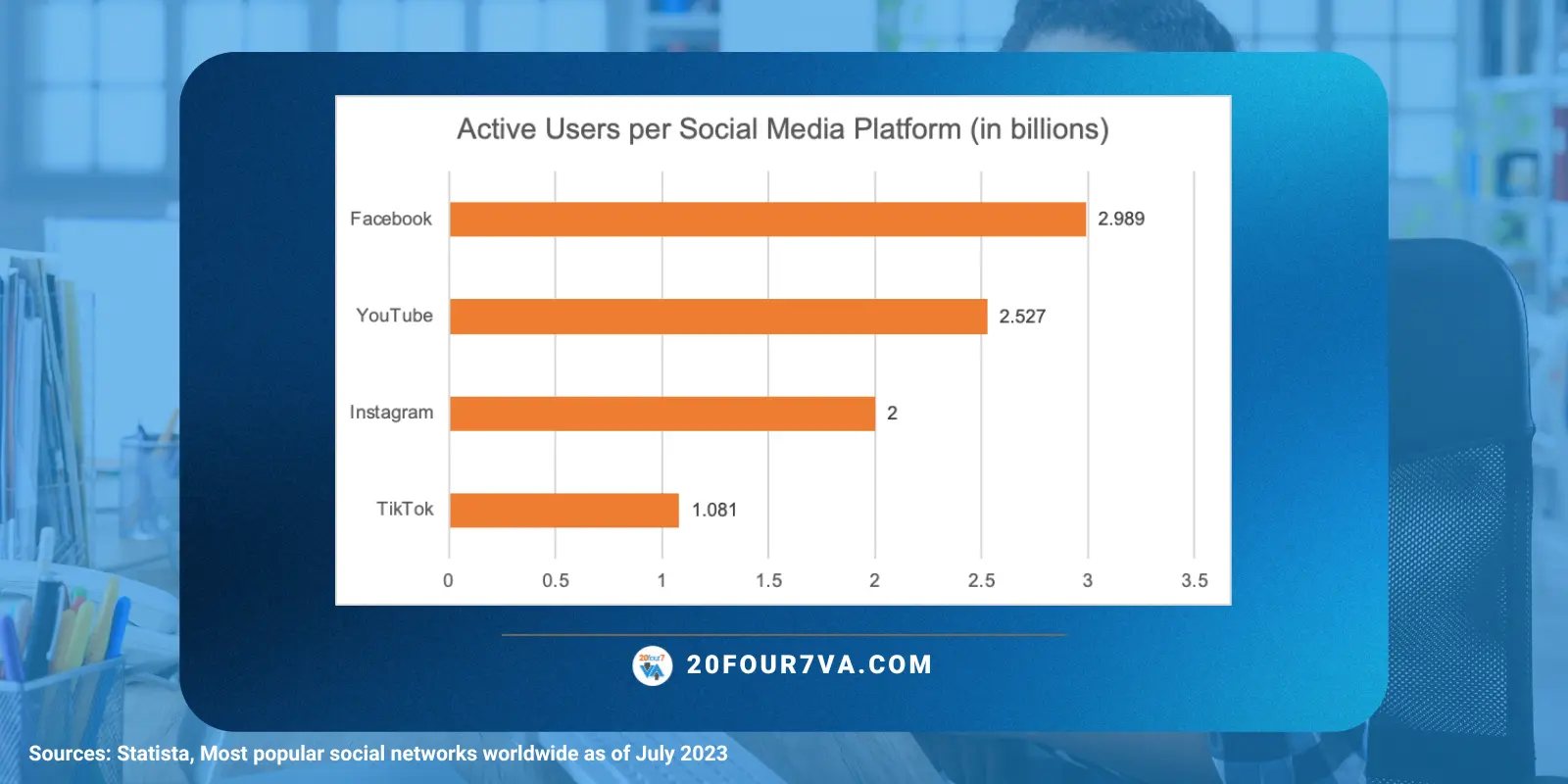 AI tools let you automate data processing, allowing for quick, real-time reports. These tools also reduce the possibility of human error, which is inevitable when doing things manually. So, if you're sitting on mountains of valuable data, you're better off using AI-powered data management systems to ensure you have access to accurate and reliable insights.
Improved speed and productivity
The business landscape is competitive. You must be quick to act and adapt to have a better chance at success. With AI for marketers, you can do just that. AI for marketing automation can help you run more efficient workflows for almost everything, including email marketing and ad optimization.
Getting tedious processes out of the way lets you clear space for other tasks. Essentially, you can get more done—faster. At the same time, the right tools can make it easier for you to make adjustments to your automated workflows. This will come in handy when new industry trends come up. You can react more quickly without much disruption to your work.
Better customer experience
Keeping customers happy is no easy task. But it's not impossible, especially with AI technologies. AI-powered chatbots can help you be there for customers even outside business hours, meaning you can be more responsive and present than ever. The most basic ones can answer frequently asked questions with just a few clicks. The speed and effectiveness of such AI bots help customers resolve issues and queries whenever and wherever.
Top AI tools for marketers
Tech is still evolving. But there are already plenty of AI tools for marketing that you can use to give your marketing efforts a boost. Here are some of the top AI-powered tools you can try.
1. SocialBee
Below are some of the biggest social media platforms and their users as of July 2023. According to Statista, these numbers are expected to grow as mobile device usage and social networks continue to "gain traction in previously underserved markets."
With billions of users per platform, it's important for marketers to be where their target audience is. This is why social media marketing is important for brands.
AI is a big thing, but it's only getting bigger. However, staying top of mind is no easy feat. Marketers must compete for the attention and eyeballs, which takes time, energy, and resources. Of course, it also helps to have the best AI for marketing tools. And when it comes to social media management, one of the most effective tools is SocialBee.
SocialBee is a one-stop management tool made even more powerful by AI for marketers. It offers just about any features you need to make your social media campaigns successful. You can do bulk editing and scheduling of posts. You can also use its AI content generation feature to generate captions and images for posts that convert.
2. Google Analytics 4 (GA4)
Reliable and accurate insights lead to better decision-making, improved products, higher customer satisfaction, and, of course, revenues. But manually collecting, storing, processing, and analyzing data can keep you from your other functions. And when large volumes of data are handled the "old-school" way, the risks of human error and security issues are higher.
Tools like Google Analytics 4 or GA4 minimize the risks. GA4 also has AI features that make it faster and more convenient to access valuable and actionable insights. Connecting your website to GA4 will give you access to user's behaviors when they visit your website. With the right settings, GA4 can easily help you segment your audience based on various factors, from their age groups to their engagement patterns.
Another helpful feature of GA4 is that it can provide you with different reports. For example, you can do a side-by-side comparison between AI-generated insights and your business' historical performance. You can also visualize a visitor's path on your site using the funnel exploration feature.
3. Jasper.ai
"Content is king." You've probably heard or read this phrase before. It still holds true, especially for today's marketers. Yes, having excellent products and services is a must. On top of that, you need to have a solid content marketing strategy if you want to get (and keep) your target audience's attention. This means putting out quality and relatable content consistently.
Keeping up with the demanding content output you need can be tricky. Thankfully, there are effective AI writing assistants that will help you produce the many types of content you need, from blog posts and press releases to email templates and YouTube Shorts scripts.
You can write engaging and relevant content using Jasper.ai. This writing assistant also allows you to use their Brand Voice feature to make sure all the output is consistent with your brand and values. It also supports a SurferSEO add-on, which is perfect for creating optimized content. Plus, you can also integrate other tools to ensure the quality of your writing. There's Grammarly for proper spelling and grammar and Copyscape for plagiarism checks.
Get accurate, high-quality content with an AI Content Writer. Book a free consultation call with our Growth Experts for more information.
4. Mailchimp
Social media messaging and chat apps are prominent, but email still has its place in today's digital world. More than 4 billion users need their emails for various uses, from signing up for classes to corresponding with clients. This makes email marketing an important part of every integrated marketing strategy.
Email marketing can be effective in helping you reach your marketing and sales goals. To help you do this more effectively and quickly, why not use an email marketing tool like Mailchimp? It's one of the top tools that can help you create winning email campaigns.
To minimize manually sending emails to each person in your mailing list, you can maximize the automation options of this tool. When you want to cut down the processes even more, Mailchimp has a generative AI feature called Intuit Assist to create more personalized content at scale. Another great feature of availing of a Mailchimp plan? More insights and analytics! They provide the reports you need to analyze campaign performance and help fine-tune future efforts.
5. AdRoll
If you want to run ads and manage campaigns in one AI-powered place, AdRoll is a suitable option. This platform helps you launch and manage ad campaigns with features including lookalike and demographic targeting.
AdRoll also supports cross-channel measurement and attribution, letting you see the performance of each effort across various channels. This gives you a more comprehensive view of which campaigns are working and which ones need to be reassessed.
A digital marketing virtual assistant can help you navigate AdRoll and your campaigns. Learn more by booking a free consultation call with our Growth Experts.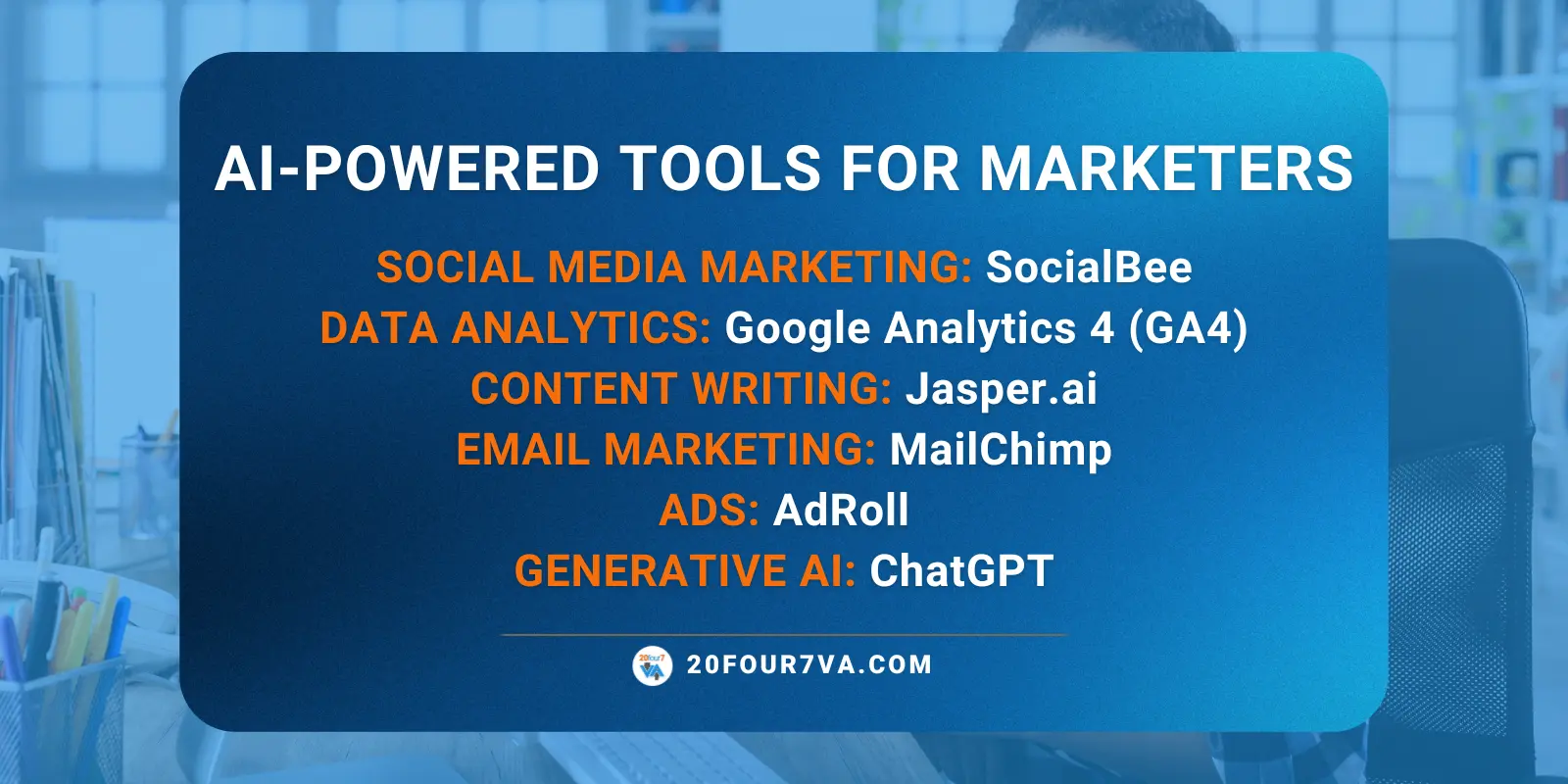 6. GPT-3.5
When ChatGPT came out, it's safe to say that people started paying more attention to the practical uses of AI. This form of generative, text-based AI provides text responses to prompts. Because the format is conversational, users can provide their feedback to improve the tool's future responses. For example, you can ask the bot to try generating a new response with additional information or rewriting the previous output using a different tone.
Not all prompts can get you the answers you want. ChatGPT is a smart tool, but it still needs substantial input from you for it to provide the best output. Are you a marketer looking to try generative AI to support your brand's efforts? Then there are some AI prompts from across the web you can test out:
A seasonal IMC or integrated marketing campaign: "Answer as a marketing expert. You are creating an integrated marketing campaign for <describe your business>. The recommendations should be relevant to the <time or season> and effective for customers in the <city/state> area. The campaign should contribute to <marketing goals like increasing awareness and website traffic>."
Blog post ideas: "Suggest ten blog post titles for a <type of business>. The title should not exceed 60 characters and should have the keyword <insert target keyword>."
Short-form videos: "Draft a script for a TikTok video for a new product launch. The goal is to raise awareness of the launch and to create buzz around the new product and its features. The video length should be <video length in minutes or seconds>. Here are some key details:

Brand and product
Description of the product or service (FAB or Features, Advantages, and Benefits)
Target customer"

Repurposing content: "Answer as a content writer for a <business type> company. I am sending the transcript of the keynote speech made by the <designation> of the company. Create a 500-word press release about this speech based on the details of the transcript. The tone should be <required brand tone>. Wait for me to send the transcript before writing the press release."
Email subject line: "I need five options for an email subject line that <goal/purpose>. Make sure the tone is <brand tone>. It should not read like a hard sell. Here are the important details:

Description of product/service
Target audience "
A simple Google search can lead you to other prompts created by marketers and AI prompt engineers. You can also test out your own to see which ones produce the best results for you. Remember: the quality of the prompt matters if you want to get quality output.
Best practices and things to consider
Equip yourself with the right knowledge
Gary Vaynerchuk, more popularly known as Gary Vee, is a content marketing guru, businessman, author, and more. He encourages readers to avoid becoming "headline readers" and instead "spend at least 20 hours to understand… what's going on in AI."
You don't have to be a full-fledged tech expert to know the practical uses and consequences of AI. But it's crucial for business owners to find the time to learn how AI tools can help their business succeed. Having sufficient background on what AI is and what it can do will also be useful when training employees to use such tools effectively and responsibly.
Whether you're using AI for short captions or long-form content, you always need to proofread. This is good practice to catch any inconsistencies in the flow of the text. You can also correct any clunky grammar and syntax that can turn off your audience. It's important to never skip proofreading, as you want to make sure that whatever you post or use is aligned with what you're trying to communicate as a brand.
ChatGPT includes a disclaimer for its users, saying that the tool may still "produce inaccurate information about people, places, or facts." But even without this notice, it's still important to always do your due diligence when it comes to using any tool, with or without AI. Doing so will help protect your credibility and avoid any potential legal complications due to inaccuracies or fallacies.
"It pays to be thorough, especially when it comes to numbers," suggests 20four7VA Accounting Manager Ianthe Seno. "You can avoid plenty of financial and legal consequences that you can avoid just by doing your due diligence." This is also applicable when it comes to AI. When using AI tools for analytics and forecasting, it's best not to take everything at face value. Consider comparing these insights with historical data as a way to measure feasibility.
In summary
AI is definitely here to stay. It's best to educate yourself now before it's too late. If you haven't started yet, it's time to test out what AI can do for your business, including your marketing efforts. Hopefully, the above tools and best practices can help kickstart your journey with AI for marketing.
And as you integrate the power of AI into your business, don't forget to stay tethered to reality. This means equipping yourself with the proper knowledge to navigate this tech better. It also means fact-checking and proofreading any AI-generated output to protect your brand credibility and reputation.
Looking for more cost-effective solutions for small businesses? Talk to our Growth Specialists today!