8 Small Business Ideas for 2017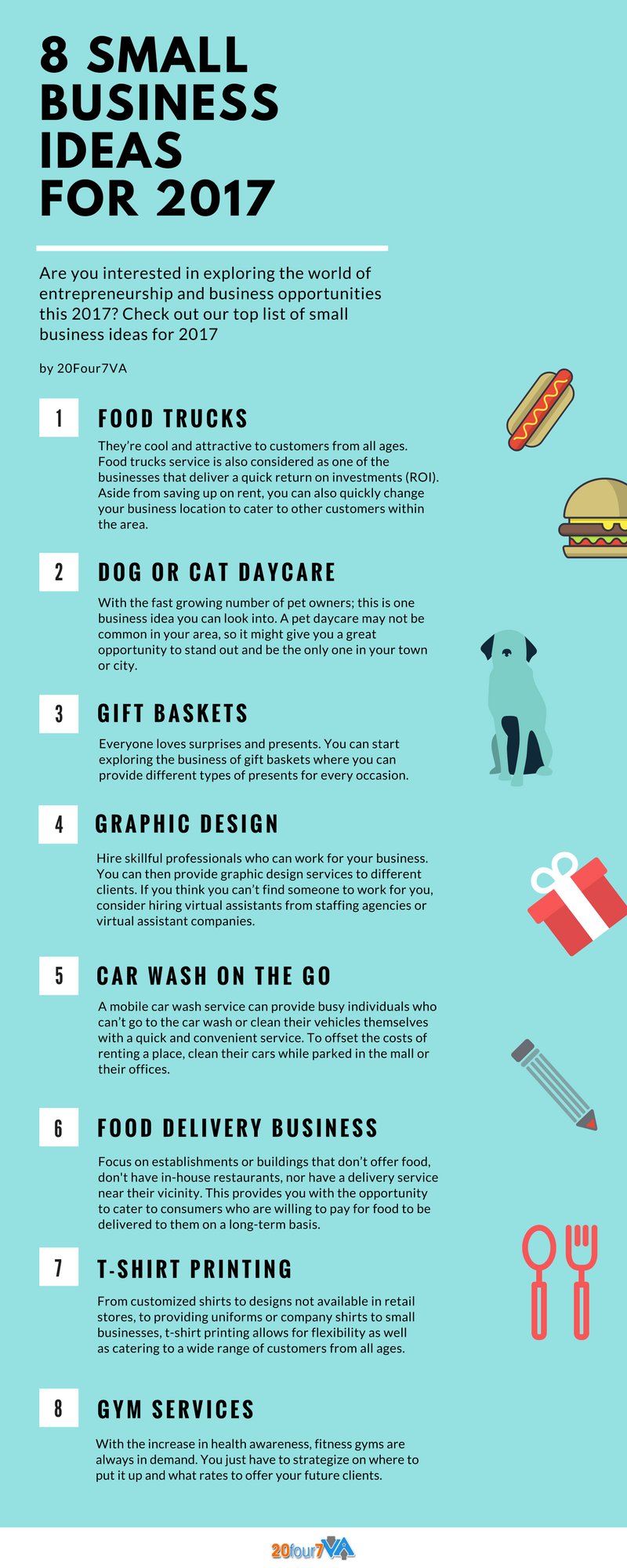 Are you interested in exploring the world of entrepreneurship and business opportunities this 2017? Just like any other business venture, it starts out with an idea. Whether complex or simple, this idea will be among the foundations that will help you decide whether to push through with your business plans or not. Check out this list of 20 small business ideas for 2017 that you can get ideas and inspiration from.
Food Trucks – They're cool and attractive to all age groups. This is why it's considered as one of those businesses that deliver a quick return on investments. Easily set-up, you should not expect any hassle when putting up a food truck.
Dog or Cat Daycare – With the fast growing number of pet owners; this is one business idea you can look into. A pet daycare may not be common in your area, so it might give you a great opportunity to stand out and be the only one in your town or city.
Gift baskets – Everyone loves surprises and presents. You can start exploring the business of gift baskets where you can provide different types of presents for every occasion.
Graphic Design – Hire skillful professionals who can work for your business. You can provide graphic design services to different clients. If you think you can't find someone to work for you, consider hiring virtual assistants from staffing agencies or virtual assistant companies. This is one cost-effective method to put up a business and keep it running.
Car wash on the go – A mobile car wash service can provide busy individuals who can't go to the car wash or clean their vehicles themselves with a quick and convenient service. Help them in cleaning their cars while they are parked in the mall or their offices.
Food delivery business – Focus on establishments that don't offer or have a delivery service. This allows you to cater to consumers who are willing to pay someone to deliver them the food that they want from establishments that don't offer a delivery service yet.
T-shirt printing – Start providing customers with the designs they want and give it to them fast. From customized shirts to designs not available in retail stores, this business allows you to be flexible and to cater to the needs of all age groups. You can also provide uniforms for small businesses or create shirts for an awareness group.
Gym – Financing gym equipment may be one of the challenges for this business. Once you get past that, expect people to go to your gym in droves. With the increase in health awareness, fitness gyms are always in demand. You just have to strategize on where to put it up and what rates you want to offer your future clients.
Putting up a business is not easy. It would take focus, patience, and determination to succeed. What's important is to start with the idea and grow from it. If you are passionate about a hobby, make it an inspiration to build a business around it. Conduct enough research and feasibility tests and see if you can turn your passion turn into a gold mine.
To Embed the infographic, copy the code from below: 
<!DOCTYPE html>
<head>
<body>
<script type='text/javascript' charset='utf-8'>     
   var iframe = document.createElement('iframe');       
   document.body.appendChild(iframe);

   iframe.src = 'https://20four7va.com/wp-content/uploads/2017/06/8-small-business-ideas.png';       
   iframe.width = '800px';
   iframe.height = '2000px';
</script>
</body>
</head>