8 Mistakes to Avoid When Promoting Your Small Business on Instagram
As of the second quarter of 2017, Instagram is teeming with more than 700 million active users. This vast and diverse community has attracted 70% of the businesses in the USA alone. It is a rich goldmine for business, and best of all, it's free! This means that even small businesses can be up to par with their bigger, more influential counterparts on Instagram. However, if you want to learn how to make money online through Instagram, you must be strategic with your marketing efforts.
If you are just starting an online business or managing a startup company, you can't afford to copy the promotions you see other companies do. Their needs and targets might not be on the same scale as yours. Before you carry out your marketing tactics, it's best to learn these 8 mistakes to avoid when promoting your small business on Instagram:
Mistake #1: Resorting to buying followers.
When you research how to get more Instagram followers, you'll run across articles urging you to buy followers. This is a mistake you should avoid at all costs. What they're really proposing is paying to make the number of your followers seem impressive. These accounts are often not used or managed by unique and active Instagram users.
Purchased followers will also not guarantee likes or comments. These followers may also not be the best for your business as some may have dubious or unflattering posts and blatantly made-up names. Besides, Instagram is wary of suspicious followers and activities wherein a profile gets a large volume of followers in a short span of time.
Mistake #2: Ignoring the bio description.
As a small business, the tiniest features of a networking platform can mean the biggest difference for your brand. You can't leave introductory features blank especially when they are as prominently placed as the bio description.
When people do a quick scan of your profile, make sure that you let them know what your business is all about through the bio description line.
Mistake #3: Going overboard with getting followers.
Another mistake to avoid when trying to increase your followers is bluntly asking people to follow you. This may have worked in the early days of Instagram business but today, this move almost appears as a spam.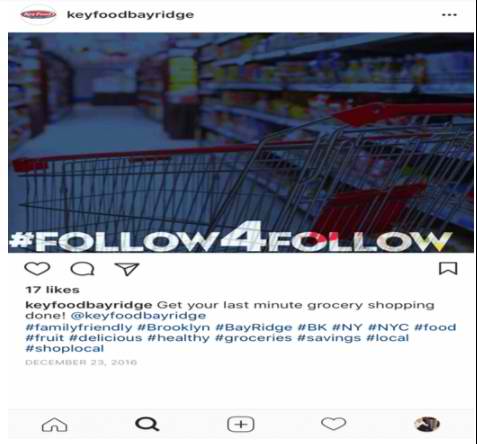 Mistake #4: Swaying from your brand voice.
People follow your page so they know the latest about your brand. Posting content that is beyond your niche can turn your followers off. It's also important to stay away from topics that may stir up heated discussions such as religion and politics.
Because you want to make people as familiar to your brand as possible, sticking to your niche will help them get to know you better. Besides, accounts that display out-of-topic posts can quickly be branded as a spam.
Mistake #5: Disregarding paid ads opportunities.
Ads on Instagram are inconspicuously inserted, you'd have to do a double take to realize they're ads. Plus, they give you the ability to target specific Instagram users who are more likely to welcome your ad.
Paid ads are also an effective way to establish your brand as a credible business and reach a wider audience.
Mistake #6: Posting irregularly.
You owe it to your followers to give them updates about your business. When you post infrequently or irregularly, people would soon find your account irrelevant.
Besides, regular postings reflect how proactive you are online. It encourages potential customers to do business with you if they see that you are always available through your social accounts.
Mistake #7: Snubbing your audience.
Consumers like interacting with brands through social media because these are apps they frequent and are most comfortable with. If you ignore people's comments or direct messages, you defeat the purpose of bringing your brand to social media.
Ignoring your audience on social media is also a direct mar on your customer service. Building rapport with customers and potential consumers should be evidenced in your social interactions.
TIP: As your business expands, it's inevitable to juggle different tasks at once so answering your audience one by one may not be your priority. Hire a social media VA (virtual assistant) so you won't leave your audience hanging.
Mistake #8: Misusing hashtags.
Have you ever come across posts with dozens of hashtags? Not only is this kind of post annoying, it is also another way to get tagged by Instagram as spam. Using hashtags that have nothing to do with your post or business can also turn potential customers away.
If you want to be regarded as a credible business, you can't cheat your way into discovery by misusing hashtags.
How did knowing the 8 mistakes to avoid when promoting your small business on Instagram change your marketing plans?
Next: How To Grow Your Business Without Spending Money
20Four7VA recognizes the challenge of effectively managing an online business – and we are very eager to help. Our company specializes in eCommerce VIRTUAL STAFFING SOLUTIONS, providing customizable and scalable solutions to small, medium, and large enterprise business owners so they can focus on growing their business.
Ready to have access to incredible people with incredible skills in the most cost-effective way? Give us a call at our toll free number 1 (443) 856-4882 today!