5 Simple Ways to Lessen Business Operational Expenses

Keeping profits high and expenses low is essential for the survival and growth of any company. Many business owners prefer to overdo it on promotions and marketing to close more sales and gain more customers, that reducing expenses is often left at the back row. This is understandable since cost reduction doesn't sound nearly as exciting as crafting online business marketing tactics that increase revenues and brand awareness. Besides, reducing expenses is often equated to cutting back – something that people don't always associate with growth.
However, to keep your cash flow in check, you need to find ways to manage your operational costs more effectively. Otherwise, your new customers and increased sales would only cause your business to break even instead of profit.
What are Business Operational Expenses and How Can You Reduce Them?
Perhaps one of the reasons entrepreneurs don't focus on lowering operational costs is because it usually means making huge sacrifices. Does that mean settling for a substandard brand when buying equipment? Will you have to put in more hours and take on multiple responsibilities instead of hiring people?
The good news is that reducing operational costs doesn't mean holding your brand back – at least not when you learn how to control expenses in a company the proper way. To do that, you must first have a clear understanding of what your business expenses are.
Business expenses refer to any costs you incur to keep your company running. This is different from capital costs – which are one-time, big purchases.
Although it varies depending on the nature of the company, these are the common items that entrepreneurs pay for:
Office materials

Marketing expenses

Payroll

Insurance

Utility fees

Business Travel Expenses

Legal Fees
According to business finance experts, a company should have at least 60% of their gross income allocated to operational costs. This may sound rough – especially when you're just starting an online business or if you barely have regular clients in your local establishment.
To help you better manage your spending, consider these 5 simple ways to lessen business operational expenses: 

1. Be energy-efficient.
Utility fees eat up a large chunk of your monthly income – especially if you keep appliances turned on even when not in use. Make sure to turn off appliances or power down your main switch on closing hours. Of course, being conscious of energy consumption requires an entire team to work. Make it a company rule to switch off computers, lights, and other machinery at the end of the day.
Being efficient also means investing in appliances that consume less energy but still get the job done. For instance, compact fluorescent bulbs can give you better lighting for less power consumption.  While some energy-efficient appliances may cost more, they can prove to be more economical in the long run when you factor in cheaper utility bills and even green energy tax rebates.
2. Take advantage of the virtual workforce.
Knowing how to reduce operating expenses in business isn't the same as holding back – and there's no better example that illustrates this fact than working with a virtual assistant (VA) instead of in-house employees. For one thing, this means outsourcing specialized work such as marketing, accounting, and design to experts instead of doing it without proper training. For another, several studies support that virtual assistance shows higher productivity and is preferred by millennial workers who make up the bulk of the labor force.
Besides, think about the responsibilities you'll be relieved from if you hire a virtual assistant. You'll spend less on office materials and expect lesser operational fees because VAs use their own tools and pay for their own utilities to work. When you partner with staffing companies instead of directly hiring a remote office assistant, you also won't have to take care of payroll and insurance – two operational costs that can rack up thousands of dollars.
3. Convert to a cloud-based phone.
Although cloud-based phone systems are specifically endorsed for a purely virtual business, even brands with physical establishments should consider it. Have a look at your phone plan and weigh it with your usage. Is your monthly bill really worth the number of times you are using your landline? With social media and email channels available, most consumers prefer to contact brands virtually instead of going through the motions of picking up a phone, dialing a number, and waiting to be assisted. Aside from the fact that many people are more comfortable to air out their concerns virtually, it's also costlier for consumers to call.
Cloud-based phones are subscription-based phone services you can purchase online. As far as cost savings and usage optimization are concerned, it outranks a traditional phone system significantly. In fact, a study has revealed that small businesses that switched to cloud-based phones saved 40% on local call costs and 90% on long-distance calls.
The following illustrates the stark contrast between using a landline and cloud-based phone: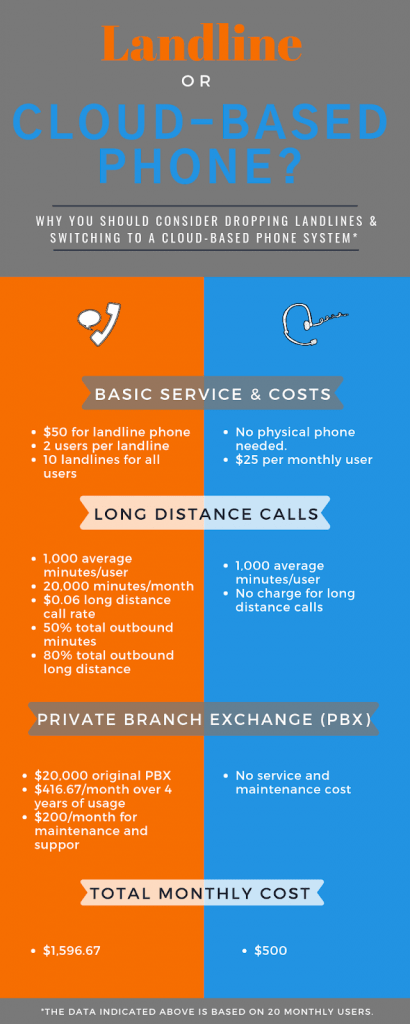 Here are 8 popular cloud-phone systems you might want to try:
4. Travel for business economically.
Business travel is inevitable. As a business owner, you need to attend conferences or seminars to expand your network and industry skills. You might also need to meet with a business coach or partner to help you become a more strategic manager and entrepreneur. If you're gearing up to expand your brand, traveling to meet with and pitch to investors also takes an important place in your agenda. Apart from these, when you delegate tasks that require employees to travel, you are also expected to reimburse the expenses they incur along the way.
Thankfully, while business travel is unavoidable, it is also controllable. The following techniques will help you be more strategic and economical on travel expenses:
Use credit cards that reward frequent travelers.

When used strategically, credit cards can help you make the most of your expenses. Many banks offer credit cards that reward users who accumulate points from online shopping and traveling. Take advantage of these rewards by booking airfare and hotel accommodations with credit cards. Rewards can come in the form of cash, room or flight upgrades, and even free airfare.

Outline refundable items from the get-go.

To discourage overspending, make sure your employees know what you can reimburse. Fare, room accommodations, and food are essentials. However,

Business.com

revealed that some employees also spend and expect refunds on less significant items, such as health club visits, room service, and minibars.

Use AI for auditing expenses.

Manual accounting is more tedious and prone to errors. That's why it is wiser to ditch manual accounting and switch to AI or online tools when it comes to auditing your travel expenses. Apart from this, using technology for checking expenses also gives you a chance to catch unnecessary spending. AI systems have the power to cross-reference online platforms to verify the source as well as validity of expenses.

Take time for self-education.

While having an industry coach has advantages, it's not the only way to learn how to increase business growth. There's a myriad of

books

and online webinars especially dedicated for small business owners. Listening to podcasts or

TedTalks

for business while running errands will also help you gain industry and leadership insights without having to spend on fare or conference tickets.
5. Avoid late payments to avoid cash flow problems.
In a nutshell, cash flow refers to the movement of money in and out of business. Problems with cash flow happen when you get late or incomplete payments but still need to shell out money to keep your business running.
To ensure that your business cash flow runs smoothly, lessen the tendency or possibility of late payments from customers. Here's what you can do:
Get paid upfront.

Make it a priority to collect payment upfront for your service. If this isn't possible for some cases or clients, at least ask for a 50% non-refundable deposit to create a cash buffer.

Offer different payment options.

Are you only collecting cash payment? Make your services available to more customers by offering multiple payment options through credit or debit cards, online bank transfers, and PayPal.

Reward full, on-time payments and penalize late ones.

Encourage your customers to pay in full and on time by providing incentives such as rewards points or discounts for future purchases. Another way to do it is by charging delinquent customers with late fees on top of service costs.

Send bills as soon as possible.

If your line of business doesn't have fixed service rates, it's important to send out invoices as soon as you settle the service terms and fees with a client. If your company offers fixed rates for products or services, you can help customers pay on time by sending automated payment reminders. Tools like

WaveApp, Kashflow,

and

Invoicely

can help you automate invoice reminders. You can also set this up from

Outlook

or

Gmail.
Driving new business development doesn't also mean flashy campaigns and expensive tools. It can be as practical as knowing how to cut cost in a company. Start with these 5 simple ways to lessen your business operational expenses.