Airbnb Virtual Assistant
Hire an Airbnb Virtual Assistant to take the stress out of managing your rental properties!
Hire an Airbnb Virtual Assistant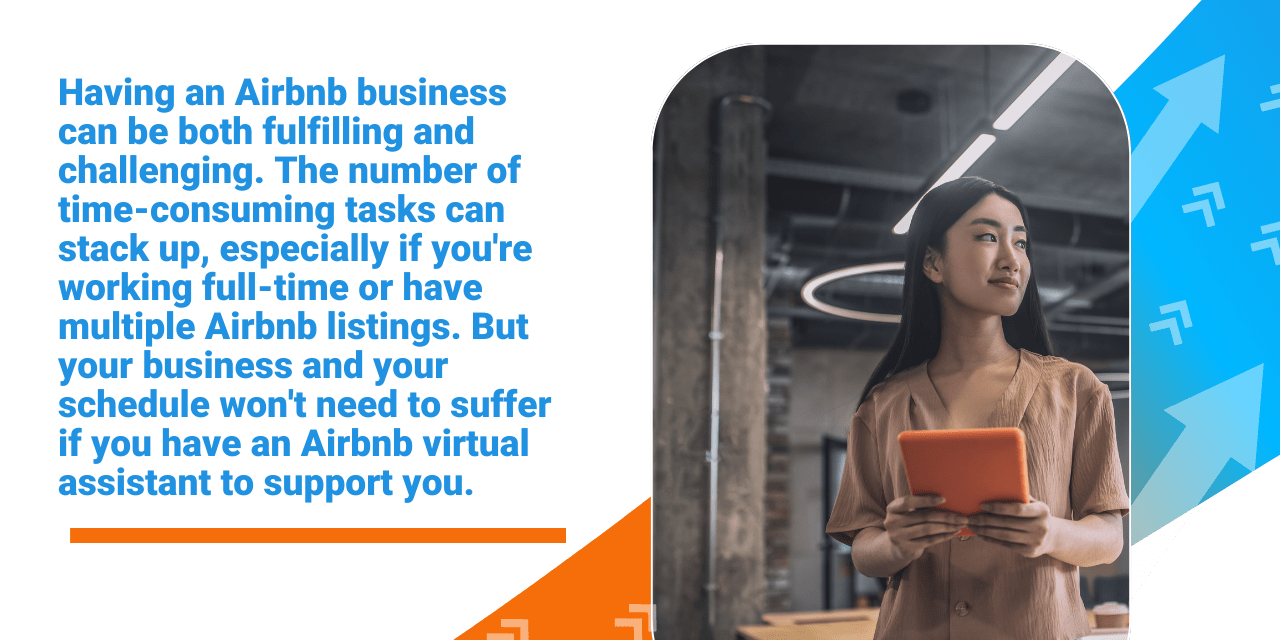 Having an Airbnb business can be both fulfilling and challenging. On the one hand, you're earning while giving guests a "local" experience. Conversely, you must work on many backend tasks to provide the best experience and receive positive guest reviews. These time-consuming tasks can stack up, especially if you have another job or have multiple Airbnb listings. But your business and schedule don't need to suffer if you have an Airbnb virtual assistant to support you.
WHAT IS AIRBNB?
Travelers are looking for new experiences and high-quality accommodations for their vacations, and Airbnb is a great online marketplace with properties that guests can choose from. The app or website offers hassle-free planning of vacations. Guests can search, book, and add Airbnb experiences to complete their trip.
Whether it's a short-term homestay, a long-term apartment, or a cabin for the weekend, every guest will find the proper Airbnb listing for them. Additionally, potential guests can search reviews for listings they are interested in to check people's experiences. They can also reach out to Airbnb hosts for any clarifications or requests for their bookings.
WHAT IS AN AIRBNB VIRTUAL ASSISTANT?
An Airbnb Virtual Assistant (VA) is a remote professional that can support your business in various aspects. They can manage the backend tasks of your Airbnb listings to help you receive more bookings, increase customer satisfaction, and earn better reviews. Such duties include social media management, customer support, Airbnb listing updates, etc.
WHY HIRE A VIRTUAL ASSISTANT FOR AIRBNB?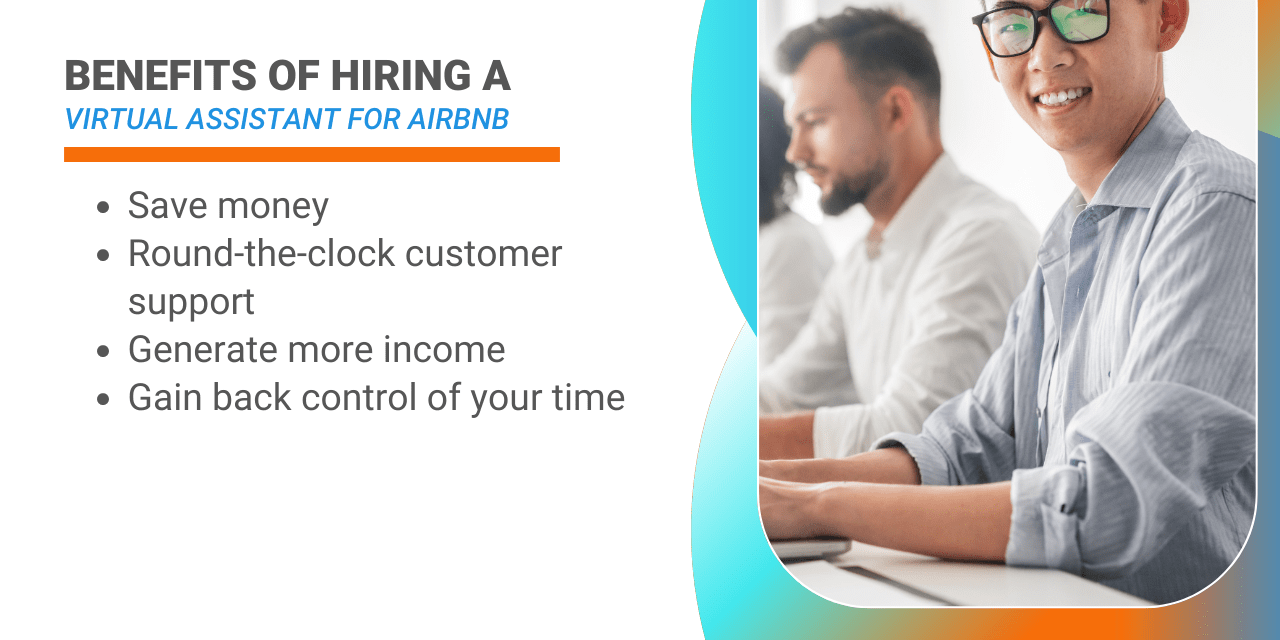 As an Airbnb host, hiring a virtual assistant may just be what you need to grow your business. Here are some of the key benefits of getting virtual staffing services:
SAVE MONEY
Hiring a virtual assistant is significantly more cost-effective than hiring an in-house employee. They can do the job of in-house (or even in-country) employees from their side of the world at a fraction of the cost. Your Airbnb business won't have to shell out the costs of recruiting in-house employees. These expenses include new office equipment, insurance benefits, transportation allowances, and other locally-mandated benefits.
How much do Airbnb virtual assistants cost? It's simple; you only need to pay for the logged hours. Allowances and other benefits are not mandatory. Consult a reputable virtual staffing company for standard pricing and access to the best staffing solutions for your business needs.
ROUND-THE-CLOCK CUSTOMER SUPPORT
Hiring an Airbnb virtual assistant is necessary to improve customer service and response turnaround time. All you need to do is specify the hours you need your VA to work in your job ad. This way, there's someone who can manage inquiries from guests even while it's after office hours in your time zone.
GENERATE MORE INCOME
You can hire an Airbnb VA for assistance in various aspects of your business. They can help improve your online presence on the Airbnb website and social media accounts. A virtual assistant can create content to highlight your Airbnb listing or listings. Additionally, they can improve the clients' experience before, during, and after their stay. This can help you gain excellent ratings from guests, attracting more guests to choose your Airbnb rental. And more guests means more income for an Airbnb host.
GAIN BACK CONTROL OF YOUR TIME
Being an Airbnb host can take up much of your valuable time, including your personal time. By hiring a full-time or part-time Airbnb virtual assistant, you can keep your business operations running smoothly without sacrificing too much of your time and energy on tasks you can easily delegate.
TASKS YOU CAN DELEGATE TO AIRBNB VIRTUAL ASSISTANTS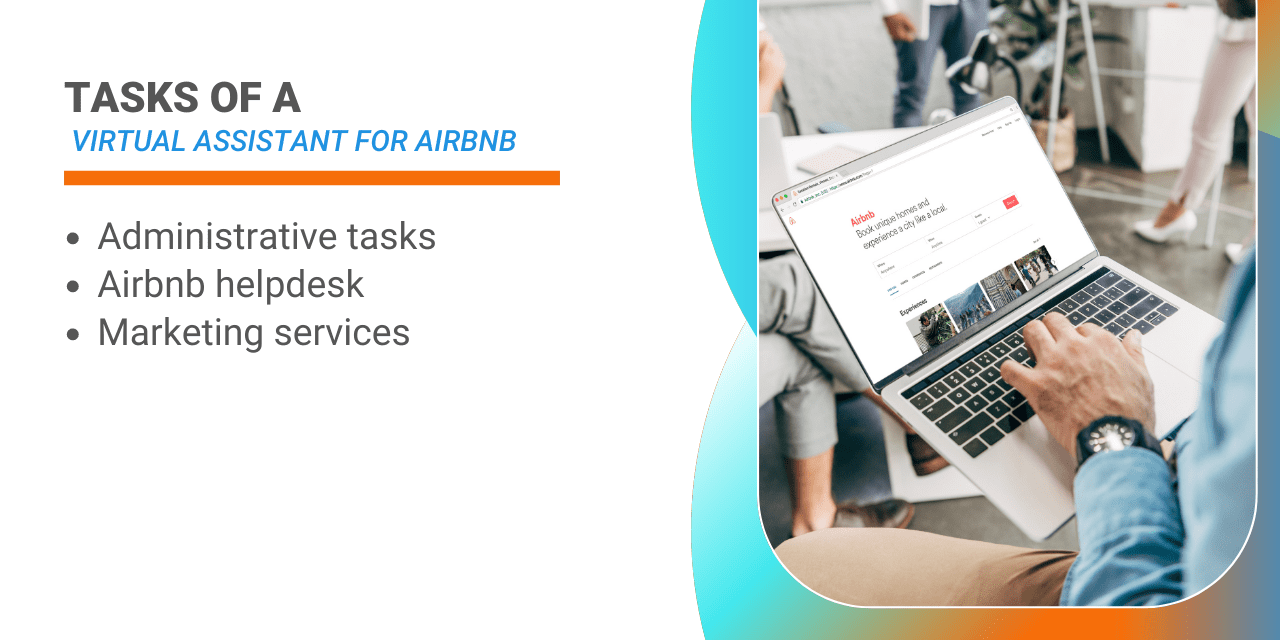 An Airbnb VA can assist you with various backend and guest-facing tasks. All you need to do is identify which facets of your business you need help managing. Here are some of the principal functions that an Airbnb virtual assistant can help you with:
ADMINISTRATIVE TASKS
Managing Listings of Vacation Rental Properties

Schedule Management

Review of Rental Requests

Updating of Availability of Rentals

Organization of Bookings
AIRBNB HELPDESK
Responding to Customers and their Inquiries

Communication with Guests

Assist Guest Check-in and Check-out

Reviewing and Responding to Guest Reviews

Explaining of Guest Rules
MARKETING SERVICES
Manage Social Media Accounts

Content Writing & Copywriting

And many more!
TOP SKILLS AND QUALITIES TO LOOK FOR IN AN AIRBNB VIRTUAL ASSISTANT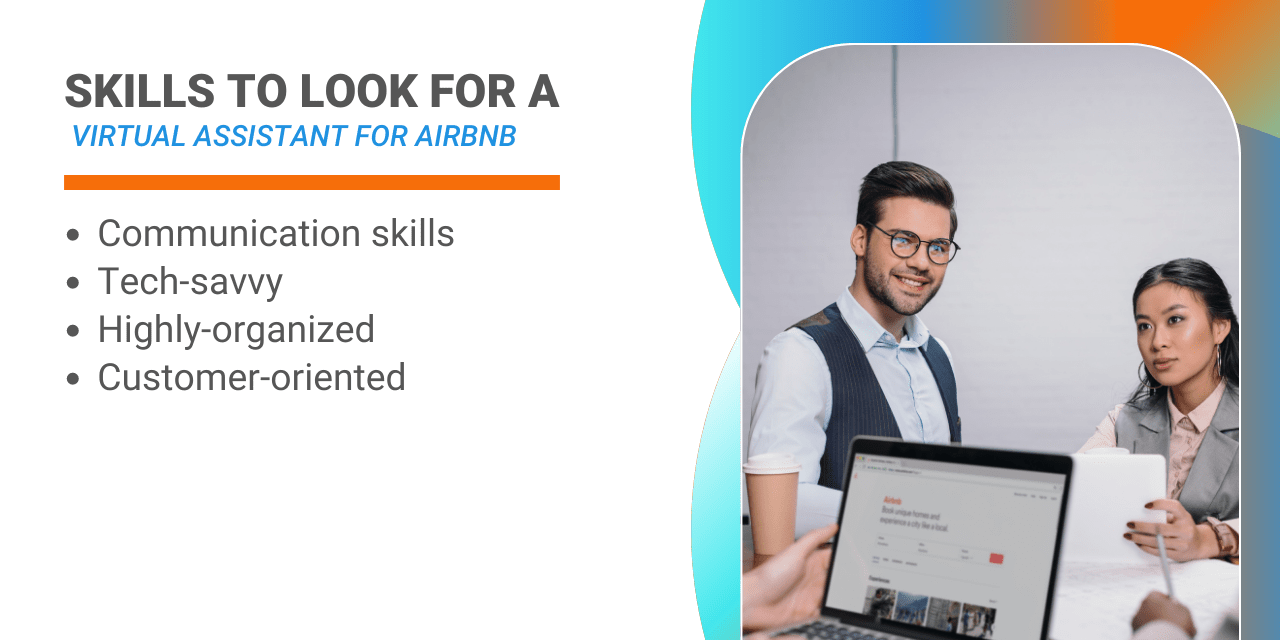 Whether you're hiring VAs for the long or the short term, you need to invest your time in finding the right one to provide the right services. These are the top skills and qualities you should look for in a virtual assistant.
COMMUNICATION SKILLS
Hosting an Airbnb rental will require a lot of coordination with clients. Airbnb's selling points differ from that of large chain hotels. But you should still aim to provide the best hospitality service possible. Doing so will set you apart from other accommodation options. Hiring a virtual assistant who can communicate professionally, clearly, and courteously can help you achieve that.
TECH-SAVVY
Virtual assistants must be proficient in navigating basic computer programs. They should also be able to adapt to new ones after receiving training. Additionally, VAs may work in a different time zone from their clients, so they should be able to troubleshoot fundamental concerns to ensure continued service.
HIGHLY-ORGANIZED
With a highly-organized virtual assistant, Airbnb property owners won't have to worry about double bookings or incorrect guest details. Missteps such as this can cost your business money and create angry customers. Someone who has strong organizational skills can help provide and maintain the peace of mind that owners need to focus on other core responsibilities.
CUSTOMER-ORIENTED
Airbnb virtual assistants must possess excellent customer service skills, especially if the bulk of their job requires them to interface with guests. Improving the guest experience is crucial if you want your Airbnb business to grow. A virtual assistant can help maintain your social media presence, manage inquiries, explain property rules, and assist guests with their check-in. All of these are essential to create the best experience for your guests.
HOW TO HIRE AN AIRBNB VIRTUAL ASSISTANT
Searching for the right virtual assistant can take up a lot of your time and energy. You'll need to create a detailed job description, post on various career platforms, screen many candidates, schedule interviews, and so on. A busy Airbnb property owner like you may already have too much on their plate to focus on this critical but time-consuming responsibility. The solution? Work with a top-notch virtual staffing agency to help you hire the right virtual assistant for the job.
20four7VA has a decade of experience helping businesses find the best remote talent they need. We are an Inc. 5000 virtual staffing agency that offers end-to-end staffing solutions, which include:
Thorough Virtual Assistant Screening and Vetting Process

Access to a Global Pool of Remote Talent

Free Client-Virtual Assistant Pairing Service

HR Assistance (Timekeeping, Payroll Processing, etc.)

Dedicated Account Manager

Virtual Assistant Management

In-house Training

IT Helpdesk

and much more!
Make the most of your vacation rental business with an Airbnb Virtual Assistant! Schedule a free consultation with the 20four7VA team today.
Ready to find an Airbnb Virtual Assistant?