What is a Virtual Assistant?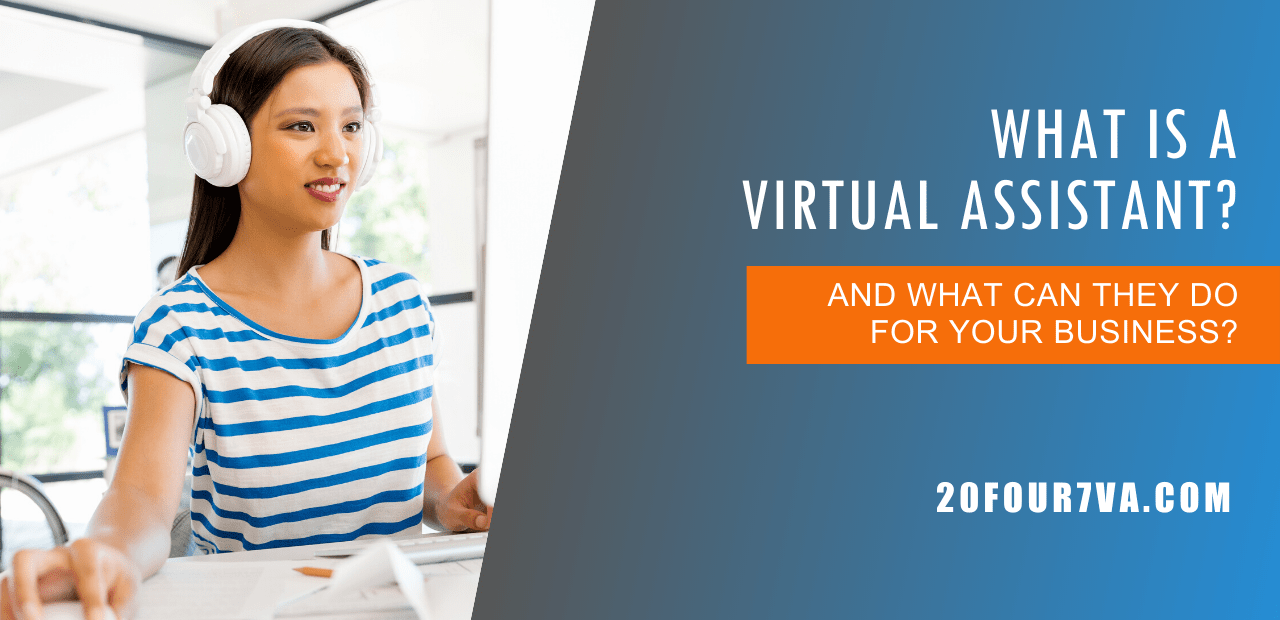 As fast and stable internet connection and effective cloud software became easily available worldwide, more employees have begun looking into work from home opportunities. In fact, according to a report from Buffer, 99% of remote workers would like to work remotely for the rest of their careers and 95% of them highly recommend working remotely as a freelancer or virtual assistant to their peers.
Consequently, more and more business owners, especially startup entrepreneurs or those operating smaller businesses, are recognizing the incredible value of outsourcing work to remote staff, particularly to virtual assistants. But what are virtual assistants exactly?
As a business owner, you might have heard about virtual assistants, or VAs, and how useful they are to your fellow entrepreneurs. But if you've never personally encountered remote staffing before, you're probably asking: what is a virtual assistant and what do they do? How much does a virtual assistant cost? Does a VA really offer advantages over regular employees?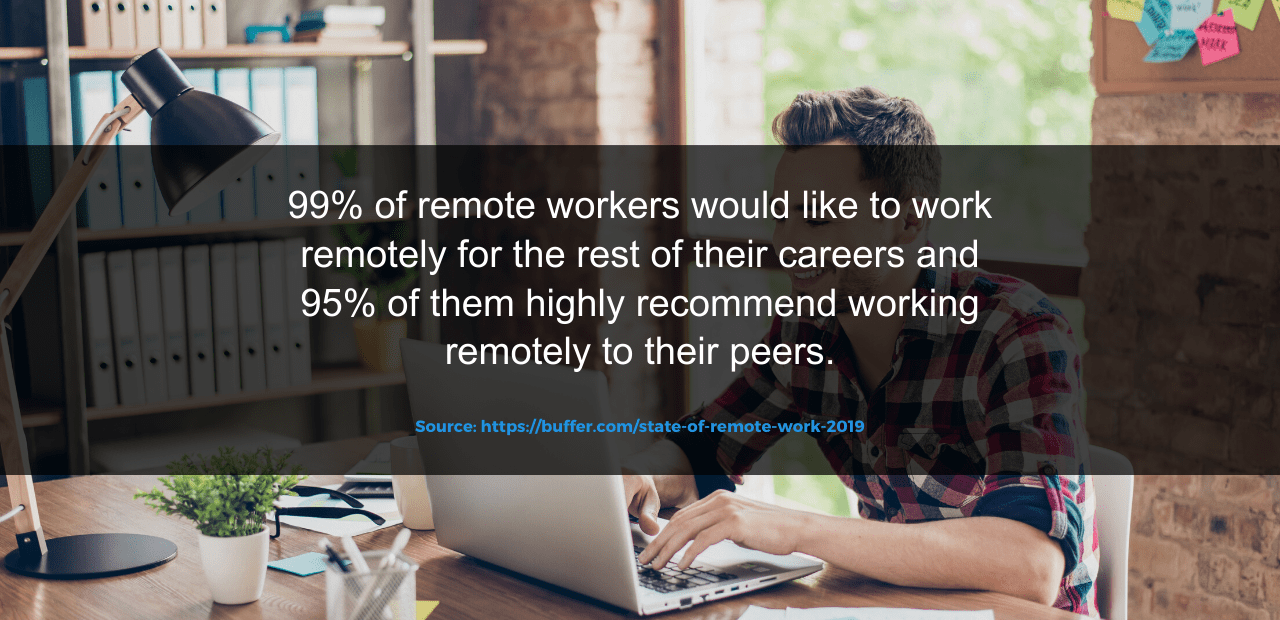 This article will guide business owners on everything there is to know about virtual assistants: what they are, what they can do, and how to hire talented, reliable VAs.
What is a VA?
Not to be confused with Siri, Amazon's Alexa or any other personal assistant software, a virtual assistant, or VA, for business is an independent contractor who provides administrative, creative, or technical support to a client or business from a remote location.
Are VAs different from freelancers? Yes. Both 'freelancer' and 'virtual assistant' are broad terms, and while they should not be used interchangeably, they share many common characteristics. For instance, both freelancers and VAs are generally self-employed, and most work for more than one client.
The difference mainly lies in how people perceive them: freelancers are usually thought of as someone who works in the creative or tech fields, such as writers, web developers, and graphic designers. Meanwhile, VAs are often thought of as mainly functioning in an executive assistant or administrative assistant capacity. This is a common misconception. Although admin VAs are the most common, you can definitely find virtual assistants with many different skills and specializations across a wide range of industries, including creative and tech-related fields.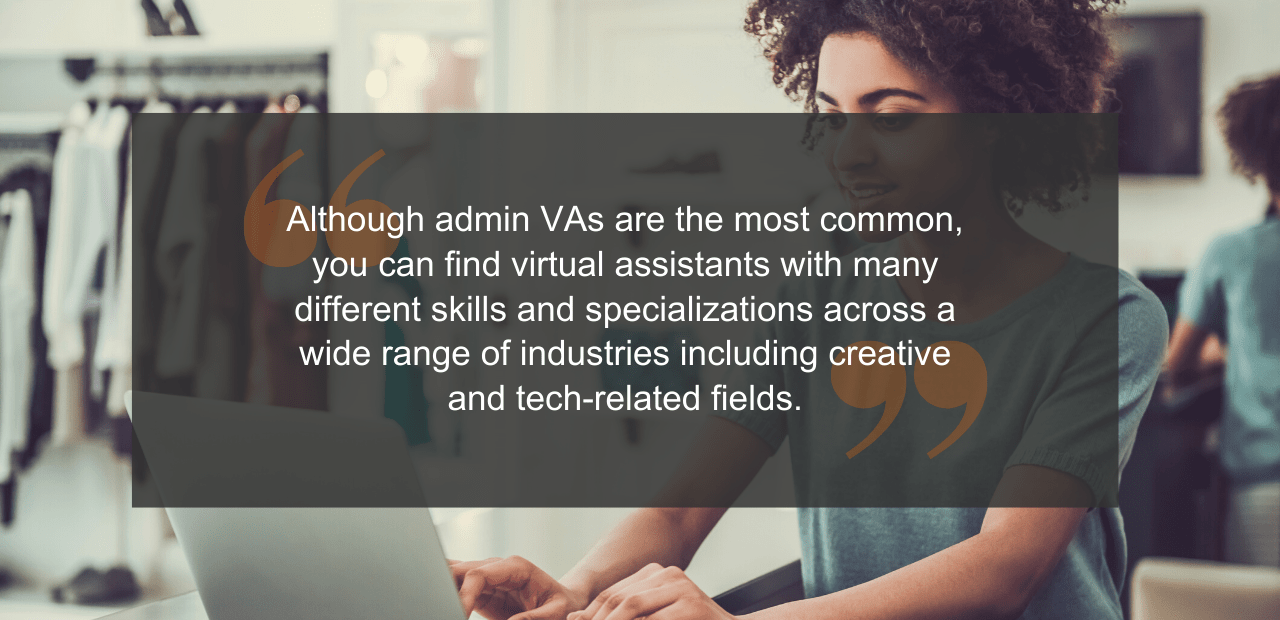 What Can a Virtual Assistant Do?
From making travel arrangements and doing administrative tasks to building a website and other technical assignments, virtual assistant work encompasses a wide variety of jobs and functions.
When you're considering hiring a VA for your company, it's important to know the different tasks you can outsource to a VA so you can narrow down your selection and figure out the specific type of VA that you need.
In general, a VA can belong to one or more of three main categories:
As the name suggests, an Administrative, or Admin, VA is someone who takes care of routine administrative tasks. They can schedule appointments, make a phone call for you, manage your calendar, do data entry and other similar tasks. More experienced Admin VAs can do specialized work too. For instance, an entry-level admin VA might only be able to do basic spreadsheet data entry, but an advanced-level admin VA might be able to create complex spreadsheet formulas to automate your data entry.
eCommerce VAs have varied skills that can also be something that an admin VA (customer service, data entry) or specialist VA (graphic design, online store creation) can do, but an eCommerce VA is especially trained in doing these tasks for online businesses. If you're looking for an Amazon seller VA or an eBay seller VA, an eCommerce VA is what you need.
Of the three main categories of VAs, specialist VAs have the most diverse set of skills. A content writer VA, a graphic designer VA, and a web developer VA are all specialist VAs. If you need someone to manage your company's social media accounts for your clinic or build you a website for your real estate business, you're looking for a specialist VA.
For an in-depth look at what a VA can do for your business, check out these articles about tasks an Administrative VA, eCommerce VA, and Specialist VA can do for you.
Why Hire a Virtual Assistant
Why should I hire a virtual assistant? Sure, VAs have helped many small business owners scale their businesses more quickly, but does that mean hiring a VA will work for me too? These are questions that many reluctant business owners ask themselves. After all, hiring a virtual assistant requires spending part of your company's budget.
To help you decide whether hiring a VA is for you, here are some of the most attractive benefits that hiring a virtual assistant for your business can bring.
Hiring a VA can free up your time.
If you're still doing all the work for your company yourself, it's time to reconsider your staffing needs. Doing everything yourself will hamper your company's growth and will definitely stress you out. Hiring a VA to do routine admin work and tasks that need a specialized skill set (e.g. web development, SEO, graphic design) is a cost-effective way to diminish your workload and free up your time for more worthwhile business pursuits.
A VA is cheaper than a local employee.
Because you're not going to have to pay for office space, computers, insurance, and other fees that typically come with hiring an on-site local employee, a VA is much cheaper to hire. On top of that, outsourcing tasks to an international VA can also help you save on hourly rates. Here's a quick breakdown of the savings that you can get when you hire a VA versus when you hire a local employee:

Note: The numbers above were taken from 20four7VA and using 20four7VA's virtual assistant pricing.
Virtual staffing allows you to have a more flexible workforce.
Startups and small businesses don't have the luxury to expand their workforce and hire several full-time employees whenever they see fit. However, the diversity of tasks that need to be done to keep a business stable and encourage growth is astounding. You don't just need several people to do admin work, provide customer service, do your accounting and payroll, and do HR work, you will also need a full digital marketing team and IT and web development team to keep up with the competition. Just imagine the cost of hiring full-time employees to fill all those positions!
When you hire a VA, especially from an established and flexible virtual staffing company like 20four7VA, you have the option to build your team as you see fit. You need a social media manager, content writer, SEO expert, and graphic designer but only need them to work part-time? That's fine, you can hire a specialist VA for those four positions and have them work for you for only 10 hours each every week. That means you get four different people with different skill sets at a cost way less than that of hiring one full-time employee.
How to Hire a Virtual Assistant
VAs might not completely replace your workforce, but outsourcing some of your tasks to a VA or a team of VAs is definitely a cost-effective solution to many staffing problems. If you want to scale your business quickly without putting too much of a strain on your budget, hiring a VA or building a team of VAs to handle some essential tasks for your business is an excellent idea.
Keen to know more about hiring a VA? We're happy to help! From the cost of hiring a virtual assistant to the type of VA you need to prioritize for your business, we can help you find all the answers to your virtual staffing questions. Click here to schedule a free, no-obligation consultation call with us today.