5 Easy-to-Use Design Tools for Social Media VAs
A good social media VA works hard to help his or her client increase their online visibility and improve their brand reputation by studying proven techniques for posting on social media and regularly engaging with the audience. An excellent social media VA goes above and beyond by learning new skills that can improve their social media management process. One excellent skill to learn for a social media VA is basic graphic design.
The great thing about designing for social media is that it's more forgiving than other forms of digital or traditional media. Since you have to post new stuff often, you also have to produce them quickly, so you don't need to worry too much about detail. You don't have to master Photoshop, Illustrator, or any other advanced graphic design tools to produce great graphics for social media. Here are some simple, cheap, and easy-to-use design tools that can help you boost your posts.
Canva – For the All-in-One Graphic Design Experience
Canva is extremely popular in the social media world, and for good reason. Canva has been dubbed by several people as the swiss army knife of social media graphic design tools. It has preset image sizes for different types of graphics used in social media like Facebook cover photos, Instagram posts, and Pinterest images, so you don't have to worry about resizing or losing image quality. With the variety of preset and customizable options on Canva, this versatile tool is definitely worth checking out.
Piktochart – For Outstanding Infographics
Presenting data to customers can be tricky. Simply rattling off facts and figures won't keep their interest or even pique their curiosity. A great way to do this is to use infographics instead, and Piktochart is a great beginner's tool for that. Piktochart has 3 preset themes that you can use for free, but a paid monthly membership grants you access to more themes, icons, and graphics.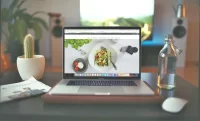 Picmonkey – For Quick and Easy Photo Editing
Picmonkey is a tool that allows you to quickly edit photos to improve their appearance, add filters, add text, borders, and other graphics, and so on. You can also make nice collages for Pinterest and other social media pages. They have a cache of icons, borders, fonts, and filters, but you can also upload your own images and icons. They also have a paid option that grants you access to more stuff.
Recite – For Superb Quote Images
Want a couple of inspirational quote images for your Instagram or Facebook? Recite can help you create those easily and within seconds too. They have a nice selection of preset backgrounds, so all you need to do is enter your text and voila – you're all done!
Gravit Designer – For More Advanced Photo Editing
Gravit Designer is a simpler version of well-known photo editing and photo manipulation tools like Photoshop, GIMP, and Sketch. If Piktochart or Canva is too limiting for you, you can check out the options that Gravit Designer's cross-platform design tool has to offer. It even has a similar user interface like the aforementioned advanced tools, so it gives you more control and freedom over your images.
Learning simple graphic design is very beneficial for any social media VA. Aside from helping you create better posts, it can also help you stay on top of people's mind when they hire a virtual assistant for social media.
Next: 5 Tools You Can Use To Automate Some Tasks
20Four7VA recognizes the challenge of effectively managing an online business – and we are very eager to help. Our company specializes in eCommerce VIRTUAL STAFFING SOLUTIONS, providing customizable and scalable solutions to small, medium, and large enterprise business owners so they can focus on growing their business.
Ready to have access to incredible people with incredible skills in the most cost-effective way? Give us a call at our toll free number 1 (443) 856-4882 today!