Real Estate Cold Calling Services
Get more leads for your real estate business with Virtual Real Estate Cold Calling Services.
Hire Real Estate Cold Calling Services
If you're in the real estate industry, you know how competitive it is. Real estate agents and brokers are always looking for ways to get more leads. One of the top ways to do this is through cold calling. However, real estate industry experts know that cold calling takes a lot of time and energy. The solution? Outsource real estate cold calling services by hiring virtual assistants.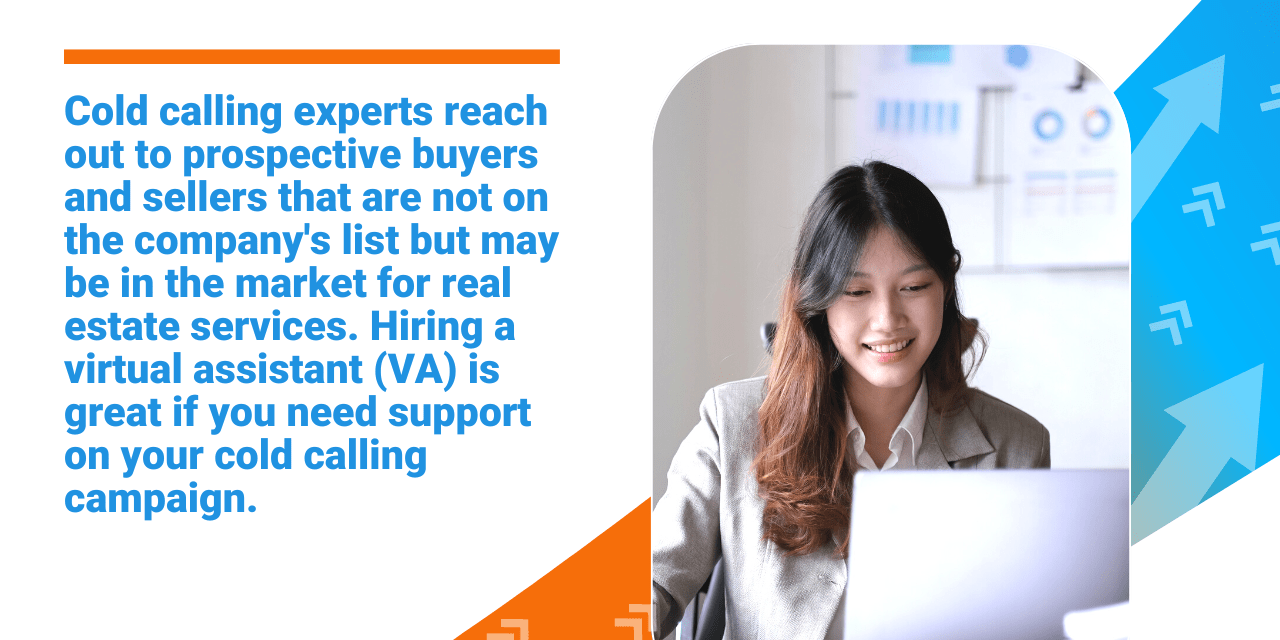 What is Cold Calling?
Cold calling involves contacting individuals or businesses that can become potential buyers and sellers. It is a commonly used marketing technique by real estate companies to generate leads and boost sales. Cold calling experts reach out to prospective buyers and sellers that are not on the company's list but may be in the market for real estate services.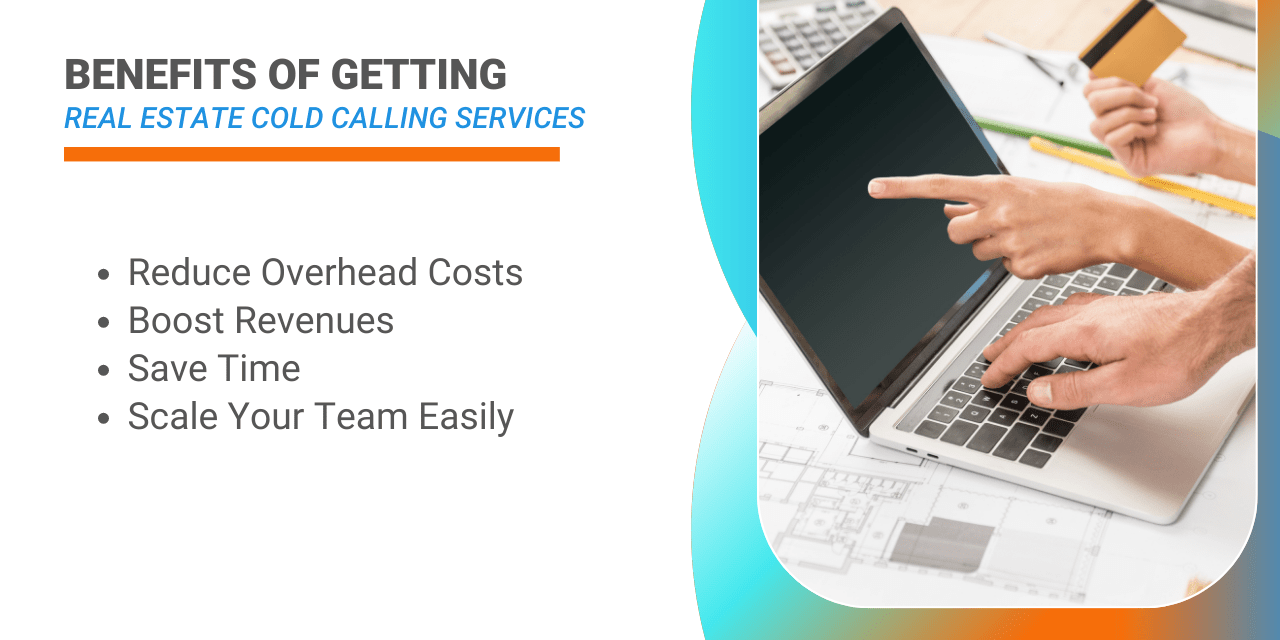 Why Hire a VA for Real Estate Cold Calling Services?
Virtual staffing solutions are an excellent option for real estate businesses. Hiring a virtual assistant (VA) is great if you need support on your cold calling campaign. Here are some of the key benefits of recruiting a VA to provide real estate cold calling services:
Reduce Overhead Costs
Virtual assistant solutions help you get the work done at a fraction of the cost. Hiring an in-office real estate staff means paying extra for overhead expenses such as bonuses, medical coverage, and other benefits. By hiring a VA to provide the cold calling service that you need, you avoid spending too much on overheads and only pay for the logged hours of your real estate VA.
Boost Revenues
Cold calling real estate VAs can help businesses gain more leads by making strategic calls to potential clients. A top-notch cold calling service from an experienced VA can help beef up your sales pipeline and boost revenues. Your real estate business can get all these financial benefits without overshooting costs.
Save Time
Real estate back-office tasks are time-consuming but essential in keeping your business in great shape. Hiring a VA for cold calling services allows real estate companies to save time and improve productivity. VAs can take tasks such as cold calling, appointment setting, or updating the qualified leads database off your plate. This way, you'll have more time to focus on other tasks, including closing more real estate deals and staying ahead of other realtors.
Scale Your Team Easily
Recruiting a VA for real estate cold calling services is the ideal solution for businesses that need to scale their staffing solutions. You can easily adjust your virtual assistant's hours or add a new VA to your cold-calling team. VA solutions are easily scalable depending on the amount of work you need to have done.
Tasks of a Real Estate Cold Calling Services VA
Real estate virtual assistants can help your business with cold calling duties and more. These are some of the tasks your cold calling VA can handle for you:
Researching on Lead Sources
Lead Qualification
Telephone Prospecting
Appointment Setting
Data Entry
Database Management
Market Research
Other Services
Delegating tasks such as these can help your real estate team become more productive and close more significant and better deals.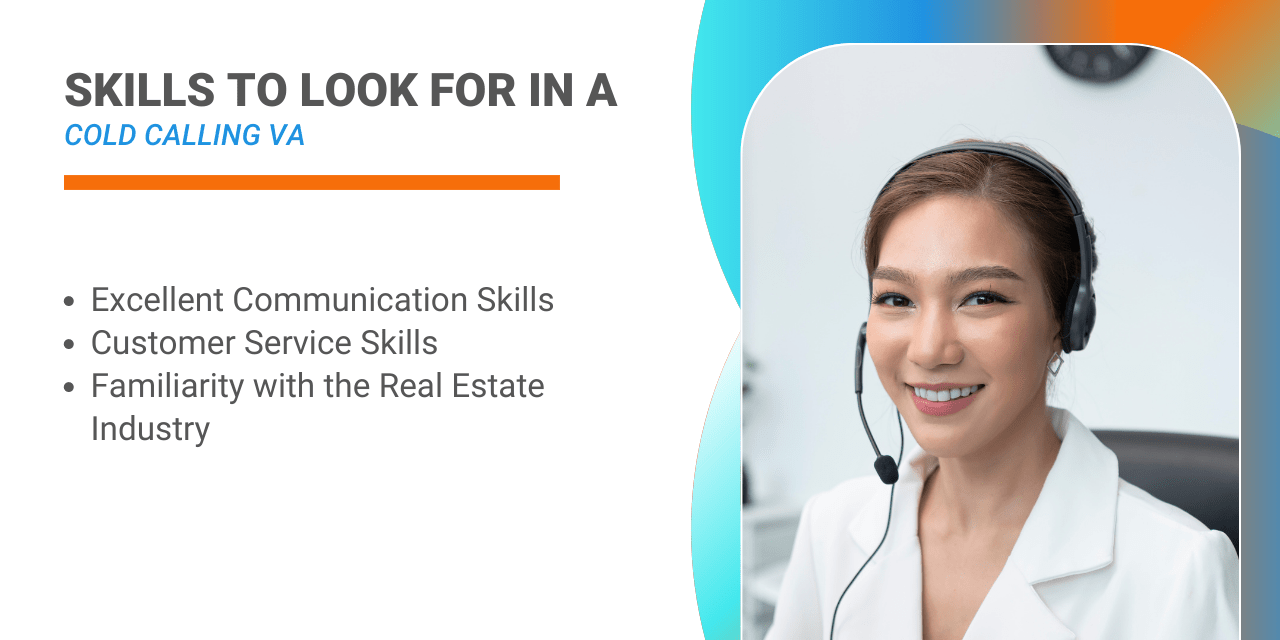 Top Skills and Qualities to Look for in a Real Estate Cold Calling VA
A cold calling virtual assistant can be the missing piece for your real estate team. A suitable VA must do more than just read off cold calling scripts. You need to look for a candidate who can turn strategic calls into qualified leads and, eventually, new clients.
Excellent Communication Skills
Real estate professionals, including cold calling VAs, should possess excellent communication skills. Cold calling experts are expected to be able to talk to potential real estate clients clearly and professionally. The virtual assistants you hire should be great communicators in various means of communication, primarily through phone calls.
Customer Service Skills
The virtual assistants you hire for real estate cold calling should have excellent customer service skills. They should be able to follow a pre-approved cold calling script but can pivot when needed. Whether it's cold calling, lead generation, or appointment setting, real estate VAs should always be customer-centric when accomplishing their tasks.
Familiarity with the Real Estate Industry
You can find VAs for cold calling services with various levels of experience. It's best if your VA has some experience or knowledge of the real estate industry. Moving your target audience along the sales funnel will be easier if your VA has a good grasp of the real estate business. They can help you gain better leads and close more deals.
How to Get the Best Cold Calling Services
If you need real estate cold calling services, you can go through various channels to get them. There are outbound call center services or freelance cold callers, but these options can take time, energy, and money. You must set aside enough time for the recruitment process, which involves posting on relevant career platforms, screening applications, and onboarding new cold callers. It can be a lot to take on, especially if you're already busy with your daily real estate business operations. Instead, let 20four7VA help you find the best cold calling VA for you.
Hire the Best Real Estate Cold Calling Services with 20four7VA
20four7VA is an experienced virtual staffing agency that's worked with various clients across multiple industries. We are dedicated to connecting growing businesses to skilled remote talent worldwide. And we can do the same for your real estate business! Our company offers end-to-end virtual staffing services, including:
VA Screening and Recruitment
We have a large pool of talented VAs that can provide the cold calling services for real estate you need. Our team can give shortlisted candidates based on the approved job description. Plus, we will assist with the rest of the recruitment process, from appointment setting for the interview to administering test tasks.
Dedicated Account Manager
We are committed to providing our clients with top-notch service. This is why each 20four7VA client gets a dedicated account manager to provide the best client services. They will provide timely responses to concerns and assistance with VA management.
HR Support Services
As a business owner, you may have too much on your plate to handle human resources functions. Our support staff can help make virtual assistant management easier for you. We can help with onboarding, real-time monitoring, training, payroll processing, and more.
IT Helpdesk
We have a dedicated team to help with hardware or software concerns. You and your real estate virtual assistants can count on us to aid with troubleshooting your IT-related issues.
Our team at 20four7VA can provide hassle-free, cost-efficient staffing solutions for your real estate company. We can help you find the best VAs to give you the real estate cold calling service you need.
Get more leads and close deals for your real estate business with your own cold calling virtual assistants. Schedule a free consultation with 20four7VA today!
GETTING THE ACCOUNTANT VIRTUAL ASSISTANT SERVICES YOU NEED
Hiring a virtual assistant that can provide high-quality bookkeeping services will surely be beneficial for your business. However, getting the right remote talent can be both time-consuming and tedious. And when you're looking to hire someone who will handle highly confidential data, you will need to be more discerning than usual.
We at 20four7VA can save you from the stress and troubles of finding the right virtual assistant. We are an Inc. 5000 company with over a decade of experience in providing cost-effective remote staffing solutions. With 20four7VA, you can source your virtual assistant in four easy steps!
1. FILL OUT THE CONSULTATION FORM
The first step is simple. Just fill out the consultation form, so we can set up a call to get to know your company and staffing needs a bit more.
2. WAIT WHILE WE SEARCH OUR VA POOL
We will search our database of vetted virtual assistants that match your requirements.
3. SCHEDULE INTERVIEW AND TEST TASKS
We'll also assist with scheduling candidate interviews and administering test tasks.
4. YOUR VA IS NOW READY TO PROVIDE THE VIRTUAL BOOKKEEPING SERVICES YOU NEED!
After the virtual assistant selection process has concluded, we will then set up your subscription. Once done, your new VA can now be onboarded and start working!
Ready to hire a virtual accounting assistant to help your business grow? Schedule a free consultation with 20four7VA today!
Ready to find Real Estate Cold Calling Services?