20four7VA ranked 315th in 2023 OA500 Index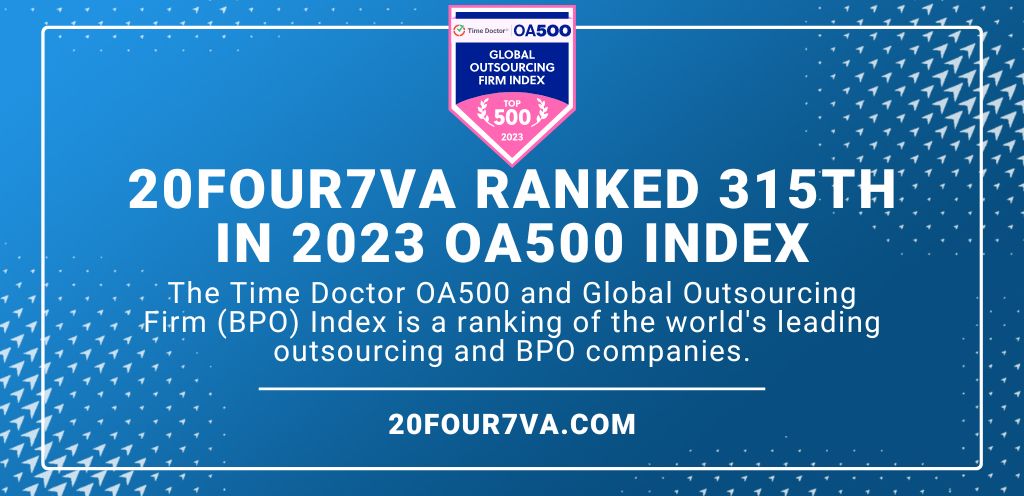 20four7VA took a spot at the recently announced Time Doctor OA500 2023: Global Outsourcing Firm (BPO) Index, a newly launched index that ranks the top 500 outsourcing firms around the world. 20four7VA is rank #315 in the OA500, out of more than 2,300 firms.
What is the OA500?
The Time Doctor OA500 and Global Outsourcing Firm (BPO) Index is an objective ranking of the world's leading outsourcing and BPO companies. The index ranks more than 2,300 firms globally based on criteria such as company size and revenue, online prominence and reputation, employer brand and practices, and more. Outsource Accelerator's methodology of the OA500 index was developed over the course of 18 months. The methodology white paper is published on their website.
Click the photo below to visit our profile on Outsource Accelerator.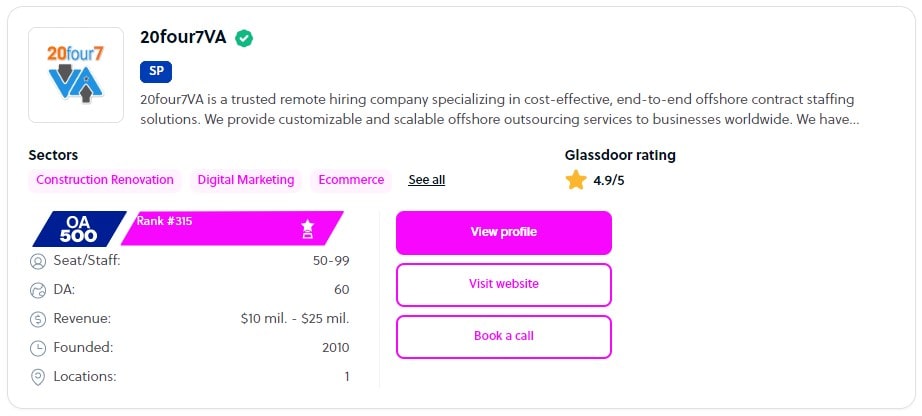 20four7VA is proud to have been included in this prestigious list of top global outsourcing firms. Our inclusion proves that we are a leader in the Virtual Assistant industry and demonstrates our ongoing commitment to excellence in providing high-quality Virtual Assistant services to our global customers and helping skilled remote professionals find stable remote careers.
Just recently, 20four7VA became a verified source partner for Outsource Accelerator in a bid to broaden its reach and promote Virtual Assistant services as a viable and reliable alternative to larger office-based outsourcing firms.
20four7VA looks forward to continuing its presence on the OA500 and making further strides for home-based Virtual Assistants in the global outsourcing industry. This achievement will certainly further support our mission to become a leading Virtual Staffing agency worldwide.