Construction Virtual Assistant
Hire a Construction Virtual Assistant and see your business grow!
Hire a Construction Assistant
Keeping a construction business running smoothly is no easy feat. To maintain the efficiency of the company's core (i.e., project bids and construction or job site operations), you need the right back-office support staff. Working with a construction assistant who works as hard as your team on the construction site is key.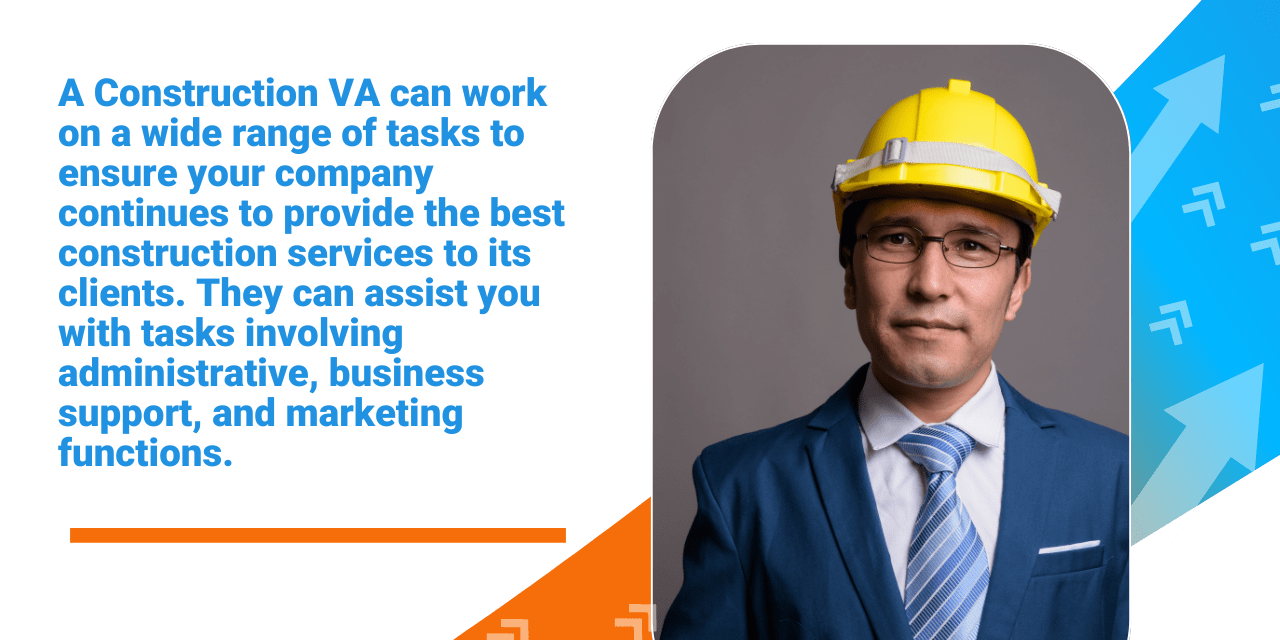 WHAT IS A CONSTRUCTION ASSISTANT?
A construction assistant can work on a wide range of tasks to ensure your company continues to provide the best construction services to its clients. They can assist you with tasks involving administrative, business support, and marketing functions.
Construction assistants are a great addition to any contractor's workforce. However, a full-time, in-house construction assistant can be costly and not the best solution for your construction company's needs. If you want to get the benefits of having a construction assistant on your team without worrying about overshooting your budget, getting virtual assistant (VA) services is the best way to go.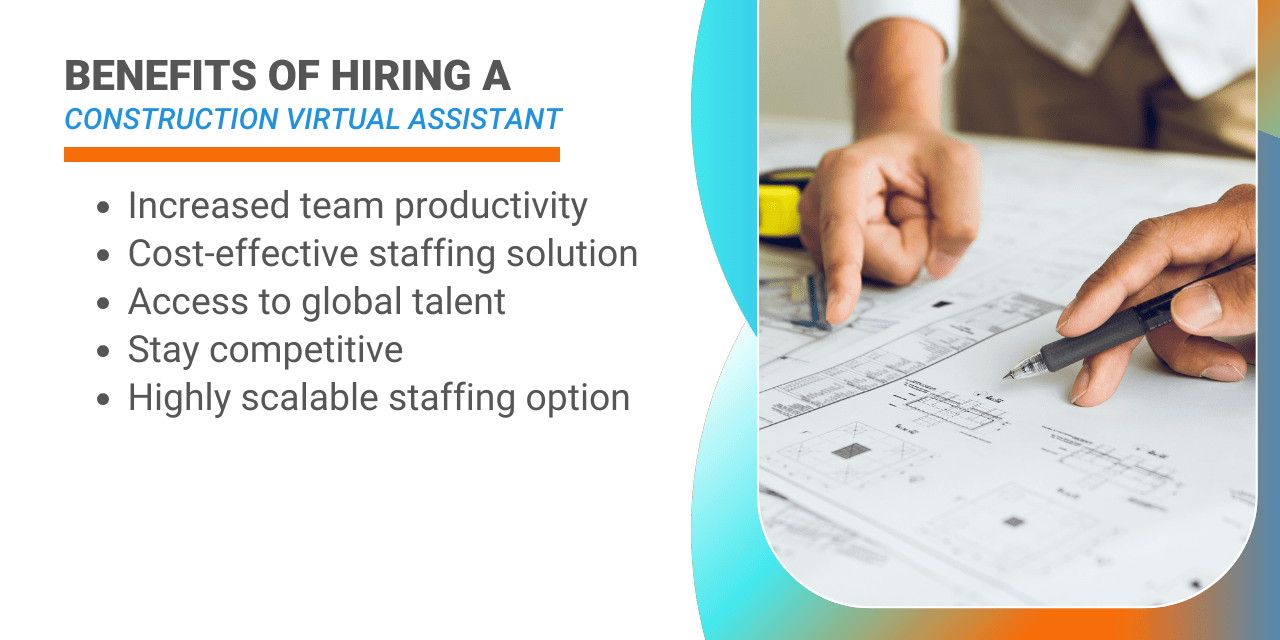 BENEFITS OF HIRING VIRTUAL CONSTRUCTION ASSISTANTS
If you're wondering why you should hire virtual construction assistants over in-house employees, then here are the top reasons:
INCREASED TEAM PRODUCTIVITY
Hiring a construction VA means you can delegate time-consuming but essential back-office duties. This frees up time and energy for the rest of your team. By taking non-core responsibilities off their plate, you and your in-house employees can focus on your core functions, such as manning job sites, meeting with clients, or drawing up safety plans.
COST-EFFECTIVE STAFFING SOLUTION
Getting virtual construction assistant services means saving on labor and overhead costs. Contractors don't have to worry about provisions for office equipment, allowances, and other labor requirements when they choose virtual staffing solutions.
ACCESS TO GLOBAL TALENT
Contractors can perform their core responsibilities, such as working on project proposals and overseeing job sites when they have a VA. They will also be assured they're getting the right person to perform the needed tasks regardless of location.
STAY COMPETITIVE
The construction industry is very competitive and dynamic. Increasing productivity and having a diverse team of remote workers can help you stay ahead of the competition.
HIGHLY SCALABLE STAFFING OPTION
The amount of back-office assistance you'll need may be directly proportional to the number of construction sites or projects you have at any given time. This means that you may not need a full-time construction assistant for your construction business. You can easily scale your staffing needs by hiring remote workers as your construction assistants. You can hire an entry-level construction assistant for your day-to-day requirements or expand your virtual assistant team during your busy months.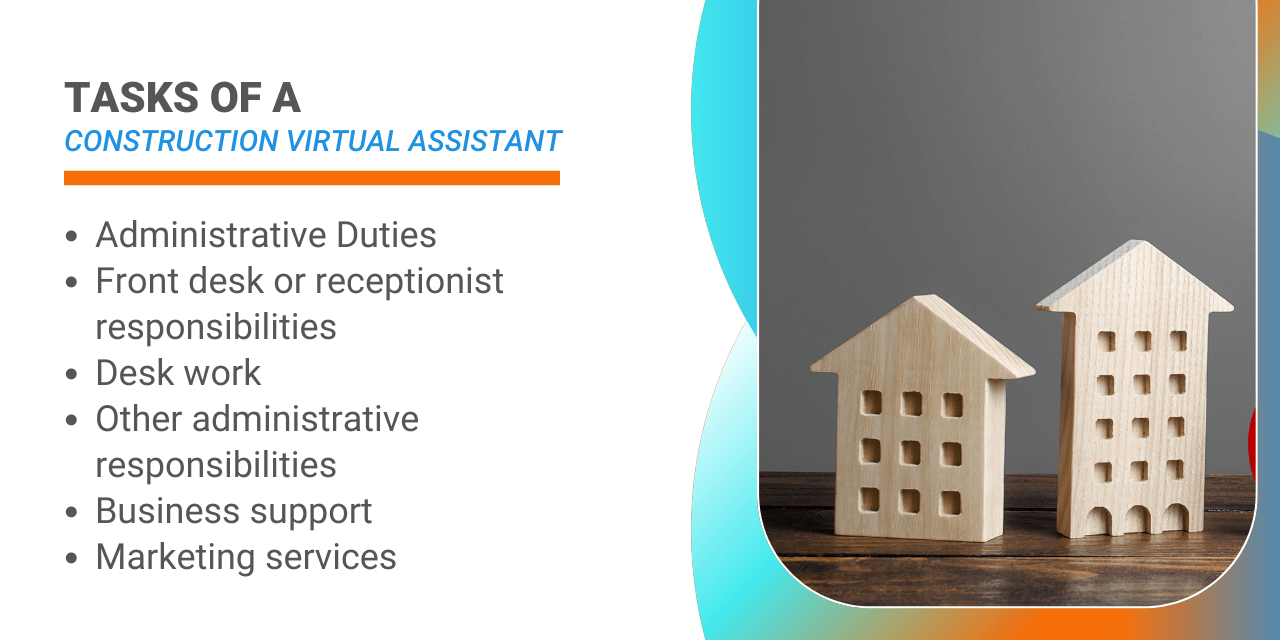 TASKS A CONSTRUCTION VIRTUAL ASSISTANT CAN DO
A virtual construction assistant can perform a wide range of tasks to help your team be more productive and effective in a highly competitive construction industry.
ADMINISTRATIVE DUTIES
A virtual construction assistant can take over a wide variety of administrative duties for contractors like yourself. Having a VA handle these essential but time-consuming tasks allows you and your in-house employees to focus on more important matters, such as meeting with clients or working on construction projects. Additionally, a VA can help you stay organized and on top of your deadlines. A construction VA can assist you with duties such as:
FRONT DESK OR RECEPTIONIST RESPONSIBILITIES
Call Routing

Taking Inbound Calls

Appointment Scheduling
DESK WORK
Customer Database Management

Material Delivery Scheduling

File and Email Management

Field Notes Transcription

Data Entry
OTHER ADMINISTRATIVE RESPONSIBILITIES
Internet Research

Material Delivery Scheduling

And many more!
BUSINESS SUPPORT
If you're a construction project manager or a construction company owner, you know that it takes a lot of back-office work to keep the company running smoothly. Construction projects and plans won't be successful without the necessary back-office work. A construction VA can assist you by taking on such responsibilities. This way, you and your team can concentrate on working on the job site and your other core projects. A Business Support Construction VA can work on the following:
Construction Work & Safety Permit Submissions

Bids & Proposals Management

Contractor License Renewals

Timesheet Review

Supplier Coordination

Project Tracking

Material Ordering & Tracking

Payroll Tracking

Project Expense Tracking

Purchase Order Invoicing

Project Warranty Management

Change Order Request Management

Supplier Invoicing

Budgets & Financial Forecasts

Change Order Invoice Tracking

Prepare Financial Statements
MARKETING SERVICES
B2B MARKETING
Email Marketing

Content & Copywriting

Competitor Research
MARKETING COLLATERAL DEVELOPMENT
Online Reputation Management

Project Sequence Photo Editing

Video Editing
TOP SKILLS AND QUALITIES TO LOOK FOR IN VIRTUAL CONSTRUCTION ASSISTANTS
Construction companies can significantly benefit from getting construction assistant services. Everyone in the in-house team, from the construction manager and engineers to the site workers, will be able to focus on the core functions of their jobs. By having a virtual construction assistant, you can easily manage construction projects, no matter how big or small they may be.
However, it's essential to take the time to hire candidates with the right skills and qualities. Construction company owners or managers like you should be able to meticulously review candidates' profiles to ensure that you're hiring the best person for the position. Here are some top skills and qualities to look for when hiring a virtual construction assistant.
EXCELLENT COMMUNICATION SKILLS
Communication is crucial in any industry-including the construction industry. A virtual construction assistant must have good communication skills because they'll interact with managers, workers, construction customers, and other service providers daily. They should be able to communicate effectively, both verbally and in writing.
GREAT ORGANIZATIONAL SKILLS
A virtual construction assistant must be organized and detail-oriented to be successful in their role. They'll be responsible for managing construction projects, materials, schedules, and deadlines. It would be best if you looked for a virtual construction assistant with excellent organizational skills to help you concentrate on your construction projects.
SELF-STARTER
Aside from excellent communication and organizational skills, a construction assistant must also be a self-starter. A virtual construction assistant will work with minimal supervision during work hours. They must ensure that their tools and equipment are working well, so they can turn in their assignments within the agreed-upon deadline. In a way, they should be able to be their own manager when the construction owner or manager is not online to oversee their work.
It would be best if you did not only look for a construction assistant with the right skills but also one with the right attitude and character. This can help you or your project manager make the most out of the virtual assistant staffing services you are availing.
ABILITY TO MAINTAIN CONFIDENTIALITY
When working with confidential information, including proposal details and trade secrets, it is crucial to have a virtual construction assistant who can keep things confidential. This means the assistant will not share information with anyone outside the company unless authorized. The construction assistant must also be able to keep track of and organize all confidential files and data. This way, you can be sure that your valuable company information is safe and secure.
WILLINGNESS TO LEARN
The construction industry is very dynamic. You can expect new technologies or equipment to be available during your virtual construction assistant's tenure with your company. Given this, you must look for a construction VA that is good at navigating their current tools and equipment and willing to learn about new ones. It would also help if they were responsible for researching new developments so that they could suggest possible improvements to your construction projects.
HOW TO RECRUIT A VIRTUAL CONSTRUCTION ASSISTANT
If you want to hire the right virtual assistant, then you will need to invest hours of your time and energy. You'll need to be thorough with your screening process, reviewing all aspects of a candidate's application, from their school, skills, related work experience, diploma, etc. But before you even get to the interview and skills assessment stages, you'll also need to create a job ad and post it on related job search sites.
HIRE THE RIGHT CONSTRUCTION ASSISTANT WITH 20FOUR7VA!
Finding the right virtual construction assistant is crucial, but it can take up a lot of time and energy. This is why construction companies should enlist the help of a reputable virtual staffing agency such as 20four7VA.
20four7VA is an Inc. 5000 company with a decade of experience matching companies with the right virtual assistant for the job. We're the proud partner of clients across six continents. Our end-to-end solutions include:
VA RECRUITMENT AND SCREENING
We'll help you find the right construction assistant for your needs. We can review our global talent pool of pre-vetted virtual assistants to find the one that best fits your construction company's needs. You can get VA candidates within days of the job description approval.
HR ASSISTANCE
Our solutions don't stop at the sourcing and recruitment of your virtual construction assistant. We will also assist you with the following:
Payroll Processing

In-house Training

Performance Evaluation

And other HR functions.
DEDICATED CUSTOMER SUPPORT & VA MANAGEMENT
We're committed to providing the best VA staffing solutions. Each client will be assigned a dedicated Customer Support Officer to ensure you and your virtual assistant have a smooth and productive work setup.
ACCESS TO THE 20FOUR7VA IT HELP DESK
We have our in-house IT Help Desk to help you troubleshoot any hardware or software-related concerns.
AND MUCH MORE!
Visit the 20four7VA website to learn more about how we've helped our clients get the best virtual assistant solutions.
Find the right virtual construction assistant for your business today! Schedule a free consultation with our Growth Experts.
Ready to find a  Construction Virtual Assistant?