How a Video Editor Virtual Assistant Can Help You Succeed on YouTube 2023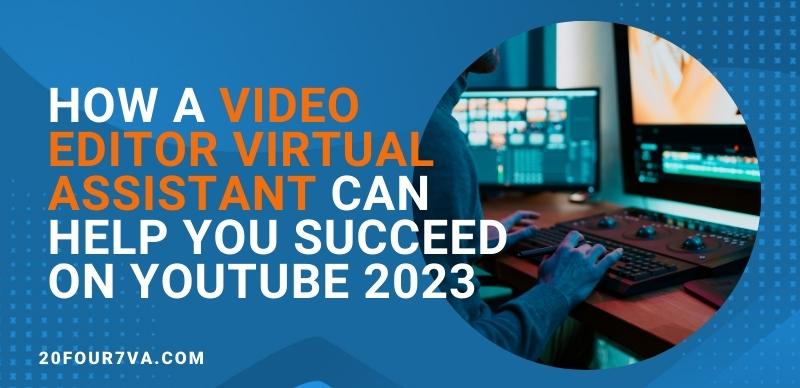 As the new year and the new normal way of business continues, business owners must regroup to come up with inspired yet practical plans for their business, not the least of which should be investing in video content. After all, online videos have amassed a massive influence over modern-day living. Whether seeking entertainment or education, people are now showing their preference for videos compared to other content models if multiple studies are any indication. Before you set out to make custom videos online, however, it pays to watch and be inspired by those who have already mastered this medium.
5 YouTube Video Channels To Watch in 2023
Learn from and get motivated by these 5 YouTube video creators and their channels that every entrepreneur must watch in 2021:
1. Pat Flynn

Entrepreneurs today don't need to build a mortar-and-brick establishment to start earning money. Still, if you're stuck in a rut when it comes to starting or growing your business, Pat Flynn's YouTube channel will inspire you with relevant business ideas. Made popular by his blog Smart Passive Income, Flynn is an authority in business concepts that are hot off the grill. His YouTube videos include the following titles:
5 Business Ideas That Will Be BIG For 2021 (But Easy to Start!)
5 Secrets To Better Audience Engagement
How To Start a Podcast
How To Earn Passive Income Online
The 3 "Best Ways" To Make Money Online
2. Marie Forleo
Marie Forleo has created a name for herself in business leadership. A world-renowned small business advocate and motivational speaker, Marie inspires people with her wit and industry insights. Her work has expanded in nearly 200 countries with her online school serving 50,000 entrepreneurs. Marie Forleo's YouTube channel has a wide range of short yet substantial videos that cover topics from starting and marketing a business to personal growth and productivity. Her videos include the following titles:
Goal Setting
How To Start a Business With No Money
How To Find Your Niche & Eliminate Business Overwhelm
Marketing Strategy: How To Write Copy That Turns Website Visitors Into Customers
How To Win People Over Without Manipulation

3. Tim Ferris
Looking for productivity hacks? There's no better place to find excellent advice than the YouTube channel of The 4-Hour Workweek author, Tim Ferris. Forbes has included Tim Ferris in its list of Names You Need to Know. His video channel is a collection of workflow techniques, life lessons, business tips, and interviews with other industry leaders. Here are a few of his videos:
How To Be More Productive
How To Create a Better Morning Routine
How To Start a Business or Podcast from Scratch
How to Speed Read
How To Use Writing To Sharpen Your Thinking
4. TEDTalks
It is almost inconceivable to discuss inspiring and educational videos without mentioning TEDTalks. Its YouTube channel is a collection of the finest talks and performances from TED conferences all over the world. With industry leaders and inspiring figures of Technology, Entertainment, and Design as its speakers, TEDTalks has amassed over 18 million subscribers on its YouTube channel. Here are some of its most popular videos:
The Future We're Building by Elon Musk
How Great Leaders Inspire Action by Simon Sinek
The Power of Introverts by Susan Cain
10 Ways to Have a Better Conversation by Celeste Headlee
The Surprising Habits of Original Thinkers by Adam Grant
5. FightMediocrity
You won't always have the time in the world to sit through an entire video, no matter how engaging and educational it may be. Good thing YouTube channel FightMediocrity condenses big ideas into compact and easy-to-digest videos. The insights and lessons shared in FightMediocrity are from leaders and experts such as English scientist and neuroscience and psychology professor Matthew Walker and former Navy SEAL officer and writer Jocko Willink. FightMediocrity consists of creative animation and whiteboard sketches to make the video clips even more engaging and memorable. Here are a few FightMediocrity videos to check out:
The Best Advice I've Ever Heard by Jocko Willink
Learn How To Reprogram Your Mind by Dr. Joe Dispenza
5 Habits of Millionaires That Will Instantly Change Your Life by Dan Pena
3 Surprising Steps To Influence Anyone by Jonah Bergr, PhD
3 Rules That Will Immediately Change Your Life by podcast superstar Joe Rogan
These YouTube channels are teeming with content that can help you grow as an entrepreneur regardless of where you are in your journey.
In addition, a quick review of these channels makes it clear how a quality video is no longer just an innovative move for businesses – it's a must. That is why when it comes to investing in top-notch video content, it's best to start by hiring a video editor virtual assistant (VA).
Why It's Worth Working with a Video Editor Virtual Assistant

While there are many online tools that you use to create awesome video content, it's still worth it to invest in a virtual video editor.
Just have a look at what they can bring to the table:
Post-production editing

Video editing is a daunting task for non-professionals. Still, it pays to polish raw footage to make your content more engaging and your message clearer. Besides, video streaming platforms like YouTube have standards and regulations on content. Delegating this task to a video editor VA ensures that your content is as high-quality as it is YouTube-appropriate.

Adding intros and outros

People will be more engaged and informed when you deliver your message following a proper outline. In video content, intros and outros build up and seal your message so that your ideas will be more refined and impactful. Adding these crucial elements to your videos is another task you can delegate to an editor.

Organizing video clips

Shooting videos doesn't always follow your storyboard order. There are different elements to consider such as lighting, weather, timing, and even the availability of people involved. This may cause your video clips to be in disarray. Video editors rearrange the clips so that they follow a sequence that is in sync with your storyboard.

Adding subtitles and sound effects.

Videos have a more professional appeal when they come with subtitles and sound effects. Subtitles help viewers understand a video better and keep them hooked from start to finish. In addition, it will open up your content to non-native speakers of your language. Sound effects, on the other hand, are a vital element in boosting the appeal and clarity of your video.

Publishing videos to YouTube and other platforms.

Your video files need to have the right size and quality before being uploaded to YouTube and other platforms. Video editors are knowledgeable about the appropriate content specs on different channels. Apart from uploading videos, they can organize videos into playlists for easy browsing, optimize video titles and descriptions so they come up on top of search results, and add on-brand thumbnails to boost clicks.
Final Thoughts
The past year has presented unheard-of challenges on the business front. Entrepreneurs must double their efforts to rally and grow their brand in a time when past practices may no longer be effective. So, regroup and learn from experts by subscribing to the top YouTube channels for entrepreneurs. Then, put your ideas and learnings into practice by working with a video editor VA. Find your virtual assistant video editor from 20four7VA today.