The 13 Best Relaxation Apps for Busy Managers (2023)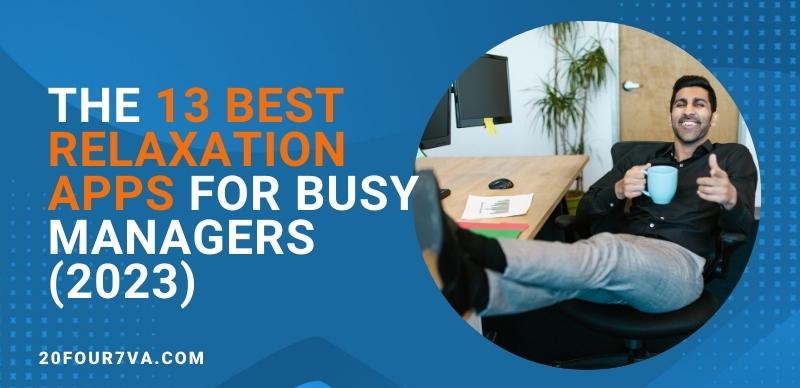 You know that feeling when you've had a long day and your whole body is screaming for relaxation? It can be hard to find the time or energy to take care of yourself. But if you don't, it will eventually catch up with you — both physically and mentally. Thankfully, there are many apps for relaxation for those who need temporary relief from their busy schedules, those who struggle with anxiety, and those who want to improve their overall health through relaxation and meditation techniques.
How Do Apps for Relaxation Work?
Brain waves operate best in a certain frequency range. This is why meditation has been used as a relaxation tool for thousands of years. It helps slow your brainwaves, leading to a tranquil state that will give you peace and serenity.
There are different types of meditation apps available for all sorts of users. If you simply want to listen to relaxing music or sound, you can download an app that features ambient sounds and melodies. 
A study published in Applied Psychophysiology & Biofeedback analyzed the effects of one session of meditation. Meditation sessions showed changes in brain activity that were sustained even outside the meditation session. Meditation doesn't only provide physical benefits but also reduces stress, anxiety, depression, and pain.
Another research published in Frontiers in Human Neuroscience revealed that practicing mindfulness significantly reduced test anxiety among participants. This shows how effective meditation can be for stress management. With the best meditation apps, you can take control of your emotions and manage stress by simply practicing a few minutes a day. 
Top Benefits of Relaxation on Stress Management
Relaxation happens when one's emotional state is at peace and without tension. There are many ways to achieve that state, and one of them is through meditation and mindfulness. This self-management technique has several health benefits, including:
Reduces Stress
It's a well-known fact that relaxation can help ease stress. People in high-stress jobs often find meditation to be the most accessible and inexpensive way to de-stress because they can do it anytime and anywhere. 
Alleviates Anxiety
According to this study, meditation can help reduce psychological stresses, including anxiety and depression. The findings pertain to mindful meditation, which is a type of mental training practice that encourages you to focus on your senses and feelings at the moment. Mindful meditation practices may involve guided imagery and breathing methods.
Lowers Blood Pressure
Relaxation through meditation can be recommended to patients with high blood pressure. Another study found that training using the relaxation response can yield significant health benefits, resulting in some patients reducing the dosage on one of their medications. The positive results are compounded with a healthy lifestyle and discipline to pursue daily meditation practice.
Enhances Attention Span
Mindful meditation is known for its ability to enhance focus and attention. Another study found that this type of training helps improve focus and concentration and that anyone can reap this benefit even if they only do it in brief sessions. Just like exercising the muscles with weights, meditation sessions can help train the mind to be attentive.
Best Relaxation Apps for Busy Managers
If you're an overworked or stressed-out manager, these are some of the best relaxation apps that will help get you through the day. Click on each app to learn more.
Omvana
Calm
Buddhify
The Mindfulness App
Headspace
Breathe2Relax
10% Happier
Insight Timer
Meditation Studio
MUSE
Smiling Mind
Meditation Oasis
Wise Mind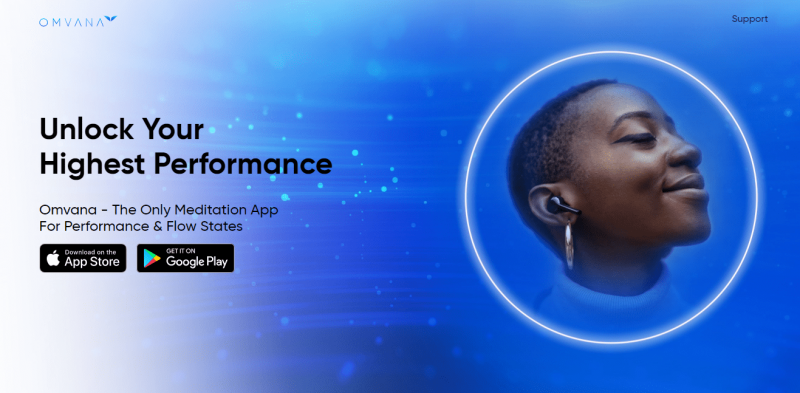 Omvana is a free app that includes optional purchases for audio tracks that help soothe the mind. Considered by some as the life coach of meditation apps and websites, it relaxes you while you meditate and helps to sharpen your mind. Omvana is useful for goal-oriented managers who want to take short breaks to feel reenergized and more focused on the task at hand.
Healthline named Omvana one of the best relaxation apps of 2019, and international news outlets have recommended its in-app guided meditations. Inside the Omvana app, you can expect beginner-friendly to expert-level meditation tracks and classes, personalized recommendations, background sound mixers, and saved playbacks. You can also find your favorite authors through its search feature.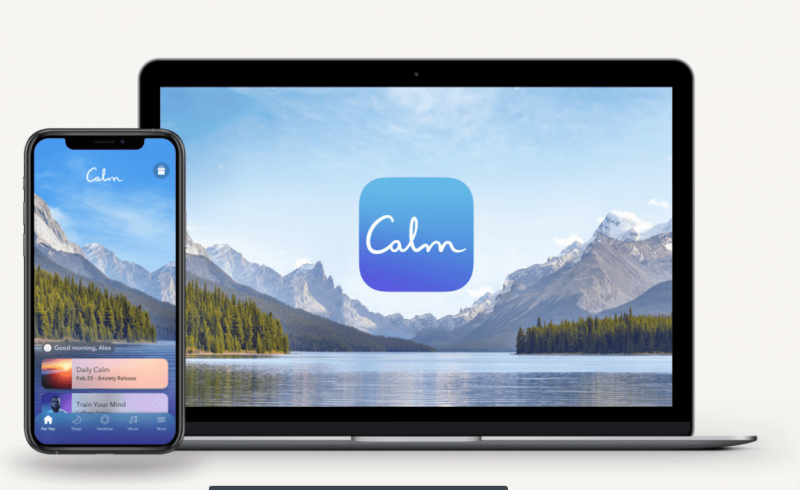 CALM (Free/Paid)
As the app's name implies, the goal is to get you in a calm and relaxed state. Calm is a subscription-based app that helps reduce stress and makes you feel more relaxed. Musical tracks provide different targets for your wellbeing. You can choose from different tracks that target good sleep, focus, relaxation, and calmness. If you want additional tracks in your library, you'll need to make in-app purchases. Surely you won't mind spending a few bucks to feel bliss?
Calm is considered the #1 app for relaxation, meditation, and sleep. It's highly recommended by top mental health experts, including therapists and psychologists. This sleep and relaxation app contains calming features such as Sleep Stories, breathing programs, relaxing music, and stretching exercise recommendations. The guided meditation sessions can be customized in 3, 5, 10, 15, 20, or 25-minute sessions, so it's up to the user to choose how long they want to meditate.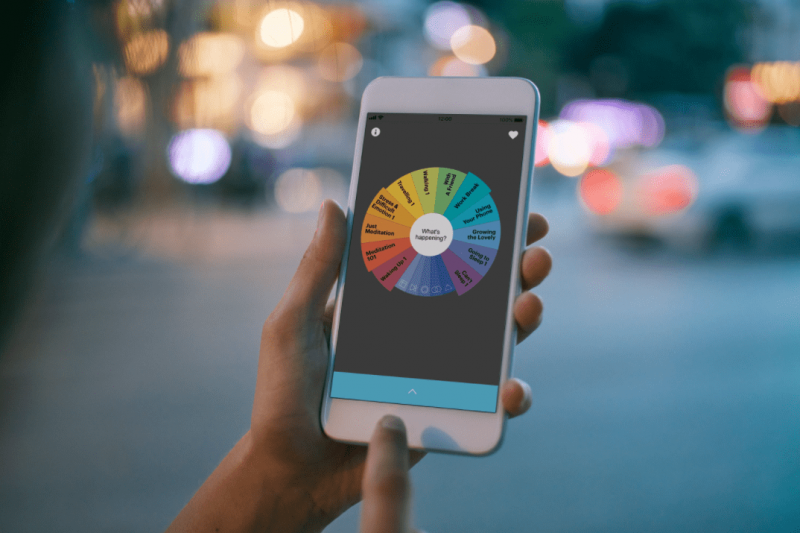 This is a meditation app built for urban life. Buddhify is designed to help you feel focused and relaxed while walking, commuting, going to the gym, or taking a work break. It's a perfect fit for the busy and active managers who reside and work in the urban jungle.
To use Buddhify, you'll need to purchase the app for $2.99 for Android and $4.99 for iOS. After the one-time fee, users can access over 200 meditation tracks for anxiety, sleep, pain, stress, and difficult emotions. It also has mindfulness exercises that both complete beginners and seasoned meditators will find easy to follow.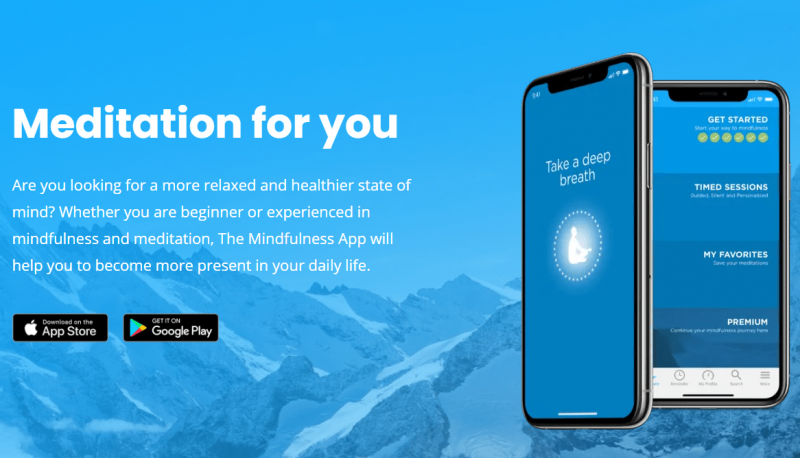 Those who need help destressing from their daily lives will find The Mindfulness App useful. It offers 5-day meditation "sessions" that will help you get attuned to your daily or weekly goals. You can choose from over 300 guided meditations and courses from experts worldwide, with tracks available in over ten languages. Sessions may last from 3 to 30 minutes, and these are customizable to your specific needs. You can also choose different background sounds according to your preference.
The Mindfulness App has a free trial that allows users to access premium content for seven days. You may renew your subscription monthly or annually.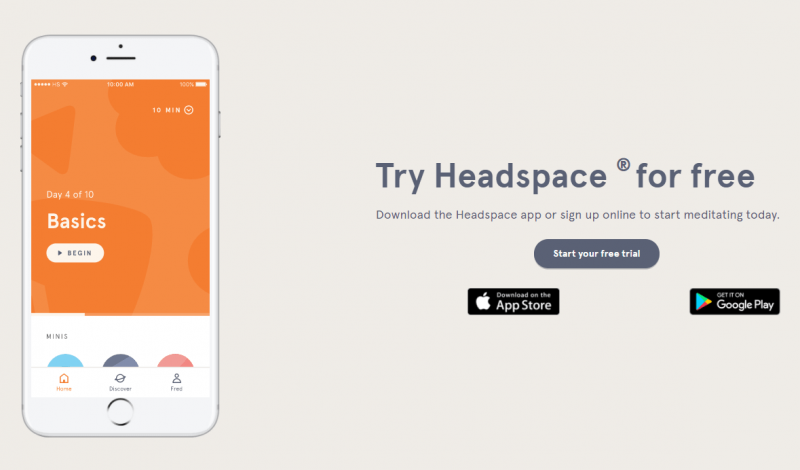 Upgrade your mindfulness and meditation skills with Headspace. This app comes with hundreds of guided meditations on several topics, including anxiety management, sleep, personal growth, and stress management. You can download Headspace and try the app for free for 14 days. If you want to continue using the app, you can subscribe to get full access to all the courses.
Are you going somewhere without internet access? It won't be a problem, as you can download the meditation sessions and use them offline. Headspace also features dedicated sessions targeting different areas you may want to focus on, like stress, eating, sleeping, walking, and mindfulness.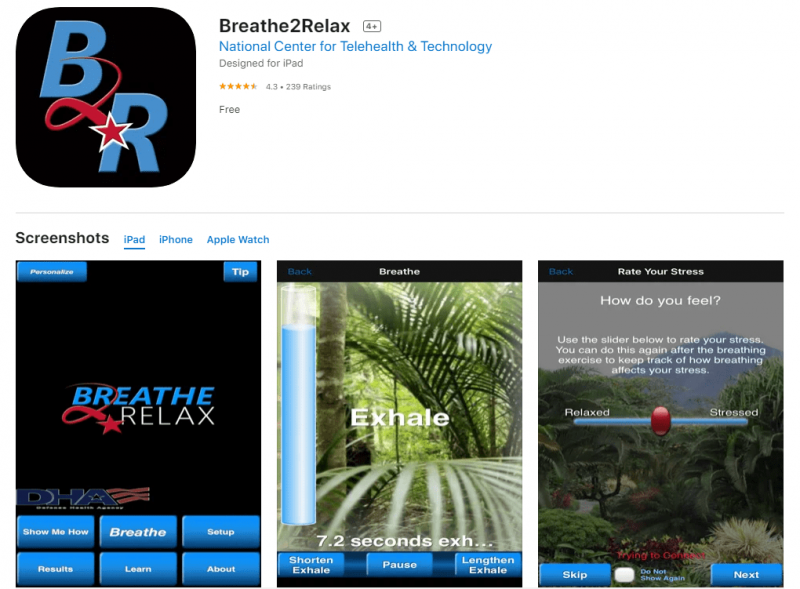 Need a breather? This app will help you relax through breathing exercises. The app is also able to help users manage stress and teach them to stay calm and control anger and anxiety.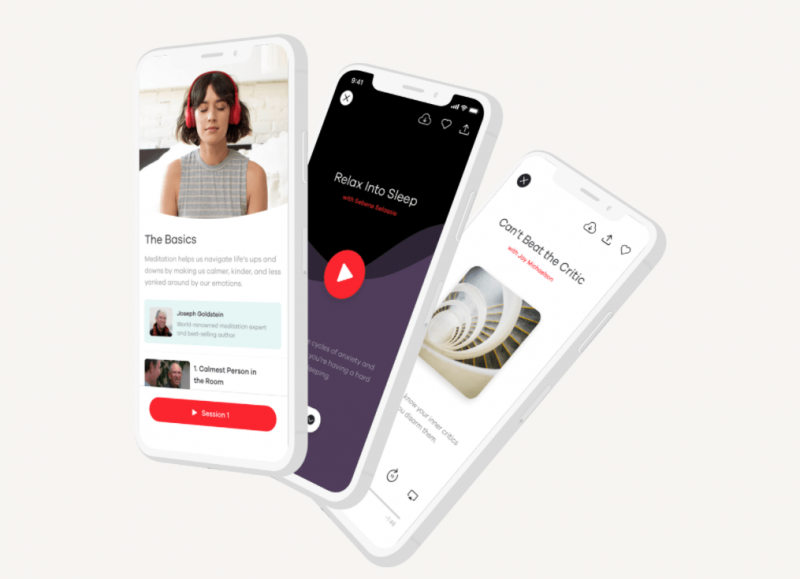 Ten Percent Happier is a meditation app for fidgety skeptics. The app is free and contains hundreds of guided meditations (with videos) and practical advice on stress management, sleep, and happiness. It also has a quick meditation feature that allows you to practice mindfulness wherever you are.
You can download Ten Percent Happier for free for the first seven days. You can then subscribe to be a member for $99 a year. Membership gives you access to a huge library of content that you can listen to offline, anytime, anywhere.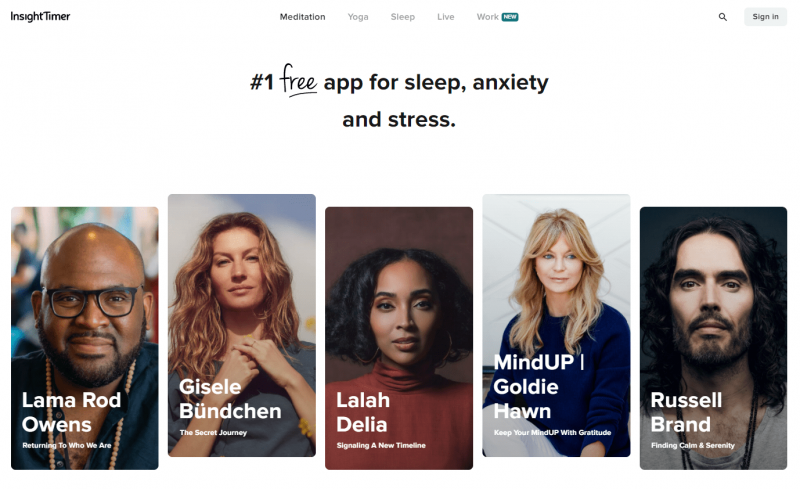 Those who want new content daily can rely on Insight Timer. The app adds 100+ new guided meditations and tracks for both beginners and experienced meditation practitioners daily. Anyone can download this app for free and get access to 100,000+ guided meditations, thousands of music tracks and ambient sounds, meditation timers, discussion groups, and many more.
Insight Timer addresses many popular topics, including leadership, self-love, anxiety, stress, sleep, and focus. Additionally, it offers various meditation types like mindful sleep, zen, breathing meditation, secular mindfulness, metta, MBSR, Buddhist mindfulness, Yoga Nidra, and many more. Subscribing to Insight Timer also allows you to listen to courses offline in high-quality audio and start listening where you left off.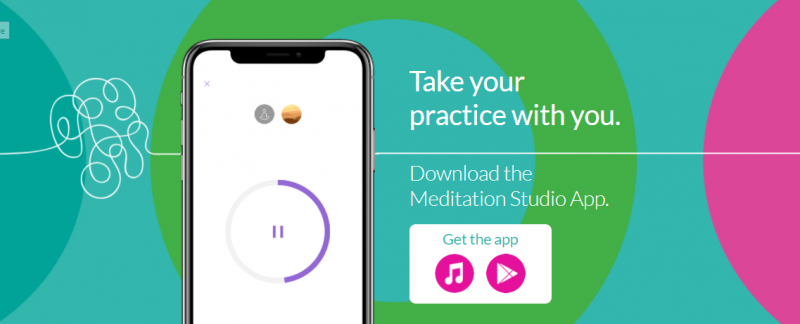 Meditation Studio offers a diverse and curated selection of meditation styles and teachings from experts with different backgrounds. The meditation sessions in this app focus on body, heart, visualization, breath, and instruction. Meditation Studio says that, with the app,  beginners will be able to grasp basic meditation techniques in as fast as two weeks.
You can download Meditation Studio and get access to the Starter Series Course free of charge. The premium membership will allow you to listen to 500+ guided meditation tracks and other content.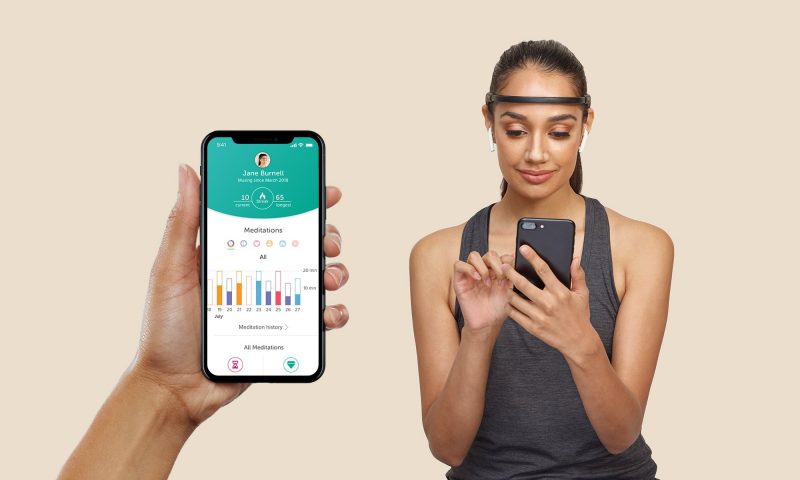 MUSE (Free/Paid)
This audio platform helps its users manage stress and anxiety. It also provides them with an effective way to improve mental well-being by following meditation exercises that are personalized to their needs.
Muse is best for users who are not aware of meditation and want to practice with the help of an expert. You can choose from more than 100 meditation exercises that are categorized into different levels, depending on your expertise. The app uses brain sensors to monitor stress levels, physical relaxation, mental relaxation, and meditation depth while you are engaged in the exercises.
Muse is best for beginners, as it offers an easy-to-follow meditation environment for you to learn different mindfulness techniques. The app is best for those who are trying to meditate or dealing with anxiety disorder.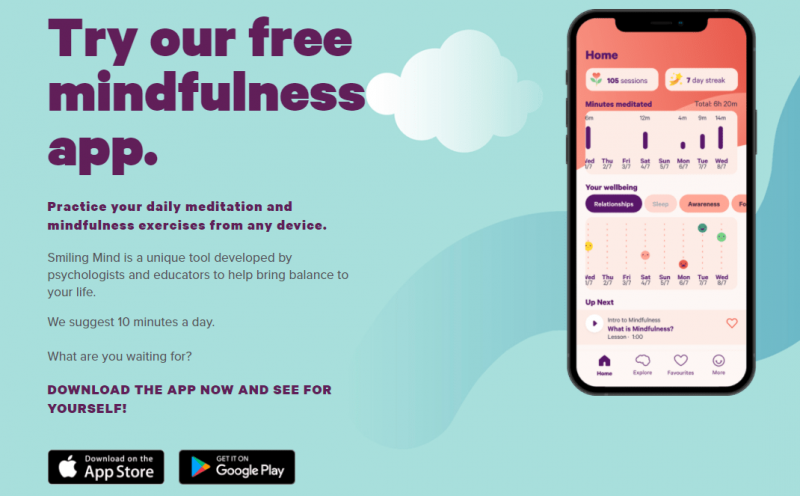 This app is best for parents who are looking for an effective way to teach yoga and meditation techniques to their children. Smiling Mind has programs that help children unlock their full potential by cultivating a deeper connection with themselves. It also provides parents with the best ways to play an active role in their children's holistic development.
Smiling Mind comes with a free version that offers yoga and meditation sessions for kids, as well as mindfulness activities for adults. The best part about this app is that it is available in 12 different languages and can be accessed across multiple platforms.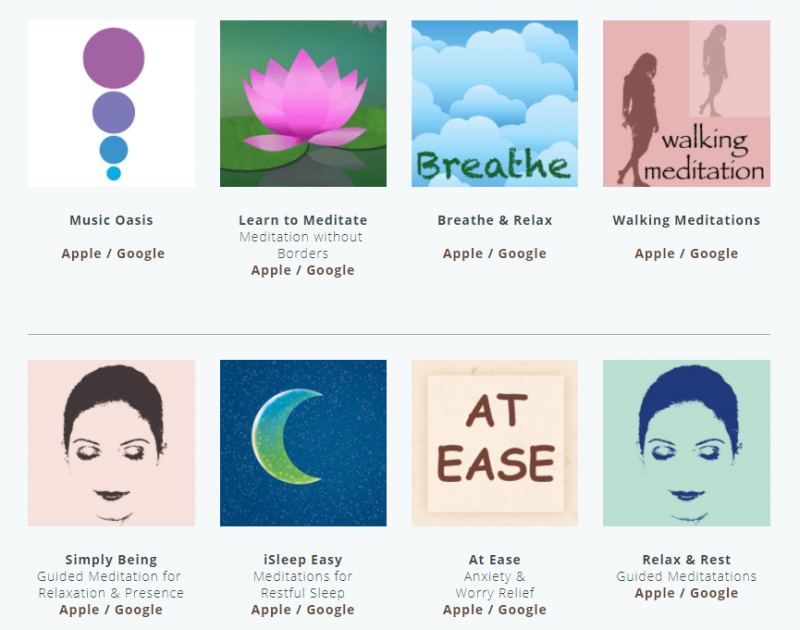 As its name suggests, Meditation Oasis is best for individuals who are looking for a place of peace and quietness during meditation. This app provides people with mindfulness tools that help them appreciate the present moment and cope with the pressures of life. Meditation Oasis places significant emphasis on mindful breathing exercises, yoga Nidra, and guided imagery.
Meditation Oasis provides approximately 100+ best-guided meditation tracks that focus on specific topics such as sleep, relationships, anxiety, fear of public speaking, and more. The best part is that all these tracks are available to you for free. You can also purchase additional best-guided meditations from the Meditation Oasis store.

Wise Mind is best for individuals who are new to meditation and want to learn more about the basics of mindfulness. The app comes with an interactive course that covers different styles of meditation, including breath focus, mantra-based, visualization-based, sound-based, open presence, body scan, loving kindness meditation, and more.
Wise Mind offers a basic course for free, which includes a 7-day introductory video series followed by two sessions of breath meditation for beginner-level users. You will also get access to additional best-guided meditations as you progress through the course.
Beginners who want to learn more about mindfulness and meditation without investing too much time and energy can use this app easily. It has step-by-step instructions and best practices. The best part is that you can access this app directly from your iOS device at any point in time, which means you can begin your mindfulness journey right after you download the app.
Are Relaxation Apps Worth It?
In a world where stress and work pressure are constantly increasing, relaxation apps have been proven to be effective. They help you relax your brain from an overload of thoughts and distractions, allowing you to feel calm and emotionally balanced even in the most challenging moments.
They also provide a great opportunity for self-care. You can use meditation as a way to treat yourself to a little break from all the pressure that often surrounds us at work.
Including mindfulness, meditation, and relaxation in your daily routine can increase your productivity as well. In some studies conducted on best apps for relaxation, it was shown that people who practiced mindfulness were more productive as compared to those who didn't meditate.
This is because mindfulness helps them focus on what's important.
Researchers have found that the best apps for relaxation may help you improve your attention span by up to 50 percent. Meditation has also been one of the best tools in learning how to control our emotions and feel more positive about ourselves, which makes it easier for us to indulge in self-care too.
Other Helpful Relaxation Tips
There are several other stress-relieving strategies you can use to manage your anxiety and feel more relaxed. For instance, exercising regularly is a great way to relieve stress and get rid of anxiety.
Other ways include deep breathing exercises, practicing healthy sleeping habits, eating nutritious food, surrounding yourself with supportive people, staying positive, taking deep breaths before stressful conversations, and more.
When you put these best strategies to use in your life on a daily basis, it will create a tremendous impact on your personal stress relief management. They'll help you reduce stress and anxiety so you can feel calm and at peace all the time.
You can also try mindfulness apps that will teach you how to deal with thoughts and emotions. These best relaxation apps teach mindfulness as a way of learning how to control your emotions throughout the day.  This makes it easier to deal with stress when you are at work.
You can also make meditation a part of your daily routine. You can join meditation groups for beginners or enroll in an established yoga studio near you and learn the best ways to make yourself feel relaxed and calm through meditation.
Conclusion
Meditation and the best apps for relaxation can be a great way to achieve mental clarity, reduce stress and anxiety, improve mood, increase self-compassion and empathy, boost your cognitive performance, and learn to manage your emotions. Whether you're looking to unwind or just want a break from work pressure, meditation apps will help you find the right state of mind to achieve your best self.
Managing people is a difficult job, and it's not uncommon for the stress to pile up. But you don't have to let this get the best of you! We've provided some of the best relaxation apps that can help relieve your tension during those stressful moments when deadlines are looming, or things just feel like they're spiraling out of control. All it takes is a few minutes here and there with these relaxation apps — they'll be worth their weight in gold if they keep you from pulling your hair out.
Next: How Successful Virtual Assistants Deal With Stress
And remember, we're always happy to answer any questions about becoming a more effective manager or entrepreneur. If you think you may need help managing your workload, contact our Business Growth Team and find out if hiring a virtual assistant (VA) is the right move for you. Request your FREE Business Growth Session today!