Project management software: 4 tools you need to know

Project management tools allow you to efficiently keep track of your team's progress and compartmentalize projects and tasks. They help you stay on top of your projects so you can meet deadlines and properly take note of any progress or roadblock. They provide you with a bird's eye view of your team's tasks and actions and lets you know who is responsible for specific tasks. This way, it's easy for you to know where projects get stuck or who you need to talk to about moving the project forward.
These useful features make project management software necessary when managing a team of virtual workers or an office-based team. But with so many different tools available out there, how do you choose the best project management platform for you?
Things to consider when deciding on a software
Not all project management tools are the same. There are project management software with features and interfaces that are more suited to specific industries. For instance, agile project management tools fit the needs of developers and designers better while others are perfect for sales funnels.
The reason why there are so many tools out there is because they actually cater to different organizations with varying needs, so it's really a matter of identifying what your needs are and finding a tool that accommodates most, if not all, of them.
For starters, here are some key features you need to look for when deciding on a project management software:
User Friendliness
You definitely want something that's easy to use no matter how tech-savvy (or not) your team members are. Remember, you're not the only one using this!
Security
You have to be sure that your data will be safe and your privacy unbreached. You will be using it for key projects, so you don't want important process and ideas to leak out or get lost.
Flexibility and Scalability
Your needs today will be different from your needs one or two years from now, so you need to choose a tool that can adjust to your changing needs. You don't want to have to look for another tool if yours can't keep up with the changes.
Integration
You want a tool that integrates with the other tools you're using so you can automate processes and reduce friction.
Support
This is often overlooked, but it's actually incredibly important. The tool you choose should have an accessible support team. You want one that replies quickly, is available 24/7 if possible, and is reachable through a variety of methods like phone, chat, or email.
You should also look at your current project management solution. Why are you looking for a better one? Think about its problem areas and the features that your team is looking for in it. Create a wish list of features and categorize them into must-haves and nice-to-haves and use this as a guide.
Comparing 4 project management tools
To set you on the right track, here's a side-by-side comparison of 4 popular project management tools:
Side-by-Side Comparison
ASANA
MEISTERTASK
TRELLO
BASECAMP
COST

Free (Basic)




$6.25 (Small Teams)




$9.99 (Premium, depends on # of users)




Custom (Enterprise)




Prices per User per Month when Billed Annually

Free (Basic)




$8.25 (Pro)




$20.75 (Business)




Custom (Enterprise)




Prices per User per Month when Billed Annually

Free (Basic)




$9.99 (Business Class)




$20.83 or less (Enterprise)




Prices are User per Month when Billed Annually

$99/mo.

USERS

15 (Free, Small Teams)




Unlimited (Premium, Enterprise)

Unlimited

Unlimited

Unlimited

AVAILABILITY

web, iOS, Android, Chrome extension

web, iOS, Android, Mac, and PC

web, iOS, Android, Mac, and PC

web, iOS, Android, Mac, and PC
Asana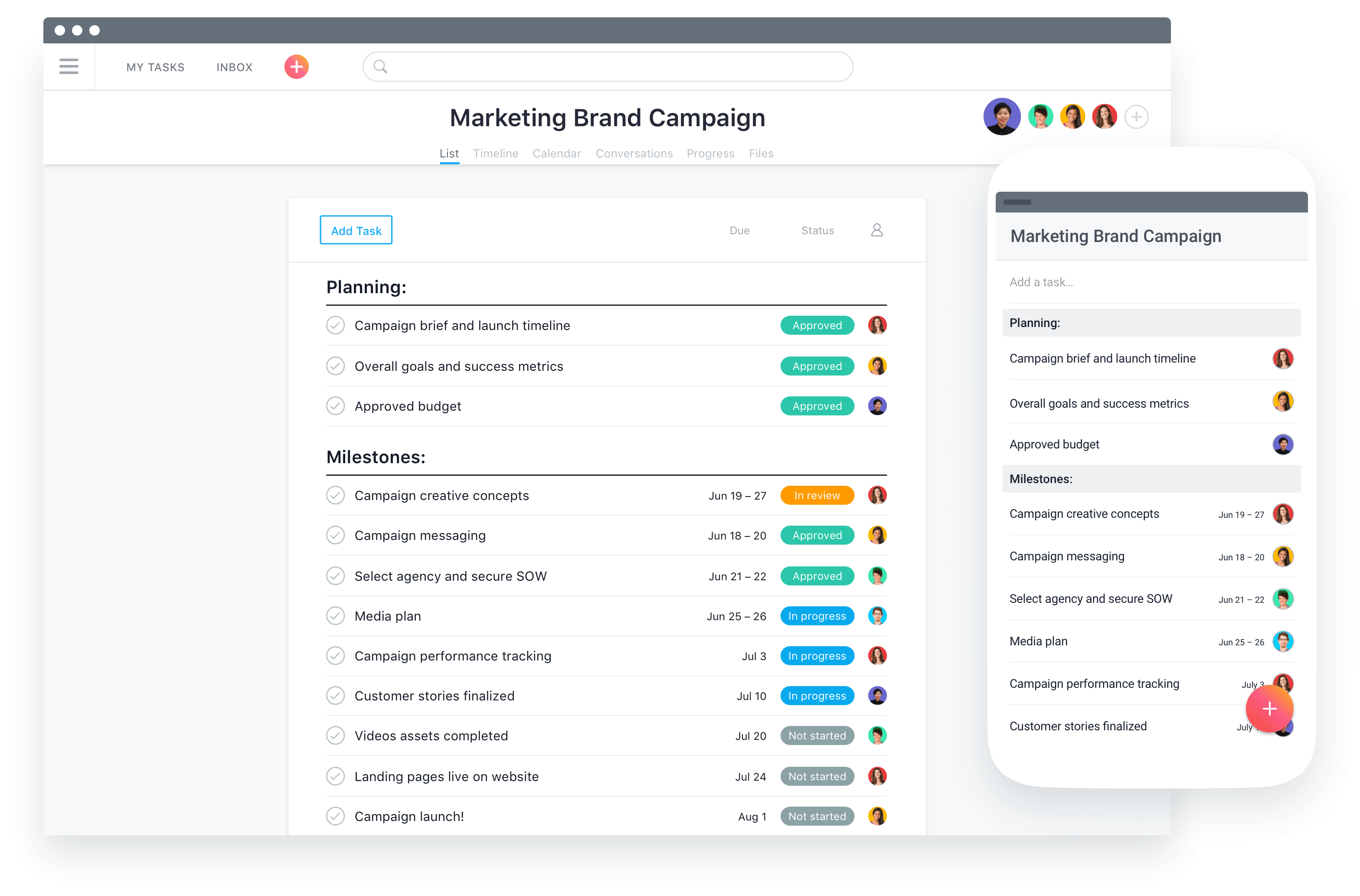 Screenshot taken from the Asana website
Asana uses Lists, Boards, Timelines, and Calendars to organize tasks. It lets you easily follow through various projects at every stage until completion. It also gives you a comprehensive view of your team's progress and keeps your personal tasks and deadlines constantly within view.
A notable feature of Asana is that It generates reports on your team's accomplishments and pain points, so it's so easy for you to see how things are going. This provides you with amazing insight on your members' processes.
Pros:
· Third-party integrations
· Color coded
· Allows multiple tags for each item
· Personal task view
· Free for up to 15 people
Cons:
· Interface can be loaded with many graphical elements affecting its load time
· Tons of features can be overwhelming especially for members who are new to project management tools
· No direct messaging
Asana is a reliable project management tool that's packed with a lot of features. If you're working with just one virtual assistant or a small team consisting of not more than 15 people, you should definitely consider using it. You can have access to all of its functionalities at no additional cost to you.
MeisterTask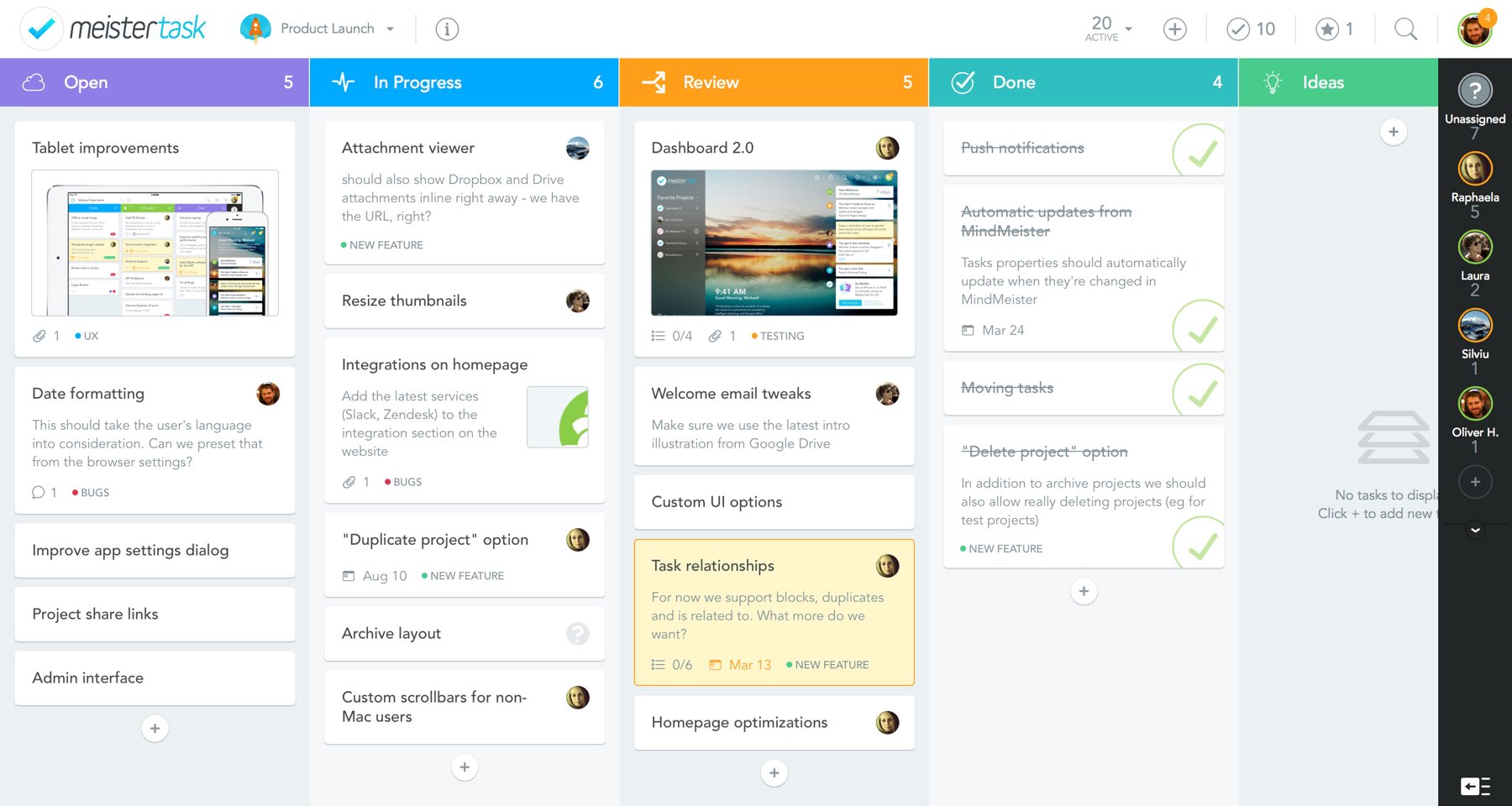 Screenshot taken from the MeisterTask website
MeisterTask has flexible project boards, which can be adjusted to suit various workflows. This means that different teams within your company can be on the same platform. Furthermore, this enables you to streamline all the processes in your business and encourage smoother interdepartmental collaborations.
MeisterTask is also very intuitive. It provides Activity Streams for tasks to ensure that members are always in the loop. MeisterTask also integrates with MindMeister, an online mind mapping app that lets you create visual project plans, so it's great if you want to visualize and manage your projects seamlessly.
Pros:
· Agile
· Generous free plan – unlimited projects, tasks, and project members
· Workflow automation
· Two-way Slack integration
· Dependable customer support
Cons:
· Subtasks are hidden inside the task making it hard to see the full details
MeisterTask is often lauded for its simplicity and user-friendly interface. Plus, it offers a very generous free plan that your team can take advantage of.
Trello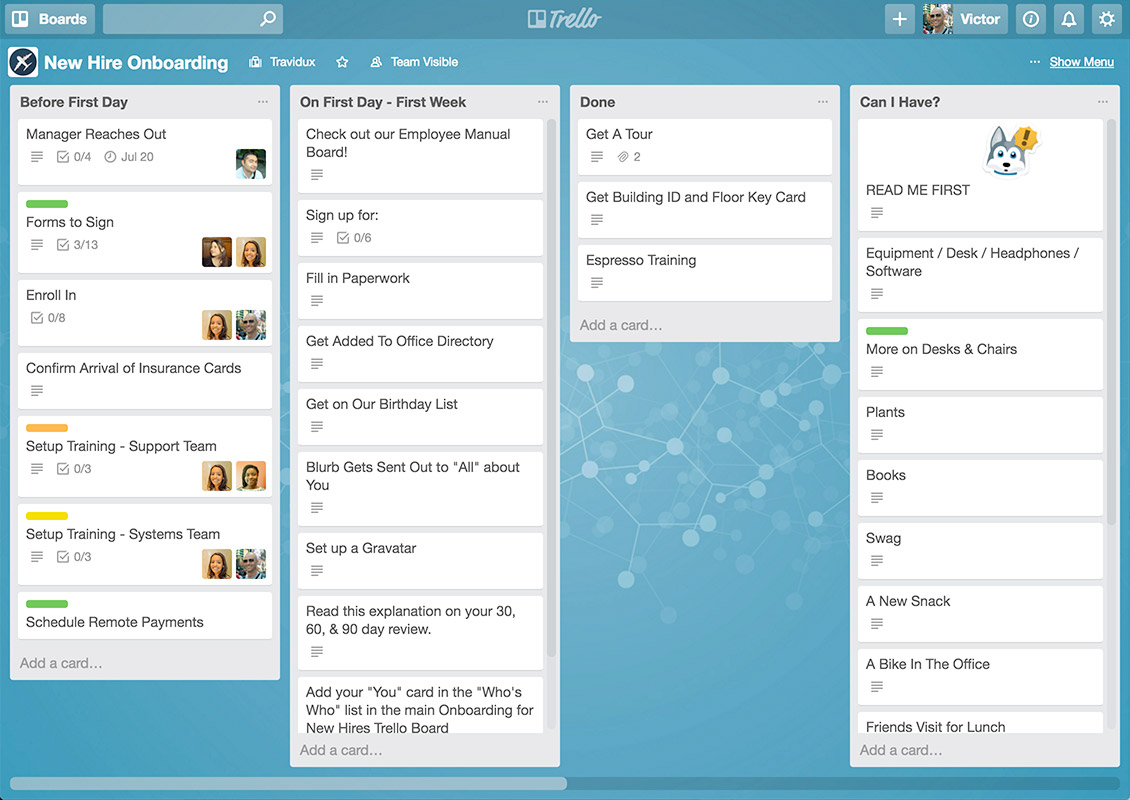 Screenshot taken from the Trello website
What makes Trello so popular is its simplicity and effectiveness. It's one of the most highly rated project management tools due to its intuitive and easily customizable design. Everyone who's ever used Trello knows that it's so easy to get used to the tool without even reading any manual or tutorial. Trello also offers a large collection of templates and sample boards tailored to fit specific types of projects so you don't have to start from scratch. Simply add or remove a few things and you can shape the kind of workflow you need.
Pros:
· Easy to learn
· Generous free version
· Solid desktop and mobile apps
· Automated notifications
· Drag and drop interface
Cons:
· Limited integrations
· File size limit
Trello definitely offers a generous set of features for its free version, which has a single yet significant drawback — you're only allowed one third party integration. Take note that this doesn't apply to cloud storage services such as Dropbox, Google Drive, OneDrive, etc. And if you ever need to integrate other apps to your Trello account, you can always upgrade to a paid version that'll give you access to unlimited integrations.
Basecamp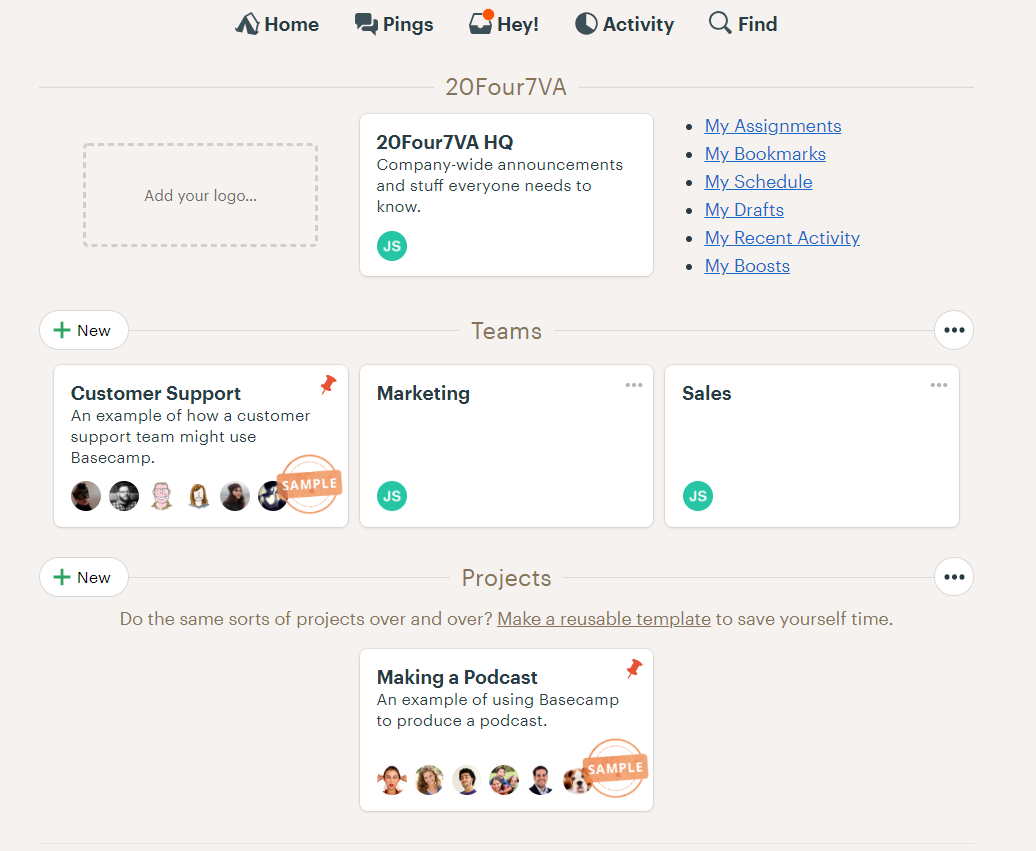 Compared to the three tools already discussed, Basecamp may be lacking as a project management software. It's hard to track the progress of projects or team members, and there's no overview of what everyone is up to. Still, it has its good points such as providing you with a single place for all your tasks, emails, discussions, and files.
In Basecamp, you can assign tasks to members and keep all the relevant conversations within a single thread. This eliminates separate or lengthy threads, which can sometimes result in confusion among team members.
Pros:
· Recurring prompts
· Excellent communication tool especially for group discussions
· Notifications only come in during work hours
· Quick previews of each section shown through its tabbed interface
Cons:
· Difficult to track progress
· Lacks reporting tool
Basecamp ensures that everyone in your team is on the same page. However, it may only work for smaller teams. Keeping up with the messages might be a lot harder if you have so many people commenting on one specific thread.
Project management tools are essential to businesses no matter how small. Gone are the days when you can simply rely on an office assistant to help you oversee some projects. These days, you need to be involved in all aspects of your business especially when you're starting out, but you have to be able to do this without spending too much time and effort. While having a personal assistant may help you stay on top of things, a project management software enables you to be more hands on and to collaborate with teams more easily.
---
Non-Affiliation Disclaimer: The tools and websites mentioned in this article are not endorsed by, sponsored by, affiliated with, or associated with 20Four7VA in any way. Any logo, product image, and screenshot, trade name or trademark used in the article is for identification and reference purposes only. All company and product names are the registered trademarks of their owners.