Is Hiring Virtual Assistant Moms a Smart Business Move?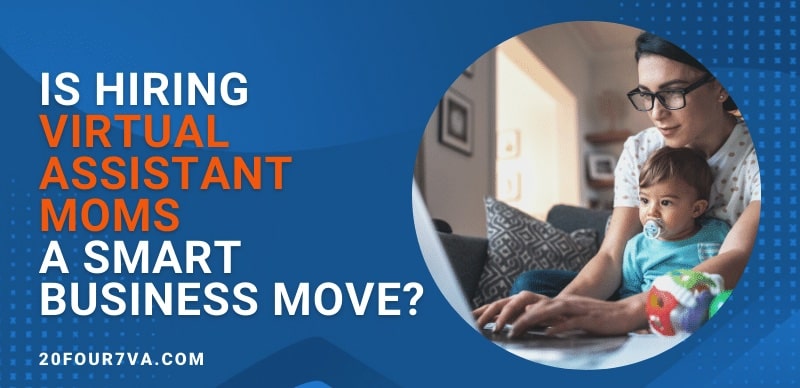 There's no denying that the remote work industry is growing at a staggering rate. This is good news not just for those who've chosen to work from home permanently but for businesses that are becoming more open to alternative staffing solutions. Businesses now have a growing pool of virtual assistants (VAs) to choose from. If you're looking for VAs with the right mix of skills and experience, you can't go wrong with hiring virtual assistant moms.
WHAT IS A VIRTUAL ASSISTANT?
A virtual assistant or VA is a remote worker who accomplishes administrative, creative, or technical tasks for clients. Hiring VAs is a great staffing option for small businesses, entrepreneurs, and busy professionals. They get the work done (and done well!) without requiring too much of your overhead budget.
Want to learn more about the different types of VAs? Whether you need a personal assistant or a telehealth VA, 20four7VA has you covered.
WHY DO MOMS VENTURE INTO THE VIRTUAL ASSISTANT WORLD?
Thanks to their transferable skills and work experience, moms can be super at any task or job they choose. But why are moms choosing to become virtual assistants? Here are the top reasons:
THEY'VE EXPERIENCED REMOTE WORK… AND PREFER IT
Saying that a lot has happened over the past couple of years is a big understatement. People were forced out of what they thought were their comfort zones in terms of work and daily routine. Most of the working population experienced what it's like to work remotely, and now, many of them prefer it over going back to a desk at an office.
The same may be the case for a lot of virtual assistant mothers (and fathers!). They've realized that they can be just as (or even more) productive at home. Plus, they can use the time they would've spent to commute to and from work to relax or spend time with their family.
FLEXIBILITY: STAY-AT-HOME MOM SLASH REMOTE PROFESSIONAL
There's no question about it. Being a mother is already a full-time job. So why do moms still choose to become virtual assistants? The most common answer is that compared with a traditional office-based job, a VA career is fulfilling yet flexible. Aside from being able to choose the payment arrangement (for example, hourly rate or daily pay) that works for them, virtual assistant moms can also choose projects that fit their already busy schedule.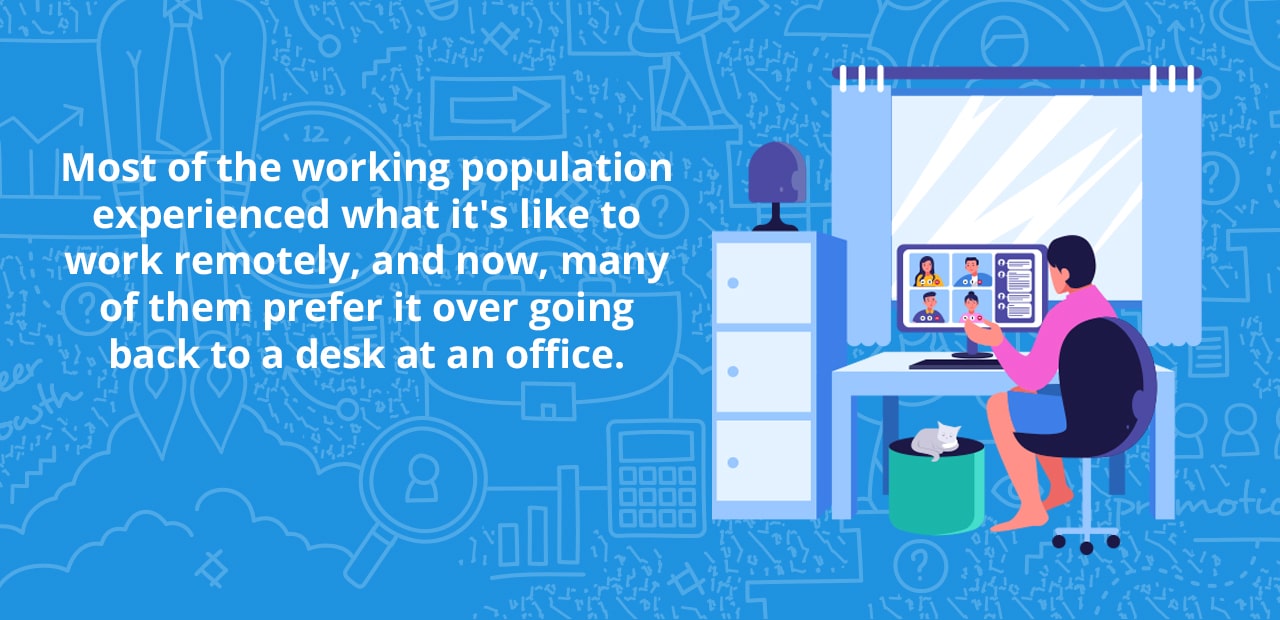 A WELCOME SOURCE OF EXTRA INCOME
For a lot of families, having one parent stay at home to take care of the children is impossible. For many, surviving on one income simply isn't feasible, and outsourcing childcare to nannies, babysitters, or daycare is the only logical solution. This is where being a VA comes in handy. A VA career can help alleviate some of the financial stress that families may be feeling while allowing one or both of the parents to stay at home with the children.
Virtual assistant moms can take on as many or as few clients as they want. They can also work on a per-project basis or an hourly rate, whichever is more convenient for them and allows them to still have time for child-rearing. Many virtual assistant moms are single parents and breadwinners. But even if they only work a few hours a week, virtual assistant moms can add to their family's rainy day fund or save up for expenses and investments.
TAKING ADVANTAGE OF OPPORTUNITIES
Becoming a stay-at-home mom slash VA is a personal choice that may not always come easily. But those who do take advantage, or create such opportunities for themselves, will surely benefit from making that move. Not only do they get paid top dollar by the hour, but they also have the opportunity to learn more and sharpen their skills while on the job.
Looking to hire a VA for your growing business? Book a FREE consultation with us!
WHY HIRE VIRTUAL ASSISTANT MOMS?: WHAT VA MOMS BRING TO THE TABLE
THE RIGHT MIX OF SOFT SKILLS AND WORK EXPERIENCE
You'd be hard-pressed to find someone that can match what a virtual assistant mom can offer. A VA mom is a highly qualified worker with the soft skills needed to excel in the virtual assistant field. Moms are of a different class in the virtual assistant pool, perhaps because they have learned the intangible things you can only pick up through real-life experiences.
EXCELLENT SOFT SKILLS
Attitude and soft skills are difficult to teach and even harder to unlearn. Their soft skills set VA moms apart from other virtual assistants as they have acquired a deep well of life experience from managing the highs and lows of parenthood.
COMMUNICATION SKILLS
Parents know how to communicate with a variety of personalities. They are adept at reading verbal and non-verbal cues. This means they're skilled at reading other people's digital body language, which makes them particularly suited to remote work.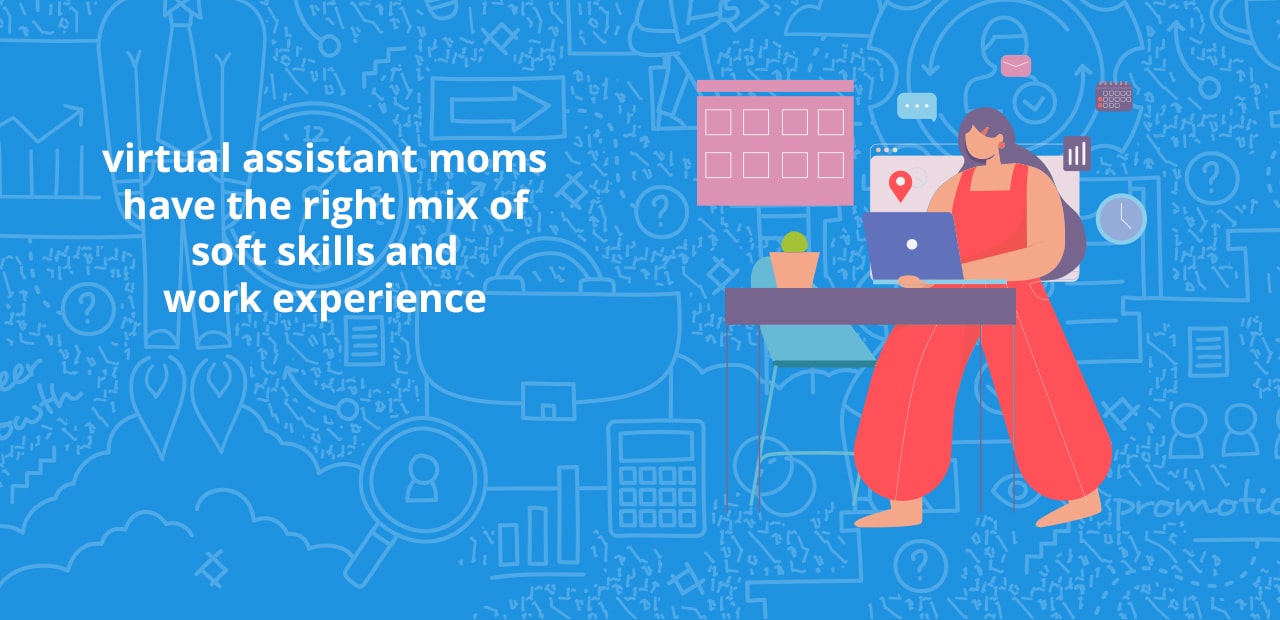 NEGOTIATION SKILLS
Have you ever tried to talk a toddler into taking their mid-day nap? How about convincing the whole family to wear matching sweaters for the annual family holiday photo? This may seem like an easy job but negotiating with toddlers who are serious about their playtime is not something just anyone can do. VA moms can take this valuable skill from their personal experiences to their job as virtual assistants.
TIME MANAGEMENT
Balancing the complex tasks of child-rearing, planning birthday parties, managing household chores, supervising schoolwork, and driving children to and from school (the list goes on…) is no easy feat. But somehow, moms still get it all done. If you're having trouble scheduling your own appointments, a calendar management VA mom can help you stay on track.
FLEXIBILITY
Mom and dads who've dealt with kids of different ages know the importance of flexibility. The parenting approach to older kids may not apply to younger children. Thus, parents need to adapt to suit the present circumstance. This ability to be flexible when needed, either when dealing with a difficult person or task, can prove helpful for any VA.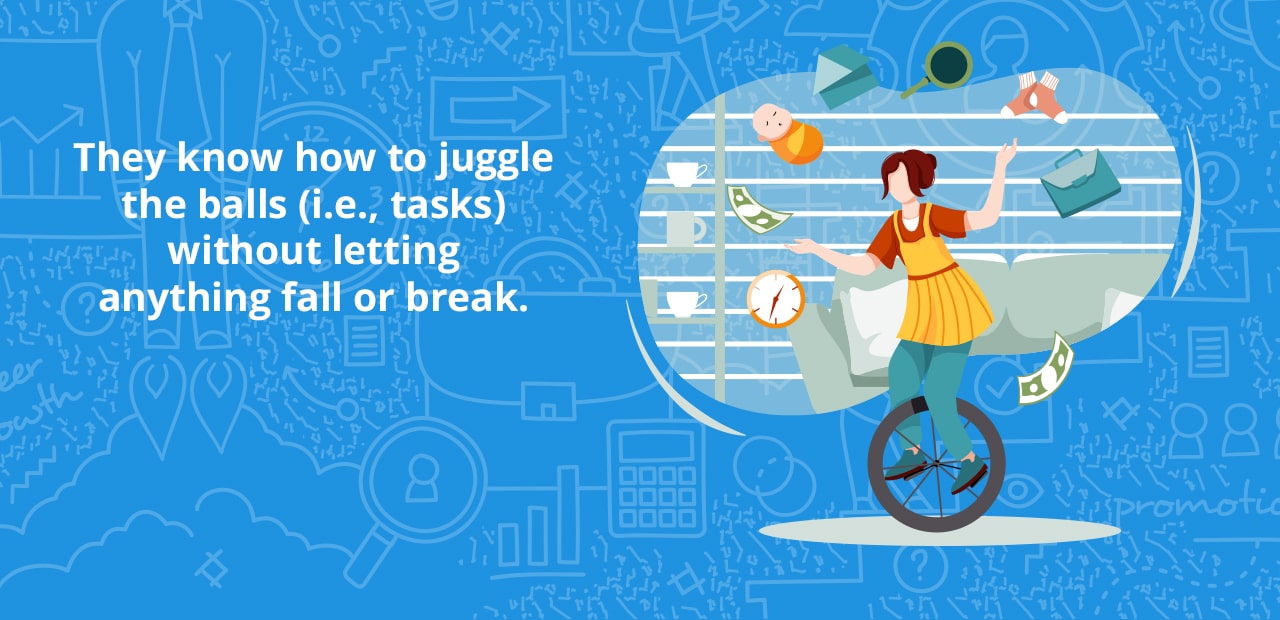 ABILITY TO MULTI-TASK
Moms are known for being multi-tasking queens of the household. They're known for their ability to put a baby to sleep while supervising bathtime for the older kids or do two loads of laundry while prepping dinner. How they do this may be a puzzle to some, especially those of us who put off our own laundry until the very last minute. But to moms, it's just part of their list of daily tasks. This ability to handle numerous tasks at once is one of the reasons moms make great virtual assistants. They know how to juggle the balls (i.e., tasks) without letting anything fall or break.
ACCOUNTABILITY AND RESPONSIBILITY
You can count on both wife and husband to be dedicated workers for both their clients and their children. Of course, other VAs are accountable and responsible in their own right, but working parents have that extra motivation to get them through a tough week or task.
Read our blog to learn more about the top skills to look for in virtual assistants.
PEOPLE MANAGEMENT SKILLS
A lot of mothers have experience dealing with different types of people, whether it's their children's friends or fellow parents at school. This makes them patient and able to defuse difficult situations.
RESOURCEFULNESS
Moms are used to finding solutions to problems quickly and efficiently. This resourcefulness can come in handy for businesses that need quick results.
RELEVANT WORK EXPERIENCE
Before venturing into remote work, most virtual assistant moms have had work experience that can help them breeze through their VA tasks. A VA mom with the right skills and invaluable work experience can become the missing piece you need to complete your team. They can even help you finally follow through on that idea that your appointments and other responsibilities have buried. Or perhaps create the right social media strategy for your business.
VAs can handle anything from the most complex tasks to the routine but time-consuming ones that can hinder you from doing more value-adding functions for your business. If you want to learn more about how VAs can help your business grow without bloating costs, schedule a free consultation today!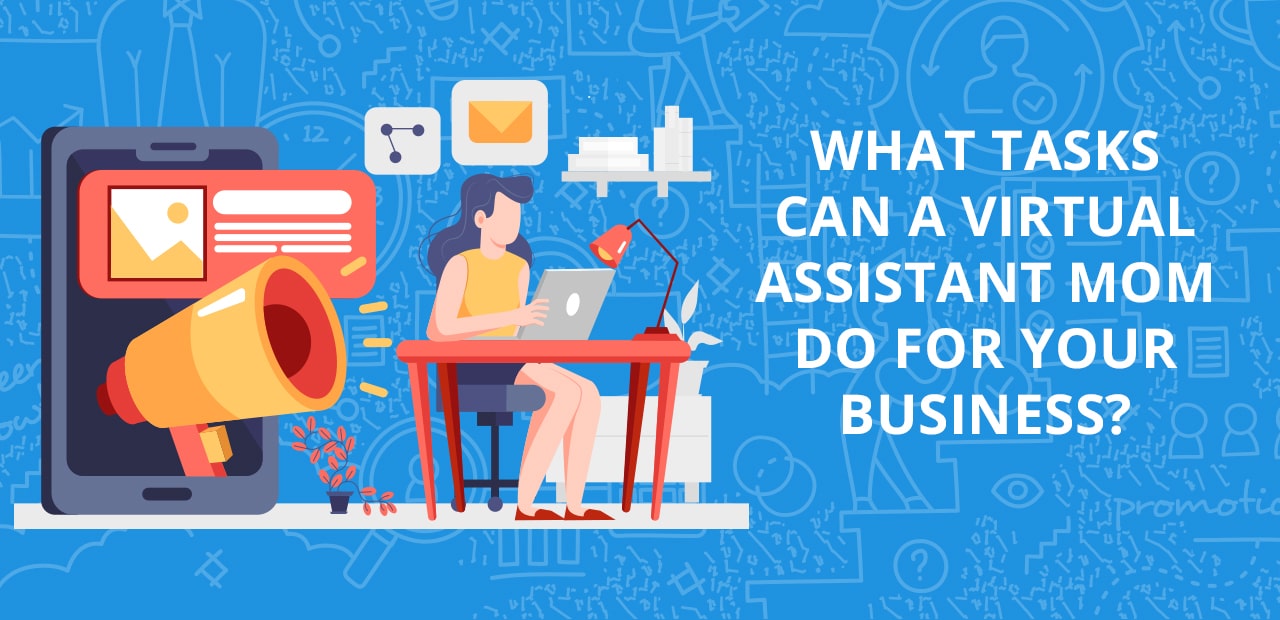 WHAT TASKS CAN A VIRTUAL ASSISTANT MOM DO FOR YOUR BUSINESS?
There's really no end to what a super mom can do for your business. No matter which type of VA service you choose, virtual assistant moms can make your work life easier.
ADMINISTRATIVE WORK
Routine tasks may seem easy but can quickly actually take up hours of your work day. An administrative VA can help you take time-consuming tasks off your plate, such as:
Scheduling meetings
File management
Fielding phone calls
Composing and writing emails
Bookkeeping
And more
CUSTOMER SERVICE SUPPORT
Keeping customers satisfied with your product and after-sales handling is crucial for any business. Good reviews can help bring in more sales, while bad or even mediocre ones can be difficult to bounce back from. If you want to provide your customers with the best client experience for them to stay loyal and even give glowing reviews, then you need the help of a customer service VA.
CONTENT AND SOCIAL MEDIA MANAGEMENT
Content marketing is one of the most effective tools you can utilize to highlight your products and services and connect to your target audience. High quality content can improve your search engine ranking, drive your site traffic, and generate leads. If you don't have the time to produce content or effectively promote it on social media, consider working with a VA specializing in these areas.
Social media is an accessible and cost-efficient marketing platform. With the various social media apps available today, you can expand your brand's reach with every post. You can also be more specific in your approach by geotargeting users in your country or even a specific city or town. It all depends on the strategy that you cook up with your social media virtual assistant.
PROJECT MANAGEMENT
From planning birthday parties to spearheading the school bake sale, moms can plan just about anything from start to finish. They're used to dealing with different types of personalities that your business can cross paths with. Do yourself a favor and find a project management VA to help you oversee projects efficiently and effectively.
AND MUCH MORE!
VA moms have had formal education and work experience in a wide variety of fields, from accounting to digital marketing, information technology to legal services, and more. The type of remote talent you choose to work with will depend on the tasks you'll be delegating. Here are just some of the more specialized skills that experienced virtual assistant moms can help you with:
Telehealth assistance
IT functions such as website development, mobile app design, API integrations, and more
Need help in figuring out the type of virtual assistant you need? Claim your FREE Consultation Call with our Growth Experts so that we can discuss your business needs.
HIRING A VIRTUAL ASSISTANT MOM
Hiring a mother as a virtual assistant truly has a lot of benefits to help your business. Who knows? Hiring one can even help you attain that ever-elusive work-life balance. You'll probably want to start looking for one right now. But how exactly do you go about it? Here are the basic steps in finding the right remote talent:
It will help to write down the tasks you plan to delegate. Because it's your business, you're most likely the best person to know which tasks you need help with.
Draft a comprehensive job ad that includes important information such as type of work, required skills, hourly rates, work schedule, etc.
Post your ad on remote work platforms or send it to your network (i.e., friends and family) to see if they have any referrals.
Screen the applications you receive. Your criteria should be clear to help you effectively shortlist the right applicants.
Interview the shortlisted candidates. This is a good avenue to get to know their skills, work experience, attitude, and priorities. Interviews can help you check if a candidate is a good match for you and your company.
Do a quick background check on your final candidates through an online search and by reaching out to their character references.
Once you've selected a candidate, you can send them your offer. If they accept the rates and terms, they can sign the contract and move on to the next step.
Your virtual assistant is now ready to be onboarded and start working!
Read our article to know how you can effectively manage your virtual assistants and set them up for success.
WHY WORK WITH A VIRTUAL ASSISTANT SERVICES COMPANY?
Make your life even easier by working with a virtual assistant staffing company like 20four7VA. You should work with us if you want to reserve your time and effort for other core functions.
20four7VA has over a decade of experience matching clients with the right remote talent you need. Working with 20four7VA means you have access to:
COST-EFFECTIVE STAFFING SOLUTIONS
We have a highly dedicated team that can help your address your staffing needs while saving up to 80% on labor costs. We'll help you assess your staffing needs and provide the best solutions that can help you address any gaps in your current operations. 20four7VA offers competitive rates without sacrificing the quality of service.
VAST VIRTUAL ASSISTANT TALENT POOL
Our vast virtual assistant talent pool allows us to promise both speedy response and quality remote talent. Depending on your own business needs, we can find you the right remote talent within 72 hours upon approval of the scope of work. We can promise you both a fast turnaround time and thoroughly-screened remote assistants.
A COMPLETE SUITE OF HR FUNCTIONS
Our service does not stop once we've helped you find the remote assistant moms you need. We offer end-to-end services that include the following:
Onboarding
Training or Upskilling
Virtual Assistant Management
Timekeeping
Payroll processing
Performance Review
Processing of incentives
These HR functions come with your selected remote staffing package from 20four7VA at no extra charge!
DEDICATED CLIENT SERVICES (CS) EXPERT
Each 20four7VA will be assigned a CS expert to ensure that all concerns are properly addressed. We are committed to providing the best working experience for both clients and VAs.
A STAFFING COMPANY WITH VALUES
We at 20four7VA try our best to push for inclusivity and equal opportunity in the virtual workplace. Part of this push includes sourcing and screening VAs regardless of their gender, age, marital status, race, etc. We are also proud to share that we have been certified by the Women's Business Enterprise National Council (WBENC), a non-profit organization that supports women-owned businesses.
We stay true to our values and give opportunities to highly skilled mothers who want to start a career in remote work. So, if you're ready to find a virtual assistant mom for your business, contact us or book your no-obligation consultation with our Growth Experts today!