7 Free Google Tools for Small Business Owners
Google has been part of our daily lives, whether personal or work. We use a variety of Google products to accomplish certain tasks, and the convenience they provide is undeniable.
Google's products make our lives easier and processes more efficient, but just when you thought that you have utilized all the tools from Google to your advantage, here are seven more that you probably haven't tried for your own small business.
Google Analytics
Google Analytics lets you know everything about your website's visitors. It's a free tool that churns out various types of data, giving you a lot of useful insights to help you reach your goal. You could also use this information to recalibrate your online business marketing strategies and ensure that you're getting a sufficient number of leads and conversions. The interface of Google Analytics may seem complicated and technical, but give it time and you'll get to used to navigating the tool and finally mastering it.
Google Alerts
Stay up-to-date with the latest developments in your industry through this free service by Google. Simply create an alert to get notified through email about topics that you have marked as your interest. This is a great way to keep track of any mentions about your own brand, industry news, and even your competitors.
Google Forms
Google Forms enables you to collect data through online forms. You can use this free tool to create surveys, get feedback from customers, etc. Making a form is very easy since there are different templates that you could use.
Keyword Planner
Keyword Planner gives you a list of keywords that people are using to search on Google. You can get results based on location, interest, gender, browser, etc. This tool is especially helpful if you're looking to advertise on Google as it shows you an estimate of search traffic and budget for each specific keyword.
Google Inbox
Google Inbox is a great alternative to Gmail as it lets you organize your email inbox according to priority. It functions like a checklist, so when you're done dealing with a certain email, you can simply click on the check icon and it will be moved to your "Done" list. It also allows you to snooze emails and reminders so that you could get back to them when you're ready to.
Google Keep
There are already lots of existing apps similar to Google Keep, but its advantage over Evernote and OneNote, for instance, is its native integration with other Google products. If you're using other Google products, it would make so much sense to use Google Keep for managing your notes. The app basically reminds you at your chosen date and time or even location by sending a notification on your phone and in your Inbox.
Google Calendar
You can use Google Calendar to keep track of your meetings and to set up appointments with your virtual assistant, business partners and customers. You can also add Google Hangout when you create an event and schedule meetings with groups by using the "Find a Time" or "Suggested Times" functionality.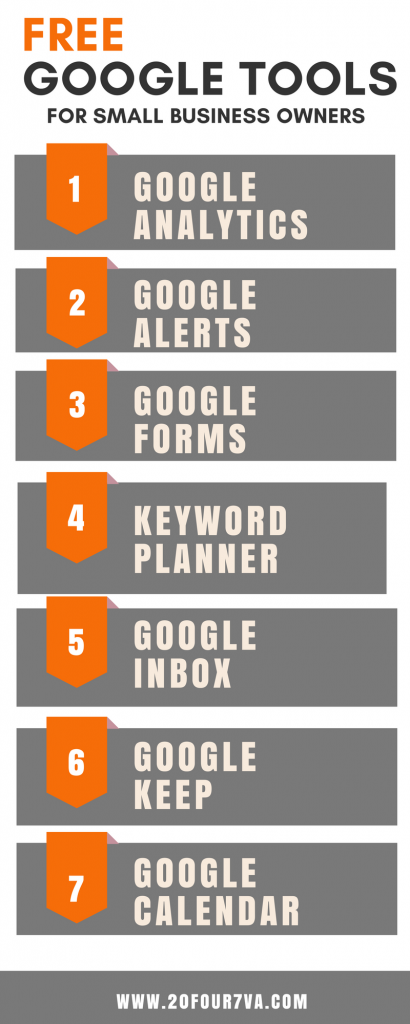 Share with us the Google products that you love using! We'd also like to know other Google tools that helped you manage your small business.
Next: 20 Business Ideas You Can Launch For Free
20Four7VA recognizes the challenge of effectively managing an online business – and we are very eager to help. Our company specializes in eCommerce VIRTUAL STAFFING SOLUTIONS, providing customizable and scalable solutions to small, medium, and large enterprise business owners so they can focus on growing their business.
Ready to have access to incredible people with incredible skills in the most cost-effective way? Give us a call at our toll free number 1 (443) 856-4882 today!