10 Foolproof Ways to Boost Your eCommerce Business in 2019

More and more people have become appreciative of the convenience that comes with online shopping. From fashion and apparel to grocery purchases, eCommerce has played and continues to play a huge role in bringing convenience to the hectic lifestyles of busy professionals. But with the massive increase in competition, among other factors, how can eCommerce companies thrive in their respective industries?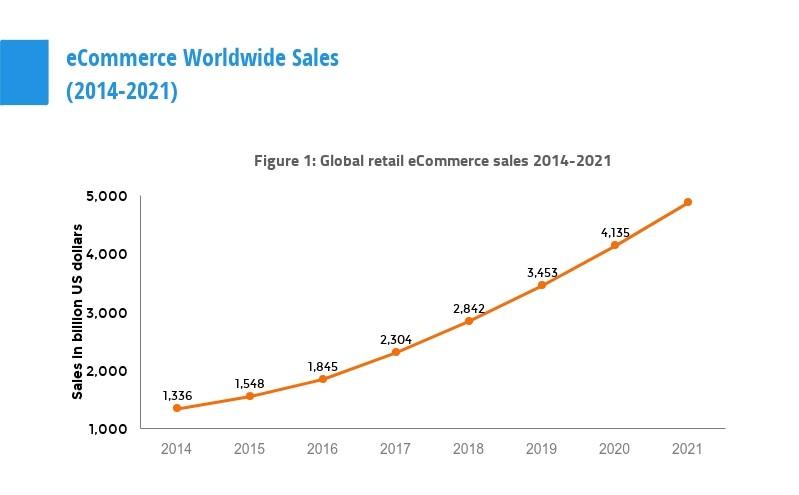 Based on Statista's recent figures, worldwide retail eCommerce  sales are projected to increase from 2.84 trillion to 3.45 trillion dollars in 2019 (see Figure 1). However, this increase in sales only reflects the forecasted amount to be spent by consumers on online purchases. With the law of supply and demand at play, these data hardly mean anything to many eCommerce  businesses.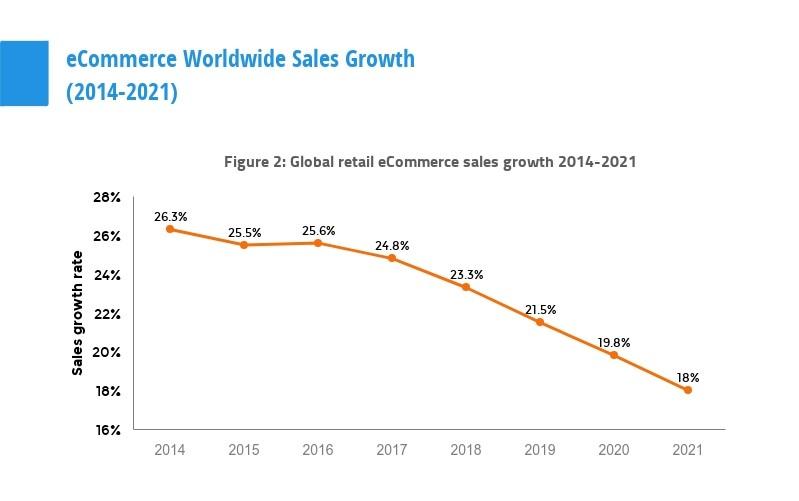 Looking at Figure 2, we can observe a gradual decline in terms of global eCommerce sales growth rate year by year. This year, the eCommerce industry can expect a decrease by 1.8%.
Contrary to popular belief, eCommerce  spread has become stagnant while physical retail businesses are still dominating by over 20 trillion dollars. The Pew Research Center found that only 15% of adults in the US make online purchases on a weekly basis. It is somewhat surprising that despite the latest innovations in eCommerce, the industry is at a decline.
In order to understand the major driving forces that contributed to this downturn, Forbes conducted a research and found two macroeconomic factors affecting consumer decisions: purchasing power by income bracket and structural shift in consumer preference.
Purchasing power by income bracket
The research suggests that only the top 20% of earners have observed an increase in their income. High income earners don't spend as much on consumer packaged goods (CPG) as those in the lower income bracket, affecting both eCommerce and brick-and-mortar industries.
Structural shift in consumer preference
Aside from income differences, the sales for CPG in general are dwindling due to the increased demand in electronics and vehicles. While these products are also available on different online platforms, most people are still drawn by the consumer guarantee offered by physical stores.
10 ways to boost your eCommerce sales
Considering the above factors, eCommerce companies need to step up in their game in order to stand out. As purchasing becomes more digital and easier for consumers, it also poses a greater challenge to merchants. How do successful eCommerce companies prosper in this venture?
Here are surefire ways to significantly increase eCommerce  sales:
Know and understand your target market
Skipping market research is quite common among emerging business owners. After all, the process takes a considerable amount of time and money. In addition, market research brings no immediate results, making it more difficult for people to appreciate. But what most business owners fail to grasp is that consumer data is the framework that guides business decision-making.
"Marketing without data is like driving with your eyes closed." – Dan Zarrella, Author & HubSpot Social Media Scientist
Market research is critical, whether you are in the physical retail or eCommerce industry. It provides you with demographics, preferences, buying patterns and other necessary information to help you understand your target market. It also gives you insight into your competitors and their business approach. Never underestimate the power of good market research.
What do you normally do when you're browsing your social media feed and you find an article that piques your interest? You click it. This is what content marketing is all about: getting more people to visit your website through high quality, relevant content. An effective content strategy can establish your brand and noticeably increase your conversion rate. Content can be in the form of blogs, social media posts, infographics, and videos.
Skilled put together 12 case studies from different companies and discovered that 79% of customers who didn't have a good buying experience with a website are less likely to buy from that site again. Imagine how much sales you're going to lose just because your website takes too long to load. People nowadays have a shorter attention span and with the tough competition out there, several alternatives are readily available. A single second can mean a lot to your eCommerce business.
Website speed goes hand in hand with search engine optimization (SEO). For newer eCommerce brands, SEO is what leads customers to your site and ultimately to your product. There are various ways to improve your ranking in search engines, and a great SEO manager can help you with that. The higher you rank, the more visible you are.
When your favorite influencers promote certain products on social media, you can't help but pay attention. Sometimes, you might even find yourself instantly hitting the "add to cart" button because you trust the people who promote them. Credibility sells, which is why building partnerships with established people and brands is one of the fastest, most effective ways to promote your eCommerce business. PR campaigns, shoutouts, link exchanges, affiliate marketing, and email promotions, among others, can greatly increase your traffic and boost your conversion rate. See how your business can fit into their content. Send personalized proposals explaining in detail how both of you can benefit through the partnership.
This RevLocal article tells us that only about 2% of consumers who visit your website actually convert. The remaining 98% probably shifted their attention elsewhere, but don't let this missed opportunity dampen your spirit. Instead, rechannel your focus. Be everywhere. Post your products on as many relevant websites and platforms as you can. Consumers tend to check out multiple sites before finalizing the purchase, and sometimes they just need a little push in the form of multiple product listings, paid ads or even SMS reminders.
Regardless of the easy access provided by social media and instant messaging, people are still checking their emails on a regular basis. Email marketing still works. A good email marketing strategy catches a potential client's interest then converts it into a sale. There are several tools to help you achieve this goal, starting with sales funnel programs. These programs utilize effective marketing tactics to gather leads, nurture them and convince them to buy your product. You also have the option to make use of email marketing platforms to save you the hassle of sending all your email campaigns manually.
No matter how good your products are, if you don't respond to customer inquiries in a timely manner, or if you are not accommodating their concerns, there's a high probability that they won't buy your product. Customer service plays a crucial role in the success of every eCommerce business.
Take a look at the figures below from Zendesk: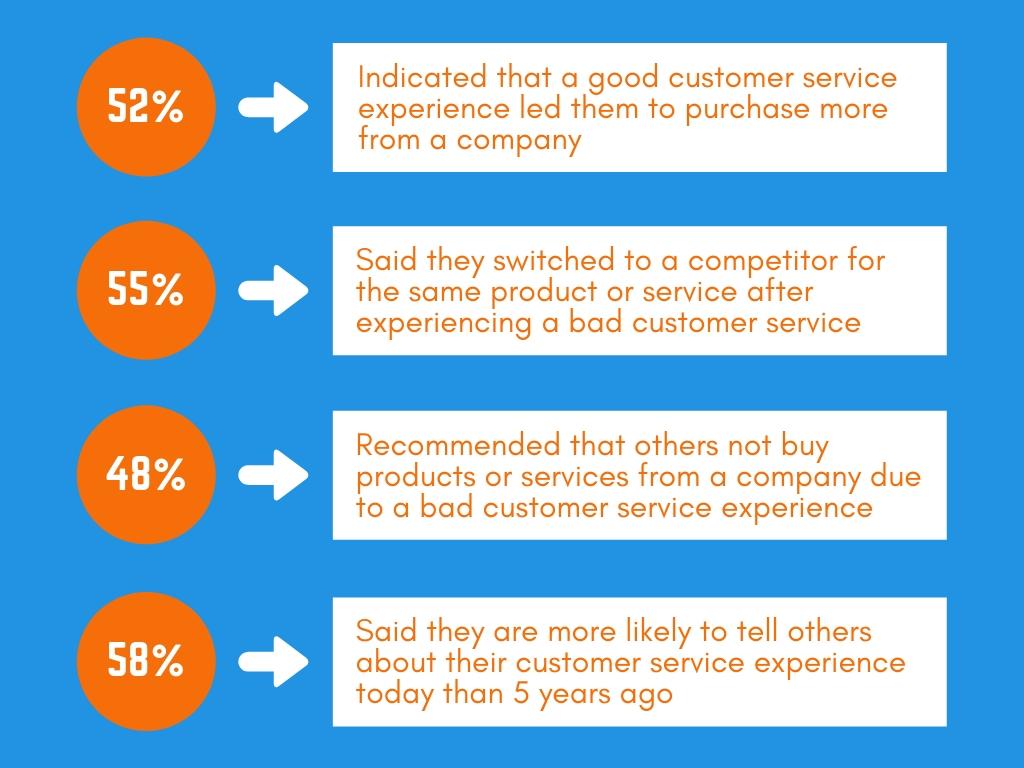 This is to conclude that half of the population value customer service to a great extent. eCommerce, in particular, relies heavily on virtual communication, which requires a great deal of patience and dedication. High-quality products attract more sales but customer service sustains them. It builds your reputation and improves consumer trust. If you want to take customer service to the next level, invest in the latest software and technology to make your work easier.
Credibility is something you cannot buy in the eCommerce industry. Establishing an excellent reputation is one thing; making your reputation known to your potential customers is yet another roadblock to face. You can promote your business as much as you want, but converting it into sales is difficult without opinions from others to back your products or services up. Ask for feedback and reviews from certified buyers in a personal and meaningful manner without pushing it too far. Display trust seals on your website if you have them. Treat negative feedback as an opportunity to further improve your products and services.
With the increased instances of hacking and information theft through phishing and spyware, security remains to be one of the major obstacles in online retailing. As an eCommerce company, it is your responsibility to make sure that security is given the utmost importance. Business 2 Community cites the following security measures:
Switching from HTTP to HTTPS

Choosing the right eCommerce platform

Arming yourself with up-to-date security plugins

Keeping your admin panel air-tight

Enforcing strong password requirements and two-factor authentication to consumers

Backing up data

Never storing credit card numbers and using secure online payment platforms

Monitoring your site regularly

Utilizing multi-layered security

Looking after your personal security
You are most likely overwhelmed at this point. All these tasks can be daunting, and require technical expertise and experience. On top of that, there are administrative work to be done and duties to fulfill as an eCommerce business owner. For your professional staffing needs, hire a virtual assistant (VA). A VA can offer you the same quality of service at a much lower cost. Plus, they won't need extra workspace and computers, since they work remotely.
Outsourcing companies like 20Four7VA can provide you with a VA depending on your needs — Amazon seller VA, eBay seller VA, content writer VA, website developer VA, SEO specialist VA, social media VA, administrative VA — you name it. While there are self-employed VAs, outsourced VAs generally undergo a meticulous selection process, trainings and regular monitoring to ensure that you are provided the best services possible. Make sure to pick the right outsourcing company to work with.
Growing your eCommerce business is a demanding process. It does not happen overnight, but with the right tools and support, success is just around the corner.
Still not sure about hiring a VA? Schedule a FREE consultation with us here.