Virtual Assistant for Therapists
Grow and improve your practice by hiring a Virtual Assistant for Therapists!
Maintaining one's overall well-being is key to thriving in an ever-changing world. Taking care of the mind and body is essential, and many individuals need support from therapists to help them with their specific needs. And to ensure that they can provide the best care to their patients, therapists will need support from virtual assistants.
What Do Therapists Do?
Mental health professionals and physical therapists do important work to take care of the well-being of their patients. A mental health professional or therapist provides psychotherapy and counseling to patients experiencing various mental health disorders, such as anxiety, depression, bipolar disorder, etc. They work with patients to improve their overall mental state. On the other hand, physical therapists support their clients by helping restore their mobility and function after an injury or surgery. They work with patients to improve or regain their strength, flexibility, and range of motion.
What is a Virtual Assistant for Physical or Mental Therapists?
A virtual assistant works remotely to provide various services, including administrative support, managing your online presence, and administering customer service for your therapy practice. You'll find that virtual assistants can work on just about anything your private practice requires as long as they can accomplish the task remotely.
Benefits of Hiring Virtual Assistants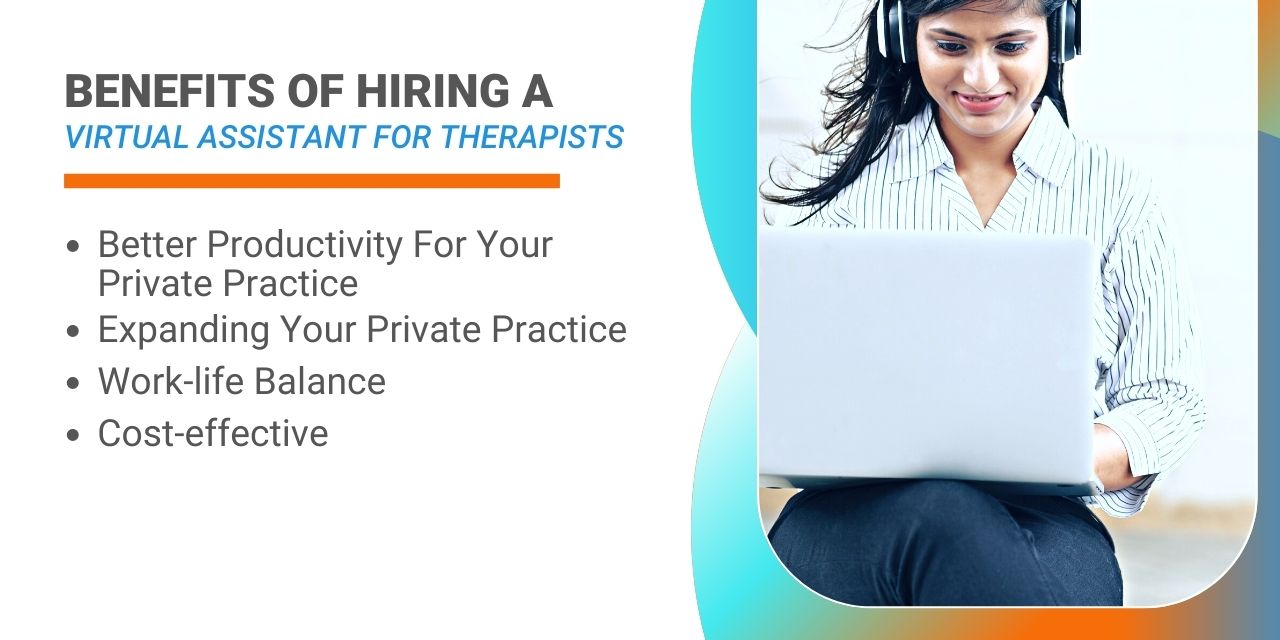 Whether you have a mental health practice or a physical therapy (PT) center, you will benefit from hiring a virtual assistant.
BETTER PRODUCTIVITY FOR YOUR PRIVATE PRACTICE
A virtual assistant can help you take your private practice to the next level. Their assistance, whether for administrative tasks or social media management, will help you clear your to-do list. This can help you have more time to focus on the things that only you, licensed mental health or physical therapist, can do. A VA can help you move your business forward and serve more patients.
EXPANDING YOUR PRIVATE PRACTICE
Mental health professionals or physical therapists will benefit greatly by hiring virtual assistants. A VA can support your business with administrative services, but they can also help improve your practice's visibility and reach by helping you with your digital marketing strategy. If you want to expand your simple practice to reach more clients, then it's time to hire a VA.
WORK-LIFE BALANCE
Managing a private practice can take up so much time. Imagine consulting with clients the whole work day and staying at the office to do admin work or other routine activities. Yes, you're getting the job done but sacrificing too many hours out of your week to do so. When you hire a good virtual assistant, you'll be able to get free time for both your professional and personal responsibilities. A virtual assistant might be what you need to achieve the ever-evasive work-life balance.
COST-EFFECTIVE
There may be a time when you've sat in your office crunching numbers to see how you can afford to hire an organic employee. But unfortunately, hiring and training an in-office worker means paying for other expenses like new tools, equipment, local taxes, health benefits, and many more.
But by exploring other staffing alternatives like hiring a virtual assistant, you'll be able to find the right person for the job while saving money. You can get virtual assistance from remote talents worldwide without paying for high labor costs.
What Tasks Can a Virtual Assistant for Therapists Do?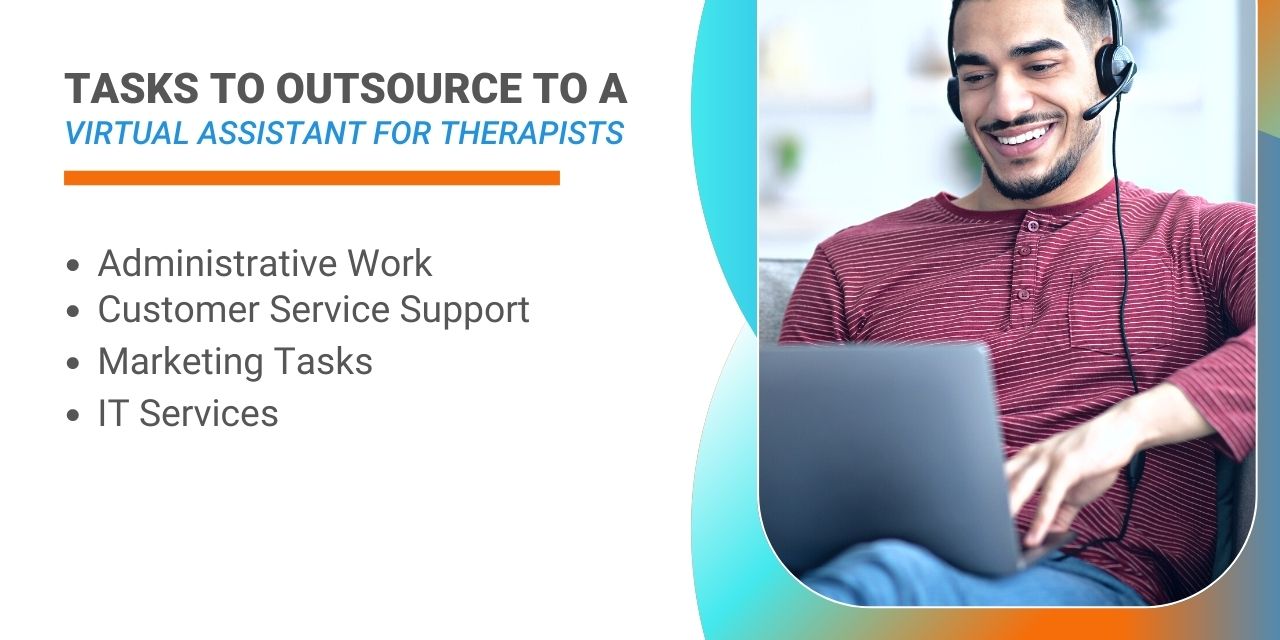 Here are some things that a virtual assistant for physical therapists or mental health professionals can do:
ADMINISTRATIVE WORK
File management
Inventory procurement and management
Collecting details from new clients
Calendar management
CUSTOMER SERVICE SUPPORT
Answer phone calls from clients
Verifying insurance claims
Reaching out to new patients or referrals
MARKETING TASKS
Content writing (examples: guest post, newsletter, etc.)
Social media profile creation
Scheduling of latest posts
Answer social media queries or concerns
IT SERVICES
Web designer tasks
Website maintenance
API Integrations
App development for your therapy practice
Virtual assistants for therapists can wear all the hats you need them to put on. All you need to do is be clear about what you need for your private practice. To find the virtual assistant that's the perfect fit for you, schedule a free consultation with 20four7VA today.
What Skills Should a Virtual Assistant for a Mental Health or Physical Therapist Have?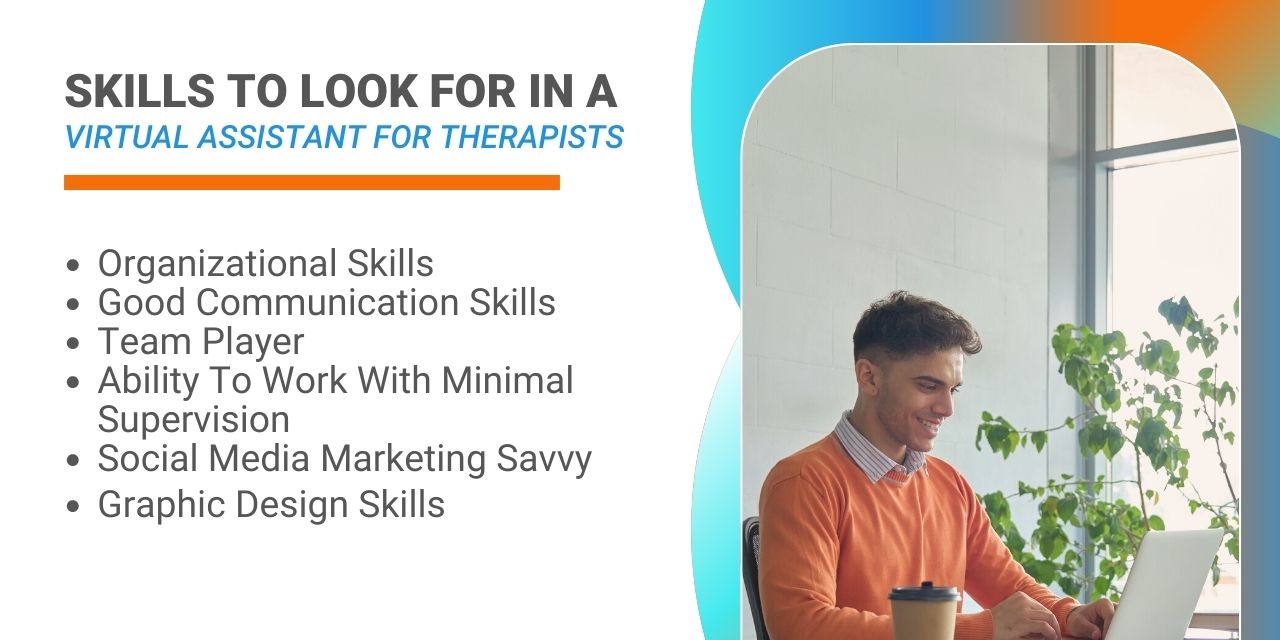 A virtual assistant for mental health therapists or physical therapists is crucial in ensuring the private practice runs smoothly, and clients are well attended to. You must know your team's specific needs as a private practice owner. But here are some crucial skills that you should look for.
TOP SKILLS THAT A VIRTUAL ASSISTANT FOR THERAPISTS SHOULD HAVE
ORGANIZATIONAL SKILLS
A virtual assistant working in the physical therapy or mental health field should have excellent organizational skills. They must be able to locate clients' case files quickly to make the therapist's life easier. A virtual assistant who knows their client's needs and where to find them is essential to building a productive business.
Additionally, virtual assistants should generally know how to organize or prioritize their tasks to provide efficient assistance to their clients.
GOOD COMMUNICATION SKILLS
Virtual assistants, especially those working in the medical field (which includes physical therapy and mental health), should be able to communicate precisely but compassionately. They will need to talk to different people, including those in pain or in the process of healing. These are the type of people who will appreciate compassionate virtual assistance.
TEAM PLAYER
Virtual assistants will most likely be working with a team. Even if that team is physically in the mental health or physical therapy facility and the VA is oceans away, they should still be able to be an engaged team player for the practice to thrive.
ABILITY TO WORK WITH MINIMAL SUPERVISION
Because a VA will work remotely, they need to be self-motivated and know how to prioritize. Whether a VA is providing administrative support or social media management, they should be able to accomplish their assignments efficiently and effectively.
If you're interested in getting a VA to help with the online presence of your private practice, then the below VA skills may come in handy as well:
SOCIAL MEDIA MARKETING
A mental health virtual assistant can provide services beyond administrative support. They can help create, manage your profiles, and market your services to potential clients online.
GRAPHIC DESIGN SKILLS
Knowing how to use editing programs like Canva is a helpful skill for physical therapy or mental health VAs. They'll help you create on-brand assets that can serve different purposes, such as increasing visibility, traffic to your site, and even referrals.
How Do I Hire Virtual Assistants?
HOW TO SOURCE VIRTUAL ASSISTANT SERVICES FOR THERAPISTS
Once you've decided that you need a new virtual assistant for your mental health or physical therapy practice, it's time to start the search. Here are the usual steps in sourcing a virtual assistant:
Create a job listing that includes the job description or services needed, pay rate, benefits, and how interested applicants can reach you.
Post the listing on various remote career websites.
Screen applications and short-list applicants.
Interview short-listed applicants.
Make a job offer to the selected PT or mental health virtual assistant.
If the virtual assistant accepts the offer, you will proceed with onboarding and training. Don't forget to extend access to relevant systems such as your practice management software and cloud storage.
Your new virtual assistant is now ready to help your business!
WORKING WITH A VA STAFFING COMPANY
Hiring and managing a VA for your private practice can take a lot of your time, effort, and focus. To save yourself from stress, you should work with a virtual assistant staffing company.
20four7VA is a virtual staffing company providing cost-efficient staffing solutions to clients for a decade. We are dedicated to finding the right virtual assistant for our clients' business needs.
Our end-to-end services do not stop once we've matched you with your new PT or mental health virtual assistant. We provide helpful services such as managing your virtual assistant, timekeeping, pay computation, training, and more!
Ready to find a virtual assistant for your therapy practice? Schedule a free consultation today!
Ready to find a Virtual Assistant for Therapists?