Telemarketing Virtual Assistant
Hire a Telemarketing Virtual Assistant and see your business grow!
Hire a Telemarketing Virtual Assistant
Lead generation is an essential step for any business. But for leads to be qualified, screened, and eventually converted, you will need effective telemarketing strategies in place.
WHAT IS TELEMARKETING?
Telemarketing is the process of marketing a product or service over the phone. Telemarketing or telesales can pertain to various strategies such as cold calling, lead generation, lead nurturing, sales conversion, account upselling, customer satisfaction surveys, marketing promotions, etc. While telesales can bring many potential benefits, it can be time-consuming for business owners and entrepreneurs to do by themselves. Hiring a telemarketing virtual assistant (VA) is an excellent addition for businesses looking to grow using tried and tested telemarketing strategies.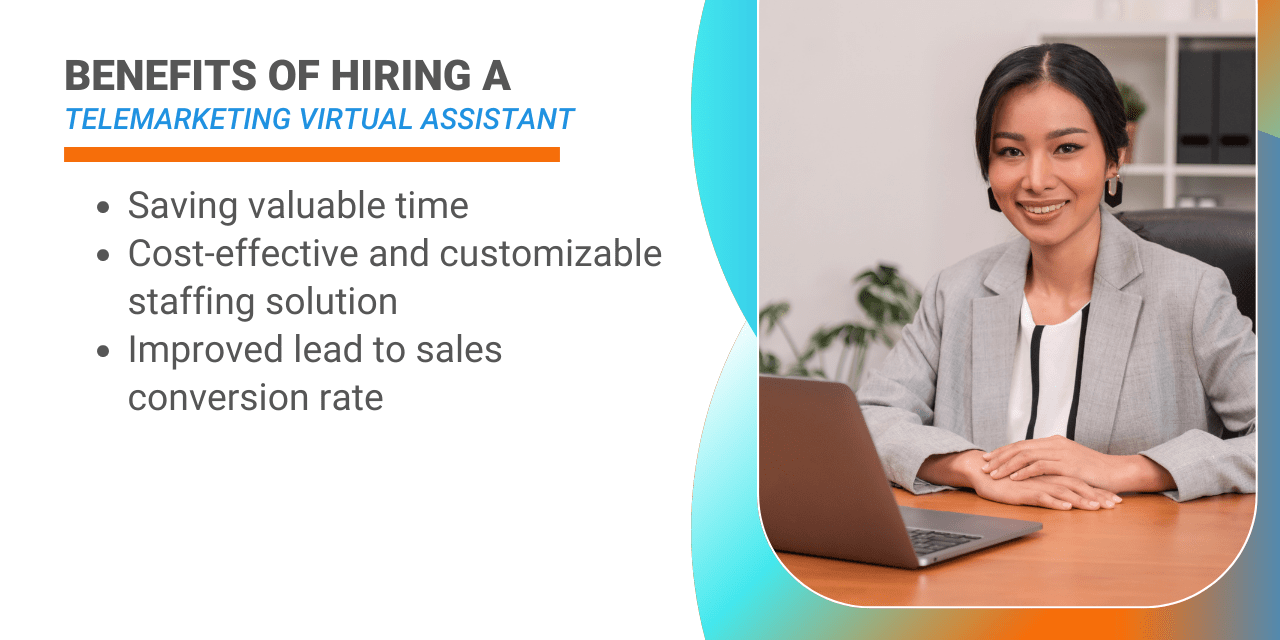 BENEFITS OF HIRING A TELEMARKETING VIRTUAL ASSISTANT
Hiring a skilled virtual assistant for telemarketing can be another thing you can check off your to-do list. You can enjoy various benefits, including:
SAVING VALUABLE TIME
Telemarketing is an excellent way for your business to reach your customers. However, telemarketing activities such as cold calling a potential customer take up time. Even when you target to limit a cold call to four minutes, you'll be reaching fifteen leads in one hour. And it's important to note that not every cold call will lead to success (i.e., conversion). One would need more than one hour of cold calls. This type of task is best delegated to a virtual telemarketer so that you can save time for more high-value tasks.
COST-EFFECTIVE AND CUSTOMIZABLE STAFFING SOLUTION
Virtual assistant services are more cost-effective than hiring a full-time, in-office telemarketer. You won't have to worry about other costs related to hiring organic agents for your sales team. These costs include medical insurance benefits, new office equipment, new hire onboarding, and more. Working with a skilled remote professional also allows you more freedom when scheduling their work hours. You can hire a part-time telemarketing VA to support your current business needs. And as your company grows, you can work with them full-time or expand your team to add more telemarketing virtual assistants.
IMPROVED LEAD TO SALES CONVERSION RATE
A telemarketing virtual assistant can be just what your team needs to improve your sales conversion rates and reach your revenue target. You'll have someone on your team dedicated to the telemarketing aspect of your sales team. They can support your sales department by generating quality leads and handling more low-level, time-consuming tasks such as making outbound cold calls. Telemarketing virtual assistants can also help keep your connection with potential clients through follow-up calls. Doing so can help your relationship with a potential customer "warm" until they're ready to avail of your products or services. A virtual telemarketer can complement your business effectively. They can handle various tasks, from generating quality leads to moving a potential customer further along the sales funnel. That's when your sales experts can complete the sales process and turn a lead into sales or revenue.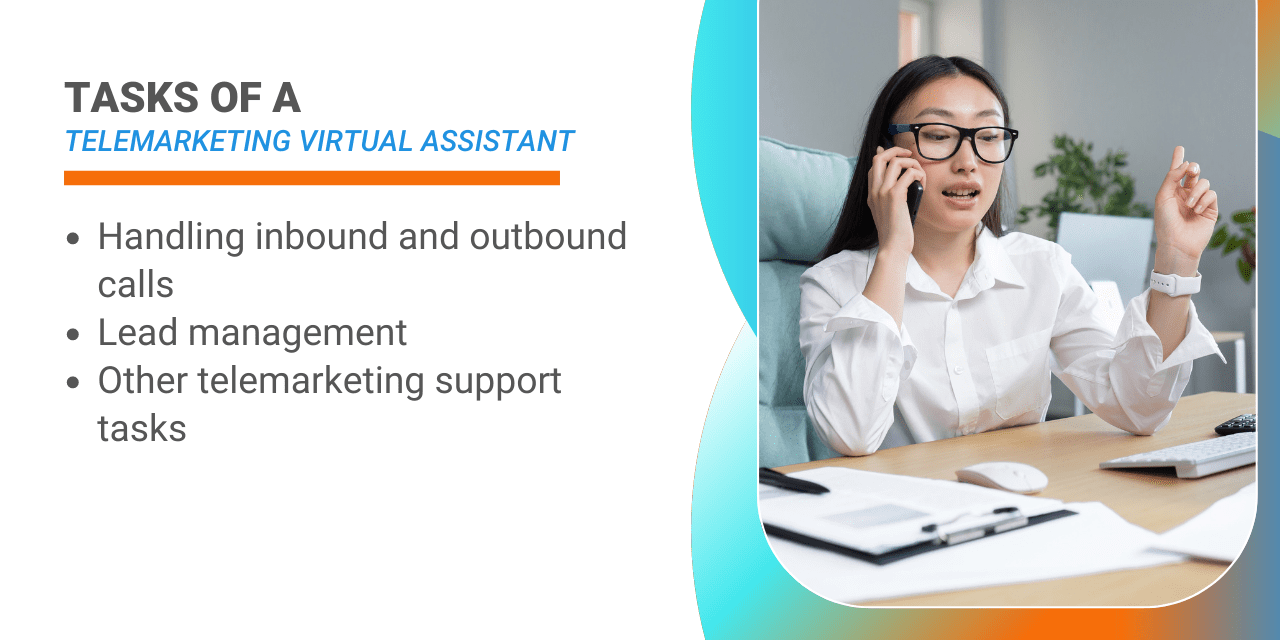 WHAT CAN A VIRTUAL TELEMARKETING ASSISTANT DO FOR YOUR BUSINESS?
Virtual assistant telemarketing services are an excellent option for businesses that want to grow their customer base and sales. Important but time-consuming tasks such as appointment setting, lead generation, data entry, and more can be checked off your to-do list. Here are some of the telemarketing tasks virtual assistants can support you on:
HANDLING INBOUND AND OUTBOUND CALLS
B2B cold calls to potential clients

B2C cold calls

Warm calls to customers your company has had prior contact with

Customer satisfaction surveys

Handling inquiries from customers

Upselling or promoting marketing offers
LEAD MANAGEMENT
Quality lead generation

Lead screening using company qualification criteria

Lead nurturing

Lead database management

Updating of call reports

Updating of CRM software
OTHER TELEMARKETING SUPPORT TASKS
Data entry

Appointment setting

Calendar management

Customer support tasks

Administrative support

Status reports

And more
Virtual telemarketing assistants can support businesses in various industries, from real estate to construction. To learn more about how virtual assistant services can add to your business' success, visit the 20four7VA website.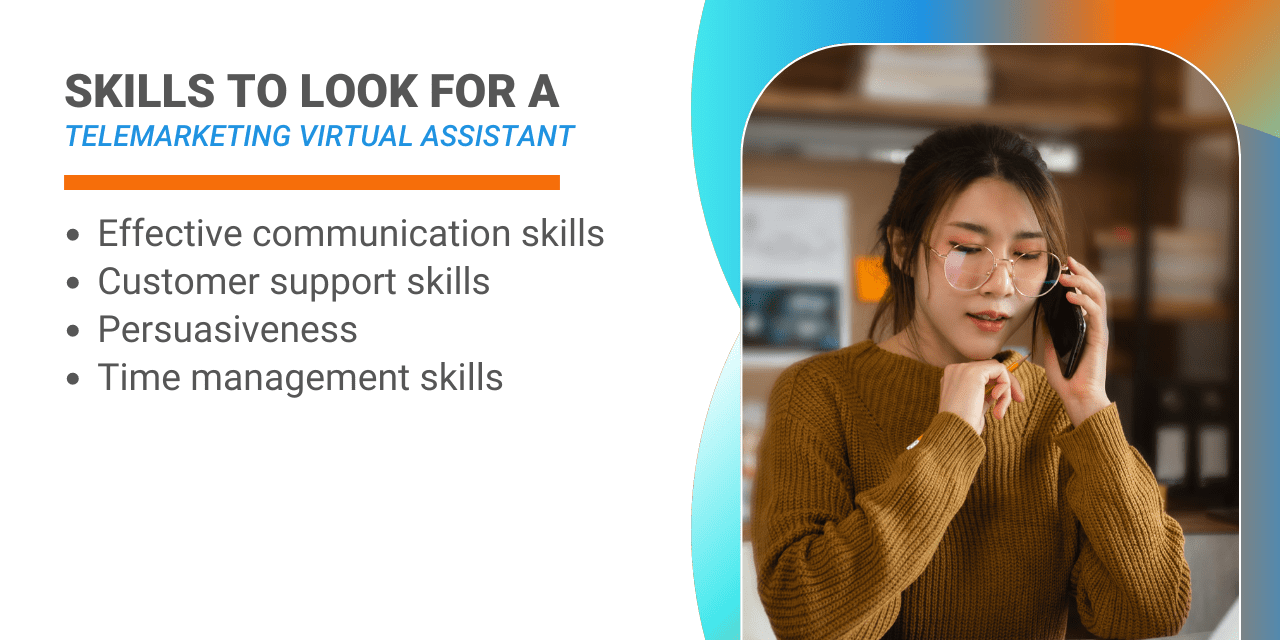 TOP SKILLS AND QUALITIES TO LOOK FOR IN A TELEMARKETING VIRTUAL ASSISTANT
Finding the right telemarketing virtual assistants will require you to be thorough in your screening and recruitment process. You need to ensure they have the right skills to accomplish the job you need them to do. The list of skills and qualities is based on the specific industry or business needs, but here are the top ones you should look for when recruiting a telemarketing virtual assistant.
EFFECTIVE COMMUNICATION SKILLS
A day in a life of a telemarketing virtual assistant will typically involve many phone calls, whether for cold calling, warm calling, appointment setting, customer support, or coordination with their clients. Your telemarketing virtual assistant must have excellent communication skills to perform these activities efficiently and effectively.
CUSTOMER SUPPORT SKILLS
Hiring a virtual assistant with a customer-first mindset is crucial. Telemarketing is more than just going through a list of leads and completing marketing or sales spiels over the phone. A telemarketing virtual assistant must understand customer needs and find the best approach to address these needs.
PERSUASIVENESS
Persuasiveness is an essential quality everyone in the sales or marketing field should possess. When looking for telemarketing support, you will need a virtual assistant who can be persuasive without sounding aggressive. They must know which product feature, advantage, or benefit will perk a potential client's interest. This sales skill is essential to move a qualified lead along the sales funnel and achieve your business goals.
TIME MANAGEMENT SKILLS
A telemarketing virtual assistant must know how to balance their work hours well to reach maximum efficiency. Communication skills are essential when doing telemarketing support tasks such as outbound calling. However, a skilled virtual assistant must be able to drive clients to do the desired action in the least amount of time. This way, they will be able to call more leads and perform other services required from them. These additional services can include updating CRM or project management tools, administrative tasks, daily call reports, etc.
For more VA Hiring tips, please read our article on the Top Virtual Assistant Skills to Look for in 2022 and Beyond or visit the 20four7VA website.
HIRING A TELEMARKETING VIRTUAL ASSISTANT FOR YOUR COMPANY
If you want to get the right virtual assistant telemarketing services, then you need to begin with a meticulous recruitment process. But if you're already swamped with your duties as a full-time business owner, then you can work with a virtual assistant services company to help you with your search.
GET TOP-NOTCH VIRTUAL ASSISTANT SERVICES WITH 20FOUR7VA
It's best to work with an experienced virtual assistant services company that knows how to hire virtual assistant for telemarketing. This is where 20four7VA can come in. We can help you find the right remote professional to fit your telemarketing requirements. We have the right experience and tools in place to make virtual staffing work for you and your business.
Our services don't end with just matching quality virtual assistants with clients. We also offer companies end-to-end solutions that include:
SCREENING AND RECRUITMENT
Providing access to our global talent pool of pre-vetted VAs

Interview appointment scheduling service
IN-HOUSE TRAINING & PERFORMANCE MANAGEMENT
Onboarding of new virtual assistants

Performance reviews
CLIENT SUPPORT
Dedicated Account Manager for Client Support

VA Management

IT Helpdesk
HUMAN RESOURCES SERVICES
Time tracking

Payroll Processing

Other administrative HR tasks
PLUS: ENJOY RISK-FREE, HIGHLY-SCALABLE SOLUTIONS
No upfront fees, free client-VA matching services

Fast turnaround time

No long-term commitment required
Ready to set your business up for success with a part-time or full-time telemarketing virtual assistant? Schedule a free consultation appointment with our Growth Experts today!
HIRING A TELEMARKETING VIRTUAL ASSISTANT FOR YOUR COMPANY
Ready to find a Telemarketing Virtual Assistant?