Financial Advisor Virtual Assistant
Improve your efficiency as a Financial Advisor with an offshore Virtual Assistant.
Hire a Financial Advisor Virtual Assistant
In today's challenging economy, financial advisors play an essential role in helping their clients make the best financial decisions and investments. However, financial advisors aren't just busy reviewing and managing their client's portfolios. They also have other items on their plate, ranging from administrative tasks to marketing their business. To help them help more people with their finances, every financial advisor can benefit from working with a financial advisor virtual assistant (FA VA).
WHAT IS A FINANCIAL ADVISOR?
A financial advisor is a professional who provides guidance and advice to clients on matters relating to their finances. Financial advisors can help their clients with everything from budgeting and retirement savings to investing in stocks and other securities.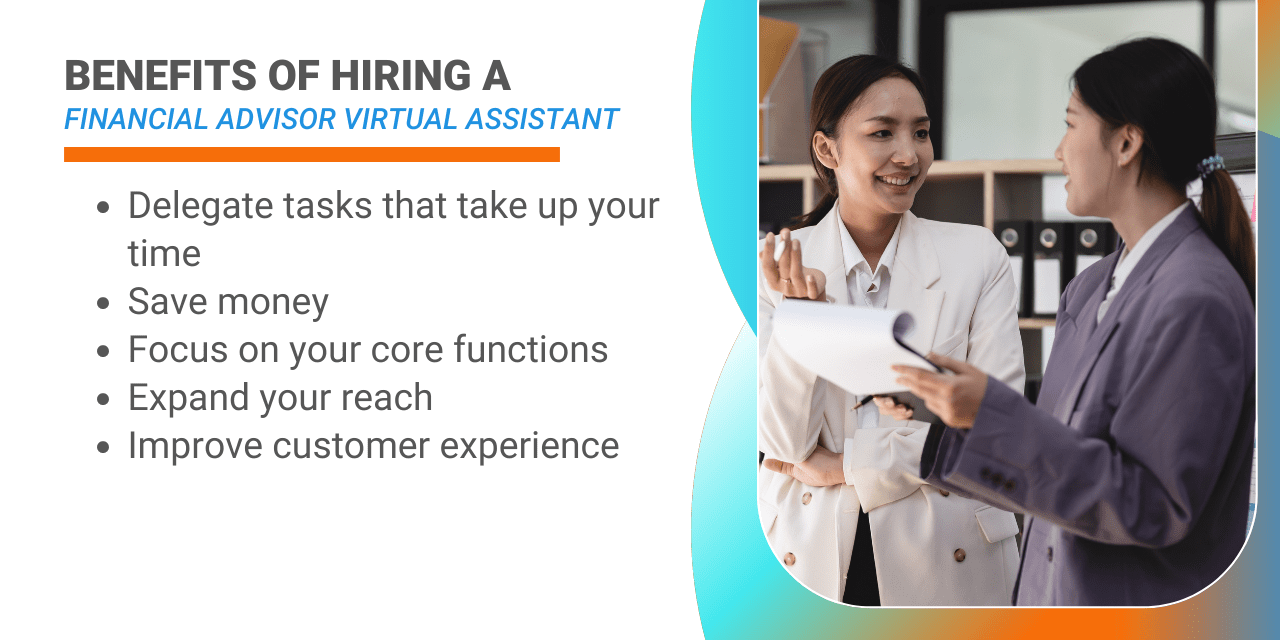 HOW CAN FINANCIAL ADVISORS BENEFIT FROM HIRING VIRTUAL ASSISTANTS?
Financial advisor virtual assistants can provide a wide range of support services, from bookkeeping and accounting to preparing reports and presentations, handling customer inquiries, and providing administrative support.
There are many benefits to hiring virtual assistants. Here are some of the top reasons why you should hire one for your financial advising business:
DELEGATE TASKS THAT TAKE UP YOUR TIME
Time-consuming tasks such as administrative duties are an essential part of any firm. But that doesn't mean the advisors have to do them themselves. Getting virtual assistant services for financial advisors means taking control of your time, so you have more hours and energy to focus on helping clients.
SAVE MONEY
Virtual staffing solutions get essential tasks done and help businesses save money. Compared to hiring in-office staff, remote staffing enables you to find the right talent you need without overshooting your labor costs. By working with virtual assistants, you get to walk the talk. You're helping your clients maximize their financial resources while making better financial decisions for your business.
FOCUS ON YOUR CORE FUNCTIONS
If you're logging in more hours for desk work or back-office tasks than running your financial advising business, it's a sign to hire a virtual assistant. Your full-time work as a financial advisor shouldn't be consumed by admin or low-value tasks that virtual assistants can do. By working with a virtual assistant, you'll be able to pursue more leads and manage your client's portfolio. In short, you'll be able to focus on your core functions. With virtual assistants, you can accomplish more without worrying about the other "behind-the-scenes" tasks needed to keep your business running.
EXPAND YOUR REACH
By working with virtual assistants, advisors can clear their to-do lists to explore leads and take on new clients. Virtual assistants can help you expand your reach and fill your sales pipeline through lead generation and marketing efforts.
IMPROVE CUSTOMER EXPERIENCE
With a virtual assistant financial advisor businesses won't have to worry about providing the best support for their clients. Virtual assistants with a background in customer service or the call center field can help businesses like yours keep both old and new clients satisfied.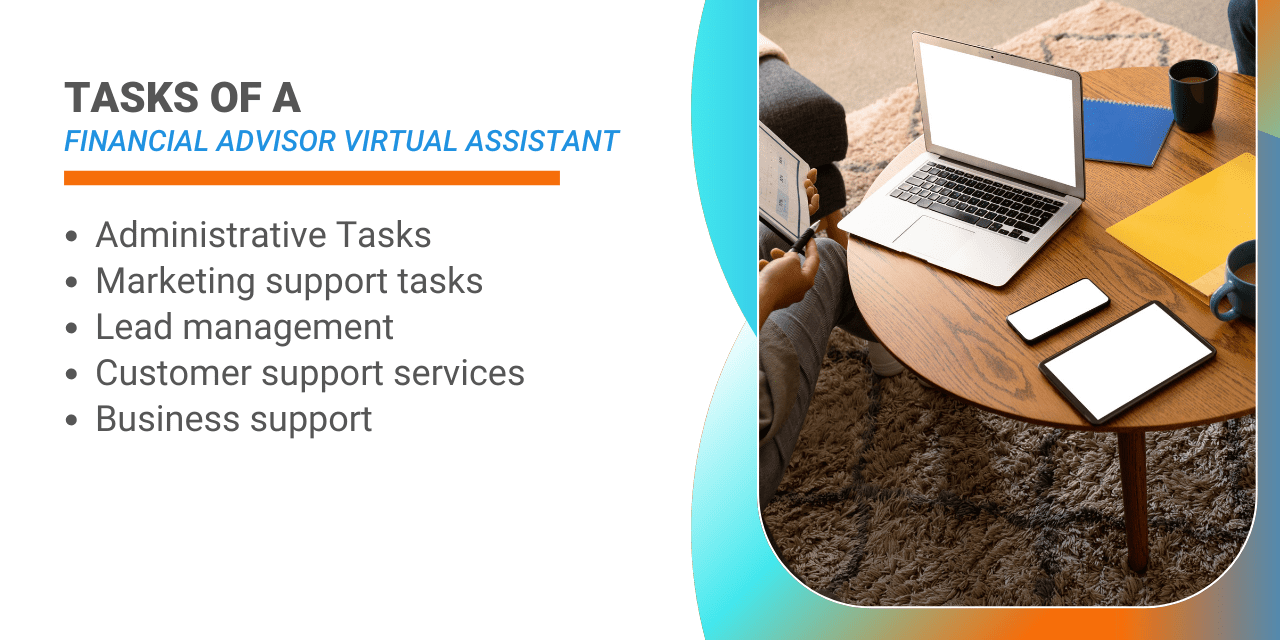 WHAT TASKS CAN VIRTUAL ASSISTANTS FOR FINANCIAL ADVISORS DO?
Whether financial advisors need support with administrative duties, lead generation, or social media management, they'll be able to delegate various tasks to the right VAs.
ADMINISTRATIVE TASKS
Scheduling meetings with current and potential clients

Data entry

Database management

Email management

Other admin tasks
MARKETING SUPPORT TASKS
Social media profile creation

Social media marketing

Content writing

Graphic design

Paid ads management and evaluation

Email marketing
LEAD MANAGEMENT
Lead generation

Screening of leads

Lead nurturing

Cold calling leads
CUSTOMER SUPPORT SERVICES
Chat support

Answering and escalating email inquiries

Consolidating recurring customer concerns

And other client support tasks
BUSINESS SUPPORT
Market research

Report generation

CRM software navigation

Filling up paperwork

Coordinating with banking and other investment partners

Client onboarding

And much more!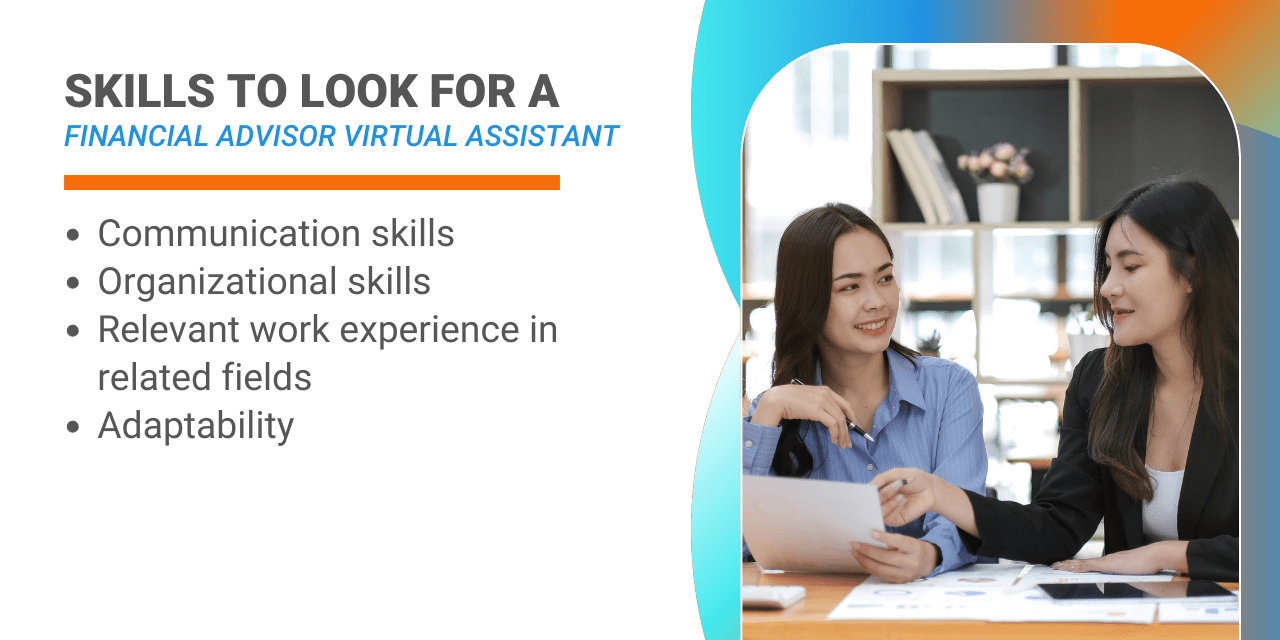 ESSENTIAL SKILLS AND QUALITIES TO LOOK FOR IN A FINANCIAL ADVISOR VA
COMMUNICATION SKILLS
A virtual assistant needs excellent communication skills, mainly when they're tasked to interface with both the client and external partners. Money is a sensitive subject for many individuals and businesses, so it's important to relay information professionally and transparently. VAs also need to communicate clearly and accurately to avoid any mistakes with any process related to business operations or investments.
ORGANIZATIONAL SKILLS
A virtual assistant for financial advisors will have to deal with many documents and communications. To be able to do well at their job and keep their clients happy, virtual assistants need to have excellent organizational skills.
ATTENTION TO DETAIL
Managing documents with lots of numbers and important data requires keen attention to detail. If you want a remote talent who will improve your business operations, you need to look for someone detail-oriented.
RELEVANT WORK EXPERIENCE IN RELATED FIELDS
Financial advisors like you should hire virtual assistants with relevant work experience. Suppose you're looking for someone to handle financial documents and lead generation. In that case, it's best to find a virtual assistant who has worked with financial advisors or for a finance company. A virtual assistant with experience in the investment or finance industry can adjust better as they'll be better acquainted with the usual finance terms and processes.
On the other hand, if marketing is not your strong suit and you're looking to hire a virtual assistant for marketing support, you may want someone knowledgeable in social media marketing and CRM. Finding virtual assistants with transferable skills or related experience can help you save more time during onboarding and training.
ADAPTABILITY
The finance sector has its ups and downs. There are always new developments that your business and your virtual assistant should keep up with. Look for a virtual assistant that can adapt and willing to learn a new process or approach. This way, they can help your business stay up-to-date and competitive.
FINDING THE BEST VIRTUAL ASSISTANTS FOR FINANCIAL ADVISORS
If you want to keep running a successful and efficient financial advising business, then you need to find the right remote talent. But screening and sourcing can take up your already limited time and energy. It's best to partner with the best remote staffing agency.
20four7VA is a WBE-certified Inc. 5000 company with over a decade of experience matching clients with the right virtual assistants. Let us help you find the right virtual assistant for the job and provide the end-to-end remote staffing solutions we're known for.
Find the virtual assistant for your financial advising business today! Schedule a free consultation with our Growth Experts.
Ready to find a Financial Advisor Virtual Assistant?