2024 Podfest Expo
We are thrilled to announce our participation as exhibitors at the 2024 Podfest Expo, where we will be showcasing our Podcast Virtual Assistant services tailored to podcasters and content creators. Podfest Expo is not just a conference; it's a vibrant community of individuals passionate about sharing their voices and messages with the world through audio and video mediums.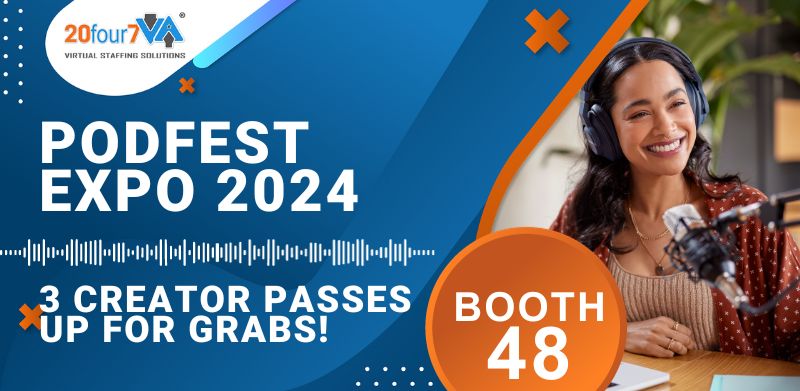 Podfest Event Details:
Event Name: 2024 Podfest Expo
Date: January 25 – 28, 2024
Location: Wyndham Orlando Resort International Drive
Booth: #48
About the Podfest Expo
The 2024 Podfest Expo is an exciting gathering of individuals who share a profound interest in the world of podcasting and digital content creation. It is a community-driven event for creators, innovators, and enthusiasts looking to explore the dynamic world of audio and video mediums. 2023 is Podfest Expo's tenth-year anniversary, and attendees can expect an array of engaging speakers, thought-provoking topics, comprehensive content, and the opportunity to connect with content creators and service providers who share a deep passion for podcasting and digital media.
Every Podfest Expo attendee gains access to top-tier educational resources, valuable networking opportunities, interactions with industry leaders, and, of course, a generous dose of enjoyment. This event is an ideal destination for independent podcasters seeking knowledge, connections, and growth within the podcasting realm.
Podfest Expo Ticket Giveaway!
We have three Creator Passes to give away! With a Creator Pass, you gain exclusive benefits, including:
Access to Whova virtual meetups and FB group
In-person access to the expo hall
Attendance at expo hall sessions
Ability to book a hotel through the Wyndham Orlando room block link
Participation in Creator track sessions
Admission to the Saturday after-party
Opportunity to meet influencers at the meet 'n' greet event
This is your chance to take your Podfest Expo experience to the next level and immerse yourself fully in the dynamic world of podcasting and content creation. Don't miss out on this fantastic opportunity. Be sure to visit our booth at the event for a chance to win one of these coveted Creator tickets! DETAILS TO COME!
Visit Us at Booth #48
We invite you to visit our booth at the 2024 Podfest Expo. As exhibitors, we specialize in offering Podcast Virtual Assistant services designed to support podcasters and content creators. Whether you need assistance with content creation, marketing strategies, audience engagement, or any other aspect of podcasting, our team possesses the expertise to assist you.
Join us from January 25 to January 28, 2024, at the Wyndham Orlando Resort International Drive for an unforgettable experience at Podfest Expo. Let's work together to bring your podcasting aspirations to life!