WordPress Freelancer
Let us help you find the perfect WordPress Freelancer for your needs.
Hire a WordPress Freelancer
More and more people are going digital these days. Users do almost everything online, from learning new skills and staying up-to-date with loved ones to "window-shopping" in eCommerce stores. This ongoing move to the digital space calls for businesses to market where their customers are — online.
A must-have that business owners should prioritize is an optimized and fully-functional website. Web development professionals can create these websites using various content management systems (CMS), including WordPress.
What is WordPress?
WordPress is an open-source CMS for creating websites, blogs, and applications. WordPress is a go-to CMS option for many businesses due to its flexibility and extensive features. It has a robust plugin architecture, support for multiple languages, and the ability to customize themes easily.
Benefits of Getting WordPress Freelance Services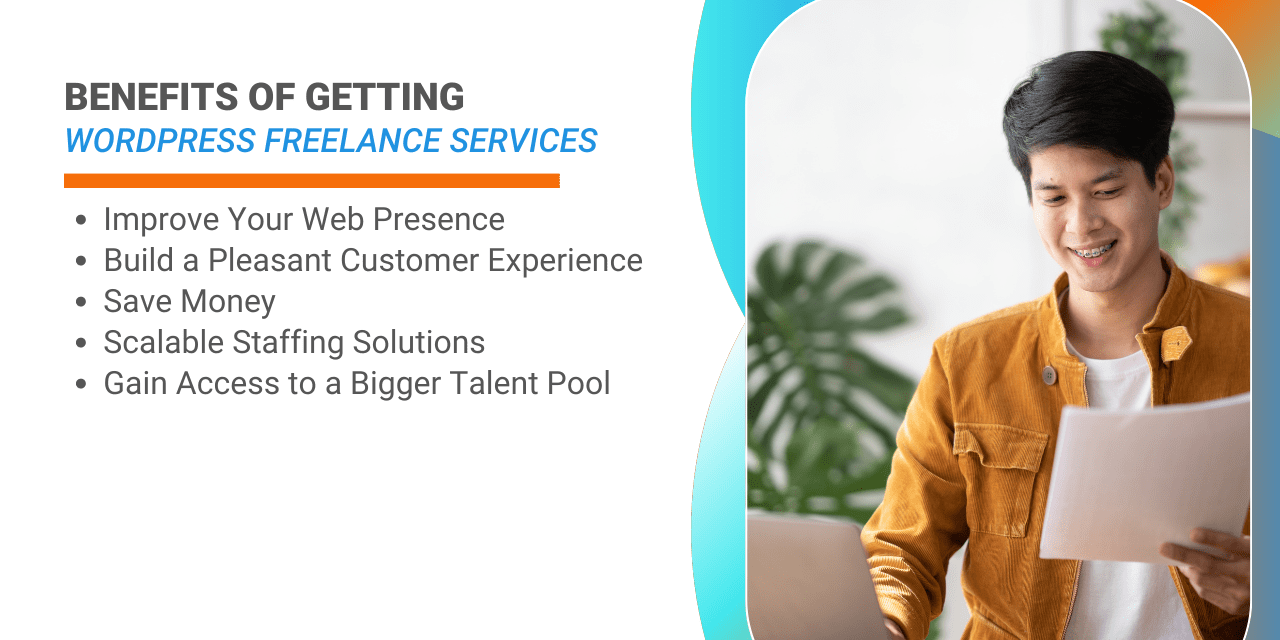 WordPress website development can take up plenty of time and energy, especially if you're not familiar with web development. Your best option? Hire a WordPress freelancer to build your website!
Improve Your Web Presence
Skilled WordPress developers can help fortify your digital marketing strategies. A freelance WordPress developer can efficiently create a website that fits your business needs. They can help you map out your preferred online user experience and build it into existence using WordPress.
You can improve your company's online presence by having a customer-friendly and on-brand website. You'll be able to reach more customers, increase brand awareness, and ultimately improve your conversion rate.
Build a Pleasant Customer Experience
The best WordPress developers won't just build you a website. They'll help you craft a pleasant customer experience. This is a crucial part of the customer journey. Website visitors can be turned away by a number of things, including slow website loading time, confusing layout, and unclear call-to-action. Working with a professional WordPress developer freelancer can help you avoid these common website pitfalls and other factors that can make web visitors click the "x" button.
Save Money
Hiring freelance WordPress developers is much more cost-effective than hiring in-office staff. Freelancers are professionals who can provide custom WordPress development support remotely, and they have the necessary tools and space to build WordPress sites for clients.
Hiring WordPress freelancers means you don't need to worry about bloating your labor and overhead budget. You don't have to allocate office desk space, supplies, and other tools. You only need to worry about hiring the right talent that fits your business needs and staffing budget.
Scalable Staffing Solutions
This staffing solution is more adaptable to your business needs and resources than hiring in-office, full-time staff. There are projects that won't require you to hire WordPress developers full-time. Some website projects like plug-in development or initial setup of your WordPress site may take just a few months to complete. Hiring a freelance WordPress developer makes more sense than hiring full-time in-house staff in such cases.
You can even consider hiring WordPress developers on a part-time basis. If your business is just starting out, you might not need someone to work full-time for custom WordPress development and management. And when your business and staffing requirements grow, you can simply scale up their hours or build a team of remote WordPress developers.
Gain Access to a Bigger Talent Pool
Hiring remote talents opens your business to a bigger, more global talent pool. The virtual talent pool has everything from a business support specialist who can manage your eCommerce business to an IT expert who handles your site's API integration. There's no shortage of remote professionals to help you reach your business goals — if you know where to look.
Tasks to Delegate to a WordPress Freelance Developer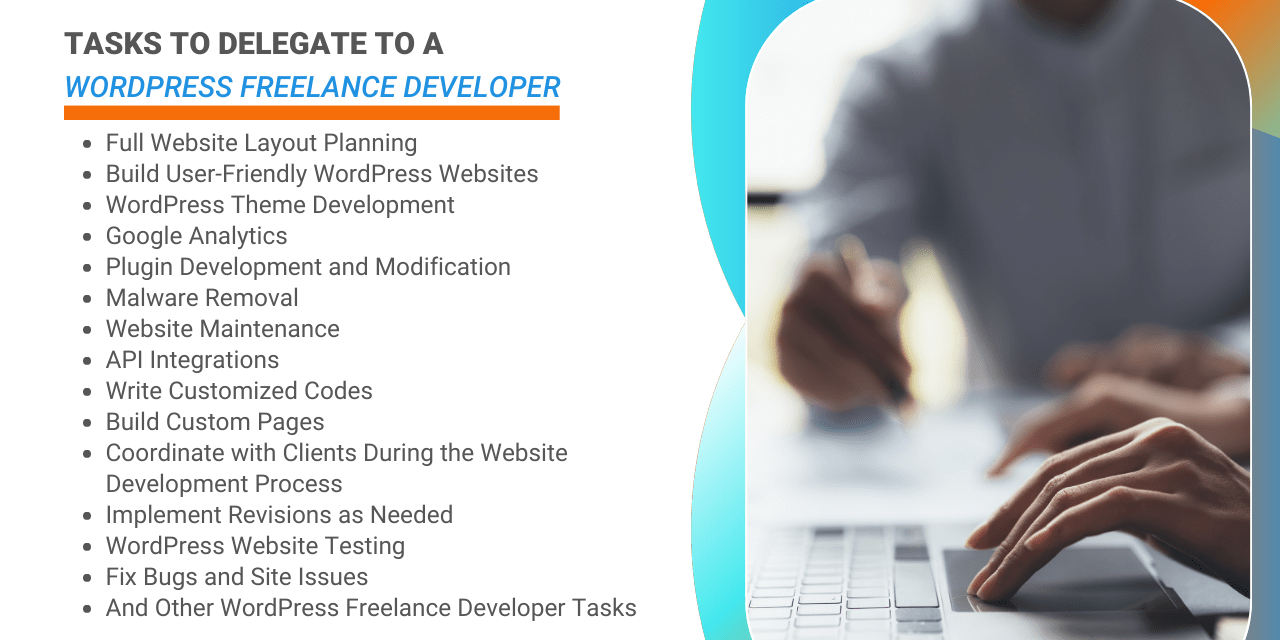 A WordPress project calls for different processes or steps. And your freelance WordPress developer can be with you every step of the way. Here are some examples of what talented WordPress developers can do for your business:
Full Website Layout Planning

Build User-Friendly WordPress Websites

WordPress Theme Development

Google Analytics

Plugin Development and Modification

Malware Removal

Website Maintenance

API Integrations

Write Customized Codes

Build Custom Pages (e.g., landing page, eCommerce or online store checkout page, contact forms, etc.)

Coordinate with Clients During the Website Development Process

Implement Revisions as Needed

WordPress Website Testing

Fix Bugs and Site Issues

And Other WordPress Freelance Developer Tasks
Essential Qualities and Skills to Look for in a Freelance WordPress Developer
Not all WordPress developers are made equal. That's not necessarily a bad thing. It just means you need to know your website requirements to ensure you're getting the right freelance WordPress developer for your needs.
If you're not sure where to start, here are some essential qualities that should be on your freelance WordPress web designer screening checklist:
Technical Skills
If you're looking to hire a WordPress developer, the most important skill they should have is that they know how to navigate the said CMS. This includes the whole host of WordPress development tools, from WordPress plugins to WordPress theme development, API integration, and more.
You can hire someone with entry-level WordPress development skills or experienced professionals with advanced web developer skills. It all depends on the complexity of your website project requirements. To test their expertise, you can ask them to undergo a technical exam as part of the screening process.
Design Skills
Aside from having a fully-functioning website, it's also best to have one that is visually appealing and aligned with your brand identity. A good WordPress developer can consider all these factors and has the suitable visual design skills to turn these ideas into a reality (or at least a real website). They can make the most of WordPress design elements like elegant themes and page builder options.
Good Communication Skills
A good web developer must also have good communication skills. They need to be excellent communicators to understand the client's project requirements. They should also be able to professionally and clearly share their ideas on how the WordPress website should function and look.
A freelance WordPress designer must also know how to process client feedback to avoid back-and-forth or multiple revisions. Having great listening and comprehension skills can save themselves and their clients valuable time.
Excellent Time Management Skills
You need a WordPress developer that can match your pace. For example, if you have a limited-time offer, you must upload promo materials on your eCommerce website as soon as possible. Doing so will get the word about your special offer and attract more visitors to your eCommerce store. Or, if you need premium plugins added to your WordPress website, your web developer must be able to do so in time for the next business day or your target launch date.
A freelance WordPress developer is their own boss but can simultaneously cater to multiple clients or projects. This requires them to have excellent time management and prioritization skills. These skills help ensure all client website project requirements are met and submitted on time.
How to Hire WordPress Developers
You can reach out to freelance WordPress developers by posting job listings online. Once you get enough WordPress developer applications, you must invest time and energy to review website portfolios and resumes. But the whole process doesn't stop there; you still need to think of other steps, from setting technical exam schedules to onboarding your new freelance WordPress developer.
The process may seem straightforward, but getting the right freelance WordPress developer can take time and resources. If you want to get the best WordPress developers without sacrificing your valuable time and energy, it's best to work with a virtual staffing company like 20four7VA!
Get the Best WordPress Developers with 20four7VA
Why Choose 20four7VA?
There's no question. Working with a virtual staffing agency to hire remote talents can help you grow without bloating your labor costs or giving up much of your valuable time and energy.
Experienced Remote Staffing Company
We have extensive experience in providing cost-effective staffing solutions to businesses in various industries, from eCommerce to Telehealth. We use our consultation call to get to know the clients' staffing requirements and craft the most apt remote staffing solutions to help them grow.
Global Talent Pool
We have a meticulous 8-step vetting and recruitment process. This helps ensure every virtual assistant (VA) from our talent pool has the right soft and technical skills. We have VAs from all over the world, including Asia and Latin America. Our team will scan our global talent pool to find the WordPress developer that fits your business requirements.
End-to-End Remote Staffing Services
We can help you find the best virtual assistant services to achieve your goals. But our services don't abruptly end there. We also offer full-service solutions, including:
Onboarding

In-house Training

HR Services

Dedicated Client Support

IT Helpdesk

And more!
If you're ready to stay competitive in a digital and highly global marketplace, you need a WordPress freelancer! Schedule a free consultation with 20four7VA to learn how to hire the best web development services for your business.
Ready to find a WordPress Freelancer?