Virtual Medical Scribe
Hire a Virtual Medical Scribe and see your business grow!
Hire a Virtual Medical Scribe
Modern medical technology has given healthcare providers various solutions, including electronic health records (EHR). Solutions like this allow facilities to become more efficient and care for more patients, especially with a virtual medical scribe on their team.
WHAT IS A VIRTUAL MEDICAL SCRIBE?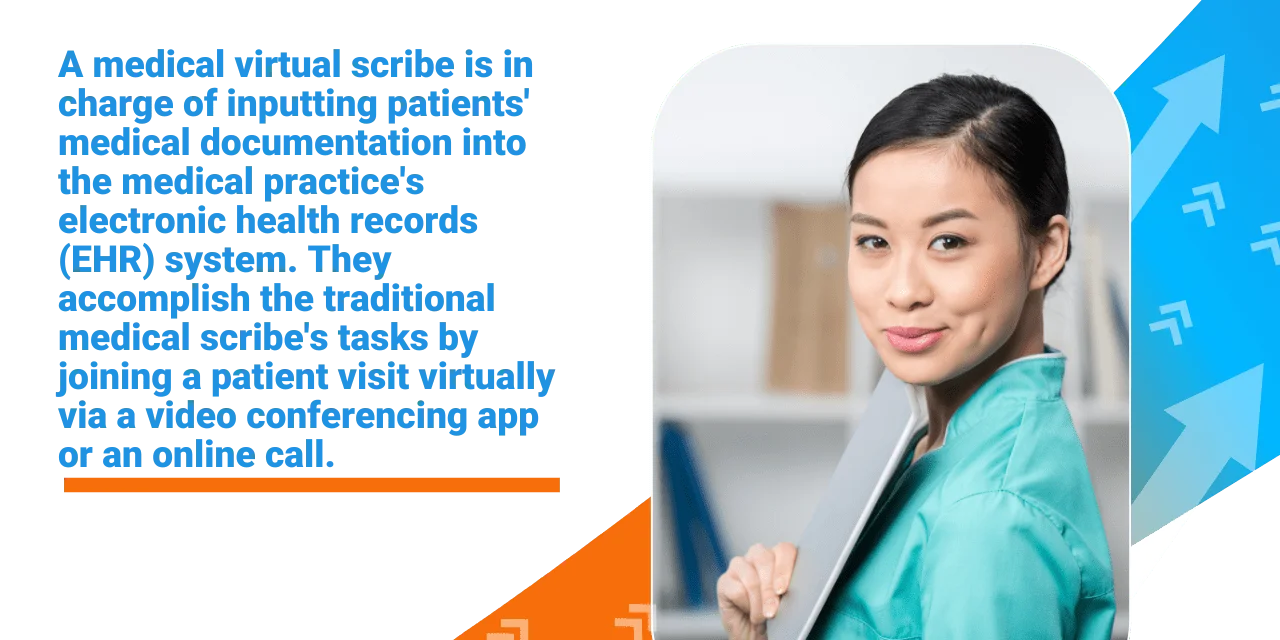 Much like traditional medical scribes, a medical virtual scribe is in charge of inputting patients' medical documentation into the medical practice's electronic health records (EHR) system. The main difference between virtual medical scribes and traditional ones is that virtual scribes are not in the exam room during patients' consultations with doctors. They accomplish the traditional medical scribe's tasks by joining a patient visit virtually via a video conferencing app or an online call.
WHAT ARE THE BENEFITS OF HIRING ONLINE MEDICAL SCRIBES?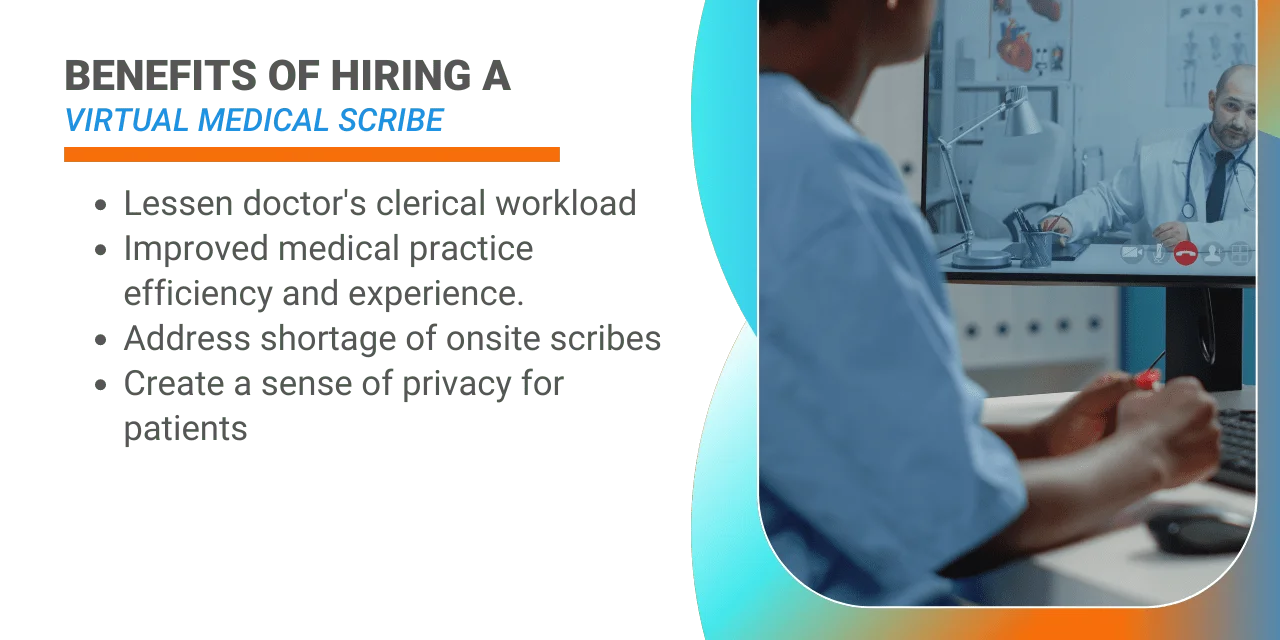 LESSEN DOCTOR'S CLERICAL WORKLOAD
Doctors have many responsibilities that go beyond patient visits. They also have to do in-patient rounds and, at times, also need to administer medical procedures to patients. Most, if not all, doctors continue their learning by joining training or seminars.
Hiring an online medical scribe can help a physician or doctor focus more on patient care than data entry. Doing so can also avoid potential physician burnout.
IMPROVED MEDICAL PRACTICE EFFICIENCY AND EXPERIENCE
Virtual scribes don't just help take clerical tasks off of physicians' to-do lists. They can also help improve healthcare provider productivity. Accurate and timely documentation of patients allows for an overall better medical practice.
Furthermore, physicians who do their own EHR data entry do so during a patient visit. This can lead to patients feeling that their doctors are not fully focused on their concerns and just facing the computer while talking to them. A virtual scribe can help eliminate this negative patient experience and allow doctors to focus fully on the examination or consultation.
ADDRESS SHORTAGE OF ONSITE SCRIBES
Onsite scribes' services may not always be available in the area where a medical practice operates. This is most true in rural areas where trained scribes are not readily available. However, even when a medical provider is located in a city or urban area, they can still experience a shortage of more long-term onsite scribes. Some medical students take on traditional medical scribe roles but only do so for training and to understand how healthcare institutions operate. After a short stint, these students will eventually leave their scribe role and become physicians themselves.
Hiring virtual scribes addresses shortage issues experienced by both rural and urban-based healthcare organizations or institutions.
CREATE A SENSE OF PRIVACY FOR PATIENTS
Some patients may not be comfortable sharing their health concerns with an extra person physically present in the consultation room. With a virtual scribe, medical issues may become easier to share with doctors.
WHAT SKILLS MUST VIRTUAL MEDICAL SCRIBES POSSESS?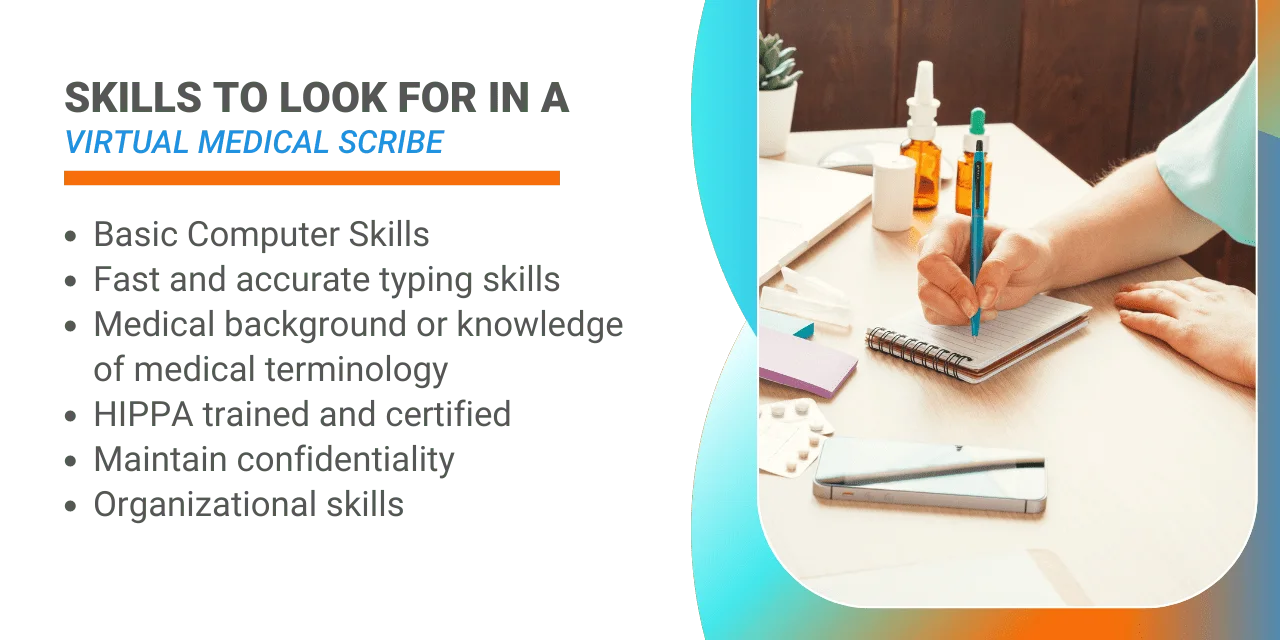 BASIC COMPUTER SKILLS
When looking for a virtual scribe, you must look for someone with basic computer skills. Their work will be done online and on a laptop or computer, so it's important that they can do basic troubleshooting and navigate your EHR system once trained.
FAST AND ACCURATE TYPING SKILLS
Medical scribes will need to keep up with the pace of the medical consultation to ensure that they're providing the proper patient visit documentation. Aside from speed, typing accuracy is also critical for scribes. A typing mistake in medical terminology or physician advice can lead to confusion and patient care inefficiencies.
MEDICAL BACKGROUND OR KNOWLEDGE OF MEDICAL TERMINOLOGY
You don't have to look for a licensed medical practitioner, but it's helpful to get the scribe services of someone with experience or background in the medical field. This knowledge or experience can help ensure that documentation of the patient visits is accurate and understandable. The VA's background can come from previous work experience in the medical field or certification training as a medical scribe.
HIPAA TRAINED AND CERTIFIED
The Health Insurance Portability and Accountability Act (HIPAA) provides data privacy and security provisions for protecting medical information. HIPAA-compliant healthcare organizations were audited and found to meet the standards of privacy and security set by HIPAA. For your healthcare facility to stay HIPAA-compliant, you should hire a HIPAA-trained scribe. Scribes unaware of HIPAA rules and regulations can unknowingly violate them. If you're not hiring a HIPAA-certified medical scribe, you must ensure they're trained before working on scribe logs.
MAINTAIN CONFIDENTIALITY
An appointment with a physician or medical specialist can be daunting for a patient. They'll be sharing highly personal information about themselves, and they should be able to trust everyone they encounter to safeguard that information. A virtual scribe must be able to keep things confidential to help make the consultation more comfortable for the patient.
ORGANIZATIONAL SKILLS
Healthcare documentation must not only be kept confidential but accurate and organized. The key people who have access to patient information must be able to find the data needed within the EHR easily. More importantly, that data must contain details that can help the doctor or nurse provide the right treatment plan. A scribe that has undergone proper EHR training and possesses excellent organizational skills can help ensure the healthcare facility is effective and efficient in taking care of its patients.
HOW TO FIND THE VIRTUAL MEDICAL SCRIBE SERVICES YOU NEED
You can take advantage of various platforms to find a medical scribe online. Depending on the volume of patient encounters and the number of healthcare providers, you can hire a virtual medical scribe part-time or full-time. But you must go through the initial steps of screening and recruitment to find the right one for the role.
BASIC STEPS OF SOURCING VIRTUAL SCRIBES FOR YOUR EHR OR DOCUMENTATION NEEDS:
Create an alert for your job opening, including the job description, required work shift, pay rate, benefits, and how to apply.

Post the job alert on relevant job search websites.

Screen applications to ensure you'll only be shortlisting those that fit your requirements.

Administer background checks on shortlisted applicants.

Interview candidates to find the best one for the role.

Reach out to your chosen candidate to provide the job offer detailing the agreed work shift, scope of work, pay rates, and other pertinent details.

Onboard and train your new scribe upon their acceptance of your job offer.
FIND THE BEST VIRTUAL MEDICAL SCRIBE WITH 20FOUR7VA
The end-to-end process of hiring virtual medical scribes can consume a lot of your time and energy. Why not work with a virtual staffing services provider like 20four7VA to find the right virtual scribe for your healthcare practice?
20four7VA is a trusted and experienced virtual staffing provider for various industries, including the medical/healthcare field. We have a global talent pool of potential virtual scribes for your practice. We also assist with onboarding, training, and virtual assistant (VA) management to help a busy provider like you valuable time and effort. Basically, all of the steps outlined above, we can handle for you.
If you're ready to improve the productivity of your facility and maximize your EHR system, hire a virtual scribe through 20four7VA
Ready to find a Virtual Medical Scribe?