Virtual Medical Receptionist
Hire a virtual medical receptionist and see your business grow!
Hire A Virtual Medical Receptionist
Healthcare continues to be a priority for individuals across the globe, and medical practices are seeing an increased demand for high-quality and accessible healthcare services. Adding a virtual medical receptionist is key to meeting this demand and running your medical practice smoothly.
WHAT IS A VIRTUAL MEDICAL RECEPTIONIST?
A virtual medical receptionist is a professional who can provide administrative or back-end support to a healthcare facility or medical practice remotely. They can handle various tasks, from answering phone calls to scheduling appointments and data management. Virtual receptionist services are crucial if you want an efficient and organized medical office.
WHY HIRE A MEDICAL VIRTUAL RECEPTIONIST?
COST-EFFICIENT STAFFING SOLUTION
By hiring a virtual receptionist, medical practices can increase their capacity and productivity without bloating their labor costs. Remote talent from Asian, South African, and Latin American countries can provide the virtual receptionist service you need at a fraction of the cost of getting an onsite employee. Compared to recruiting an onsite or traditional receptionist, you don't have to worry about the other expenses related to having additional in-office staff. These expenses may include office equipment, supplies, transportation allowance, regular benefits, etc.
INCREASED EFFICIENCY
A virtual receptionist for a medical office can increase your facility's efficiency. A skilled virtual medical receptionist can provide the necessary back-end and administrative services. They can relieve your in-house staff and doctors of important but time-consuming tasks. Instead, your onsite medical staff can focus on their core functions, manage their schedule better, and provide medical attention to more patients.
ACCESS TO A WIDER POOL OF EXPERIENCED REMOTE TALENT
By getting virtual receptionist services, medical facilities give themselves access to highly-skilled remote talent from across the globe. Virtual medical assistants or virtual assistants (VAs) with relevant experience or education in the medical field will allow them to easily adapt to your team's system and processes. Additionally, you help create a more diverse and inclusive virtual work environment, where rewarding career opportunities are available to remote talent regardless of nationality, gender, age, race, and other factors.
TASKS A VIRTUAL RECEPTIONIST CAN DO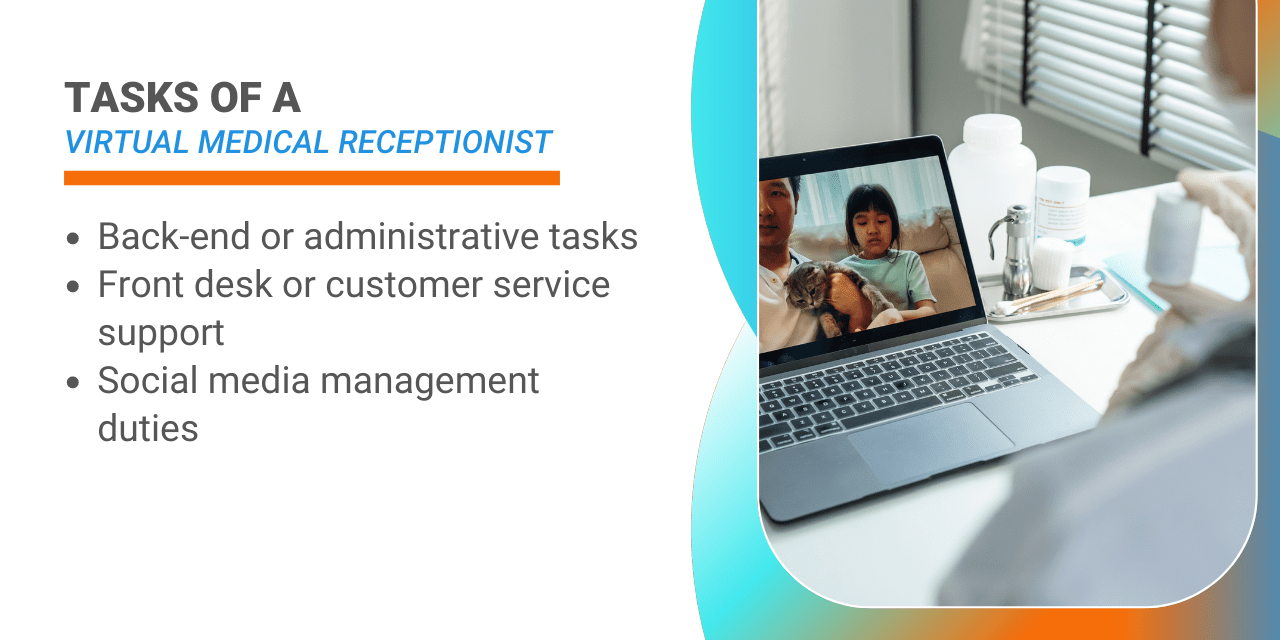 Many manual processes have been digitized thanks to the latest advancements in the healthcare industry. These advancements mean that virtual medical receptionists can do practically anything an actual receptionist onsite can. The only difference is that they do these tasks remotely.
BACK-END OR ADMINISTRATIVE TASKS
Email management

Schedule appointments

Inventory management

Crafting documentation for patient referrals

Making phone calls to external partners (medical representatives, insurance providers, etc.)

Data entry on your EHR software
FRONT DESK OR CUSTOMER SERVICE SUPPORT
Addressing general patient inquiries

Medical answering service or handling office calls from patients and external partners

Follow-up or confirm appointments with both clients and doctors
SOCIAL MEDIA MANAGEMENT DUTIES
Set up and manage the practice's Google Business Profile

Set up, update, and manage the practice's social media profiles

Schedule posts of relevant announcements and updates

Handle and escalate customer inquiries on social media
Virtual medical receptionists can help many practices improve across the board, from providing administrative and appointment scheduling to medical answering service support.
Virtual medical receptionists can also handle other administrative or back-end office tasks not listed above. The crucial thing to note is that virtual receptionists must be onboarded and trained to ensure they're providing services that meet your standards.
SKILLS TO LOOK FOR IN A VIRTUAL MEDICAL RECEPTIONIST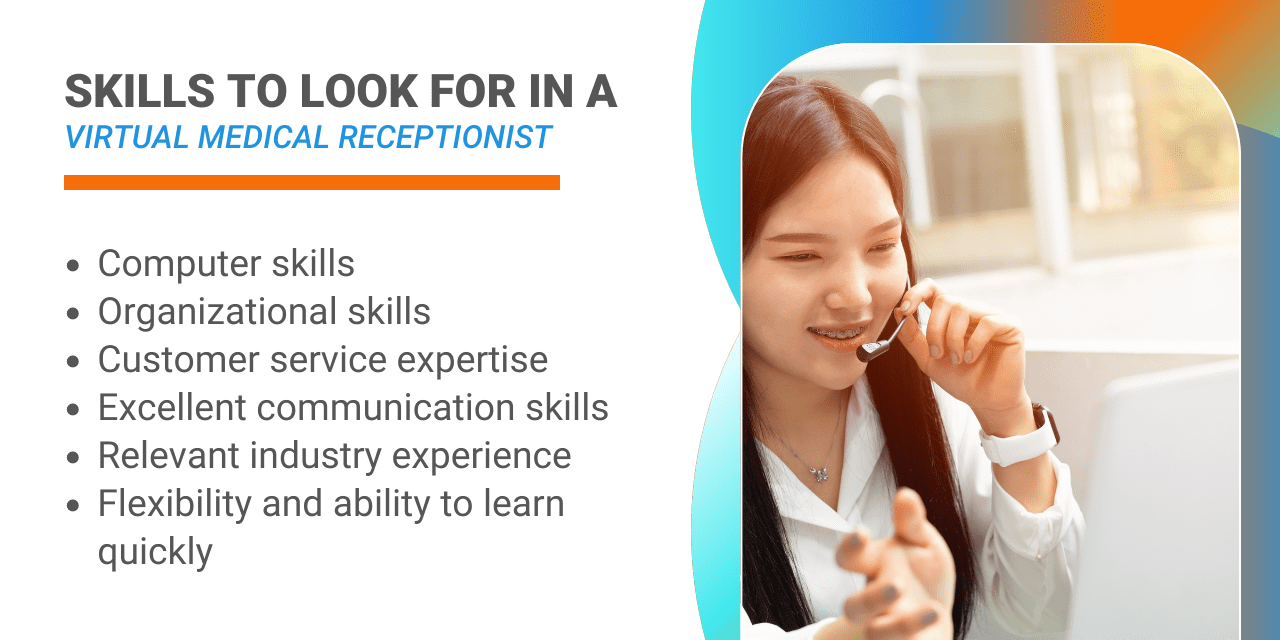 When looking to hire a virtual medical receptionist, there are certain skills and qualities you should look for. You want someone who can deliver quality service and help increase your practice's efficiency.
Here are the essential skills that you should look for when sourcing a virtual receptionist for your healthcare practice:
COMPUTER SKILLS
Any remote worker, including virtual medical assistants, must have a foundational knowledge of operating a computer or laptop, basic office tools such as email platforms, communication apps (for phone calls, video calls, or messages), and Microsoft Office programs. Since work is done virtually, the ability to use a computer and basic troubleshooting are non-negotiables.
ORGANIZATIONAL SKILLS
Working in a medical facility can be hectic, especially when handling many patient cases. You'll benefit greatly from hiring virtual medical receptionists with excellent organizational skills. They can help you stay on top of your patient appointments and other back-end tasks to ensure smooth and efficient operations.
CUSTOMER SERVICE EXPERTISE
Virtual medical receptionists may also be assigned client-facing tasks such as answering phone calls, appointment management, and customer helpdesk support. They are most likely the first person in your practice that patients will interact with. Because of this, virtual medical receptionists must have good customer service skills to help make the patients' or customers' experience great from the get-go. They should be able to interact with anxious or worried patients with service that combines compassion and professionalism.
EXCELLENT COMMUNICATION SKILLS
Virtual receptionists typically interact with patients, doctors, and other medical professionals as part of their daily tasks. As receptionists, they ensure that customers or patients attend their appointments without trouble. Additionally, virtual receptionists should be able to relay messages from patients to the physicians' offices and vice versa clearly and accurately. Doing so requires good oral and written communication skills.
There may also be situations wherein patients or clients become irate due to stress, miscommunication in the appointment schedule, or long procedures. No matter what the cause is, virtual receptionists must know how to properly de-escalate such situations or quickly report issues to their superiors to provide immediate solutions.
RELEVANT INDUSTRY EXPERIENCE
While you won't expect all virtual medical receptionist candidates to be medical license-holders, it would help if they are familiar with how medical facilities work and common medical terminologies. This know-how can come from an educational background in the medical field or previous work experience in other medical or wellness practices.
FLEXIBILITY AND ABILITY TO LEARN QUICKLY
The healthcare landscape is continuously evolving. Medical and IT experts regularly collaborate to develop new tools and programs to make healthcare more accessible, efficient, and safe. Virtual receptionists must be flexible and open to learning these new technologies. Additionally, they must be fast learners so they can also help your practice keep up with the latest technologies. So make sure to look for a person who is not only able to learn quickly but also willing and flexible enough to do so.
FINDING THE BEST VIRTUAL MEDICAL RECEPTIONIST FOR YOUR PRACTICE
Once you've decided that adding a virtual medical receptionist to your team is your next course of action, it's time to start your search. After summarizing the scope of work, pay rate, and required skills of the person you're looking for, you can post your job ad on online job search websites or seek referrals from those in your network.
After a few days or weeks, your office will receive applications from candidates, which you will review. You or the office staff responsible for recruitment can schedule video calls to interview shortlisted applicants. After the screening and interview process, you must be able to train and onboard your new virtual receptionist so they'll be well-equipped to provide the best service for you and your patients.
LET 20FOUR7VA FIND THE RIGHT VIRTUAL MEDICAL RECEPTIONIST FOR YOU
There are many platforms and ways to find virtual receptionists. But perhaps the most efficient and effective way is to work with an experienced remote staffing agency such as 20four7VA. You'll be able to save your valuable work hours and energy by working with us.
20four7VA has more than a decade of experience finding the right client-VA (virtual assistant) match. Our remote staffing packages include end-to-end services, including:
Pairing service with vetted and trained VAs in our talent pool (FREE)

Scheduling of calls for candidate interviews

Onboarding and training assistance

A dedicated account manager to help with any concerns, as well as VA Management

HR support – tracking of logged hours, accounting, and payroll

IT Helpdesk

Recruitment, HR, accounting, and IT support
Your medical office can greatly benefit from recruiting a virtual medical receptionist. And the good news is: that you'll be able to provide better service to your patients and increase the productivity of your in-house staff and doctors without bloating your staffing budget.
If you're ready to find a virtual receptionist for your medical practice, schedule a free consultation with 20four7VA today!
Ready to find a Virtual Medical Receptionist?