Latino Virtual Assistant
Upgrade your business and target Spanish-speaking markets with a Latino Virtual Assistant.
VIRTUAL LATINOS – VIRTUAL ASSISTANTS FROM LATIN AMERICA
Business owners can save time and money by exploring alternative staffing options. And one of the most cost-effective staffing alternatives is hiring virtual assistants for various business activities. A virtual assistant helps entrepreneurs and businesses become more productive, generate revenues, and streamline processes. Hiring Virtual Latinos or Latin American virtual talent is the way to go for business owners or entrepreneurs wanting to get even more out of this highly effective solution.
WHAT ARE VIRTUAL ASSISTANTS?
"Virtual assistants" or VAs is an umbrella term for virtual professionals who support companies and entrepreneurs to grow their businesses. They can accomplish various assignments, from general administrative duties to more specialized functions like generating new leads, SEO, or social media marketing.
WHAT ARE VIRTUAL LATINOS?
In the most simple terms, Virtual Latinos (VLs) are virtual assistants from Latin America. Just like other VAs, they are virtual professionals who can provide remote support to companies trying to achieve their business goals. Plus, VLs also offer bilingual virtual assistant services in the same or similar time zones as companies in the United States.
BENEFITS OF HIRING LATIN AMERICAN VIRTUAL ASSISTANTS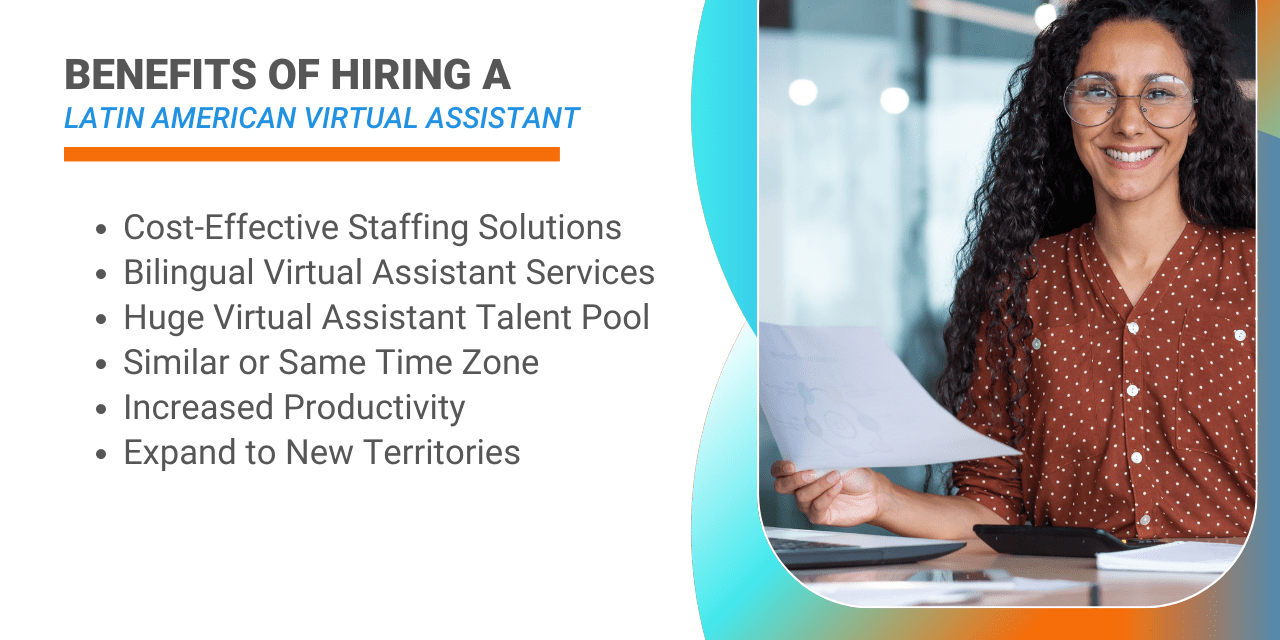 Virtual Latinos are great assets for companies looking to grow and expand their reach to new territories.
Cost-Effective Staffing Solutions
Working with virtual assistants is a much more cost-effective option than hiring in-house employees. You can expect to get high-quality talent without shelling out money for extra costs like equipment, transportation costs, and more. VA staffing means you don't have to overshoot your labor and overhead budget to achieve business goals.
Bilingual Virtual Assistant Services
Virtual Latinos have something not every VA can offer; they can speak fluent English and Spanish. They can help you translate your marketing efforts to communicate more effectively to the Latin American or Spanish-speaking market.
Huge Virtual Assistant Talent Pool
Choosing VA services allows businesses to look beyond their own geographical limits to find the right talent. Entrepreneurs are able to find VA applicants wherever they are in the world.
Similar or Same Time Zone
Entrepreneurs or business owners can work with VAs from around the world. However, if you're a U.S. business owner who wants to work with a VA available to coordinate in the same or similar time zone, then working with a VA from Latin America (including Central America and South America) is a great choice.
Increased Productivity
Virtual assistants can help businesses become more productive by taking on various tasks, from administrative duties to more specialized functions like SEO or social media management. This can free up time for business owners and entrepreneurs to focus on other aspects of growing their businesses. At the same time, in-office employees can also focus on their core functions without worrying about other assignments being put on the back burner. 
Expand to New Territories
There are 450 million native Spanish speakers around the world, including people from South or Latin America. And on top of that number, 75 million people speak Spanish as a second language. Virtual assistants that have a deep understanding of the language and culture of the region can help you fine-tune your go-to-market plans for this segment. They can provide the support you need to reach new territories.
TASKS VIRTUAL LATINOS CAN DO FOR YOUR BUSINESS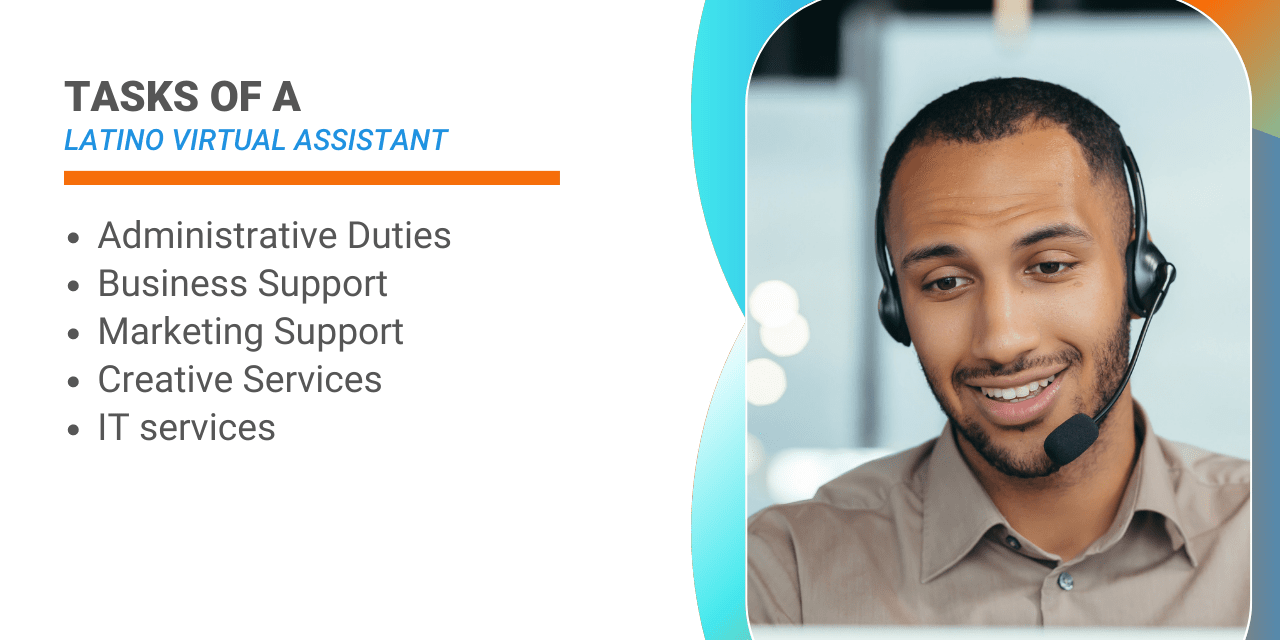 Virtual assistants from Latin America can provide support on a wide variety of tasks. The talent pool for Latino VAs is more far-reaching than in-office staff. This grants access to a diverse group of Latin American talent that can do a myriad of assignments.
Administrative Duties
Data Entry

Transcription and Translation Duties 

Appointment Setting

Calendar Management

Inbox Management

Virtual Personal Assistant Services
Business Support
Generate New Leads

Leads Management 

Human Resources Support

Business Report Generation

Customer Service Support
Marketing Support
Digital Marketing

SEO

Social Media Management

Content Writing
Creative Services
Creative Design

Video Editing

Podcast Editing 

Creation of Communication Tools
IT Services
Website Creation

Website Management

App Development 

API Integrations

IT Helpdesk
And much more!
ESSENTIAL QUALITIES TO LOOK FOR IN A VIRTUAL ASSISTANT
The final list of hard and soft skills you must look for in a virtual Latino assistant will depend on the duties you assign them. However, no matter the specialization, hiring a VA with these four essential skills and qualities is best.
Computer Proficiency
To provide quality support to their client, a VA must navigate their tools well. Look for proficient applicants with good computer knowledge so they can do the assignments their clients need them to do. They need to be able to work with different computer programs and websites to help their client.
Excellent Communication Skills
Your VA must be not only fully bilingual but also know effective business communication. Their fluency in two languages will significantly benefit your business, especially if they can use it in a professional and customer-friendly tone. They must also know how to adapt to the client's communication procedures and tools to do their job well. If you want to ensure that you're recruiting someone with excellent verbal and writing levels, consider administering a Spanish or English assessment.
Time Management Skills
A VA can have multiple clients or one client who assigns various projects. The VA you choose to hire should have good time management skills to be able to provide the best service possible. They won't be easily overwhelmed by multiple assignments because they know how to prioritize and manage their time well.
Self-Starter
The VAs you should hire should be skilled professionals working well with minimal supervision. We highly recommend virtual Latinos who are proactive and can turn in assignments without multiple follow-ups.
GETTING THE RIGHT VIRTUAL ASSISTANT SERVICES-HIRING TOP-NOTCH VIRTUAL LATINOS
The VA hiring process can consume much of your time and energy. You need to create job ads, pre-screen applications, conduct interviews, and much more. If you want to get the best VA service for your business, you should choose 20four7VA for your virtual staffing needs.
Quick Screening and Selection Process
We can tap into our pool of pre-vetted qualified candidates to provide the best talent to our clients. Our client endorsement team will provide three candidates that fit the clients' approved job description. These shortlisted applicants can be interviewed by clients and also undergo assessments as needed.
Dedicated Account Manager
Our services continue beyond screening and recruiting the best-skilled professionals for the job. We also help ensure you have an effective and robust work relationship with your virtual assistant. Each client will have a dedicated account manager to make working with virtual assistants as smooth and effective as possible.
HR Processes and Back-end Support
The 20four7VA support team will not only help you find the right person for the job but also help ensure hassle-free and long-term work relationships. We offer clients high-quality end-to-end VA staffing services, including:
VA management

In-house training

Time-tracking and Payroll Processing

IT Helpdesk

And more!
No Hidden Fees
20four7VA is a top-notch remote staffing agency with remote talent recruitment and management expertise. We are also proud to share that prospective clients and VAs don't have to pay upfront or hidden fees. Clients will only pay once the selected virtual assistant starts working with them.
Find the best Virtual Latinos or VL team from Central America or South America with 20four7VA. Book your free consultation today!
Hire a Latino Virtual Assistant with 20four7VA
20four7VA is an Inc. 5000 company with a decade of remote staffing experience. We are dedicated to delivering our clients the right virtual assistant services while providing remote talents with rewarding career opportunities. We've helped over 2,900 clients (and counting) find the virtual staffing solutions they need, and we can do the same for you!
Find Your VA in Four Easy Steps
Fill out the 20four7VA

consultation call form

so that we can understand your staffing requirements better.

We'll find VA candidates that match your approved job description (JD).

We will arrange interview appointments with shortlisted candidates. We can also help administer test tasks when necessary.

After you've selected your VA from the shortlisted candidates, we'll set up your account. Your Bilingual Virtual Assistant can start the next business day.
Let 20four7VA help you find the right Bilingual Virtual Assistant for your business! Schedule a free consultation with our Growth Experts today.
Ready to find a Latino Virtual Assistant?