Virtual Administrative Assistant
Hire a virtual administrative assistant to help you with routine tasks and scale your business faster.
Most businesspeople will acknowledge that administrative tasks are important for business operations but time-consuming. When your business is new, taking on administrative responsibilities on top of your executive duties can be manageable. However, as your business grows, so does the need for administrative support. Small business owners trying to grow their business will be more effective if administrative duties are taken off their task list. That's where a virtual administrative assistant comes in.
What is a Virtual Administrative Assistant?
A virtual administrative assistant or admin VA is a professional who provides administrative support remotely. Admin virtual assistants can do various tasks, including data entry, calendar management, and email inbox management. They can also have different job titles, such as virtual office assistants or virtual executive and administrative assistants.
Benefits of Hiring an Administrative Virtual Assistant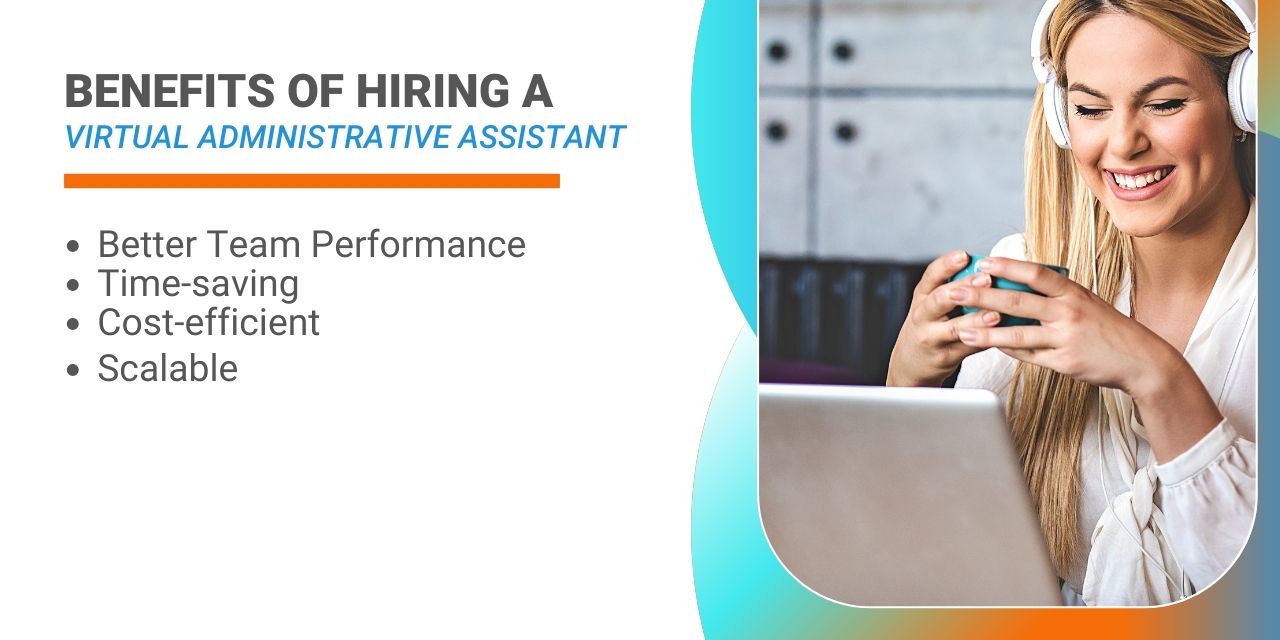 BETTER TEAM PERFORMANCE
A virtual administrative assistant might be just what you need to boost your team's productivity. A virtual assistant who can take over administrative tasks will greatly help you and your team. You can focus on your core functions to help provide even better-quality customer service and eventually gain leadership in a competitive market.
TIME-SAVING
When you hire a virtual assistant that can provide administrative support, you can finally let go of the routine administrative tasks that have been eating up your time. You can channel your valuable time to doing more strategic planning.
COST-EFFICIENT
Hiring virtual assistants over an in-office employee is a more cost-efficient staffing solution. You can still have someone take over administrative responsibilities without bloating your expenses. For example, your human resources team needs an administrative assistant to do various tasks. These tasks include making phone calls for character reference checks, drafting a job alert, and scheduling candidate interviews. If you hire an onsite HR administrative assistant, you will need to consider costs such as providing new tools, office supplies, and other benefits. On the other hand, you can hire an admin VA from anywhere worldwide to do all these administrative-related duties and only consider the labor costs.
SCALABLE
As your business grows, you may need more administrative assistance. Hiring a virtual administrative assistant allows you the flexibility to adapt to business needs more quickly. For example, in the beginning, you may only need a part-time virtual assistant to provide administrative support. But as demand for your products and services grows, you may need more support for your growing business. You can quickly get additional administrative support in two ways. You can try increasing the hours of your current admin virtual assistant or hire a new administrative assistant to manage workloads.
What Tasks Can Virtual Administrative Assistants Do?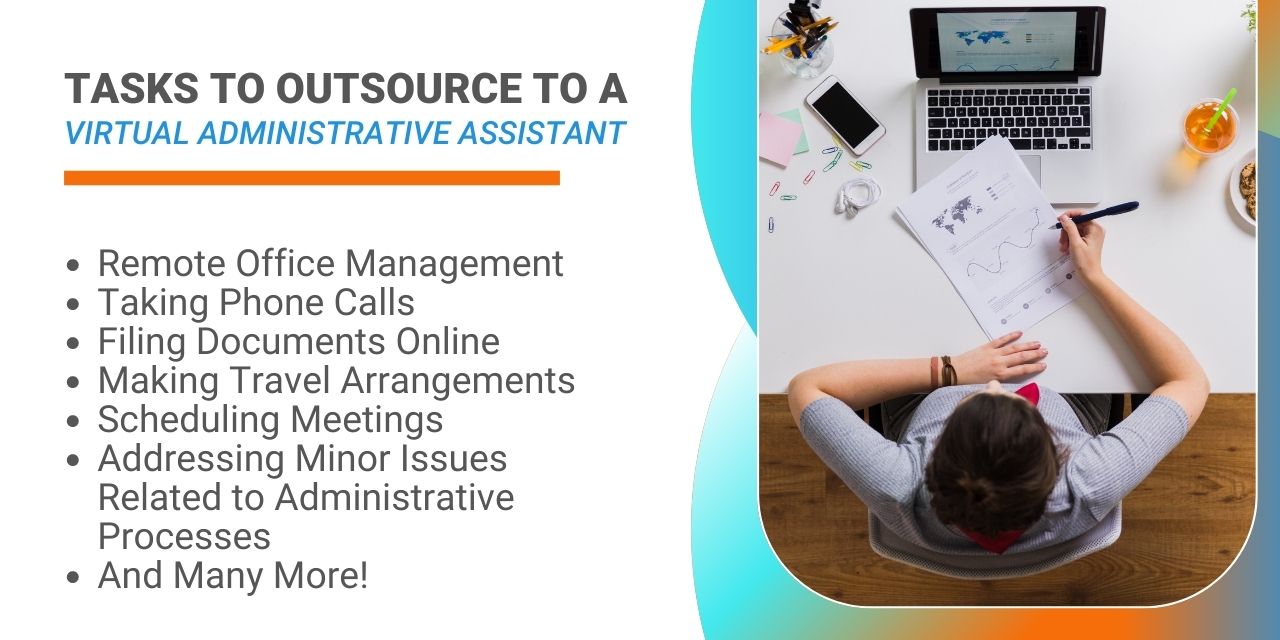 Virtual administrative assistants can take over essential but repetitive tasks that eat up your time. There's a wide range of activities that they can do, but here are the most common tasks:
Remote Office Management
Taking Phone Calls
Filing Documents Online
Making Travel Arrangements
Scheduling Meetings
Addressing Minor Issues Related to Administrative Processes
And Many More!
Want to know more about how hiring a virtual administrative assistant can help you boost productivity and grow your business? Schedule a free consultation today!
What Skills Should Administrative Virtual Assistants Need to Have?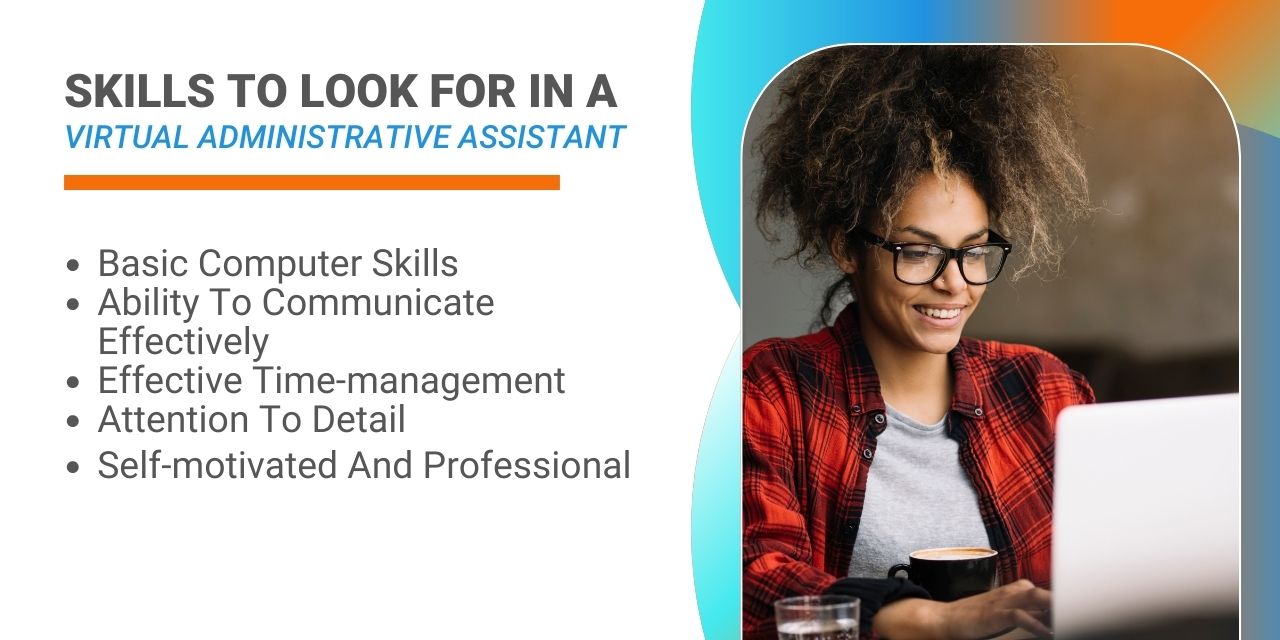 You can work with your human resources lead to craft a list of virtual assistant skills that you need that are specific to your business needs. However, here are some of the top skills that every virtual administrative assistant should possess:
BASIC COMPUTER SKILLS
This is a must-have for all remote workers, including virtual administrative assistants. Proficiency in the most popular programs like those in the MS Office and Google Docs Editors suites is essential. These programs are usually used in accomplishing administrative tasks, such as:
Data Entry
Email Management
File Management
Creation of Presentation Decks
Filing of Expense Reports
And many more!
ABILITY TO COMMUNICATE EFFECTIVELY
Working remotely requires excellent communication skills. A virtual executive assistant or admin VA must know how to communicate effectively to ensure that nothing gets lost in translation. They must also know how and when to use synchronous and asynchronous communication tools to ensure that even when they're not physically in the office, there's still collaboration within the team.
EFFECTIVE TIME-MANAGEMENT
Administrative tasks can be considered routine work but are still time-consuming. Juggling multiple tasks and finishing them on time is important for any admin VA. So make sure you find someone who knows how to manage their time and prioritize tasks effectively.
ATTENTION TO DETAIL
A virtual admin or executive assistant must be meticulous and pay great attention, even with assignments as simple as data entry. The data they input can be used in business intelligence reports that business leaders use to make informed decisions and build strategies.
SELF-MOTIVATED AND PROFESSIONAL
Some clients may think that previous clerical experience is the top priority when looking for a virtual administrative assistant. However, clients should also seek a self-motivated candidate who respects the key support role. Since the admin VA will be working remotely, they'll have less supervision than an in-office full-time employee. This means they must be self-sufficient and honest in doing their work.
Make sure you hire a virtual assistant with the right skills for the job. Schedule a free consultation with our Growth Experts today for more information on how to do this!
How to Hire a Virtual Administrative Assistant
Already decided on adding a virtual administrative assistant to your team? Then it's time to start sourcing and hiring. Here are seven steps to hiring your virtual admin assistant.
CREATE A JOB ALERT

Include information, such as the job title, job description, working hours, salary range, and your contact details.

POST THE LISTING

You can post the listing on career websites that specialize in remote work and your online platforms.

SHORT-LIST CANDIDATES

Once you've received the applications, it's time to screen them. You can use criteria such as previous professional experience and related skills to help short-list candidates.

INTERVIEW SHORT-LISTED APPLICANTS

Interviews are a great way to verify what was declared on a candidate's resume. You can also use this time to ask questions that can help gauge whether they will be a good fit for the role.

ACCOMPLISH BACKGROUND CHECKS

Make sure to do simple background checks and call character references to help verify the candidates' details. Getting valuable feedback from people that worked with the candidates can help you with the selection.

MAKE THE SELECTION

The screening process should have given you enough information to decide which candidate to fill your VA spot. Once selected, you can send your job offer or JO for the candidate to review.

ONBOARDING AND TRAINING

When the selected VA accepts the offer, you can now start the onboarding process. This will help your VA know more about your company, teammates, and role. Remember to train them to operate relevant systems and share links to valuable resources they can refer to while on the job.
While the above steps may seem simple enough to accomplish, they will require a huge chunk of your resources. The solution? Work with an experienced virtual staffing company like 20four7VA!
20four7VA has years of experience matching clients with the right remote talent. We also provide end-to-end virtual staffing support to our clients. This includes:
VA Screening and Sourcing
Scheduling of VA interviews
Virtual Assistant Management
Training
Payroll Management
IT Services
Client Services
We can help you take your company to the next level by providing top-notch virtual staffing services.
If you're ready to find the right virtual administrative assistant for your needs, then schedule a free consultation today.
Ready to find a Virtual Administrative Assistant?