Spanish Virtual Assistant
Upgrade your business with a Spanish Virtual Assistant.
HIRE A SPANISH VIRTUAL ASSISTANT
In a truly global market, having bilingual team members can give you a competitive edge. Your team must be able to clearly communicate internally using a widely used language, such as English. At the same time, you can reach out to specific markets more effectively through localized efforts. If you want to add top-notch talent to your team and gain deep insights into your Spanish-speaking target market, then hiring a Spanish-speaking Virtual Assistant (VA) is the way to go.
WHAT IS A SPANISH SPEAKING VIRTUAL ASSISTANT?
A Spanish-speaking virtual assistant is a remote professional who can support you on various tasks with the added benefit of being able to reach a more diverse audience through their local language.
Like any other virtual assistant, their tasks can include anything from general clerical duties like data entry and specialized functions like social media management. They can help you grow your business by communicating with Spanish-speaking countries across three continents: South America, Europe, and Africa. Spanish virtual assistants can help you reach out to countries where Spanish is the official or second language.
BENEFITS OF HIRING A SPANISH VIRTUAL ASSISTANT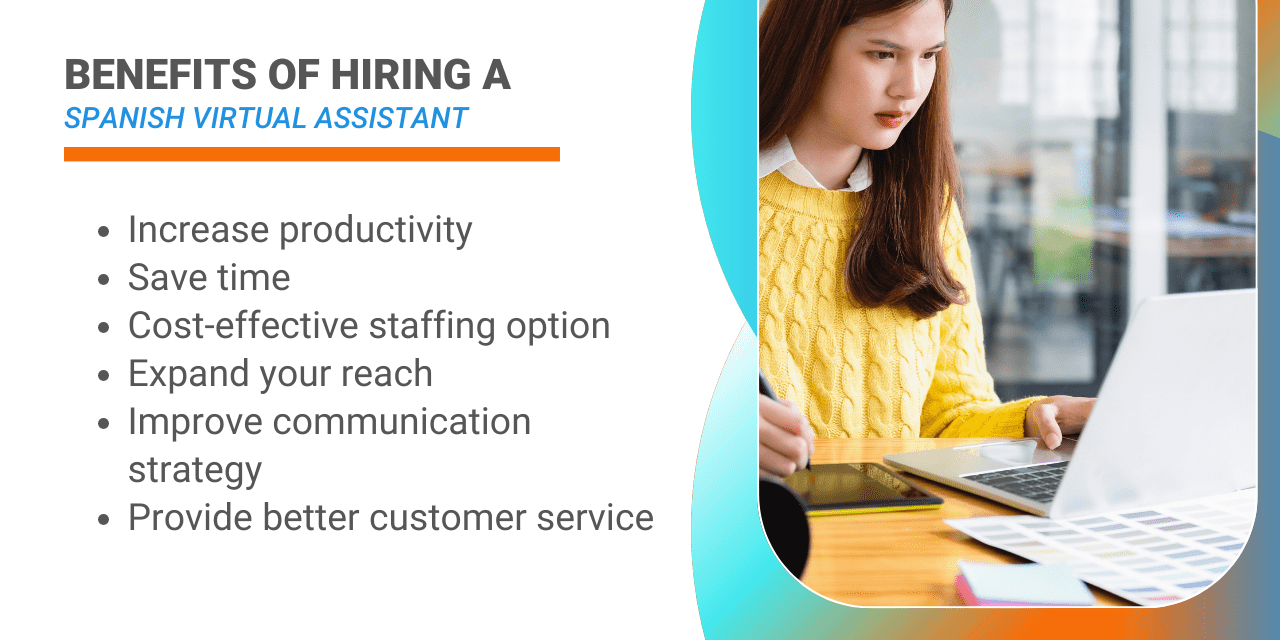 Hiring any VA, including a Spanish-speaking virtual assistant, can improve various facets of your business. Whether you need someone to perform general clerical duties or provide strong customer service, virtual staffing is the most cost-effective and efficient choice. Here are a few of the top reasons:
Increase Productivity
Every department in your growing company can benefit from having a bilingual Spanish VA onboard. They can handle time-consuming but essential tasks. This way, in-office staff can refocus their time and energy on their core functions. They can get more done in a shorter amount of time.
Save Time
As a business owner, you have many responsibilities, but only so many hours in one day. You can easily delegate important but time-consuming activities to a Spanish virtual assistant so you can focus on more executive duties.
For example, a full-time virtual administrative assistant handles activities like booking appointments with new clients, taking calls, and other administrative support duties. They can help significantly reduce your hours in office and regain control of your time.
Cost-Effective Staffing Option
Virtual staffing is the perfect match for you if you want to reach more clients while managing your labor costs. Hiring a bilingual Spanish VA means you have someone who has the right technical skills plus the Spanish-speaking skills needed to help your business explore new opportunities.
Expand Your Reach
Having someone familiar with the market you're trying to reach (not just the language) is a tremendous benefit you should maximize. They can provide deep insights and nuances that quantitative data may not uncover. Through their expert support, you can expand your company's footprint.
Improve Communications Strategy
Your bilingual VA's deep insights and even simple qualitative observations they have about their community (i.e., the market you're trying to tap) can help you fine-tune your communications strategy. You'll gain knowledge on how to best engage with your target customers.
Provide Better Customer Service
Your target market may include customers more comfortable speaking Spanish than English. They'll appreciate a company that puts in the effort to speak their language and understand them. A Spanish virtual assistant can act as the bridge between your company and its customers. They can answer customer inquiries in both English and Spanish. They can even help you create strong customer service strategies by translating and compiling clients' valuable feedback.
TASKS A SPANISH VIRTUAL ASSISTANT CAN DO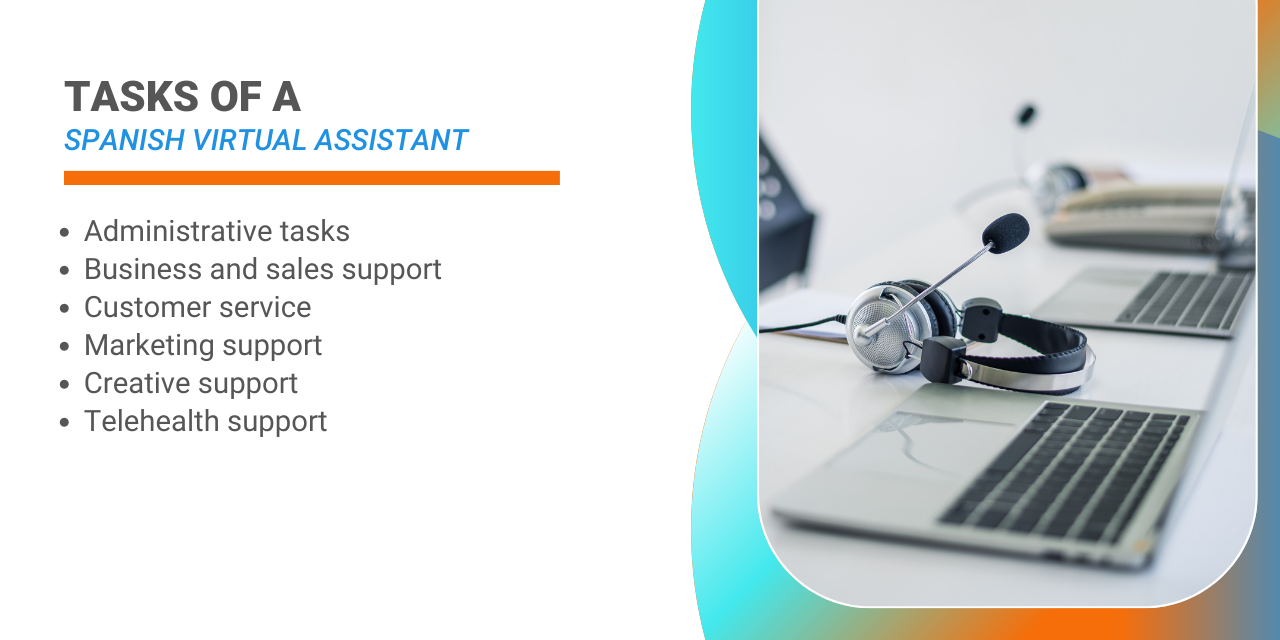 Virtual assistants can help you check more tasks off your to-do list, allowing you to maximize your valuable time and energy. There are virtual assistants that can perform general clerical duties or handle administrative projects. You can also find bilingual Spanish virtual assistants to help your busy sales department generate leads from Spanish-speaking markets. Depending on your business needs, you can find a Spanish Virtual Assistant that's right for the job. Here are some examples of tasks a virtual assistant can do for your company:
Administrative Tasks
Data Entry

Handle Phone Calls 

Booking Appointments

Other General Clerical Duties
Business and Sales Support
Cold Calling

Onboarding New Clients

Database Management

Market Research
Customer Service
Answering Emails and Calls from Clients

Provide Status Updates on Orders or Shipments 

Manage Customer Complaints

Logging Customer Feedback and Complaints
Creative Support
Bilingual Content Writing

Graphic Design

Video Editing

Crafting Social Media Materials

Other Creative VA Duties
Telehealth Support
Medical Transcriptionist

Updating of Medical Records

Booking Patient Appointments

Other Telehealth VA Duties
ESSENTIAL SKILLS AND QUALITIES TO LOOK FOR IN A VIRTUAL ASSISTANT
The final qualifications you will look for in a virtual assistant may vary depending on the VA type your company needs. However, it's important to make sure that they have these four essential skills and qualities:
Communication Skills
Communication is essential for any virtual assistant, especially a Spanish-speaking VA. Preferably, they should be fluent in both English and Spanish. It's crucial that they can effectively communicate with you and your clients. You must also find someone who can navigate synchronous and asynchronous communication apps.
Time Management Skills
A VA can handle multiple projects at a time. This requires good time management skills and prioritization. They must know how to manage cases and assignments to ensure that nothing falls through the cracks.
Collaborative
The VAs must collaborate closely with the rest of the team or department to ensure that the insights and information they're working on are maximized. It's crucial to look for someone proactive in sharing initial observations and deep insights into the market they're serving. This way, the correct department, whether sales or marketing, receives accurate and timely information to improve programs and create sound strategies.
Highly Motivated
The ideal candidate is someone who can deliver high-quality work under minimum supervision. There will be times when a VA is working in a different time zone. Their clients may not always be online to follow-up tasks and provide guidance. Because of this, it's essential to find remote talent with the right language and technical skills, plus the initiative to get the job done and done well.
HOW TO GET THE BEST SPANISH VIRTUAL ASSISTANT SERVICES
Finding a reliable virtual assistant can be challenging. It's crucial that you do your due diligence in finding the best one for your company. The recruitment process can take up much of your time, especially if you don't have a dedicated department to manage remote talent. If you want to find the best virtual assistant services without disrupting your business operations, it's best to work with 20four7VA.
Find Your Spanish Virtual Assistant with 20four7VA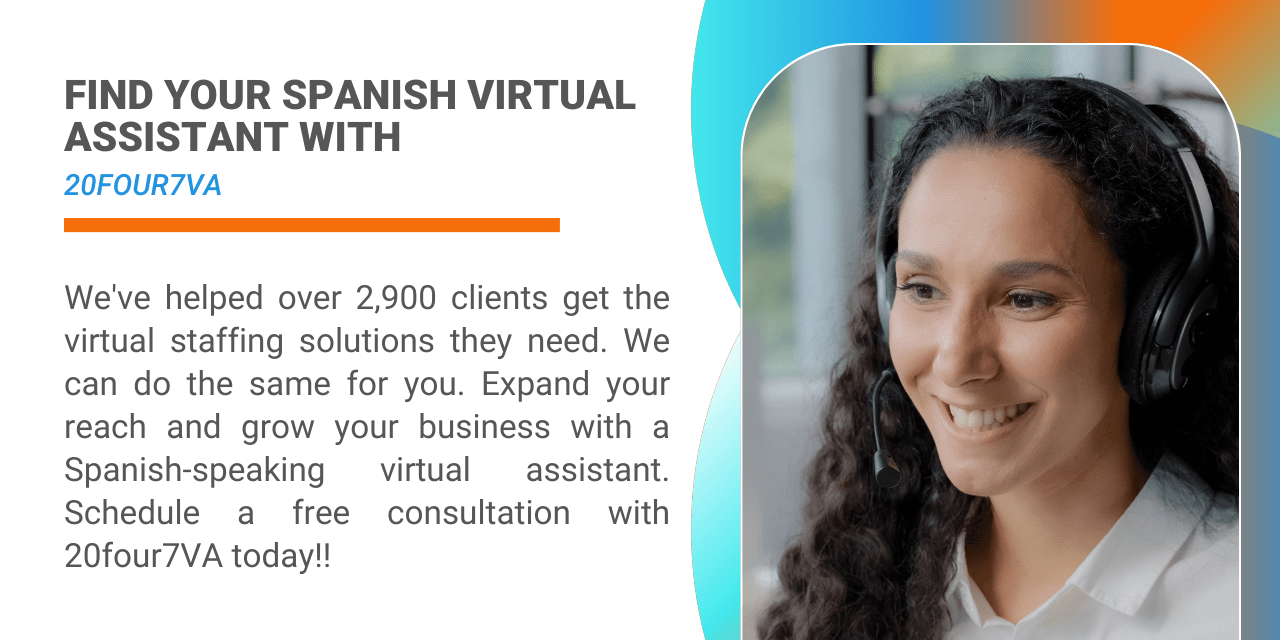 20four7VA is a top-notch virtual assistant company that can help businesses find the right remote talent. We have a vast global talent pool that includes every type of VA a company might need, from a virtual administrative assistant to a real estate VA. We've also expanded our footprint by partnering with institutions like the Argentine Association of Telework (ASAT) and Remotear to match our clients with bilingual remote professionals from the Latin American region.
We've helped over 2,900 clients get the virtual staffing solutions they need. We can do the same for you! Here's how:
Fill out the

20four7VA consultation

call form so that we can discuss your staffing needs in detail.

We'll find VA candidates that match your requirements.

We will schedule interview appointments with shortlisted candidates. We can also conduct tests as needed.

After you've selected your VA, we'll set up your 20four7VA client account. Then, your VA is now ready to work with you!
Expand your reach and grow your business with a Spanish-speaking virtual assistant. Schedule a free consultation with 20four7VA today!
Ready to find an Accounting Virtual Assistant?