SPANISH FREELANCER
Upgrade your business and target Spanish-speaking markets with a Spanish Virtual Assistant.
SPANISH FREELANCERS
As businesses strive for globalization, the need to localize various business processes is becoming more and more important. If you're a US-based business looking to sell your products or services in another country, you're going to need a team that speaks the local language of the specific country you plan on selling to.
If you're selling to Spain or Latin America in particular, you're going to need Spanish-speaking staff. Unfortunately, building a local team in the country you want to expand to is extremely laborious and expensive. Not only will you have to familiarize yourself with their language and culture, but you'll also need to learn their labor laws, establish a physical presence in that country, and so on – tasks that can take months or even years to complete.
This is where Spanish-speaking freelancers and virtual assistants (VAs) come in handy. Spanish-speaking VAs are the perfect solution for business owners looking to engage Spanish-speaking audiences in their local markets. By hiring a Spanish freelancers and VAs for remote work, businesses can quickly get the language support they need without having to worry about any of the associated overhead costs.
WHAT IS A SPANISH ASSISTANT?
This is a general term for a self-employed person who accomplishes tasks for clients in their home country. A VA is typically a self-employed worker specializing in anything from general administrative duties to ecommerce and beyond. On top of being a freelance professional, a Spanish or multilingual VA offers the same support a VA can provide, with the added benefit of communicating effectively in two or more languages.
WHY WORK WITH VIRTUAL ASSISTANTS OR SELF-EMPLOYED WORKERS?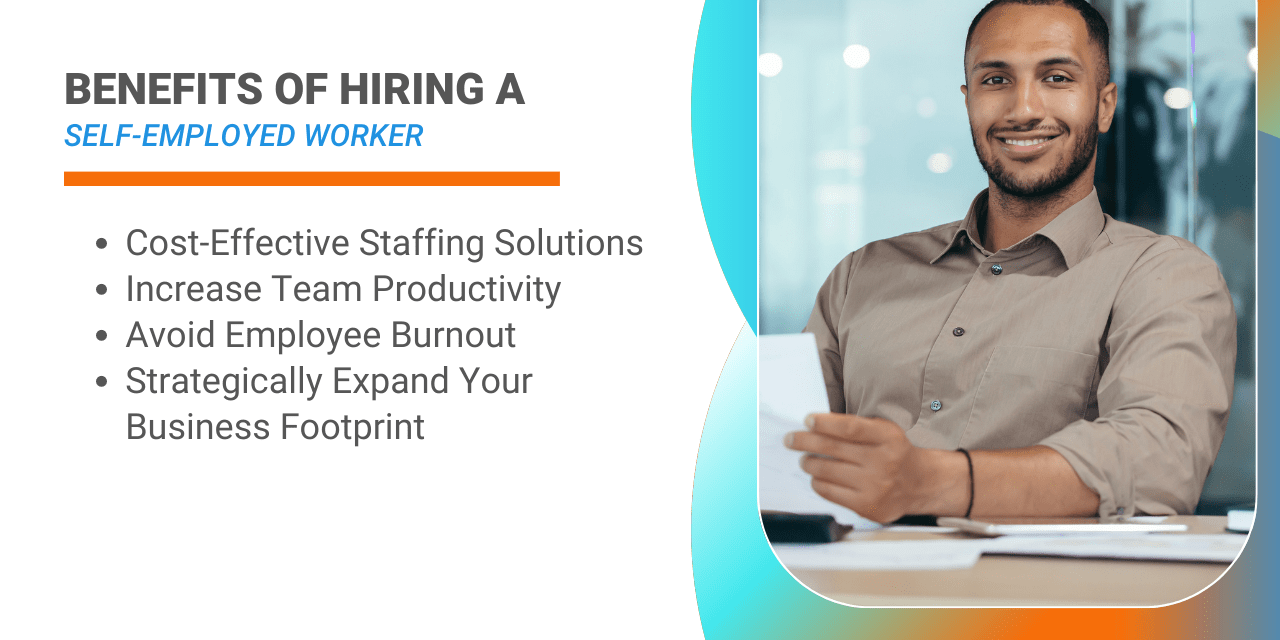 Cost-Effective Staffing Solution
Virtual staffing is an attractive staffing option for a lot of clients because it combines the cost-effectiveness of freelance work and team productivity. Many business expenses can be minimized, if not crossed out entirely, by working with VAs. Working with a self-employed worker means avoiding the overhead costs of hiring another in-office employee. Clients don't need to worry about health insurance costs, transportation allowances, and filing social security contributions. These self-employed workers can file tax and VAT returns and social security contributions.
Increase Team Productivity
Outsourcing a critical but time-consuming business activity to self-employed workers can free up time for your and your team. You can regain control of your time and finally focus on your core tasks like preparing proposal documents or crafting growth strategies.
Avoid Employee Burnout
Working with a freelance professional or a team of VAs can help manage your team's workload. You're still getting things done without working your team to their limit. This allows for better work-life balance as well as even more opportunities for creative thinking and collaboration. Ensuring workers feel rewarded and not burnt out can be vital in maintaining high employee retention rates.
Strategically Expand Your Business Footprint
These self-employed workers can also be the missing ingredient your team needs to finally expand to other markets. Their bilingual skills can help you localize your marketing and sales pitches without losing your company's branding and personality. Additionally, they can provide valuable consumer insights that only locals in their region or country are privy to.
WHAT CAN SPANISH-SPEAKING FREELANCERS DO FOR YOU?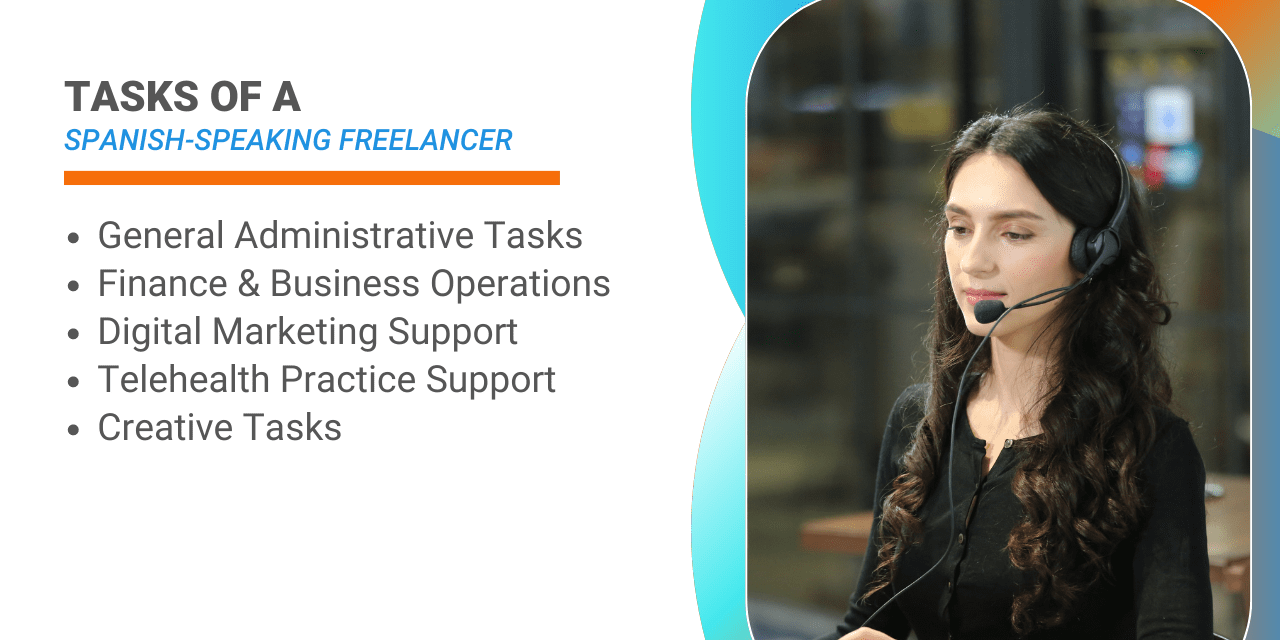 Virtual assistants can help companies in any industry. Whether for a health insurance company, ecommerce business, marketing agency, tax advisor practice, or telehealth practice, you can find the right VA to help you reach more people and grow your business.
General Administrative Tasks
Data Entry

Transcription and Translation Duties

Email Management

Virtual Receptionist Tasks

Calendar Management

Virtual Personal Assistant Duties
Finance & Business Operations
Business Plan Creation

Customer Service Support

Report Generation

Updating of Accounting Records and Bookkeeping

Preparation of Annual Tax Return Documents

Preparation of Documents for Business Permits and Licenses

Staff Shift Scheduling

Human Resources Support

Leads Generation

Leads Management

Cold Calling
Digital Marketing Support
Website Creation

Website Management

Social Media Management

Market Research

Ads Campaign Planning and Management 
Telehealth Practice Support
Updating of Electronic Health Records (EHR)

Scheduling of Patient Appointments

Health Care Insurance Verification

Billing or Invoicing

Chat or Email Support
Creative Tasks
Graphic Designer Duties

Content Writing

Copywriting

Video Editing

Podcast Editing
And much more!
WHERE TO FIND THE BEST REMOTE SPANISH FREELANCING PROFESSIONALS?
VAs offering Spanish and English-speaking services on top of their other skills can be an asset to any company. Whether you're looking to fill a full-time or part-time position, you must invest time and energy in finding the most suitable freelance VA. You must be able to create a job ad with the description of the role and qualifications needed before applying. This job ad should then be posted where those from the Spanish freelance marketplace are active. Then, you must screen the required documents, including academic certificates, resumes, and cover letters. Plus, you need to schedule interviews and test tasks with shortlisted candidates to find out which one is the best fit for the role.
HIRE SPANISH-SPEAKING BILINGUAL VIRTUAL FREELANCERS AT 20FOUR7VA
If you want to find the best bilingual or Latin American VAs, then working with 20four7VA is the way to go.
Strategic Partnership with Latin American Remote Work Institutions
In partnership with the Argentine Association of Telework (ASAT) and Remotear, 20four7VA has expanded its talent pool to include talented VAs from the Latin American region. This new partnership, plus 20four7VA's tried and tested services, are excellent reasons for clients to choose us as their remote staffing partner.
Cost-Effective Solutions
By working with a top-notch remote staffing agency like 20four7VA, you can minimize your business expenses related to recruiting and managing remote talent. Our Growth Experts will ask critical questions during your free consultation call to better understand your business, goals, and staffing requirements. We can craft the most apt and cost-effective staffing solutions you need through this fruitful and no-strings-attached call.
End-to-End Services
Another benefit of working with 20four7VA is that we are committed to making virtual staffing services as easy and seamless as possible for you. We offer HR support from onboarding, payroll processing, and VA management. 
No Hidden Fees
20four7VA proudly shares that we do not ask freelance talents for placement fees. Additionally, our clients don't need to pay any upfront charges relating to pooling and recruitment. We only get paid once the selected VA starts working for the client.
The above items are just some of the reasons why 20four7VA is a remote staffing partner of choice for more than 2,500 clients around the world. If you want to make the most out of virtual staffing, let us help you find the right VA or VA team! Schedule your free consultation today.
20four7VA is an Inc. 5000 company with a decade of remote staffing experience. We are dedicated to delivering our clients the right virtual assistant services while providing remote talents with rewarding career opportunities. We've helped over 2,900 clients (and counting) find the virtual staffing solutions they need, and we can do the same for you!
Find Your VA in Four Easy Steps
Fill out the 20four7VA

consultation call form

so that we can understand your staffing requirements better.

We'll find VA candidates that match your approved job description (JD).

We will arrange interview appointments with shortlisted candidates. We can also help administer test tasks when necessary.

After you've selected your VA from the shortlisted candidates, we'll set up your account. Your Bilingual Virtual Assistant can start the next business day.
Let 20four7VA help you find the right Bilingual Virtual Assistant for your business! Schedule a free consultation with our Growth Experts today.
Ready to find a Spanish Freelancer?